Unfortunately, our starting point was a loss. Although it's not a catastrophe, the strange thing is that when I watched the Genk game, I went over my analysis and came to the conclusion that I shouldn't have placed the bet. The reasons for this were the sale of their key striker the day before the game and the knowledge that Eupen has the narrowest pitch in the league, making it more difficult for Genk to use their wingbacks. Additionally, the format of the pitch makes it easier for Eupen to defend in the center, and I may not have taken into account the possibility of injured players enough, leading to Genk starting with two new central defenders who are not used to playing together. There were many reasons why I shouldn't have placed the bet, not to mention the match between Union and Antwerp was rather uneventful, not even close to going over.
I was considering whether to play a combo today. I don't want to be down 15 units before the new month is even a week old. But I decided to show some confidence and will play this parlay, as always, a three-fold combo.
The bet is based on the home wins of Real Madrid and Juventus. Valencia is one of the worst away teams in La Liga, while the choice of Juventus is based purely on a feeling and not any specific statistics. The 1X would have been a safer bet.
The third game is the semi-final cup match between Zulte and KV Mechelen. Both teams are still in relegation trouble, so a cup semi-final could be a great boost of confidence or an unwanted distraction in preparing for the next league game. However, when a team gets this far in the tournament, they want to give it their all. Both teams don't have great reputations for defending, but they both always play to win and try to score goals. I expect the first goal to occur within the first half, giving the bet 45 minutes for two more goals.
The odds for the ticker are on the lower side for a 3 fold acca with 4.868.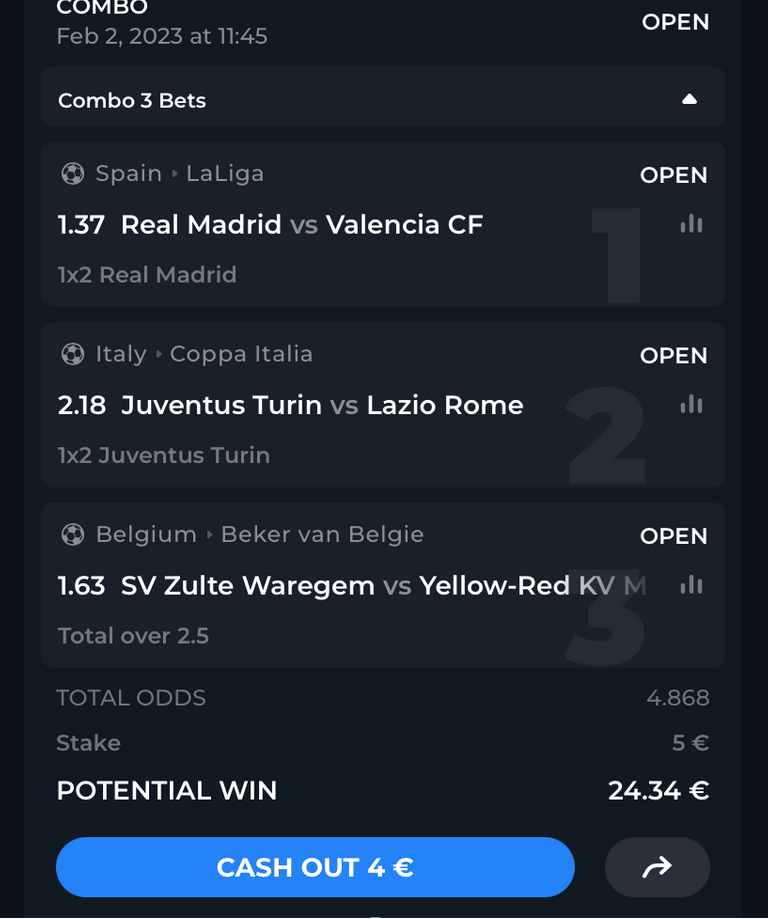 All bets are placed using this bookie!


Disclaimer
It is always a good idea to do your own research and to carefully consider the risks and potential returns before placing any bets. I am not a professional punter, for me it is just a hobby. I do place most of my bets in advance and do keep records of all my bets, but it is not encouraged to follow my bets blindly!