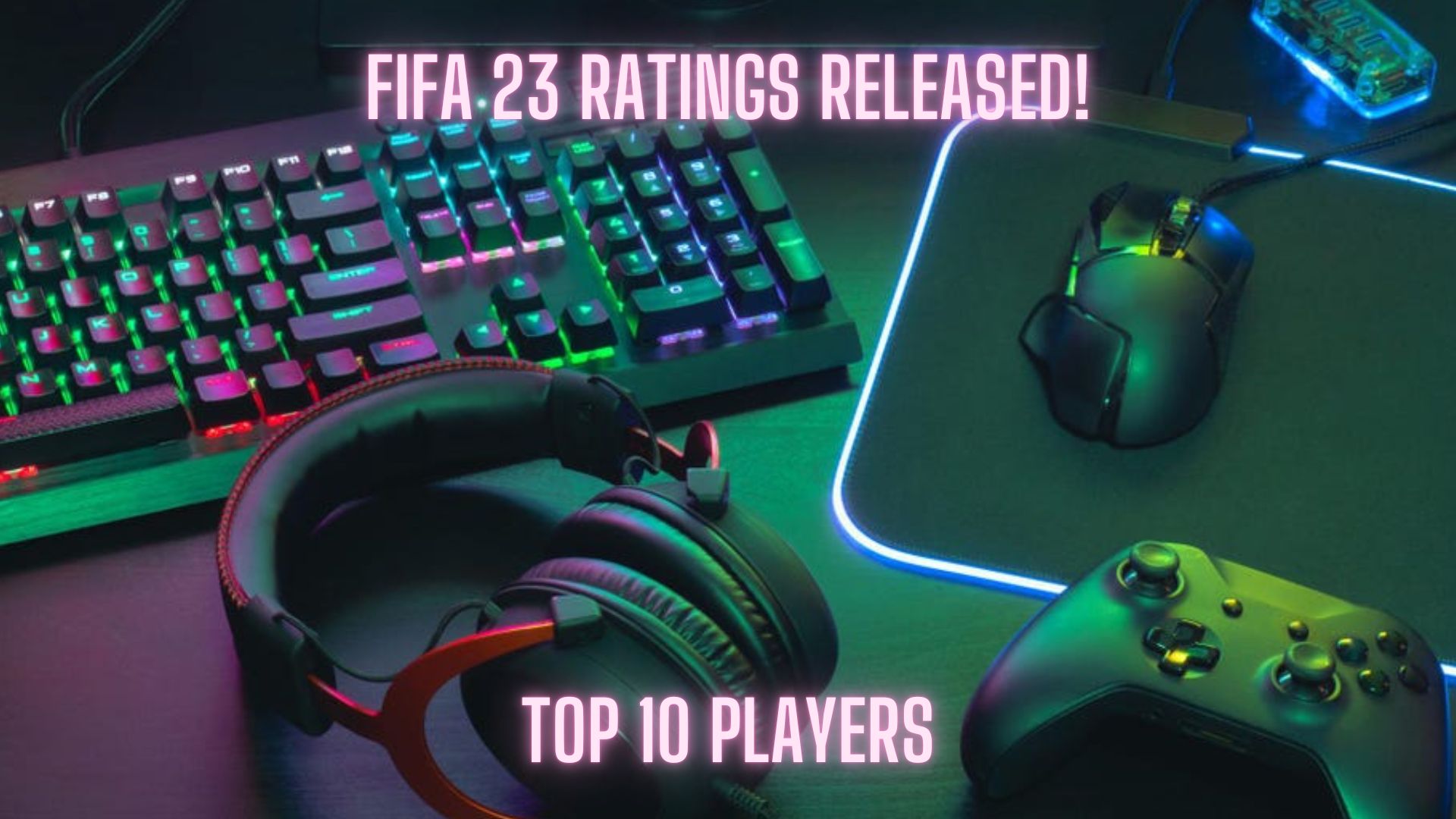 The football seasons have started and this only means one thing: One of the biggest football simulations are about to release for another iteration. For those of you, who do not know what I am talking about; I am talking of the FIFA series and its upcoming iteration FIFA 23. I remember the times when I sued to battle myself with friends or online, trying to build a perfect squad in Ultimate Team and even spending a dumb amount of money on these scam packs. But this time is over, nevertheless, I want to talk about the player ratings as these were always controversial and did not always make sense to me. This is why we are going to take a look at the top 10 players in this game and according to FIFA 23.
10: Virgil van Dijk
We start off with position 10 and simultaneously the only defender in the top 10. We are talking about the Dutch Center Back from Liverpool: Virgil can Dijk. I think almost everybody would agree that he is currently one of the best defenders out there. I know there might be some debate if there are other Center-Backs that are better at the moment but if we take a look at consistency and performance, this man certainly deserves a spot up there.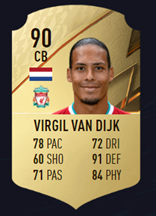 With an Overall Rating of 90, he will definitely be a top tear defender for every team in Ultimate Team. With a defending stat of 91, he will be a nightmare to play against and because Pace for defenders is very rare, 78 seems already like a very high number, especially for such a tall guy like van Dijk. 84 Physicality is also very reasonable as he is a real powerhouse to play against. Overall a fair evaluation in my opinion, but debatable if he really is the best defender at the moment.
9: Mohamed Salah
Next up we have yet another Liverpool player. This time the man comes from Egypt and is certainly one of the best players in the Premier League in the past seasons. We are talking about none other than Mohamed Salah. While Liverpool might not have the best start and both players so far did not reach their full potential yet I would back the decision to put Salah into the Top 10 of the best Fifa players to play with.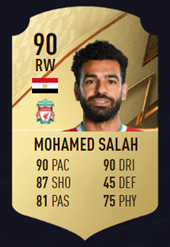 What makes him special is definitely his speed as well as his dribbling. He will be a beast on the wing as well as in the striker position if you decide to put him there. While he might not have the best passing and physicality he will not let you down in terms of shooting. His weak foot is also rates a 3 out of 5 which I think is fair. With an Overall rating of 90, he is in number 9 for us today.
8: Cristiano Ronaldo
In the eight spot we have somebody who is usually higher up the rankings. The Portuguese GOAT was always in the Top 2 of players over the past decade. I think this is the lowest I have ever seen him. It is no surprise that Cristiano Ronaldo is not the youngest anymore. Despite the fact that he is 36 years old, he has still an incredible body and is perfectly in shape. This man just knows how to train I guess. On the other hand, he is not able to perform on the usual level as we know him. This might have several reasons, one of them is surely that his team is currently not fitting his style of football.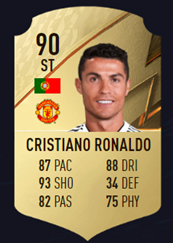 With an Overall Rating of 90, he is still in the top 10 of players and I would slightly disagree. I think because he is such a fan favorite, the developers are still putting him so much high up. I would not argue the shooting or dribbling ability for this card, but I think that the pace stat is heavily overrated. As we all know, most of the FIFA iterations were about Pace and this is how the developers are keeping this card relevant. Nevertheless, it is an understandable pick for the top 10.
7: Manuel Neuer
In the seventh place we finally start to diversify the leagues a bit. While we were mainly in the Premier League so far, we are now moving over to the Bundesliga! Unfortunately, it is only a goalkeeper, but for me the greatest at the moment. I am talking about the team captain of Germany and Bayern Munich: Manuel Neuer. For me, there is no doubt that this man deserves a spot in the top 10. I even wrote an article why I think Neuer should be considered the third best player of the past decade, next to Ronaldo and Messi. He is always reliable and is there when his teams need him.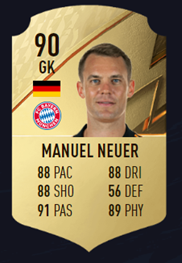 With an Overall Rating of 90 he is unfortunately only the second best goalkeeper in the game. Furthermore, he has very balanced stats. His Diving, Reflexes and Handling are all at 88 which is very high tear in this game's iteration. Not only that but his positioning of 89 and kicking of 91 is not reached by anybody in this game. I think he could be higher up but a place in the top 10 is definitely justified.
6: Thibaut Courtois
Speaking of Goalies, the next placement is the only goalkeeper that is better than Neuer according to FIFA. To be fair to him, he played a hell of a season last year and was the reason that Real Madrid secured the Champions League title over Liverpool. I think he is even in the talks of player of the year and the Ballon d'Or. Thibaut Courtois is definitely not a bad goalkeeper and has a great advantage over many strikers because of his almost 2 meter height. Despite his tallness, he has great reflexes and is just an overall backbone of Real Madrid's defence.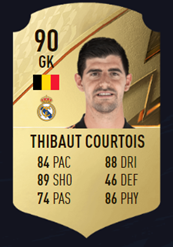 If we look at his in-game card, it is quickly clear that his individual stats are slightly less than Neuer's, except the Reflexes part. Despite this fact he is still rated with a overall 90 rating and because if Alphabetical order is in front of Neuer. Well it is what it is, I think both are great keepers and according to FIFA Courtois is in number 6 and Neuer number seven.
5: Lionel Messi
As we make our way towards the top of the roaster, we come along the next GOAT in number 5. Lionel Messi is yet again one of the greatest plyers in the game. I think his position can be debated once again like we mentioned it with Ronaldo. He did not have a very amazing season at PSG and seems overall dissatisfied in general. With others starts like Mbappe he is not longer a one man show and it looks like there are some conflicts between him and Mbappe.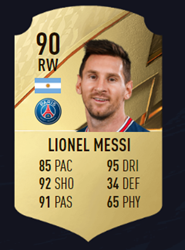 His dribbling and shooting were always exceptional and will never change. I even think that he would continue playing with the age of 45, he still would have the same dribbling an shooting skills. His passing is very well as well but I would disagree with his physicality. While he only has 65, I really think that it should be much lower. In many games it looks like he has no stamina and if not on the ball does not have the desire to work back. All in all his placement in the top 10 is probably justified but the overall rating of 90 might be slightly too high in my opinion.
4: Kylian Mbappe
Speaking oft he devil, in fourth place we are finding the Fre(n)ch Prince of Paris: Kylian Mbappe. Since his mega deal with PSG, it seems like he is ruling all of Paris. The way he is performing on the pitch and the way he is treating his teammates, it is just something different. Nevertheless, this guy is a total powerhouse. He has the speed, the dribbling, the shot. The only things that he is definitely missing are some manners and his overview for his teammates.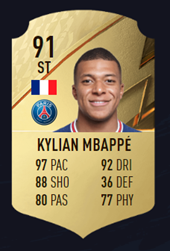 When it comes to his card, it is a very good representation of his football skills. He is probably one of the quickest players in the game and has a top tier dribbling stat. His shooting is alright but his defending as well as Passing have definitely room to improve. With an overall rating of 91, he is one of the four players that will be very rare in the game.
3: Robert Lewandowski
Moving into the top 3 we are having some great choices. The first one is Robert Lewandowski. With his move from Bayern to Barcelona, he was one of the main attractions this summer. It looks like his skills are helping Barcelona to stabilize their game again and be more dangerous in the last half. With his ability of controlling the ball as well as his shooting ability and goal instinct, he is definitely one of the best strikers and players in the world at the moment.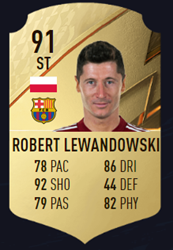 His card is pretty accurate. Although I would say he is somewhat slower than his stat on the card I would say that his shooting and dribbling should be rated higher. An Overall rating of 91 is deserved without a doubt and I also have the feeling that this card will be used a lot in this game's iteration.
2: Kevin de Bruyne
We arrived in the top 2 category where we are returning to the Premier League once again. Here, we are encountering probably the best passer in the world at the moment: Kevin de Bruyne is the hearth piece of Guardiola's Man City and can decide games by having a scan look at your defender's positions. If not clear yet, his strengths are definitely his passing and dribbling which he shows game in, game out.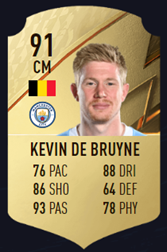 With that being said, he accordingly has the highest passing stat in the whole game. With 93 Passing, his passes should always reach their target. The rest of his card is very well balanced. The developers made sure that they are giving this card enough Pace so that the gamers will use it. Overall 91 Rating is very accurate as well which puts him into the number 2 position.
1: Karim Benzema
Last but not least, we have the best player of the last season. He was machine and was single-handedly responsible for real Madrid's path to the Champions League final. I am talking about Karim Benzema. According to Thierry Henry, this guy is the perfect prototype of a perfect striker. He has the physicality, reaction time as well as his finishing abilities with his head and both legs! Just a striker that you would take everyday every time!
Saying that, his card looks a bit weird to me. While his overall stats are saying he will have 91 rating, his individual stats are a bit too low for that. Especially his shooting with just 86 seems a bit low for me. The reason for this is how this stats is combined. It consists of different shooting styles and because the developers absolutely messed up Benzema's long shots his overall shooting has suffered accordingly. I think many people will be very confused about this but if you understand how these stats are constructed you should definitely use this card as a striker. He will help you win games how he helped Real Madrid in the last season.
Published by ga38jem on
Sports Talk Social
On 2nd September 2022