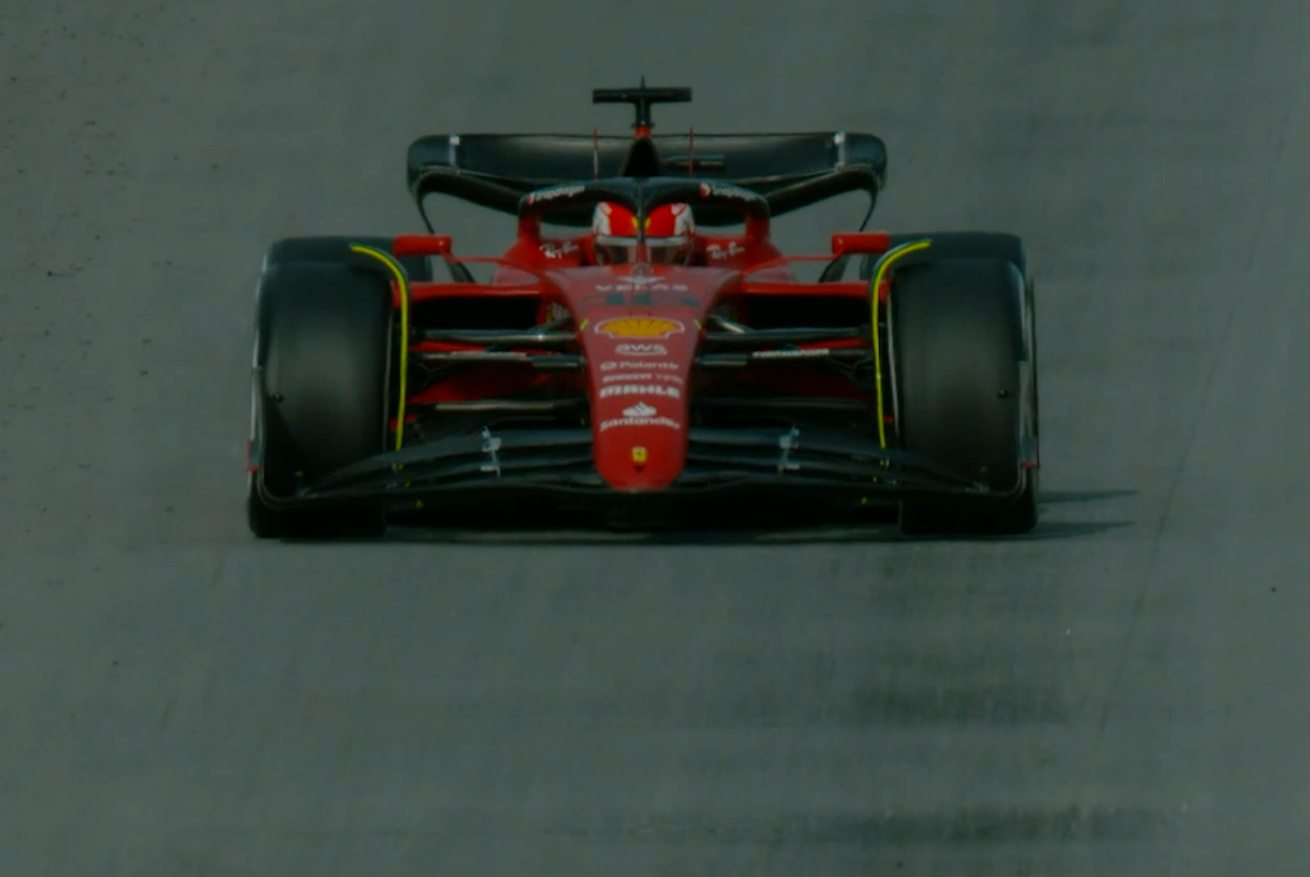 Ferrari was one of the first teams to notice the negative effect of porpoising on the performance of the new car.
With the advent of the new regulations in Formula 1 from this season onwards, we have been introduced little by little in a new world that is characterised by the aerodynamic effect and the influence that it may have on the final results in each race throughout this championship that promises to be the longest of all (although the Russian GP has already been removed from the FIA calendar, which is why so far the number of races remains the same as last year's).
Today I am going to deal with a new term that we will probably hear quite often from the TV broadcasters from this year onwards: it is porpoising. What it is and how it can influence the performance of the cars I'll explain below.
What is porpoising? A problem that is not new.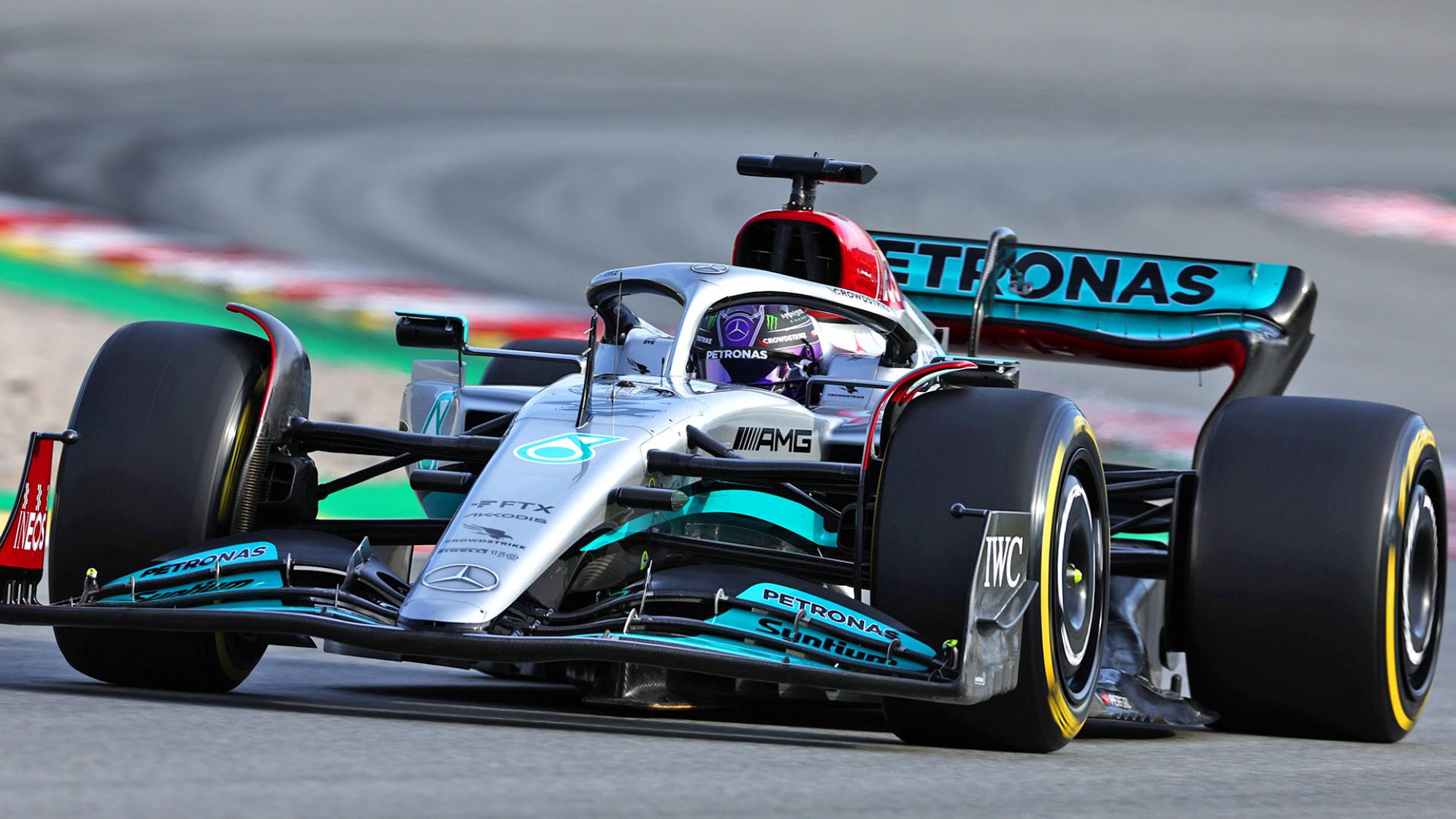 According to the first non-official tests held in Barcelona, Merceds seems to be the team least affected by the porpoising phenomenon.
Actually it is not a new term or concept, the phenomenon so to speak of "porpoising" had been promoted in the 80's with the first wing-cars, i.e. the spoilers at the rear of the single seaters that allowed air to flow over and under the car to generate a better aerodynamic effect on the track, more grip on the tarmac, more speed under acceleration and better corner exit by trapping the air coming out of the roof and redirecting it upwards, so that the rear of the car was pushed downwards, giving the famous "ground effect".
The current single-seaters have frequent downforce losses and it is clearly noticeable when the wheels have an oscillatory movement after exiting the corners and face the straightaway as if they were small bounces to the ground, which leads to losing precious seconds, positions, lack of grip in overtaking and in general a noticeable decrease in the car's performance.
The characteristic of the problem and one of the biggest difficulties in finding a solution to it is that it can be improved and/or eliminated by spinning the cars on the track and not simply simulating the problem through the wind galleries as most teams do.
Only by seeing how much the car separates from the ground under eceleration is it possible to act by reducing the incidence of the front wing, bringing it closer to or further away from the ground, by performing a kind of balancing as it is done manually on our private cars, until the optimum point is reached.
Although the technology in Formula 1 is light years away from what we use in our private cars, the concept is, to a certain extent, similar.
Ferrari has been one of the teams that believes it is in a position to solve the problem in fairly close times, although the Barcelona tests, although not disappointing for the Prancing Horse, were not of a level that would allow its drivers to occupy the top places. We will see if their engineers in Shakir have managed to anticipate the rest of the technical teams and give their car a greater reliability.
The Maranello team was surprised when at the end of the tests at the Catalan circuit of Montmeló at the end of the three days of testing in their "filming day", a sort of video summary of all the tests, they realised how much the car oscillated on the straights because although the new regulatory changes produce a greater adherence to the ground pushing the car downwards, when deceleration occurs, the car loses all its grip and starts to make "little jumps", imperceptible to the human eye from a distance but perfectly visible by zooming in on the video images.
As the car loses its grip on the ground, it rises and then "sticks" to the tarmac again. Carlos Sainz was one of the first to notice the problem and warn the team. After that, little by little, all the drivers experienced the same problem, some with more intensity and others with less.
Mattia Binotto, Ferrari's chief mechanic, said: "The most unexpected thing about these tests is the porpoising we've seen on the straights, which we've seen from all the teams. It is the result of an aerodynamic instability of the back end that is generated at very high speed and that is not seen in the wind tunnel because we are limited by the regulations to a certain speed and this happens at higher speeds".
Whoever solves the problem first will be able to make the difference in the first races of the current championship. For now it would seem that Mercedes is the team that has been least affected by the porpoising problem but we will have to wait for the first official tests at Shakir to find out the true extent of the problem and see in these two weeks which teams have been the first to find a solution.

Que es el porpoising en la Fórmula 1 y como puede influenciar en los resultados de la presente temporada?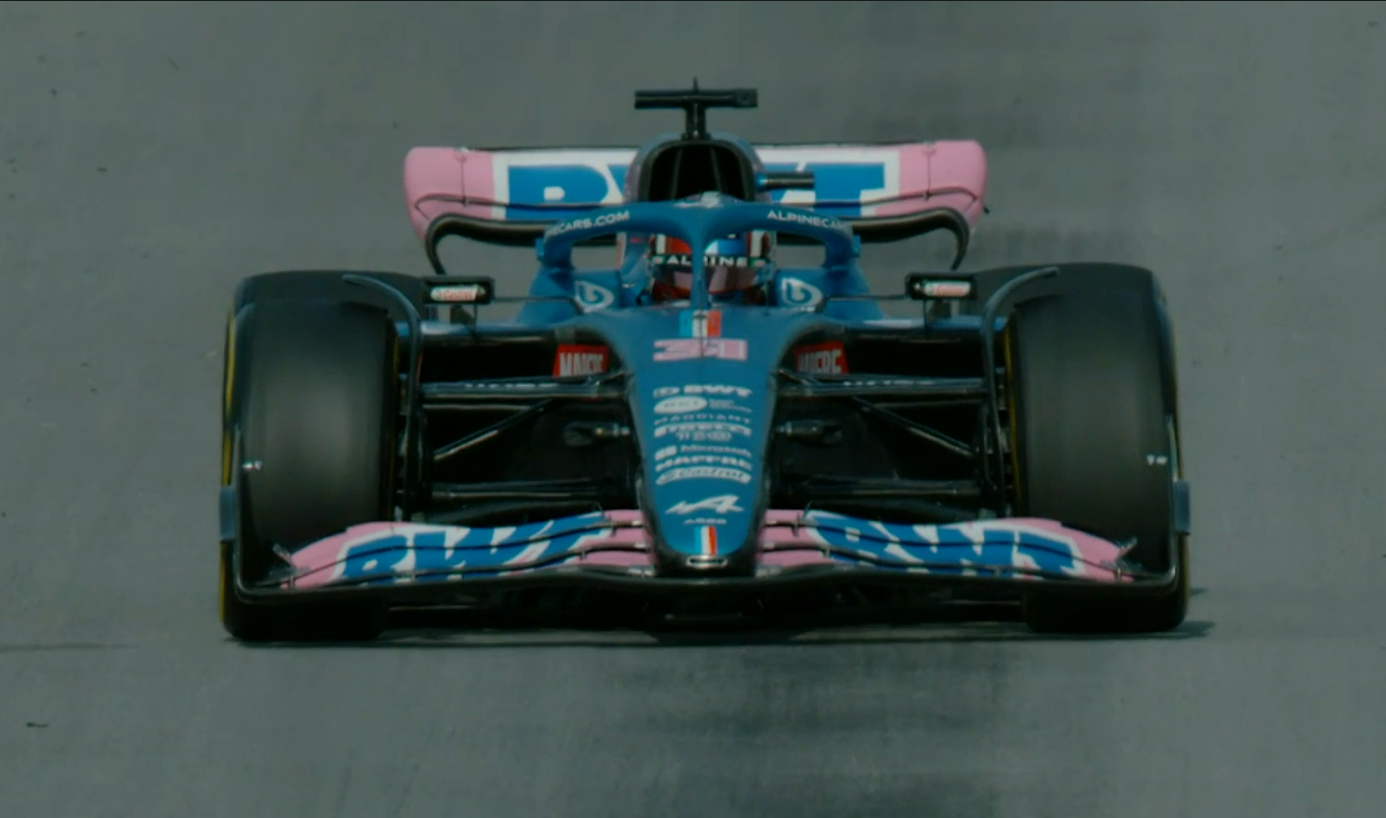 El efecto porpoising también trajo a maltraer a los pilotos de Alpine en los test del circuito catalán de Montemló la semana pasada.
Con el advenimiento de la nueva reglamentación en la Fórmula a partir de esta temporada hemos ido introduciéndonos de a poco en un mundo nuevo que se va caracterizando por el efecto aerodinámico y la influencia que podrán tener el mismo en los resultados finales en cada prueba a lo largo de este campeonato que promete ser el más largo de todos (aunque ha sido ya eliminado del calendario de la FIA el GP de Rusia razón por la cuál hasta el momento la cantidad de competencias queda igualda con las del año pasado).
Hoy me voy a ocupar de un término nuevo que tal vez sentiremos bastante seguido en boca de los relatores televisivos a partir de este año: es el porpoising. Qué es y cómo puede influenciar el rendimiento de los autos se los explico a continuación.
Qué es el porpoising? Un problema que no es nuevo.
Alpha Tauri es uno de los equipos de mitad de la tabla que más sintó el efecto del porpoising en el nuevo modelo presentado en los tests de Barcelona.
En realidad no se trata de un término o concepto nuevo, el fenómeno por así llamarlo del "porpoising" había sido promovido en los años 80 con las primeras wing-car es decir los alerones en la parte trasera de los monoplazas que permitían que el aire fluyera por encima y por debajo del auto para generar un mejor efecto aerodinámico en la pista, más agarre al asfalto, más velocidad en aceleración y mejor salida de las curvas atrapando el aire que salía del techo y rediriéndole hacia arriba, de modo que la parte trasera del coche era empujada hacia abajo, prondizando el famoso "efecto suelo".
Los actuales monoplazas tienen frecuentes pérdidas de carga aerodinámica y se nota claramente cuando las ruedas tienen un movimiento oscilatorio luego de salir de las curvas y afrontar el rectilíneo como si fuera pequeños rebotes a tierra, lo que lleva a perder segundos preciosos, posiciones, falta de adherencia en los adelantes y en general una notable disminución en las prestaciones del auto.
La característica del problema y a su vez una de las mayores dificultades para encontrarle una solución es que se puede mejorar y/o eliminar haciendo girar los autos en la pista y no simplemente simulando el problema a través de las galerías del viento como hacen la mayor parte de los equipos.
Solo viendo cuanto el monoplaza se separa del suelo en eceleración es posible actuar reduciendo la incidencia del ala delantera, aproximandola o alejandola del suelo, efectuando una especie de balanceo como es que se hace manualmente en nuestros autos particulares, hasta alcanzar el punto óptimo.
Por más que la tecnología de la Fórmula esté a a4os luz de la que usamos en nuestros vehículos particulares el concepto es, en cierta medida, similar.
Ferrari ha sido uno de los equipos que cree estar en condiciones de resolver el problema en tiempos bastante cercanos, aunque los tests de Barcelona si bien no fueron decepcionantes para el Cavallino Rampante tampoco fueron de un nivel que permitiera a sus pilotos ocupar los primeros lugares. Veremos si en Shakir sus ingenieros han logrado anticipar el resto de los equipos técnicos y dar a su monoplaza una mayor confiabilidad.
El equipo de Maranello se vio sorprendido cuando al finalizar los tests en el circuito catalán de Montmeló al final de los tres días d epruebas en su "filming day", una especie de resumen en video de todos los tests, se dieron cuenta cuanto oscilaba el auto en recta ya que si bien los nuevos cambios reglamentarios producen una mayor adherencia al suelo empujando el auto hacia abajo, cuando se produce la desaceleración el monoplaza pierde toda su adherencia y comienza a efectuar "pequeños saltitos", imperceptibles para el ojo humano a distancia pero perfectamente visibles zoomando las imágenes en video.
Al perder la adherencia al suelo el monoplaza sube y luego vuelve a "pegarse" al asfalto. Carlos Sainz fue uno de los primeros a darse cuenta del problema y advertir el equipo. Después, poco a poco, todos los pilotos fueron experimentando el mismo problema, algunos con mayor intensidad y otros con menos.
Mattia Binotto, el jefe de mecánicos de Ferrari declaró: "¿Lo más inesperado de estos test?, los saltos que hemos visto en recta ('porpoising'), que se lo hemos visto un poco a todos los equipos. Es fruto de una inestabilidad aerodinámica del fondo que viene generada a altísima velocidad y que no se ve en el túnel de viento porque estamos limitados por reglamento a una determinada velocidad y esto pasa a velocidades más elevadas".
Quien primero resuelva el problema podrá hacer la diferencia en las primeras carreras del actual campeonato.. Por ahora parecería que Mercedes es el equipo que menos ha sido afectado por el problema del porpoising pero habrá que esperar los primeros tests oficiales de Shakir para conocer la verdadera magnitud del problema y ver en en estas dos semanas qué equipos han sido los primeros en encontrarle una solución.
The Sports Talk Social logo included in the text separator is the property of @julstamban.