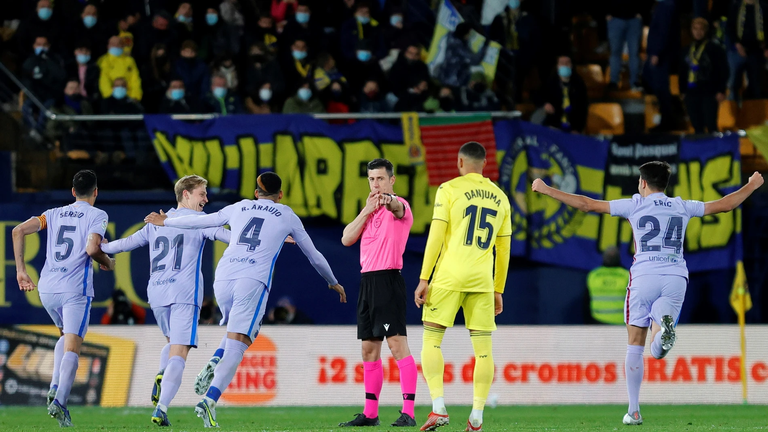 Español
Sin muchas herramientas, con poca profundidad de plantilla y con un presente no muy alentador, Xavi llegó al Barcelona con el objetivo de mejorar la situación, buscando hacer distinguir nuevamente al club a nivel nacional e internacional, implantando una idea de fútbol conocida por algunos culé que aún permanecen en el equipo y algo nuevo para la gran mayoría de futbolistas jóvenes con los que cuenta un Barcelona que apunta al futuro, pero que desde ya desean demostrar calidad, con un juego asociado de campo abierto, con mucha verticalidad y presión alta en todas las zonas del campo, pero ¿Qué ha logrado Xavi en sus 3 primeros encuentros al mando del banquillo culé?.
English
Without many tools, with little squad depth and with a not very encouraging present, Xavi arrived at Barcelona with the aim of improving the situation, seeking to make the club stand out again at national and international level, He implemented an idea of soccer known by some of the culé who still remain in the team and something new for the vast majority of young players that Barcelona is counting on for the future, but who already want to demonstrate quality, with an open field associated game, with a lot of verticality and high pressure in all areas of the field, but what has Xavi achieved in his first 3 games at the helm of the culé bench?.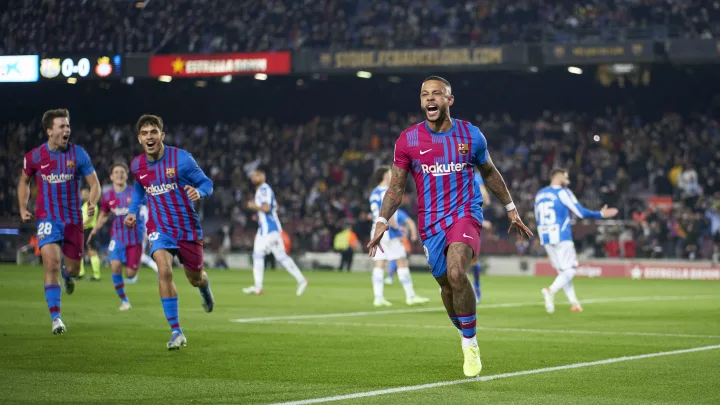 Quizás no sea mucho rodaje al mando del Barcelona, pero tomando en cuenta los resultados vistos antes de la llegada de Xavi, ya se pueden observar algunas cosas interesantes que hacen suponer un cambio progresivo de mejoras en lo que ha sido un inicio de temporada nefasto para un club con innumerables problemas en todos los ámbitos.
En el primer encuentro del Barça de Xavi ya se veía un mejor juego, el fútbol de toques, la presión en tres cuartos de cancha y los extremos abiertos empezaban a formar parte de la arquitectura planteada, en aquél encuentro la posesión de balón fue casi absoluta ante el Espayol, una victoria por la mínima, dejaba inquietudes en Xavi, se lograba el objetivo en el clásico pero seguía haciendo falta algo: efectividad de cara a la portería rival y efectividad en los pases.
It may not be much experience at the helm of Barcelona, but taking into account the results seen before Xavi's arrival, we can already observe some interesting things that suggest a progressive change of improvement in what has been a disastrous start to the season for a club with innumerable problems in all areas.
In the first match of Xavi's Barça we could already see a better game, the soccer of touches, the pressure in three quarters of the field and the open ends were beginning to form part of the proposed architecture, in that match the possession of the ball was almost absolute against Espayol, a victory by the minimum, left Xavi worried, the objective was achieved in the classic but something was still missing: effectiveness in front of the rival goal and effectiveness in the passes.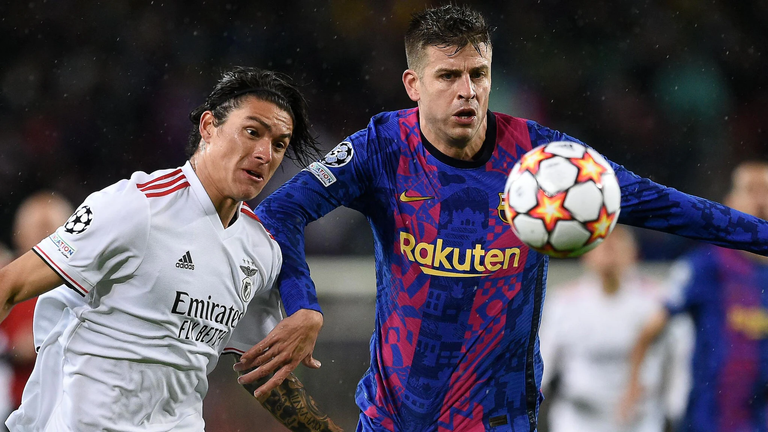 El segundo juego para Xavi en el calendario avecinaba un partido de Champions ante el Benfica, un encuentro en el que podían bajo sus propios medios asegurar la clasificación a los octavos de final con una victoria, algo que nunca terminaría sucediendo y complicaría el rumbo del equipo en dicha competición.
Un partido complicado, en el que el Barcelona tomaba la iniciativa y se hacía amo y dueño del balón, pero seguían prevaleciendo las falencias defensivas, imprecisiones características de fútbol amateur que afortunadamente no culminaban en gol para los portugueses, solo 3 disparos bajo los tres palos de 14 remates realizados, unos números preocupantes que reflejaron lo que fue una oportunidad desperdiciada y que podría costar muy caro, relegando al Barcelona a Europa League, un torneo en el que los culés no están nada familiarizados. En la última jornada de Champions las opciones son limitadas, el Barcelona solo debe pensar en ganarle al Bayern Munich en Alemania, evitando depender de lo que el Benfica haga ante el Dinamo Kyev, una victoria del Barcelona ante uno de los mejores equipos en la actualidad de Europa podría suponer muchas cosas positivas para Xavi y sus dirigidos, habrá que esperar hasta el 8 de diciembre para conocer el destino catalán.
The second game for Xavi in the calendar was a Champions League match against Benfica, a game in which they could secure their qualification to the round of 16 with a victory, something that would never happen and would complicate the team's course in the competition.
A complicated match, in which Barcelona took the initiative and became master and owner of the ball, but defensive lapses continued to prevail, inaccuracies characteristic of amateur soccer that fortunately did not culminate in goals for the Portuguese, only 3 shots under the three posts of 14 shots made, worrying numbers that reflected what was a wasted opportunity and that could cost dearly, relegating Barcelona to Europa League, a tournament in which the Culés are not at all familiar with. In the last Champions League matchday the options are limited, Barcelona should only think about beating Bayern Munich in Germany, avoiding to depend on what Benfica does against Dinamo Kyev, a victory for Barcelona against one of the best teams in Europe today could mean many positive things for Xavi and his team, we will have to wait until December 8 to know the Catalan destiny.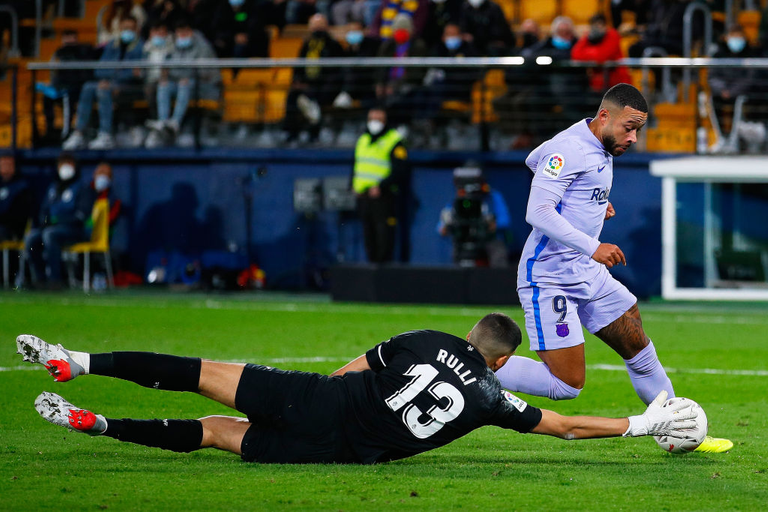 Ante el Villarreal se esperaba un partido muy complejo, un rival bastante difícil que atraviesa un momento dorado en el fútbol, siendo el actual campeón de la Europa League y manteniendo sus aspiraciones en la actual Champions.
En el partido, nuevamente el Barcelona mostraría ciertas mejoras, manteniendo la verticalidad, el fútbol de toques y los extremos abiertos, con un dominio variado en el que imperó la precisión culé, un partido que asomaba el empate, pero que gracias a una gran jugada individual de Depay y un penal concretado por Coutinho, el Barcelona se llevaría tres puntos de oro que lo posicionan en la séptima casilla de la liga, a 10 puntos del Real Madrid, pero mostrando un mejor perfil y un juego más amigable.
Por otra parte, las imprecisiones siguen evidenciándose, un pase completamente innecesario de Eric hacia el centro de la saga terminaba dejando el balón en poder del submarino amarillo, pero afortunadamente no terminaba en gol, una jugada no justificada con un Eric cumpliendo funciones de lateral derecho, una posición no habitual para el jugador, en la que Xavi termina de descartan a Dest como una de sus opciones principales para esa posición.
A very complex match was expected against Villarreal, a very difficult rival that is going through a golden moment in soccer, being the current champion of the Europa League and maintaining its aspirations in the current Champions League.
In the match, again Barcelona would show certain improvements, maintaining verticality, touch soccer and open ends, with a varied domain in which the Culé precision prevailed, a match that looked like a draw, but thanks to a great individual play by Depay and a penalty scored by Coutinho, Barcelona would take three golden points that positioned them in seventh place in the league, 10 points behind Real Madrid, but showing a better profile and a friendlier game.
On the other hand, the inaccuracies continue to be evident, a completely unnecessary pass from Eric to the center of the saga ended up leaving the ball in the possession of the yellow submarine, but fortunately did not end in goal, an unjustified play with an Eric fulfilling functions of right back, a position not usual for the player, in which Xavi ends up discarding Dest as one of his main options for that position.
---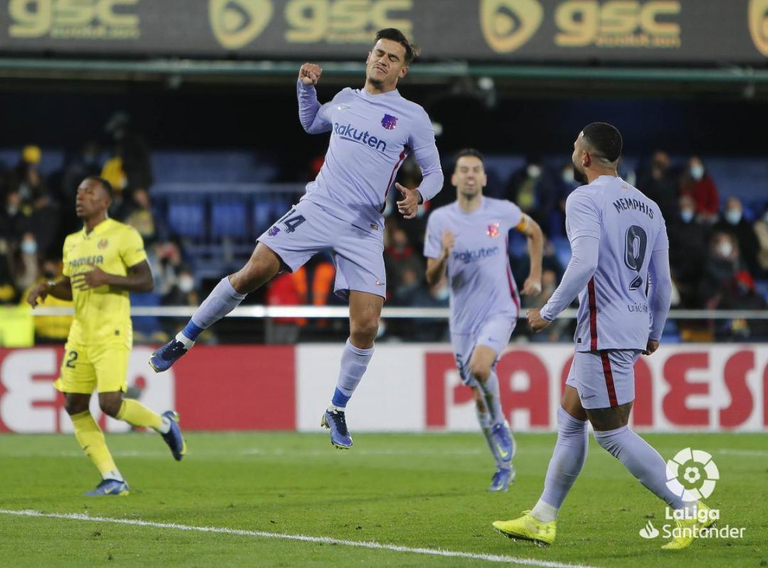 Al final, el Barcelona se llevó la victoria de un partido muy bien trabajado que permite hacer soñar a los jugadores, que les da un impulso motivacional y que los hace soñar con un triunfo en la siguiente jornada ante el Betis por liga, y posteriormente ante el Bayern por Champions.
Xavi empieza a demostrar lo que su ideología puede hacer, y será cuestión de tiempo para ver a un club plantado con un fútbol de alto nivel, aun siguen quedando cosas pendientes, pero la mejora se ve en cada partido y lo importante es el ánimo que los jugadores y la directiva tienen por cambiarle y devolverle un mejor semblante al FC Barcelona.
In the end, Barcelona took the victory in a very well worked match that allows the players to dream, which gives them a motivational boost and makes them dream of a victory in the next match against Betis in the league, and later against Bayern in the Champions League.
Xavi begins to show what his ideology can do, and it will be a matter of time to see a club planted with a high level of soccer, there are still pending things, but the improvement is seen in every game and the important thing is the spirit that the players and the board have to change and return a better look to FC Barcelona.

Fuente de imágenes || Source of images
---
1 - 2 - 3 - 4 - 5 - 6

---