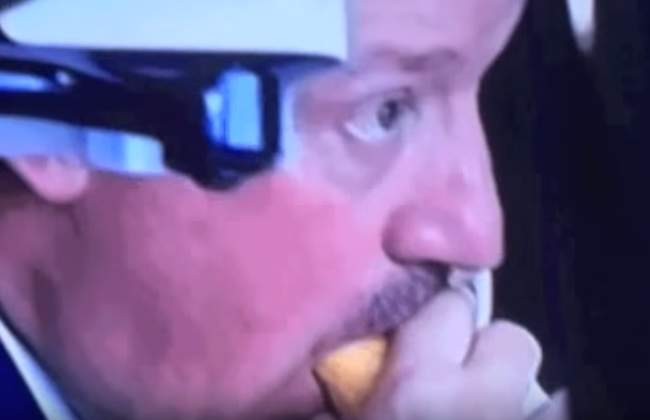 image source
Today's post might sound silly at the start but it is really a post about injustice and mistruths in the world of football. Anyone who saw the great Spanish manager, Rafa Benitez join Real Madrid to replace Carlo Ancelotti knows that the manager wasn't welcomed by either the players or the Spanish media at the time. Before I start clarifying the context of this photo let's point out that this photo wasn't taken during the Real Madrid loss of 4-0 to Barcelona as some photos and videos floating online suggest.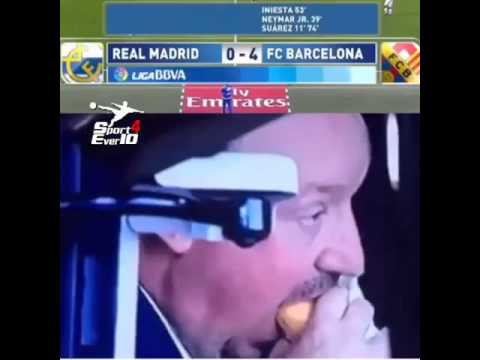 Image source
This photo was taken during a Real Madrid comfortable win over Espanyol with a very comfortable result of 6-0.
Rafa Benitez is a very accomplished manager, despite his recent stints, he was the manager who took the league title from Barcelona and the Galácticos of Real Madrid, the same accomplishment Diego Semione has been hailed for years for doing. He also lost the UCL final by penalties, and a very tragically timed story of his team, Valencia's keeper learning of his father's death during the final.
He was also the manager of Liverpool during the greatest comeback in football history in the UCL final in Istanbul. He also went on to win numerous titles with teams like Inter Milan, Napoli, Chelsea, and many more. Also, he is the reason Newcastle went back into the PL so soon after relegation. So, say what you want, but Rafa remains one of the best managers.
Many world-renowned newspapers and sports sites didn't hesitate a second before posting that photo again after Barcelona beat Real Madrid 4-0, some insinuating that he was eating during that match. The mistruth happened in round 12, that game had CR7 score 5 goals BTW, 9 rounds after Real Madrid was defeated by Barcelona which helped the mistruth to be believed. A very disingenuous image of him as being non-caring and not knowing what he is doing as a manager.
To be fair, it was quite an unusual sight. Although we have seen it before, also we have managers like Marcelo Bielsa smoking before. The explanation for his actions was quite simple, explained by his agent, wife, and many people in his circle: He has diabetes. His diabetes often caused him to eat at certain times at night as well as day and in certain situations so he wouldn't suffer from low blood pressure, a serious condition that often leads to lightheadedness, dizziness, weakness, and sometimes fainting.
A simple search on google can get you all the information you need within 0.72 seconds, but the media didn't care. Low blood, according to Healthline, if left untreated, can be very dangerous. It can result in seizures, loss of consciousness, or death. What was the man supposed to do? Risk his life to look good in front of the camera?
Rafa was simply not welcomed by the media, he wasn't respected by the players who loved their previous great manager. This lack of respect led to a lot of unprofessional behaviors by the players and the media, including a site like Bleacherreport, who saw it fit to share the video of him eating under the title "Rafa Benitez Eats Sandwich so Fast He Nearly Eats Napkin". An actual article with terms to describe him eating to keep himself healthy like "wolfed down a sandwich" and concluded it with "even the napkin didn't stand a chance".
Zidane came in after Rafa left and saved everyone the embarrassment, the players and media who didn't show respect alike. He went to win the UCL and two league titles, making everyone "right" about their behavior toward Rafa.
Rafa Benitez would probably not have gone to accomplish what Zidane accomplished with Madrid. But, I stand firmly in saying that he was unjustly treated in a way that could be often described as straight out bullying.