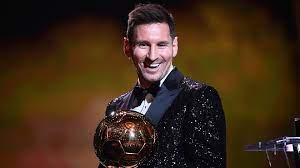 Image source
LM7 has trended worldwide last night to point out Lionel Messi winning his 7th Ballon d'Or to reach a record that is only his. There are still many shouters complaining about Lewandowski, Salah, Jorginho, and even Benzema not winning the award instead. Bear in mind, I said makes sense, not deserved.
In this post, I will attempt to explain
How This is the Most Difficult Ballon d'Or to Decide the Winner
Why Messi Winning the Award Makes Sense
What are the Standards for this Award
How This is the Most Difficult Ballon d'Or to Decide the Winner
As you go through the list of the nominees you will have, in specific those who had the highest chance of winning going in all have strong reasons to get the award and all have reasons that discredit them.
Every nominee suffers from "yes, but". Starting with Messi, impressive individual performance, for tens of games looked like he was the only carrying the team, a Copa del Rey title and Copa America, so yes, he deserves the award, but, he had like one or two good games with PSG by the time the voting ended, even with Barcelona he looked ghosted sometimes.
Jorginho won the UEFA Champions League and Euros, the two biggest titles of the year. So, yes, he deserves the award, but, both Italy and Chelsea are teams with great systems that he is good enough to be in both, but it would be like saying Sami Khedira deserves to win the Ballon d'Or in 2014 since he won the World Cup and the Champions League that year. This is not a knock on Sami Khedira by the way.
On to Robert Lewandowski, an extravagant amount of goals in the Bundesliga, he won the league title, so, yes, he deserves the award, but, it is the Bundesliga and he is part of another team that has a great system. In the Euros, he didn't accomplish much. His team didn't go far in the Champions League.
I know many are thinking that there are flaws in that logic and I get that. But, this is the way it is laid out in many journalists' eyes. No journalist is going to play all the matches of each player. They read reports, check out match ratings, then make a decision.
Why Messi Winning the Award Makes Sense
As we laid out how difficult it is to pick a winner as this is, in my opinion, the closest since Cristiano and Messi started winning them, at least. Before that, you'd find some detractors but the winner was clear for most since the end of May. International tournaments like the Euros and the World Cup would make some noise after the summer, but it is rarely a factor. Whether Portugal has won the 2016 Euros or not, it didn't matter for Cristiano and his chances of winning the award. Portugal could have gotten knocked out in humiliation on the group stage and he would have still won.
Messi winning makes sense because it seems fair to most people, advertisers, sponsors, football veterans, you name it. Lionel Messi, along with Cristiano, played a huge part in increasing the popularity of football. There are so many people outside of football who might not be aware of what Barcelona or Real Madrid even are, but are aware of Messi and Cristiano. There was a Messi line in the latest Kanye West album. That's how popular those two have made the sport. Just google lyrics with both players' names appearing and you will get an endless result.
Messi seems like an easy result amidst a mess of not-so-guaranteed nominees. Add to that what winning the Copa América means. Yes, in itself, the tournament doesn't affect much. I mean, how many Chile players even made the top 10 thanks to it. Hell, in 2019 Brazil won and Neymar wasn't even in the top 30. Allison who had won both the Champions League and Copa América was only 7th. Copa América only mattered in the context of Messi's career as a whole and how much it meant to win an international title for it to be complete.
What are the Standards for this Award
Is it about individual performance, titles, a combination of both? In your mind it must be about one of those three, but, in all honesty, there are no standards for the award. There is no specific achievement you get that would win you the award. Before Messi and Cristiano changed the standards, the award was about major titles. Kaka won it in 2007 because AC Milan won the Champions League and he was their best player. In 2006 Cannavaro because Italy won the World Cup.
After digital media entered the scene, the only standard became public opinion. It is like an election, what the public decides doesn't necessarily make sense. It could be good or bad, like it or not. The standard is public opinion and how you can control it. In 2018, we went into the summer knowing that the year will end with Cristiano Ronaldo winning the award. He left Real Madrid so the club focused its media effort on Modric, a right that every club has to support its players. Yes, Modric went on to pull a legendary performance in the World Cup in 2018 but can you honestly say that Cristiano wouldn't have won it had he remained in Real Madrid?
In the end, Messi won it by the one standard these award shows have in the current digital media age. Digital media and its injection of public opinion affect journalists' picks, which in turn affects whether sponsors and advertisers come to the event. And that is why Messi winning the award makes sense.