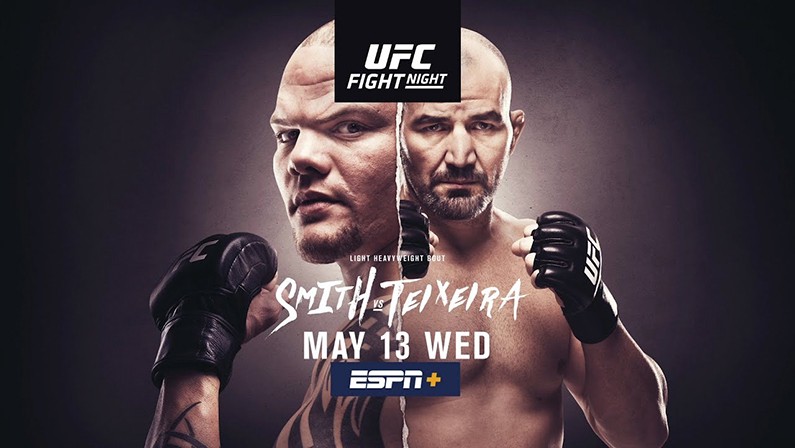 Source
UFC Fight Night 171 the Second of Three Cards Happening Within A Week
The UFC wasted little time getting back into the octagon with Fight Night 171, coming only days after UFC 149, an event that saw Justin Gaethje claim the interim lightweight crown against Tony Ferguson. Jacksonville, Florida would be the venue for the event once more as Anthony Smith would do battle against veteran Brazilian, Glover Teixera in the main event of the evening. In the co-main event, heavyweight mainstay, Ben Rothwell would welcome light heavyweight, Ovince St. Priuex to the division, and hope to initiate him accordingly in the ways of the heavy hitters.
Co-Main Event: Ben Rothwell vs. Ovince Saint Preux
Fight fans were no strangers to two fighters who have been within the UFC ranks for a fairly long time, both Rothwell and St. Preux were looking to both carry the momentum of their previous victories into the co-main event of the evening. Scheduled for three rounds, both fighters took to the center to get the fight underway. Classically, Ben Rothwell lumbered forward in his typically unorthodox fashion, controlling the middle of the cage and forcing Ovince back. St. Preux looked uncomfortable for the whole of the first round; waiting to see what Rothwell would do while attempting to constantly create distance by darting along the cage. A few strikes and kicks gave Ben something to think about, but one of the kicks Ovince through was eventually caught and used to secure a takedown and a choke attempt. St. Preux managed to control the hands and keep out of any real danger, and the round ended with Rothwell dictating the pace.
It was more of the same in the second round, St. Preux showing no desire to dictate the fight. He seemed to be fighting not to lose rather than to win. Rothwell kept pushing, looking to make his opponent uncomfortable in the clinch while attempting to do damage with knees and strikes. A little spark of magic happened for the heavyweight newcomer as Ovince managed to catch Ben with a big strike that caught the big man off-balance but was unable to capitalize as the round came to a close.
With cardio seeming to present a problem and no clear game plan, it was more of the same in the third, Ben kept on looking for opportunities to get close and unload with big strikes. The final minutes produced the best moments of the fight for Ovince as he landed big shots that Ben ate. A few violent exchanges and the fight would draw to a close. A relatively uneventful and forgettable fight ended in a split decision with Ben Rothwell getting the nod for his aggression and control. St. Preux bolted out of the cage, and most likely out of the division after the announcement was made.
What's Next?
Ben Rothwell vs. Aleksei Oleinik
Rothwell now on a two-fight win streak called out Russian submission specialist, Aleksei Oleinik, who had recently worked for a well-earned split decision victory over former champion, Fabricio Werdum over the weekend. With the two fighters seeming to be similar in their current status, this fight seems like a good one to make.
Ovince St. Preux vs. Stefan Struve
Whether St. Preux decides to stay in the division or not, his options are not looking good, and he'll have to take whatever he gets at this stage. Stefan Struve came out of retirement to face Ben Rothwell, falling victim to the American's big shots. If another fight at heavyweight had to be made for Ovince, this is as good a fight to make as any.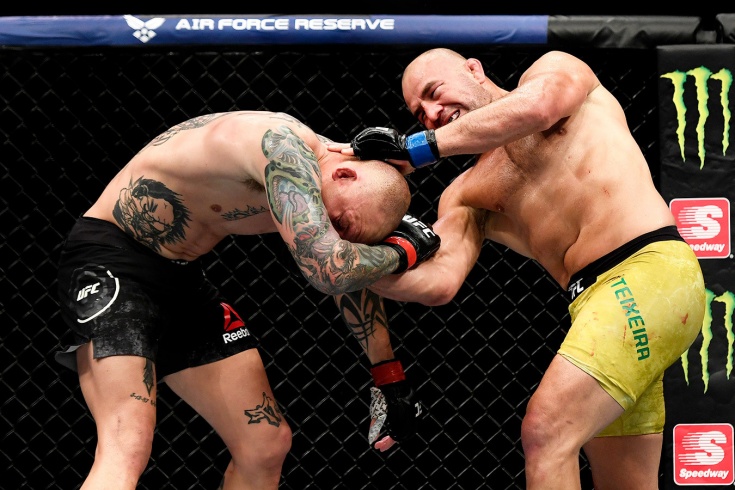 Source
Main Event: Anthony Smith vs. Glover Teixera
Both Anthony Smith and Glover Teixera were no strangers to the big events, having both competed for the light heavyweight crown at different periods against Jon Jones. Smith followed up his loss to the champion with an impressive win over Alexander Gustafsson, proving that he was far from done. Glover Teixera would mostly have positive results after his title fight, losing only 4 in his last 13, and came into the fight riding a three-fight winning streak.
Both fighters looked good, with Smith looking particularly intense. From the get-go, Smith rushed in with a shot but then decided to pump the breaks, realizing that his opponent was not a man he was going to get out of there in a fast manner. Smith relied on his jab and found success with his right, landing good shots as he continued to throw in volume. But Glover remained calm and used good movement to avoid any severe damage, the power he carried in his own hands always ominously waiting to be unleashed.
Anthony continued to push the pace in the second, finding more success with his strikes and even doing a good deal of damage to the left eye of Teixera, but as time went on, the amount of energy being expended from Smith due to all the shots he was throwing, was starting to take its toll. The commentators mentioned that this had a lot to do with the barrage of instructions being thrown at Anthony, while Glover's corner were mainly silent, trusting in their fighter to make the right decisions in each round.
The third round would present the opportunities for Glover to capitalize on, a vicious uppercut landing clean on the eye of Smith, backing him up and inviting Teixera to unload. A large right eventually dropped Smith, and the fight seemed close to being stopped, but Smith once again demonstrated that the nickname "Lionheart" was not just for show. Defending intelligently and controlling the wrists, Smith managed to avoid the submissions but continued to absorb punishment until the end of the round.
The fourth round was more of the same, but Smith seemed defiant, throwing threatening strikes like a wounded animal backed into a corner, but Glover was far fresher, stalking Smith and hurting him with big shots. Smith desperately tried to dive for a takedown but Teixera sprawled and dished out more damage until the end of the round. Smith seemed done in the corner, teeth falling out and the fight slowly starting to drain out of him. The two took to the middle of the cage but Smith eventually crumbled, allowing Teixera to easily get into a full mount and beat Smith up until Jason Hertzog had seen enough. Glover Teixera's rise back to the top continued, winning his fourth straight victory while giving Smith a lot to think about going forward.
What's Next?
Glover Teixera vs. Volkan Oezdemir
As impressive as Teixera's run has been, it may still not be enough to guarantee another crack at the title yet. With Jan Blachovitz next in line, and Reyes and Santos looking to lock horns in the future, Glover may need one more win over a ranked opponent to seal a title fight. Just behind him in the rankings at the moment is a former number one competitor, Volkan Oezdemir, who has been on his own tear with two straight victories. A fight between these two seems to make the most sense.
Anthony Smith vs. Anderson/Rakic
Smith seemed off in his fight against Teixera, and perhaps another disadvantage of not having a crowd in the stands is not having voices to pick one up when one is fading. The loss could be an opportunity for Smith to take a break and re-evaluate things. A fight against the loser of a possible match between number four ranked, Corey Anderson, and number nine ranked, Aleksandar Rakic, could be the fight for Smith to take in the future.
Other Results
Thiago Moises def. Michael Johnson via SUB2

Andrei Arlovski def. Philipe Lins via UD (30-27x2, 29-28)

Ricky Simon def. Ray Borg via SD (29-28x2, 28-29)

Drew Dober def. Alexander Hernandez via TKO2