The records are meant to be broken. I was hoping this one record to remain intact today. Norwich has never lost to Southampton at Carrow Road for almost 24 years in the premier league. But, that record was broken today. Southampton FC comfortably beat the Canaries at home. Three goals in the second half and the home side had no answer.
Norwich is sitting at the bottom of the league table with only 21 points from 30 games, five points behind Aston Villa and six points behind the other three teams battling the relegation. And, they have one extra game on hand. This looks nasty for Norwich and going back to championship is more obvious than ever. I am not liking it.
[Twitter/Premier League]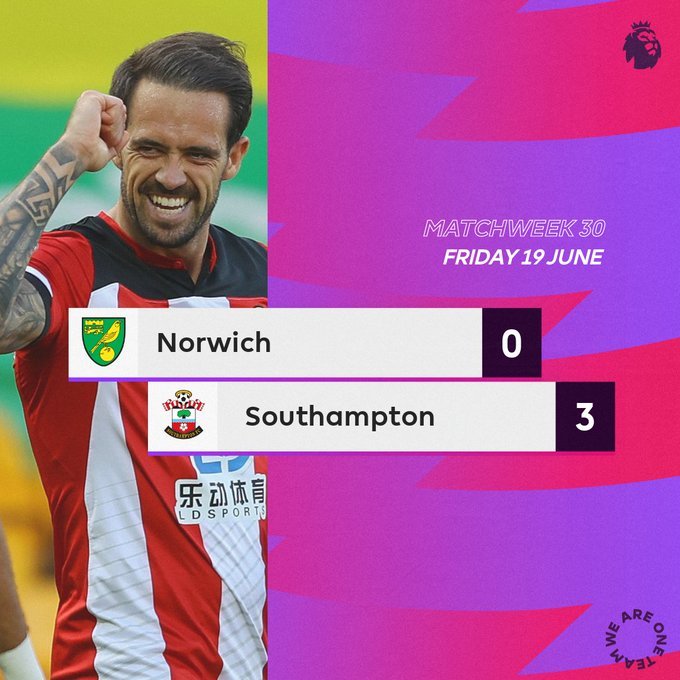 City had their moments in the first half of the game with a couple of free kicks and the duo of Pukki and Buendia were in the thick of the game. There were no goals though.
Southampton were fast in counterattack and Danny Ings was their star in the first half. Norwich managed to make it a goalless affair in the first half. In the second half, Southampton exploited the weak Norwich defence to score goals in quick succession (50 and 55 minutes). Norwich were never looking like a winning team in the second half and were busy kicking the ball away to safety. The ex-City player, Redmond, hammered the third goal past Tim Krull and that was the end of the story.
There was no fighting spirit or winning attitude from Norwich players once Ings scored that goal capitalizing on that defensive error. It will be tougher every other match for Norwich going forward. I was hoping they could start on a positive note but it was not meant to be. I don't know what to expect from their next games. It seems they are done and dusted and are ready to start fresh at the second tier. Norwich had the worst goal difference in the league and it shows when they could not even score and defend well against Southampton today.
Norwich will play Everton next week and then Arsenal after that. I am not hopeful.