Norwich FC beat Spurs (2-1) today. Oh wait, that's a friendly match ahead of the reopening of the Premier League matches next week. If staying afloat is what Norwich FC is playing for, they better up their game because they do not have many games left. The team is battling relegation with five other teams, if I dare to predict other teams are also fighting the bottom place relegation.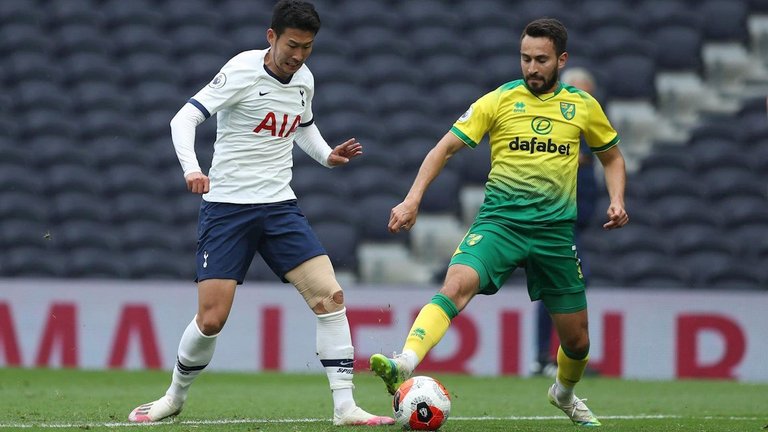 Norwich City FC is sitting at the bottom of the premier league table with relegation clouds looming on its face with 21 points from 29 matches. The club has the worst goal difference tally(-27) in the league and lost 18 games in total so far (worst performance). They managed to win only five games and their last win was against Leicester City in February 2020. After their famous win against Man City last year (3-2), the team surprisingly lost the momentum. They could not manage to win matches against their relegation rivals, specially against Aston Villa. The slump in their form haunted them really bad throughout the first half of the season. They managed to recover in the second half with a couple of draws and wins. But, it was too late.
Is it too late though?
There are nine more games left for Norwich FC to salvage enough points so that they remain in the premier league next season. They will play against Southampton next week at Carrow Road. That game will be instrumental in starting this spell on a right note. Norwich FC is typically strong at home regardless of their recent statistics. However, it will be interesting to see if not having supporters will be a significant deal for home teams.
There will be no home support but they will still have home advantage to rely on (whatever that means in this "New Normal"). Southampton's form has not been rosy as they lost back-to-back premier league matches before the pause. Everton and Arsenal are the next two games and they will still need to face Chelsea and Man City. Unless Norwich produces something magical like they did with Man City last year, it is extremely difficult to have any chance. Our quality has not been of top notch to bother these top flight teams.
The only option is to win as many games as we can, use home game advantage and keep the momentum. It is easy to say but really tough to execute. Three wins and as many draws will give us 12 points and that will give us a fighting chance. The most important game will be against the top teams and West Ham, who is also fighting relegation.
I hope the win against Spurs is the spark we need to fight the relegation. Let's wait and let's hope.