Ten months ago when Daniel Farke led the Norwich FC team to the top flights of english football, I was overwhelmed. I thought the team will imbibe the enthusiasm, motivation and goal scoring ability demonstrated in the second tier. They were a confident bunch of players with purpose. Farke was the leader, a tactician and a stable figure the team needed. Nobody expected them to be outright winners in the top league. I certainly did not. I was expecting them to show a good fight and rub shoulders with the best clubs in the world.
They started well. Their first game was with Liverpool and it was a high scoring match. We Norwich fans knew that Teemu Pukki can score goals and he did what he was supposed to do, score goals. It was a close match that we lost against Liverpool but fans were happy. It was the right start. Pukki became the Player of the Month and Norwich was already considered a team to be aware of.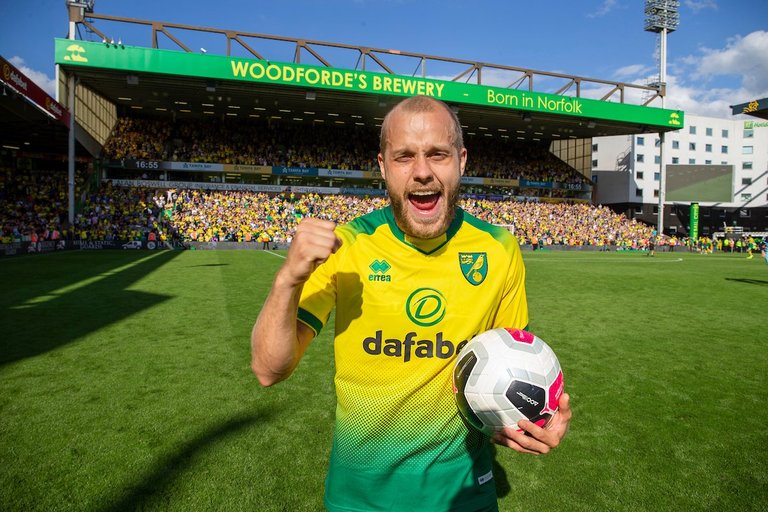 Source
Then came the expected downturn. Norwich FC was not a top flight team and the cracks started to show. Pukki's goal scoring form dipped and there was no one else as reliable despite youngsters showing some sparks. Team kept on losing points and could not save those games where they could have salvaged draws.
Sometimes you have weak tactics and some days you are undone by sheer luck. Both happened to Farke and his team. And, when the premier league paused in March, Norwich FC was on the rock bottom with 21 points from 29 games with only 5 wins and whopping 18 losses. I cannot believe how they managed to lose that many games. They are six points behind West Ham who are 16th and are two points behind Brighton.
With eight games in hand, Norwich can still be lucky to be out of relegation but given their form and the way they were playing , it is tough to say that the lady luck will be with them. This could be the end of an era for Daniel Farke and his players. There are speculations, already, that Farke may return to Bundesliga. I will be sad to see Farke leave (if that happens) and I know that he brought a beautiful, attacking game of football back in Norwich.
But, who knows? The second wave of pandemic virus may halt the league. I am being cynical here. We will be a happy bunch if the management decides to scrap the whole season and give Farke and his lads another chance to stay in the top flight. Mind you, they will have a year worth of experience.
I know it's daydreaming but who cares.
Who wants relegation?
Nobody.