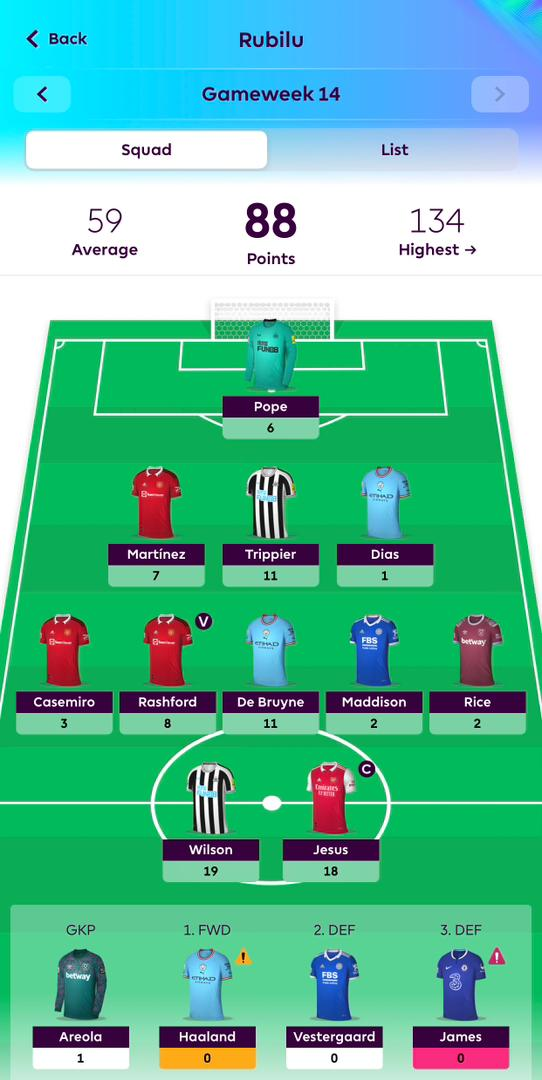 Screenshot from my fpl app
---
For the the first time this season I've had 88 points. When I opened my fantasy app after the united game yesterday and saw my points, I made sure to rub it in my brothers face. Well, am kind of surprised I had 88 cause of the Halaand absence.
I find it hard playing fantasy sometimes because I always forget to change my team. This time round with the twitter notifications it's getting better. I couldn't bring myself to take Halaand off my team. The reason being when I was making changes to my team, he had a 75% chance of playing. Well, that's a small chance but believe you me it has happened to me before.
Jesus was given a 75% chance of playing so I transferred him out. But when the lines ups were revealed he was part of the starting 11. I think he went on and grabbed a couple of goals in the match. So this time round to be on the safer side I didn't sub or take him out, I took the captaincy from him and handed it over to Jesus who has not been in scoring form lately. As I said the other time, he is good on the ball and plays very well but it doesn't help the fantasy managers. We need his goals to get points and am sure most people have sold him already.
Now let's take a look at my team.
---
For game week 14, I backed my keeper Nick Pope against Aston Villa. I knew this fixture will be difficult since Villa won their last match by beating Brentford 4 goals to nil. I don't like changing keepers a lot so I had to keep him in. He has been doing well lately. Moreover I predicted a win against Villa. They did just that and pope gave me 6 points.
---
For a while now I've gone with a 3 back. It's rare for teams to keep clean sheets so I don't like having a lot of defenders. I always have 4 defenders but I put one on the bench incase I want to make changes. So for my back I have Matinez from United, Trippier from Newcastle and Dias from Manchester City.
I brought in Matinez after United picked form. I didn't bring in any of their other defenders cause Matinez was the one racking up points and is still racking points. For now am considering being in Dalot too cause he is playing good. Matinez gave me a whooping 7 points and boy am I glad.
Tripper from Newcastle is on fire. I've had him In and even though Newcastle concede at times he always manages to get me good points. So for this week he game me a whopping 11 points. For a defender he seems to like scoring and giving assists. To add up on all this he game an assist.
Dias is one defender am considering taking off my team. This days city seem to be conceding. Ederson doesn't keep clean sheets anymore so it will be very hard for his defenders to rack up points. Well, against Leicester Dias played for only 18 minutes giving me just a point.
---
If you read my first post on fantasy, I made mention that I like backing expensive midfielders in my team. For this week I went with 4 in the middle but rice was brought in since Halaand didn't make it. I've had Casemiro since they played Everton, Rashford and De Bruyne( being the only city midfield I have) and Maddison.
I keep KDB only because Pep seems to hardly rotate it. Casemiro managed 3 points which I am not satisfied it though. I was backing him to get 4 to 5 points since United kept a clean sheet. Yesterday, my trust in Rashford paid off. I was considering taking him off cos he was no longer giving me goals. Well yesterday he did it for me as he scored the only goal. He managed to give me 8 points.
Well, it seems this week my midfield did good. KDB was the only players to also score Man City's goal so it gave me good returns. He handed me 11 points from my faith in him.
There is not much to be said about Maddison as he could only give me 2 points after his team lost to City. Am glad he could give me 2 though cos his team lost and he had a pretty decent game.
Rice's West Ham also lost to United and he could only give me 2 points. I think it was a decent return since his team lost.
Now to the forwards. Since I started fpl this season I've had Wilson, Halaand and Jesus. I couldn't risk taking Halaand out of the team out of fear I might not have enough funds to buy him back. Well luck shined on me.
Wilson was up against Villa and boy did he make them pay. He was able to rack up 19 points and now am regretting not giving him the captions arm band for this. He gave 2 assists and scored 2 goals. For this weeks fantasy he was the player with the most points.
Jesus was another one who couldn't get a goal but he did give me points. He was able to give 2 assists in their 5 nil win against Forest yesterday. He had the captains arm band and I was hoping he could get a goal or 2. But am okay with the assists he gave.
This is a review of how my team performed over the weekend even though Halaand could not play. If you have any advice of who I should bring in place of Halaand am open to listening to it. If you also want advice on who to bring you can leave a comment and I will be glad to help.