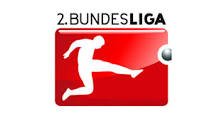 Heute Abend das Rückspiel in der Relegation 2.-3. Liga.
Tonight the second leg in the relegation 2.-3. League.

vs.

Dresden spielt zu hause gegen Kaiserslautern. ImHinspielhabe ich 2 sehr schwache Mannschaften gesehen beim 0:0. Ich tippe 0:0 nach 90min.,0:0 nach 120min. und am Ende gewinnt Kaiserslautern im Elfmeterschießen.
Dresden plays at home against Kaiserslautern. In the first leg I saw 2 very weak teams at 0:0. I guess 0:0 after 90 minutes, 0:0 after 120 minutes. and in the end Kaiserslautern wins on penalties.
Funny match @all
Best regards & Glück auf
sportfrei