There have been a lot of strange things that I have seen happen in UFC and other MMA fights over the years since I became a fan, but this is a first for me. A guy who has virtually unlimited resources in his camp and access to the best nutritionists and trainers in the world, failed to make weight and now has been stripped of his belt before the bout even begins.
Charles Oliveira missed weight by a half pound and once this happened he was given an hour grace-period to lose half a pound and I would guess he went in the back and tried to dehydrate the hell out of himself, was probably given some laxatives and what not and then came back to the scale an hour later only to end up weighing exactly the same weight as before.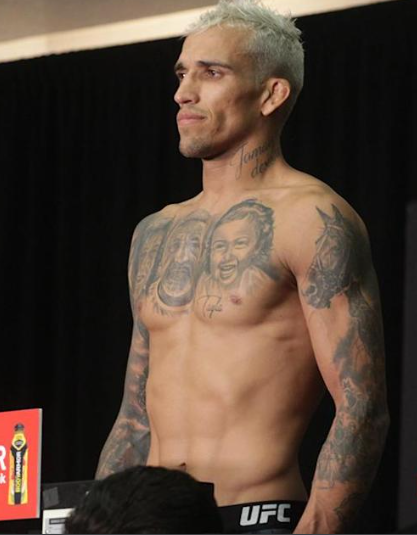 src
This is the first time this has ever happened in UFC. No fighter has ever been stripped of their belt at the scale before. The fight will still happen though and there will be some sort of pay penalty imposed on Charles because of the half pound - which is something that probably makes Dana White happy because he loves money so much despite having more of it than almost all of the UFC fighters combined.
Like most people I had no idea what happens in this situation so I looked it up in the rules: There is no situation where Oliveira will leave the octagon tomorrow with a belt around his waist, win or lose. If Justin Gaethje emerges victorious, he will be crowned champion, if Oliveira wins, the belt will be pronounced vacant and Oliveira will be made the number one contender.
It's easy for those of us who are all armchair quarterbacks to sit here and be like "WTF dude?" But at the same time I encourage all of us who are saying that to weigh themselves and then go run around like a loon for an hour and see if you can lose a half pound in that time frame.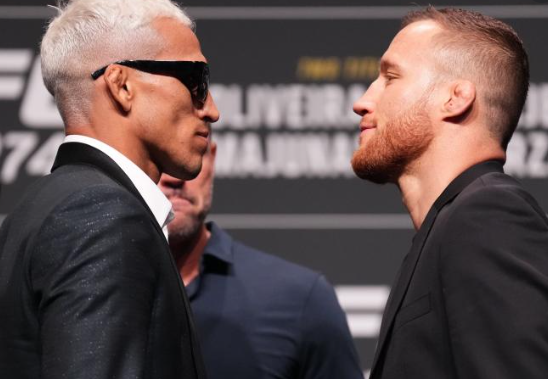 src
This doesn't change the fact that Oliveira has had months to prepare for this and since he is a professional fighter he is more than familiar with the intricacies of cutting weight. He is also a serial violator of missing weight at one point missing weight by a full 9 pounds in the past. The conspiracy theorist in me sort of thinks that there is a chance that this might have been intentional - as unlikely as that seems - because now win or lose Dana has a sure-fire way of extending the shelf-life of Oliveira and whether he wins or loses, he now has some controversy surrounding the dude to make future fights perhaps even bigger draws. They can even build a montage around how Charles has struggled to make weight. Hell, they may even have an opportunity for the real main event to take place in his home country of Brazil.
This kind of sucks for the fans though because this is the main event and while I am sure it will still be exciting the fact that we are in a strange situation as far as the belt is concerned kind of takes away from the allure. Thankfully the rest of the card is absolutely stacked and there are plenty of other reasons to tune in tomorrow.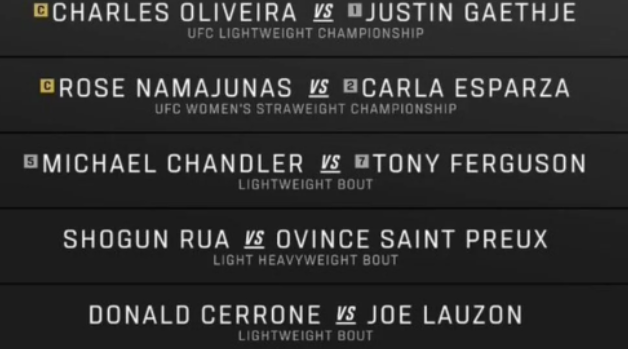 src
For the first time in a while I am excited about every single fight on the main card. Normally, there ends up being a few fights mixed in there that I am kind of "meh" about but I am extremely interested in every single one of these matchups. Cowboy for example is kind of pinned in the corner here and desperately needs a win. Michael Chandler and Tony Ferguson is bound to be a barn-burner since Tony is kind of fighting for his career and Chandler has had the wind taken out of his sails after he appeared as if he was going to take over the lightweight division after his initial commanding victory over Dan Hooker in the first round. He and Tony are both in "must-win" situations if they want to remain relevant. My money is on Chandler but I'm wrong as often as I am right in these things.
Just for the hell of it here are my picks in a purely win or lose situation
Gaethje, Rose, Chandler, OSP (but it will be boring), and Cowboy.