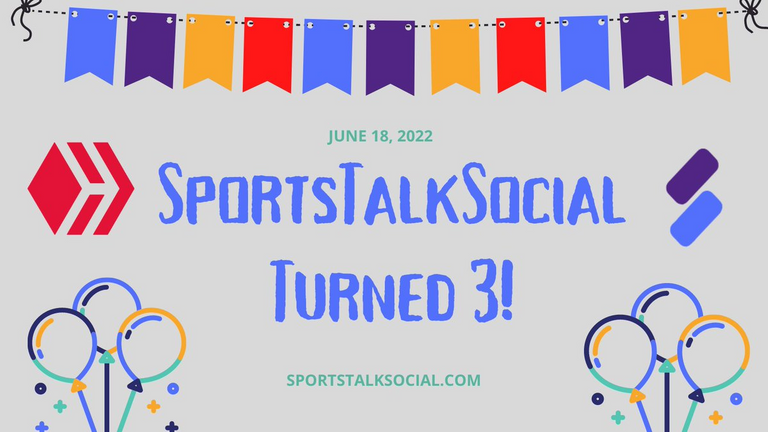 Days ago, I stumbled on a Tweet by @Patrickulrich stating that the SportsTalkSocial Community on Hive as well as the Tribes Outpost has turned Three Years.
It's our birthday! We've been rewarding sports content on #Hive for 3 years now! What's holding you back from joining us? http://SportsTalkSocial.com
That's a long journey for a web3 community for Sports. It's not really been a very smooth journey but the strides made by the community and its members are worth celebrating and appreciating.
Very many users have stayed loyal to the Hive tribe despite the dwindling price of the token.
I wish to celebrate the SPORTS tribe not just because I have a huge stake here but because this anniversary falls in my month of birth too.

The @Sportstalksocial community has grown over the years stretching out for collaborations to other relevant hive tribes. The growth may be slow but certainly happening. Our user base has grown. 103 active users is a great number. Thanks to @Cryptoandcoffee for the curation initiatives with OCD that has helped retained a lot of quality content creators.
A Simple Contest
It's a simple writing contest with rewards. I hope @Cryptoandcofee would consider giving some tips to users that make a quality entry.
What was your Best or Worst Moment as a Content Creator, Curator, Investor in the SportsTalkSocial Tribe?
Make a post stating how long you have engaged this community with emphasis on the topic above. make it creative
Use the tag #sportstalkisthree to submit your entries.
Contest Rewards
SPORTS upvote with a trail worth over 15k SPORTS
20k SPORTS to be staked to top 10 qualified entry.
100k SPORTS each to be staked to the best 3 entries.
I hope other Hivers and sports lovers could support with prizes. I hope this spices some engagement within the community
We have to continue making some noise and marketing the sports tribe as long as we have stakes here. I am very hopeful; that SPORTS token has the potential of hitting $0.01 someday in the future. It may take months, years, but certainly, that day would come.
Let's get this fun rolling out...