G'day tribe! Today we're switching it up to Major League baseball. What are the biggest MLB contracts of all time? These are the players earning the most money from America's biggest pastime.
From record breaking paydays that are worth every penny, to contracts that could derail an entire franchise for decades, these players have set themselves up for life with staggering amounts of money.
Let's take a closer look at the 10 biggest MLB contracts and the players who earned them.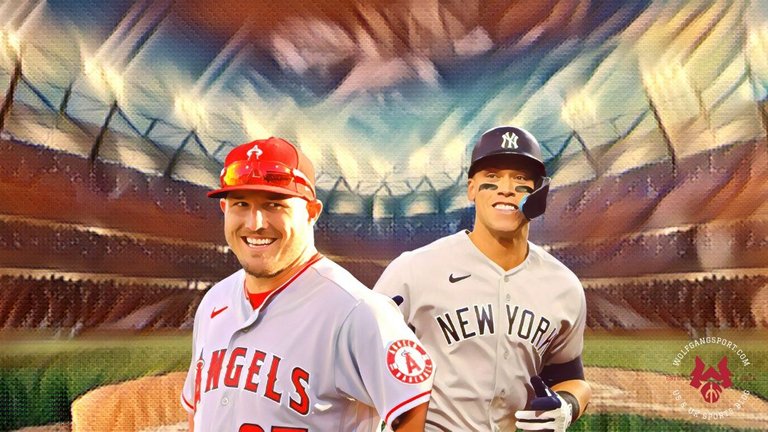 What are the biggest MLB contracts of all time? These are the players earning the most money from America's biggest pastime.

Biggest MLB Contracts
From record breaking paydays that are worth every penny, to contracts that could derail an entire franchise for decades, these players have set themselves up for life with staggering amounts of money.
Let's take a closer look at the 10 biggest MLB contracts and the players who earned them.

10. Rafael Devers - Boston Red Sox ($313.5 million)
The Boston Red Sox have secured the future of their infield by signing third baseman Rafael Devers to one of the biggest MLB contracts, a 10-year, $313.5 million contract extension that begins in 2024.
His extension is a clear commitment to keeping Devers in Boston for the long term following the departures of Mookie Betts and Xander Bogaerts.
A 16-year old Devers was signed by the Red Sox as a free agent in 2013, and he'll earn an average annual salary of $31.35 million on the new deal.
🚨 HUGE DEAL FOR RAFAEL DEVERS 🚨

The star 3B has reportedly agreed to an 11-year contract extension with the #RedSox, set to begin in 2024. pic.twitter.com/PwqrSDTiDv — MLB Network (@MLBNetwork) January 4, 2023
9. Gerrit Cole - New York Yankees ($324 million)
Gerrit Cole and the New York Yankees agreed to the largest contract ever given to a pitcher - a 9-year, $324 million deal.
The Yankees made their ambitions very clear by acquiring Cole. The 2019 free agent signed one of the biggest MLB contracts ever which runs through until 2028, earning Cole $36 million a year on average.
Cole is one of the best pitchers in the MLB and his powerful fastball and deadly off-speed pitches is why the Yankees paid so much for him.
We have 6 years left on the Gerrit Cole contract. If the Yankees fail to win a championship during his 9-year deal, it will be an abject failure. Part of the reason why they need to bring Judge back and have some urgency about winning a championship or two pic.twitter.com/ipvUwupJbq

— Jonny's Lasagna ⚾️ (@JLasagna43) December 3, 2022
8. Corey Seager - Texas Rangers ($325 million)
The Texas Rangers made a statement in 2021, signing a 27-year old Corey Seager to a massive 10-year, $325 million contract. The former Dodgers shortstop is defensively very solid, and the Rangers paid up for his elite offensive ability.
Seager won a World Series MVP in 2020 following the Dodgers series win over the Tampa Bay Rays, and the Rangers will be hoping that he can do the same during his time in Arlington.
The Texas Rangers have never won a World Series, but the signing of Seager - and the signing of fellow midfielder Marcus Semien on a 7-year, $175 million deal signed just days before Seager arrived - is a signal of their intent on ending the drought.
BREAKING: The Texas Rangers are in agreement with Corey Seager on a 10-year, $325 million contract! pic.twitter.com/bS5BFEBxYt

— Baseball Quotes (@BaseballQuotes1) November 29, 2021
7. Giancarlo Stanton - Miami Marlins ($325 million)
Giancarlo Stanton made history in 2014 after signing a 13-year, $325 million contract with the Miami Marlins. At the time, it was the biggest MLB contract ever awarded.
He lived up to the expectation, earning himself the National League MVP award in 2017. Despite hitting 59 home runs in his MVP season the Marlins moved Stanton on and he joined the Yankees in a trade.
It allowed Miami to get rid of his huge contract from the payroll and shed 10 years of his contract off the books.
This rifle by Giancarlo Stanton was the hardest-hit HR of 2022 (119.8 MPH), again leading in ANOTHER Exit Velocity stat. He had a sub-300 OBP and his worst OPS+ but STILL launched 31 HRs in 110 games. Imagine what he can do in a healthy 2023? #NYY pic.twitter.com/FIX8SN5ySg

— Fireside Yankees (@FiresideYankees) February 14, 2023
6. Bryce Harper - Philadelphia Phillies ($330 million)
The 2015 and 2021 NL MVP Bryce Harper signed a 13-year, $330 million contract with the Philadelphia Phillies in 2019. At the time it was the largest total value contract in both the MLB and North American professional sports.
Harper was always destined to become a true game-changer and he became the youngest player to play in the All-Star Game at the age of 19 years old. A "five-tool player", Harper excels at throwing, fielding, catching, hitting and baserunning.
Bryce Harper hitting a home run is the most majestic thing in sports. pic.twitter.com/i3GGmxMpEp

— MLB Metrics (@MLBMetrics) February 2, 2023
5. Fernando Tatis Jr. - San Diego Padres ($340 million)
The San Diego Padres sent shockwaves through the league, locking a 22-year old Fernando Tatis Jr. to the longest contract in MLB history - a 14-year, $340 million deal. The deal is fully guaranteed and includes a $10 million signing bonus.
Unfortunately for the Padres and Tatis Jr, he underwent surgery and failed a drug which resulted in him missing the entirety of the 2022 season.
The good news is they've got until 2034 to see if the deal will be worth it, with the Padres also hoping to win their first ever World Series. Having one of the league's best shortstops gives them every chance of doing so.
When Fernando Tatis Jr's contract ends, the Mets will still have one year left to pay Bobby Bonilla.

— Mike (@MikeB_923) February 18, 2021
4. Francisco Lindor - New York Mets ($341 million)
The New York Mets acquired shortstop Franciso Lindor via a trade in 2021 with the Cleveland Indians. Two months later they agreed to one of the biggest MLB contracts of all time.
A 10-year, $341 million contract, it includes $50 million in deferred compensation. Annual repayments of $5 million will be owed even after Lindor will stop playing with the Mets between 2032-41.
The signing of a four-time All-Star, two-time Gold Glove and Silver Slugger award winner, is a big move for the Mets and ensures that one of the best shortstops in the game will remain in New York for a long time.
The Mets will still be paying Bobby Bonilla for three more years when Francisco Lindor's contract is up

— Blake Harris (@BlakeHHarris) April 1, 2021
3. Aaron Judge - New York Yankees ($360 million)
In 2022, Aaron Judge rejected a $213.5 million, 7-year deal. Judge bet on himself. He went into his contract year unwilling to negotiate during the season, and he won. He hit an American League record 62 home runs, and
earned an extra $150 million
in the process.
Judge signed a $360 million contract extension with the Yankees, equating to an average annual salary of $40 million a year which is the largest per year earnings of any player in baseball history.
Although it's higher than the Yankees wanted to pay for Judge, they've locked in one of the most powerful and productive players in the MLB. Now the face of the Yankees, fans will be expecting that he captains the side to multiple World Series wins.
The New York Yankees today announced that they have re-signed four-time All-Star and 2022 American League Most Valuable Player OF Aaron Judge to a nine-year Major League contract extending through the 2031 season. pic.twitter.com/9tyopgdKbO

— New York Yankees (@Yankees) December 20, 2022
2. Mookie Betts - Los Angeles Dodgers ($365 million)
Mookie Betts won a World Series with the Boston Red Sox in 2018, a year in which he was awarded the AL MVP. He was then traded to the LA Dodgers in 2020, the team he beat in the 2018 World Series.
Shortly after his move to Los Angeles in 2020, the Dodgers signed Betts to a 12-year extension which will carry through until the 2032 season. He repaid the faith almost immediately, with the Dodgers going on to win the World Series that year against the Tampa Bay Rays.
Betts continues to be one of the best all-round players in the game and best players on the planet. The superstar right fielder is one of the most athletic players in the league, able to make a big catch or defensive play, and is one of the best hitters in the MLB.
There are a lot of things fundamentally broken with MLB, but the structure of Mookie Betts' contract w/ the #Dodgers isn't one of them.

Betts is owed $245M from 2021-2032. He's then guaranteed another $120M more in deferred payments from 2033-2044, including $11M at age 51. pic.twitter.com/M3QON45oE4 — Spotrac (@spotrac) February 11, 2021
1. Mike Trout - Los Angeles Angels ($426.5 million)
Following a $360 million extension signed in 2019, the LA Angels extended Mike Trout's existing contract beyond the two years and $66.5 million he had remaining from a contract he signed in 2014.
That makes Mike Trout's 12-year, $426.5 million deal with the Angels the biggest MLB contract of all time.
Trout is so talented, he's considered one of the best players of all time. The Angels paid up big on Trout despite his injury history because he's the total package.
He's remarkably consistent, patient at the plate, makes regular contact and has a power game to match. Even as he ages, Trout is still a great defensive center fielder but the 3-time AL MVP is still looking to win a World Series crown.
Adjusted for inflation, Mike Trout's contract was worth over $87 million more than the Louisiana Purchase when both were signed

— Giancarlo is my dad (@MrKnuckleball) August 12, 2022
---
THANK YOU FOR YOUR SUPPORT!
Wolfgang Sport started in 2017 as a way to connect my passion for American and British sports. Today it's evolved into a blockchain sports blog pushing the boundaries into the crypto world and embracing Web3 technologies.