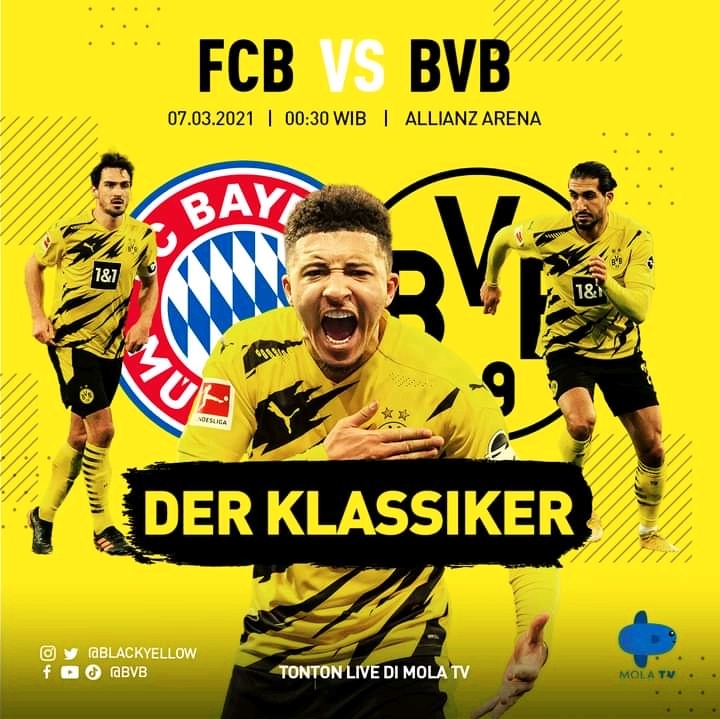 Bayern Munich will play Borussia Dortmund in Week 24 of the Bundesliga, Sunday (7/3/2021) 00.30 WIB. The match, titled Der Klassiker, will be held at the Bayern Munich headquarters, the Allianz Arena Stadium.
Currently, Munich are top of the Bundesliga standings with 52 points from 23 matches. They only have a two-point advantage with RB Leipzig who are in second place.
Of course, the team nicknamed The Bavarian will certainly try to win at the top of the standings. With a difference of two points, their position is very vulnerable to be evicted.
Both teams stare at this match with good capital. In his last match, Munich managed to slaughter FC Koln 5-1 through two goals from Lewandowski and Gnabry, as well as one goal from Eric Maxim Choupo-Moting.
Likewise with Dortmund, after winning against Arminia Bielefeld 3-0 the previous week, Edin Terzic's squad beat Borussia Monchengladbach 1-0 at home in the DFB-Pokal quarter-finals through Jadon Sancho's single goal.
At the first meeting, Munich won 3-2 in Dortmund. Will Dortmund be able to avenge the defeat or will Munich win again?
Bayern Munchen akan melawan Borussia Dortmund dalam lanjutan Bundesliga pekan ke-24, Minggu (7/3/2021) 00.30 WIB. Laga bertajuk Der Klassiker itu akan digelar di markas Bayern Munchen, Allianz Arena Stadium.
Saat ini, Munchen berada di puncak klasemen sementara Bundesliga dengan perolehan 52 poin dari 23 laga. Mereka hanya memiliki keunggulan dua poin dengan RB Leipzig yang berada di peringkat kedua.
Tentunya, tim berjuluk The Bavarian itu dipastikan akan berusaha meraih kemenangan untuk mengamankan posisi mereka di puncak klasemen. Dengan selisih dua poin, sangatlah rawan posisi mereka untuk tergusur.
Kedua tim menatap laga ini dengan modal bagus. Dalam laga terakhirnya, Munchen berhasil membantai FC Koln 5-1 lewat dua gol Lewandowski dan Gnabry, serta satu gol Eric Maxim Choupo-Moting.
Begitu pula dengan Dortmund, setelah pekan sebelumnya berhasil menang melawan Arminia Bielefeld 3-0, skuad asuhan Edin Terzic itu mengalahkan Borussia Monchengladbach 1-0 di kandangnya sendiri lewat gol tunggal Jadon Sancho.
Pada pertemuan pertama, Munchen menang 3-2 di kandang Dortmund. Akankah Dortmund bisa membalaskan kekalahan ataukah Munchen kembali menang ?