Today I come to talk about the new Titan entering the P2E gaming ring.
WOO is a wrestling multiverse where you will manage your fighters, hire, promote and compete against other players to be the best.
---
Glory is the goal and fighting is the path
---
The game is just baking, packs are selling like hot bread! Some types of packs are no longer available at the initial price. But there is still time! There is still a supply of Alpha packs at the launch price (2usd).
Hoy les vengo a hablar sobre el nuevo Titán que entra al ring de los juegos P2E.
WOO es un multiverso de lucha donde vas a administrar a tus luchadores, alquilar, promocionar y competir contra otros.
---
La gloria es la meta y la lucha es el camino!
---
El juego está recién horneandose, los packs se venden como pan caliente! Algunos tipos de packs ya no se consiguen al precio inicial. Pero están a tiempo! Aún hay supply de packs Alpha a su precio de lanzamiento. (2usd)


The fighting system is promising, and there are a huge variety of factors that determine the performance of the fighters in the ring. These topics are covered in depth in a very well-written and clear post by the WOO Staff. You can find it here. I will limit myself to make a brief mention for a general understanding.
First, NFT stats.
El sistema de peleas promete, y hay una inmensa variedad de factores que determinan el desempeño de los luchadores en el ring. Éstos temas están tratados en profundidad en un post muy bien redactado y claro del Staff de WOO aqui. Yo hago una mención reducida para una comprensión a rasgos generales.
Primero las estadisticas de las NFT.

On the one hand we have the basic statistics of each fighter which are:
1 Cost
2 Speed
3 Damage
4 Health
Fighters have 3 different classes, each class has one on which it has an advantage and one on which it has natural disadvantages.
The 3 classes are:
Powerhouse (Reduced DMG vs. Technical)
HighFlying (Reduced DMG vs. Powerhouse)
Technical (Reduced DMG vs. High Flying)
So it is very important to have balanced formations to try to counter known players.
Por un lado tenemos las estadísticas base de cada luchador que son:
1 Costo
2 Velocidad
3 Daño
4 Salud
Los luchadores tienen 3 clases diferentes, cada clase tiene una sobre la que tiene ventaja y una sobre la que tiene desventajas naturales.
Las 3 clases son:
Powerhouse (Daño reducido contra Technical)
HighFlying (Daño reducido contra Powerhouse)
Technical (Daño reducido contra High Flying)
Así que es muy importante tener formaciones balanceadas para intentar contrarrestar a jugadores conocidos.
Moves / Movimientos

Each fighter can perform 3 moves per game. In WOO fights there are 4 types of variable moves:
Normal Move
Pinning combination
Submission
Finishers
Managers
Cada luchador puede realizar 3 movimientos por partida y existen 4 tipos de variables:
Movimiento Normal
Combinación de pinning
Sumision
Finalizadores
Managers
Managers, while optional and not needed to set up the show, are crucial to achieving victory. They can be used once per show and have several benefits, which include but are not limited to:
Increasing the stats of our wrestlers.
Distract opponents by causing them to miss attacks.
Distract the referee during a pinning or submission.
Damage wrestlers with external objects.
Provide items for wrestlers to use in battle.
And much more!
Los managers si bien son opcionales y no los necesitamos para montar el espectáculo son cruciales para conseguir la victoria. Pueden usarse una vez por show y tienen varios beneficios, que incluyen:
Aumentar las estadísticas de luchadores
Distraer oponentes para que fallen los ataques.
Distraer al referi durante un pinning o una sumisión.
Dañar a los luchadores con objetos externos
Proveer de objetos a los luchadores para la batalla.
Y mucho mas!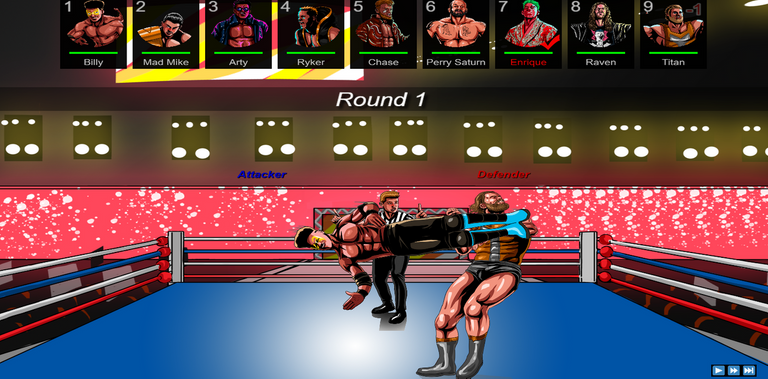 ---
Another modifier of the fights, to add more flexibility to the strategies are situations that change in each fight. We have on the one hand the title of the main event, "individual event" (a single fighter) with male and female categories or also a team fight.
But there are also special events, another modifier with special rules that can be one or SEVERAL of the following.
Normal event - No modifications.
Dog Collar Match - Siempre se acierta.
Hardcore Match - Movs hacen 2x daño.
Cage Match - Sin managers.
First Blood Match - First to hits 0 health losses.
Iron Man Match - Wrestlers start with additional 10 health
And more to add
Otro modificador de los combates, para agregar flexibilidad son situaciones que cambian en cada combate. Tenemos por un lado el título del evento principal: "evento individual" (Un solo peleador) con las categorías masculino y femenino o tambien un combate por equipos. También hay eventos especiales, un modificador con reglas especiales que pueden ser una o VARIAS de las siguientes.
Evento normal - Sin modificaciones.
Dog Collar Match - Moves never miss.
Hardcore Match - Moves do double damage.
Cage Match - No managers.
First Blood Match - First to hits 0 health losses.
Iron Man Match - Wrestlers start with additional 10 health
Y mas a agregar

---
But not only the game is super rich in variety and strategy. They also have a polished economic and reward system for those who start building up a stock of cards and packs.
NFT Mining
The reward system for those who enter this project are interesting. The developers were very creative in encouraging people to get involved in the project. NFTs can be staked to receive passive rewards in your one-year airdrop.
Pero no solo el juego es super rico en cuanto a variedad y estrategia. Tienen un pulido sistema de recompensas a quienes empiezan a armarse de un stock de cartas y packs.
Minado NFT
El sistema de recompensas para los que entran a este proyecto son interesantes. Los desarrolladores fueron muy creativos a la hora de estimular a qué la gente se involucre en el proyecto. Las cartas se pueden ingresar a la pool de minado para recibir WOO diarios

My little mining rewards today Check here to stake your NFTs
Diesel Pools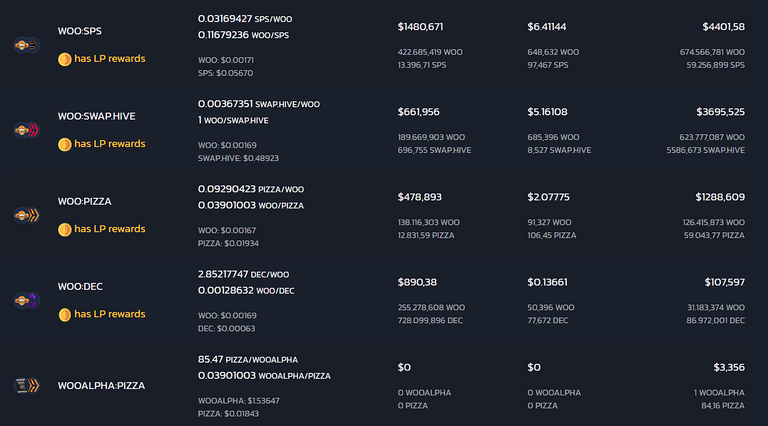 As part of the Hive ecosystem WOO has several pools where we can invest to increase the liquidity of the exchange, not to leave our capital idle and earn additional rewards.
Instead to talk about things i do not fully understand i prefeer to relate you to a post i found pretty enlighten about the subject The post is here
Cómo parte del ecosistema de Hive WOO cuenta con varias pool dónde podemos invertir para engordar la liquidez del exchange, no dejar nuestro capital ocioso y ganar unas recompensas adicionales.
Antes de hablar sobre cosas que no comprendo completamente prefiero referirlos a un post que encontre muy iluminador y bien explicado Aqui

---
Dont hesitate!
New games are always a great chance to build something torwards the future. And is alswo beauty to see a new game develop and follow his grow from the inside getting some juicy rewards in the process.
No lo duden!
Los nuevos juegos siempre te dan la posibilidad de construir algo grande en el futuro. Aparte de que es hermoso ver crecer un juego siendo parte de él, participando con la comunidad, creando contenido y pasando información valiosa
---
Thanks for reading this // Gracias por leerme!
Discord Cre47iv3#2483
Some things translated with deepl.com
Images without Source are designed/modified by me