Hello dear friends, I have been a little absent but this contest of @qurator excited me and I did not waste time to participate since it is about making a collage focused on the silhouette, face and that is what I want to show you today, I made a collage about La Virgen del Valle who this week celebrates her day and here on Margarita Island, Venezuela, it is a beautiful tradition. I want to invite my friend @marivic10 to join the contests of this special community. https://hive.blog/qurator/@qurator/qurators-art-walk-or-collages-or-art-competition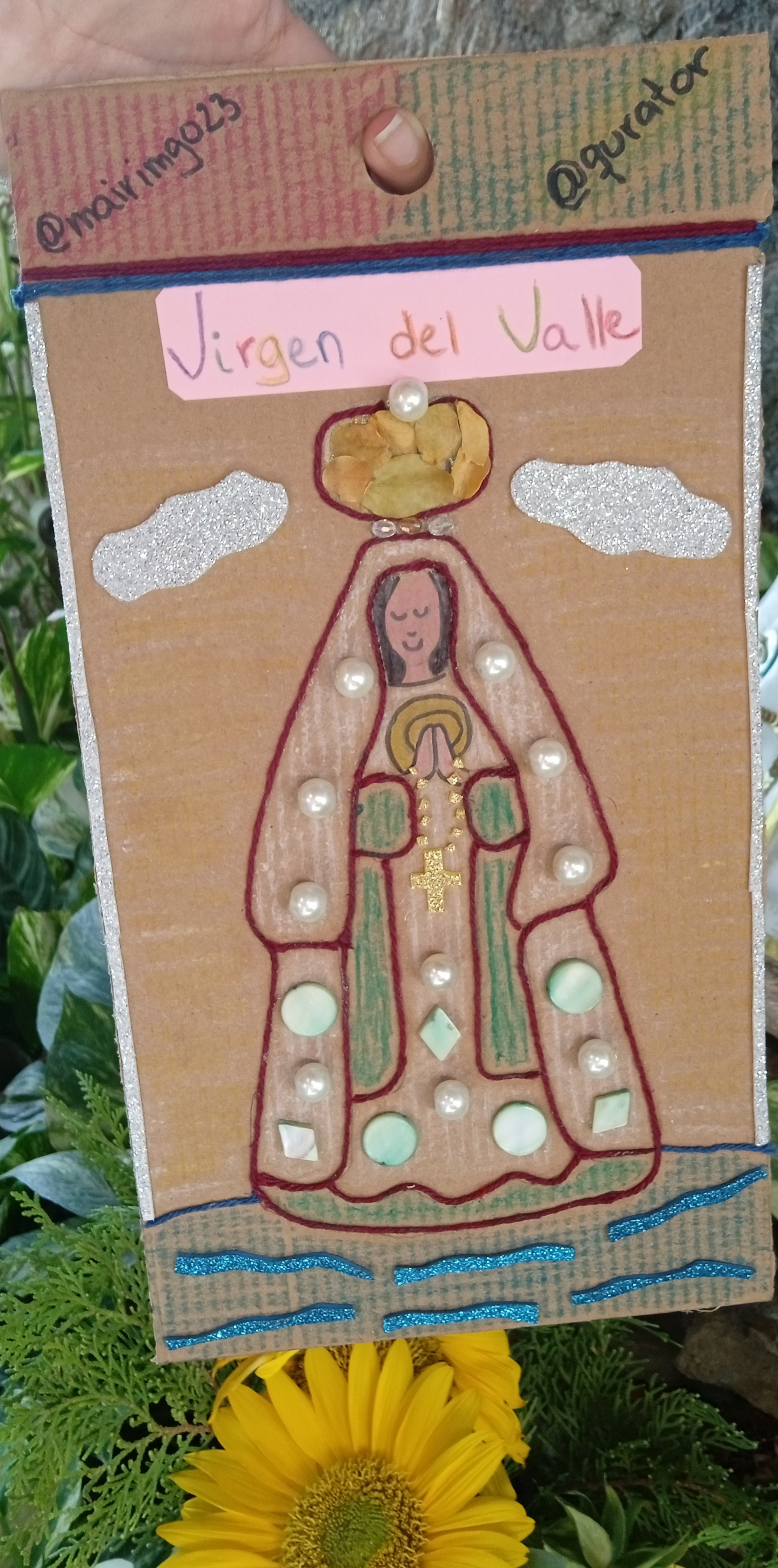 ---
The materials for this project are diverse, it all started with a pizza box which I cut to the size I wanted. I rely on various materials such as cardboard, glue, thread, stones or bracelet beads, colors and wax crayons, pieces of frosted foam and even leaves from a dry tree.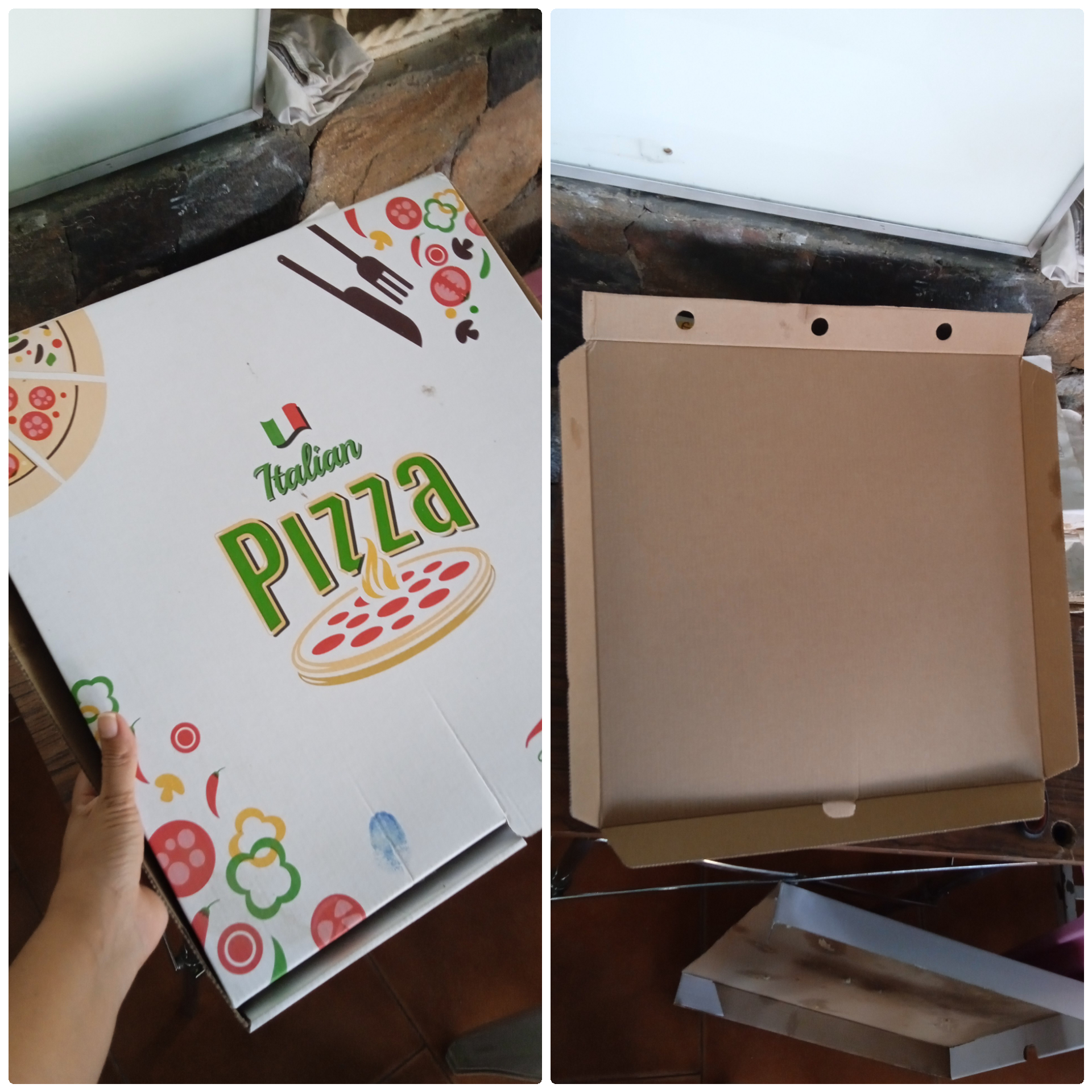 ---
I used the top of the box, this cardboard was intact and half and cut what I needed.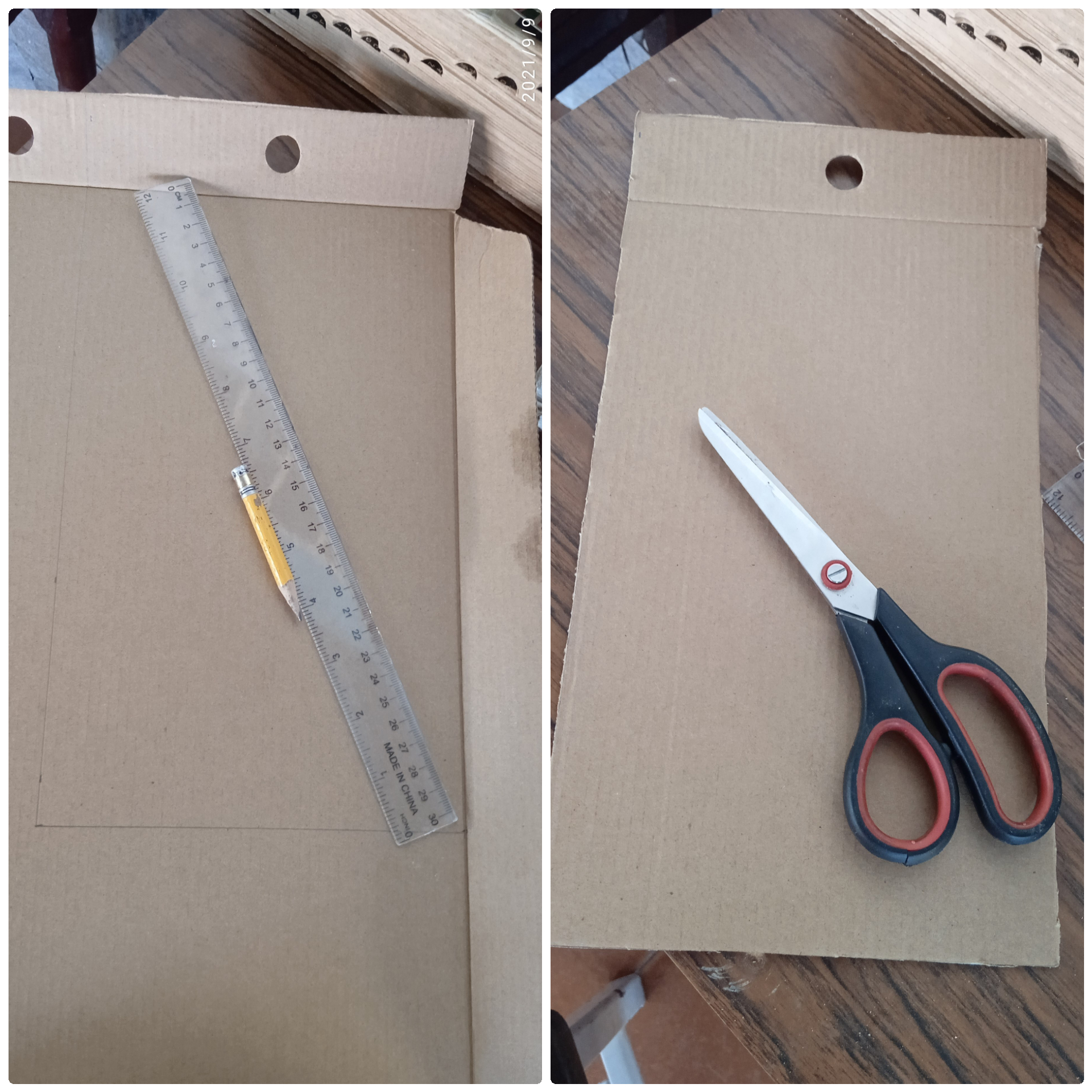 ---
On the cardboard mark the silhouette of the image you wanted, this image was my guide for the process and I take the opportunity to tell you that our Faith for this Virgin is a tradition and in 2021 it will be 100 years since her coronation as Patroness of the Venezuelan East.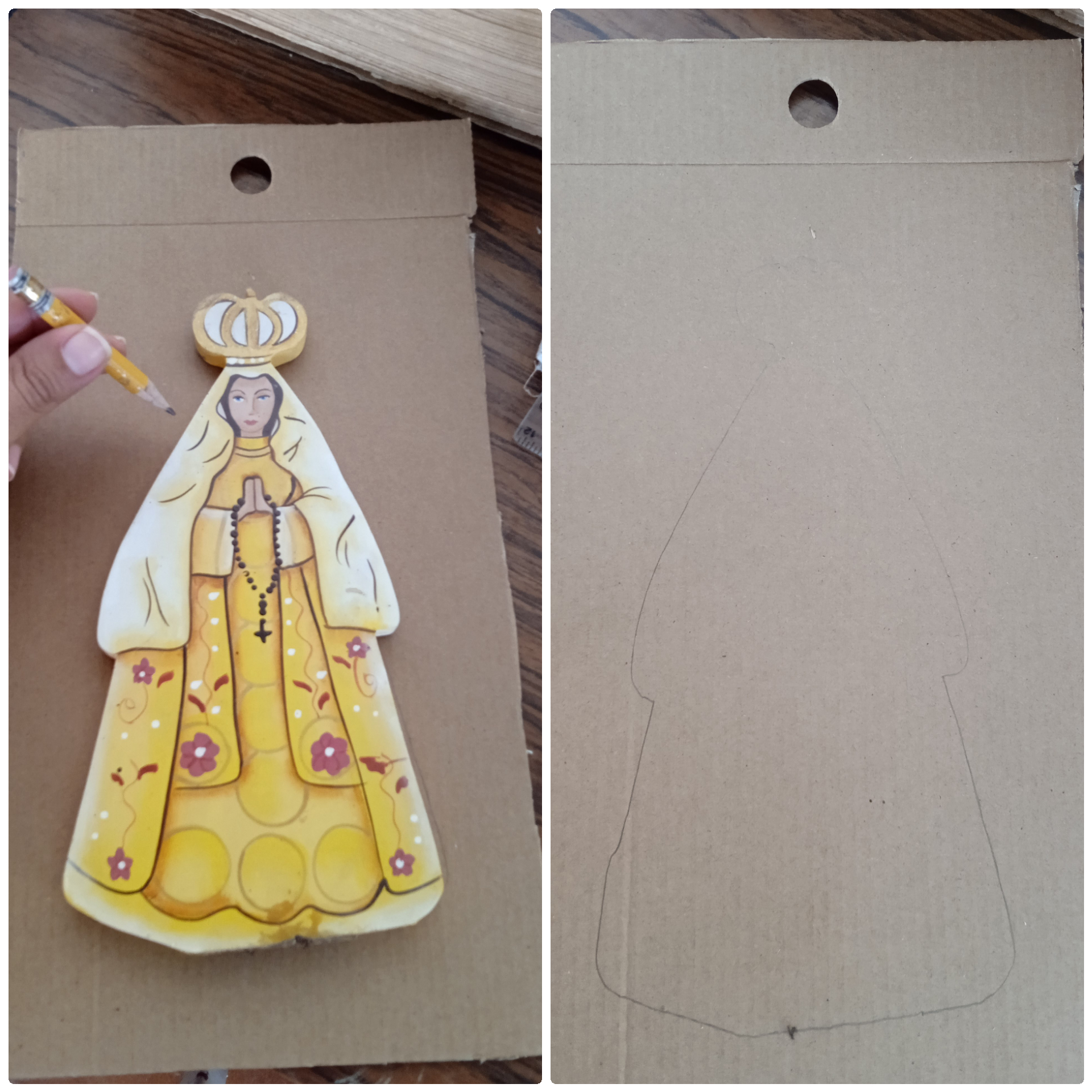 ---
Make your details freehand trying to copy the shape without so much detail. Our Virgin of the Valley can have dresses of many colors and decorated with pearls and diamonds.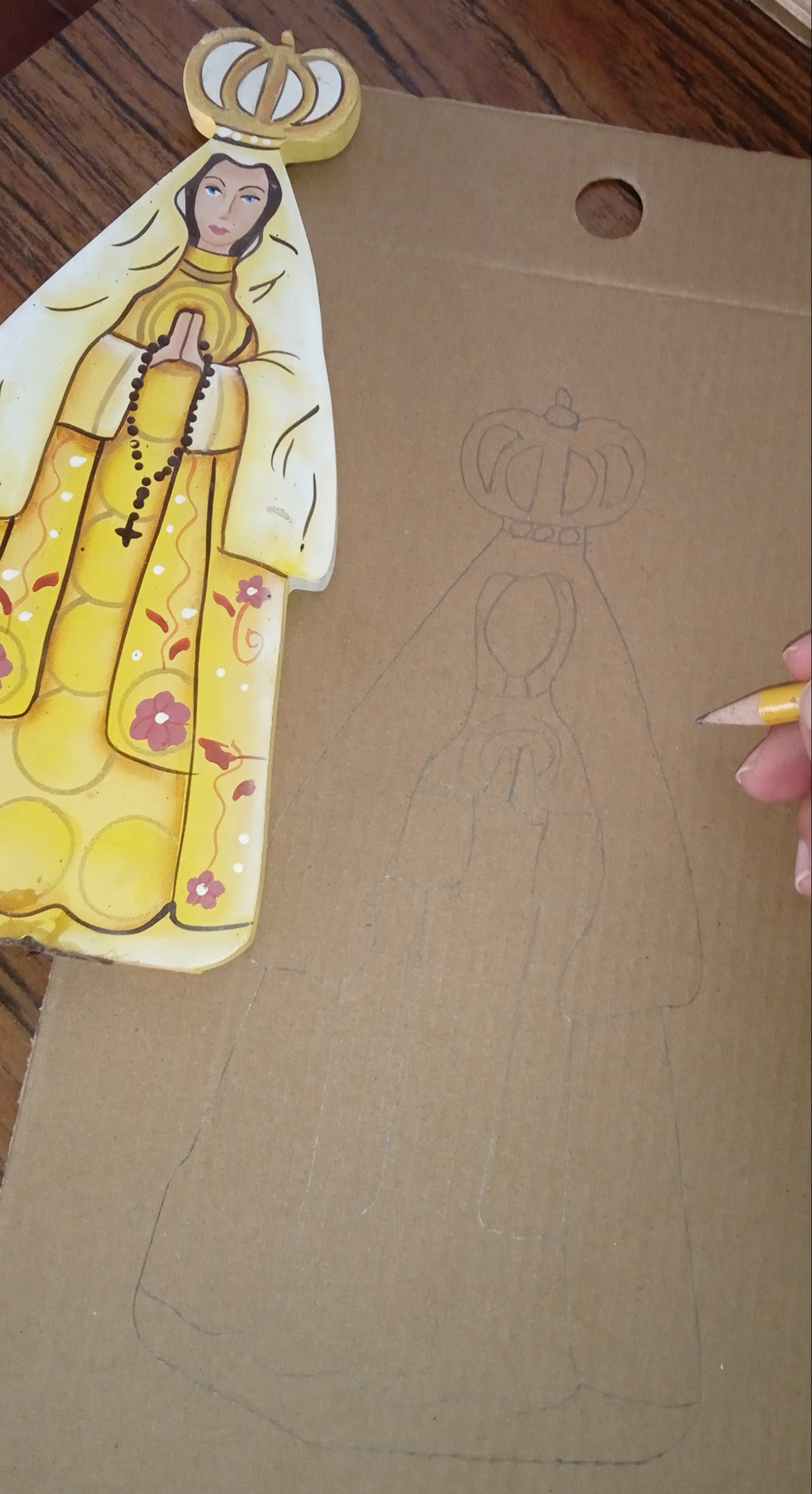 ---
For the silhouette of the Virgin I used burgundy yarn to weave, I also used a little blue for the sea that always accompanies her image. I glued it with white glue very carefully following the shape and silhouette.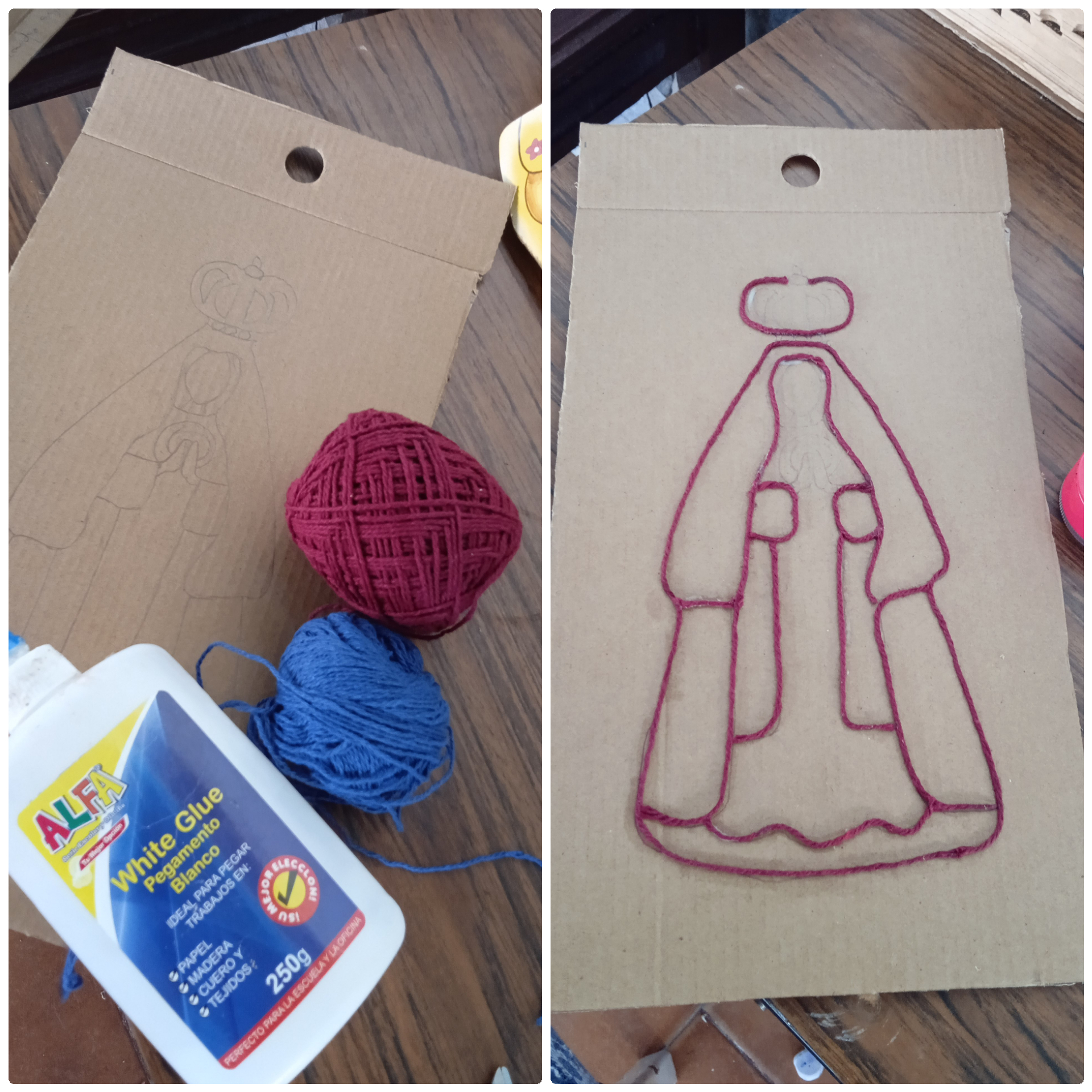 ---
To give the background a bit of clarity, use white wax crayons that give a very different effect on the cardboard.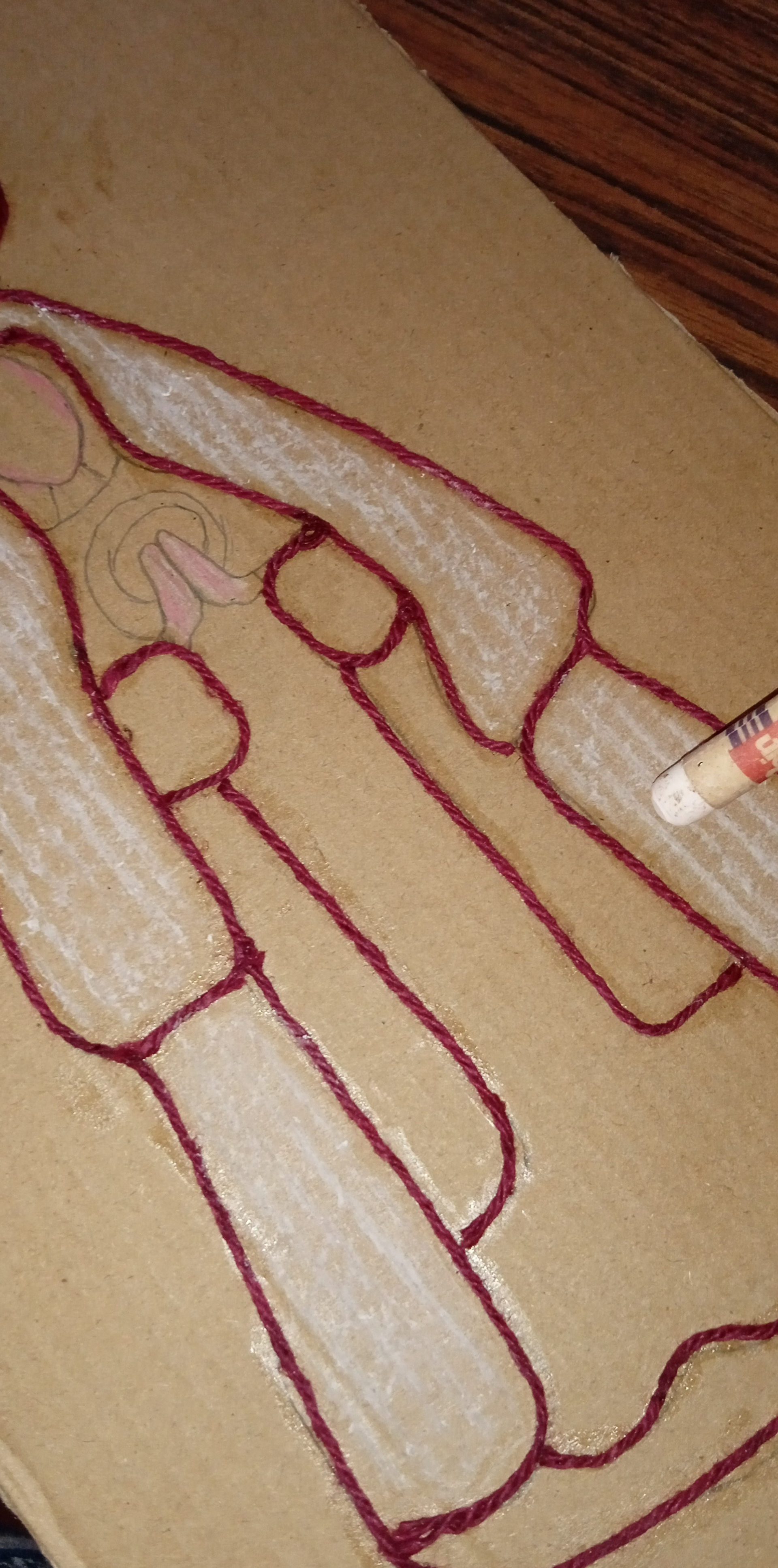 ---
His crown is always golden and that is why I thought of using the small leaves of a Guayacán tree that is drying in the patio of my house, you can see what is completely gifted and beautiful even if it is dry. A little glue is enough.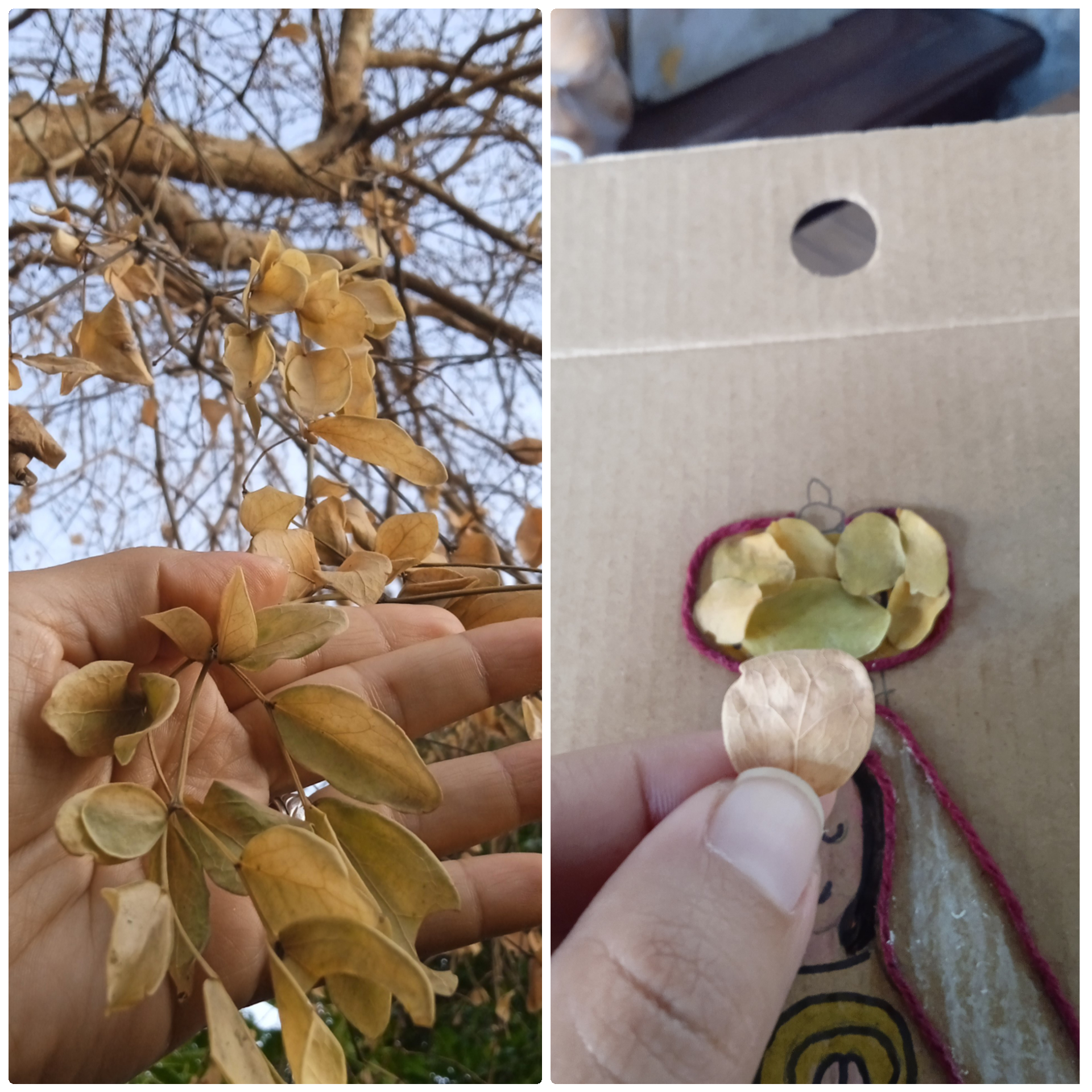 ---
Also to make a good collage you need unexpected and varied materials so that's why I incorporated these precious stones that I had from some broken bracelets. Always thinking that I would use them again at some point, also pieces of frosted foam that I had from another previous project.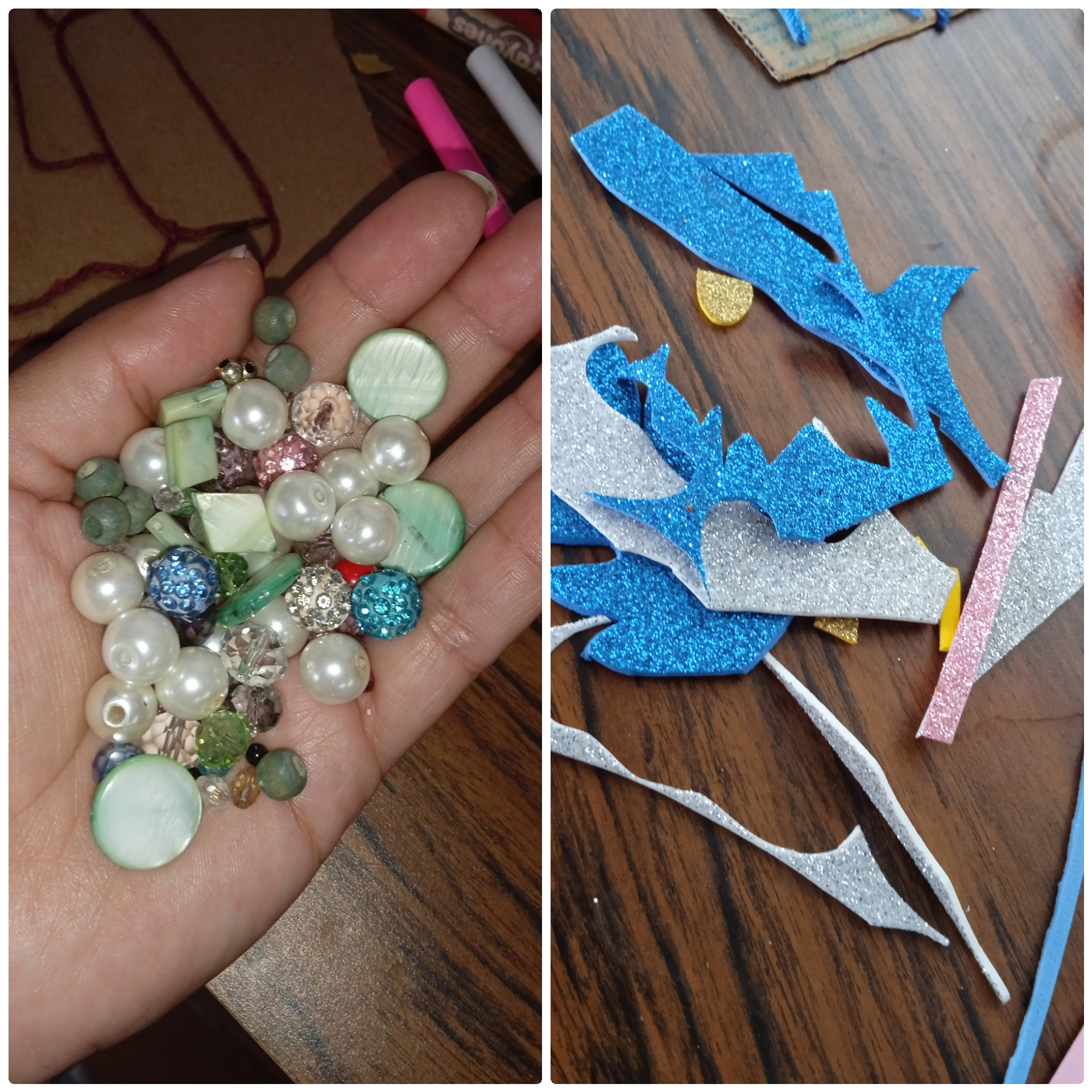 ---
I had the help of my daughter Marcela to make a very colorful label with her name that she wrote herself. He used his colors and I was happy that he wanted to help me.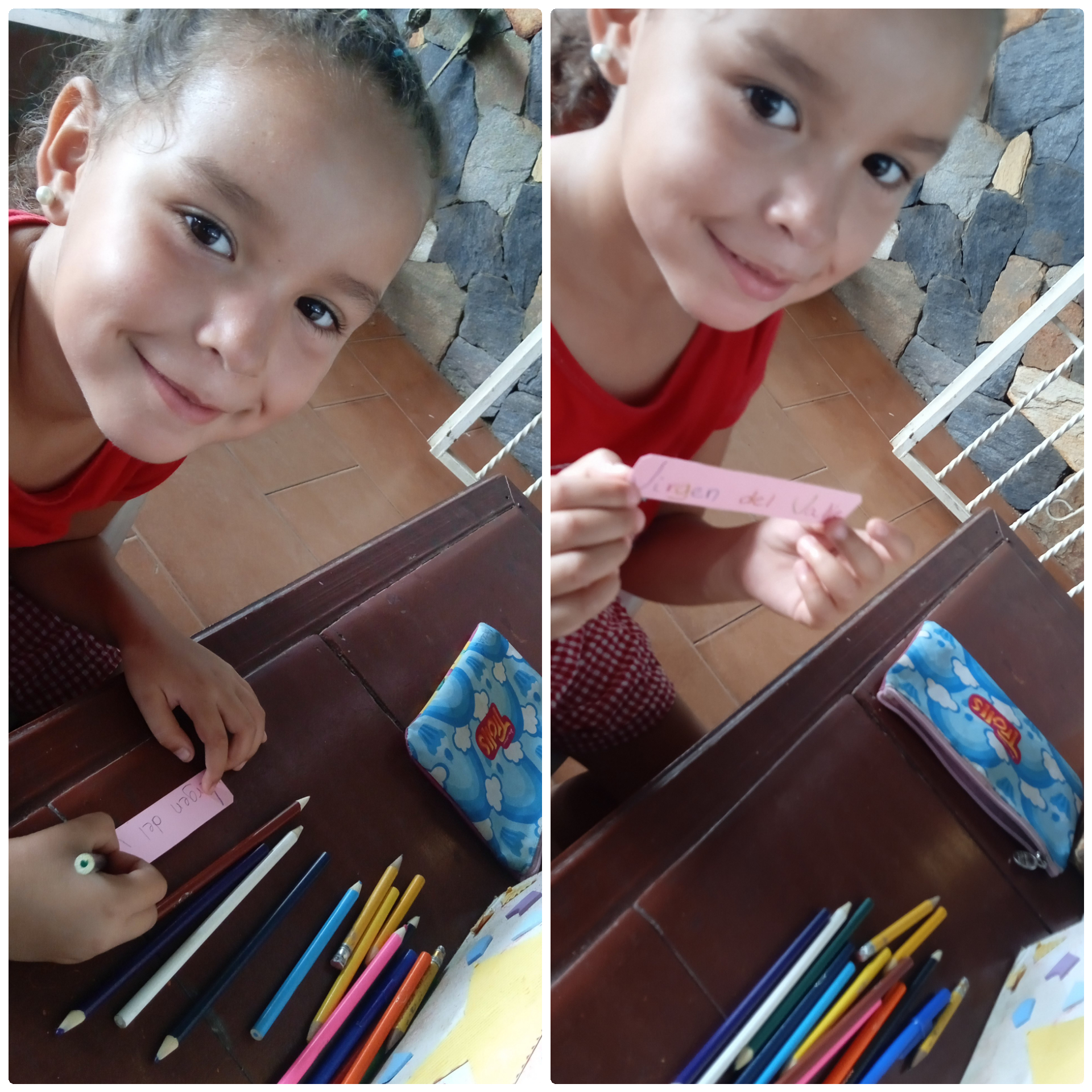 ---
I only had to finish adding a little color to the Virgin's dress and using the stones to decorate it. I also colored the sea under his feet and a little the sky around him. Putting the last details was the most beautiful part of this project because I declare myself a devotee of my Virgen del Valle and it is the first time that I have carried out a project like this.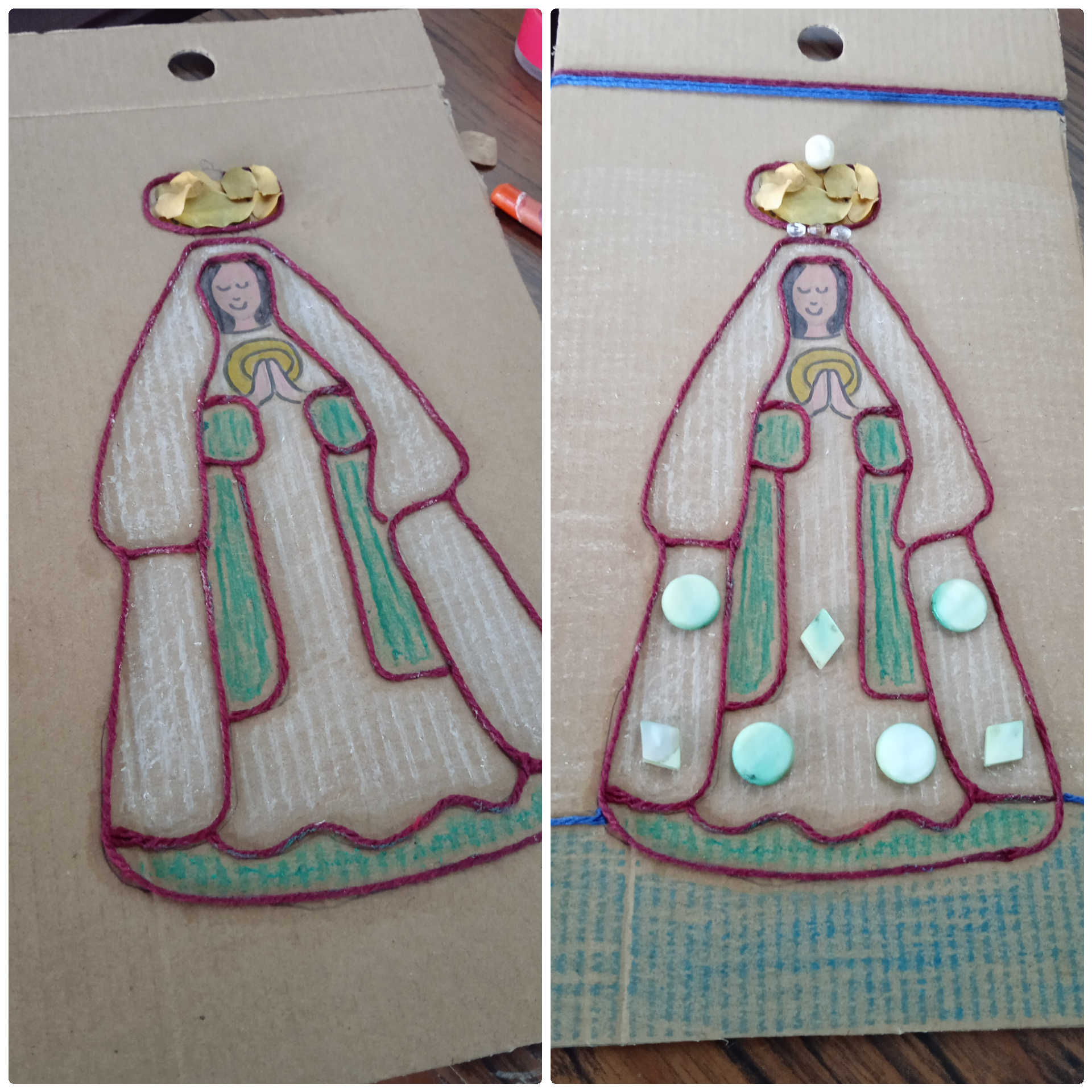 ---
This is the final result of the collage dedicated to the Virgen del Valle, Patron of the Venezuelan East. 💗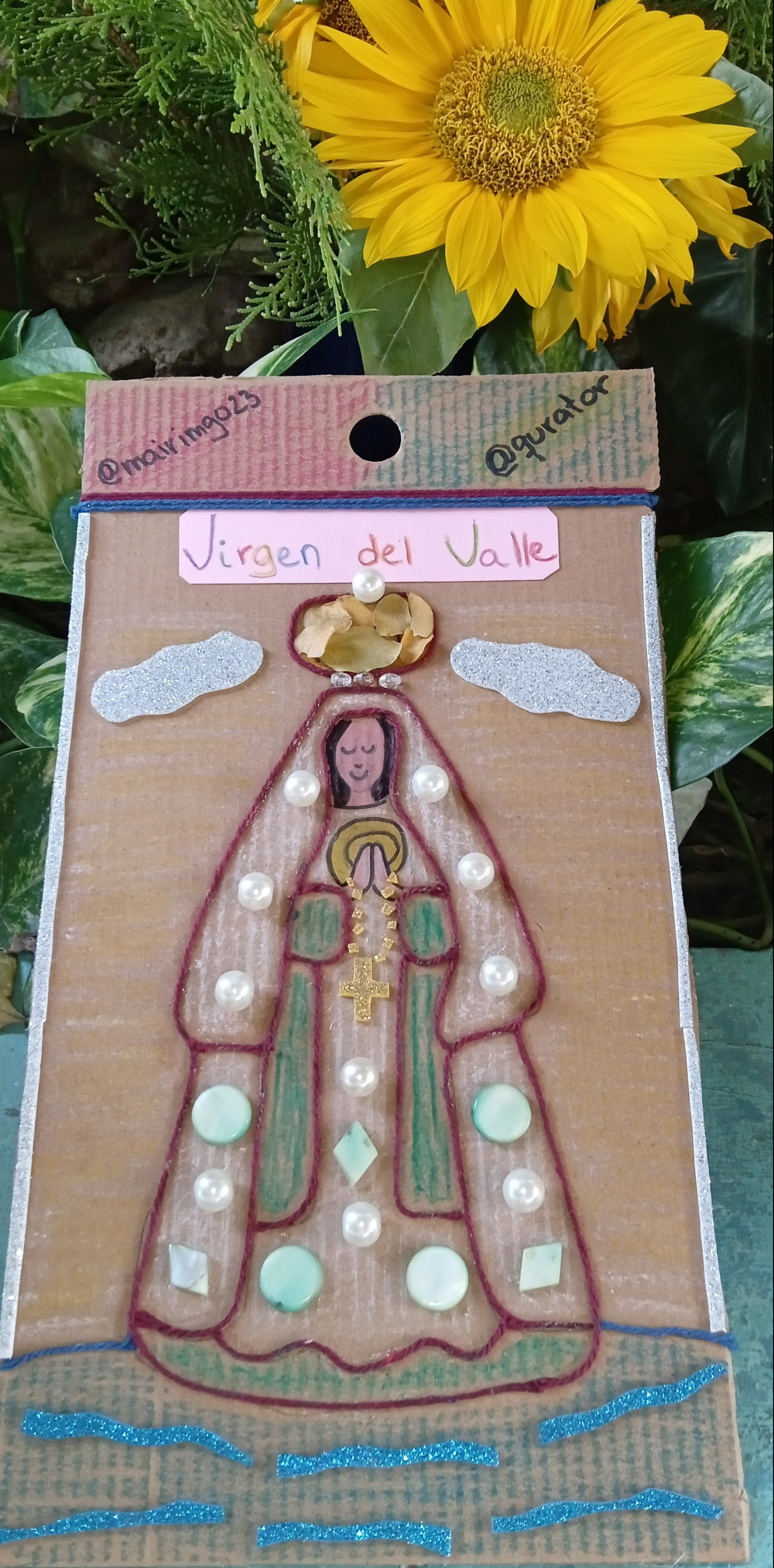 ---
In this collage you can distinguish the different materials that I have used and it also carries an emotional part of my life and my personal history, in addition to the special help of my daughter. I know that religion is a difficult or delicate subject to deal with but in this post I just want to share with you my idea of ​​making a collage and tell you a little about the meaning it has. We read soon.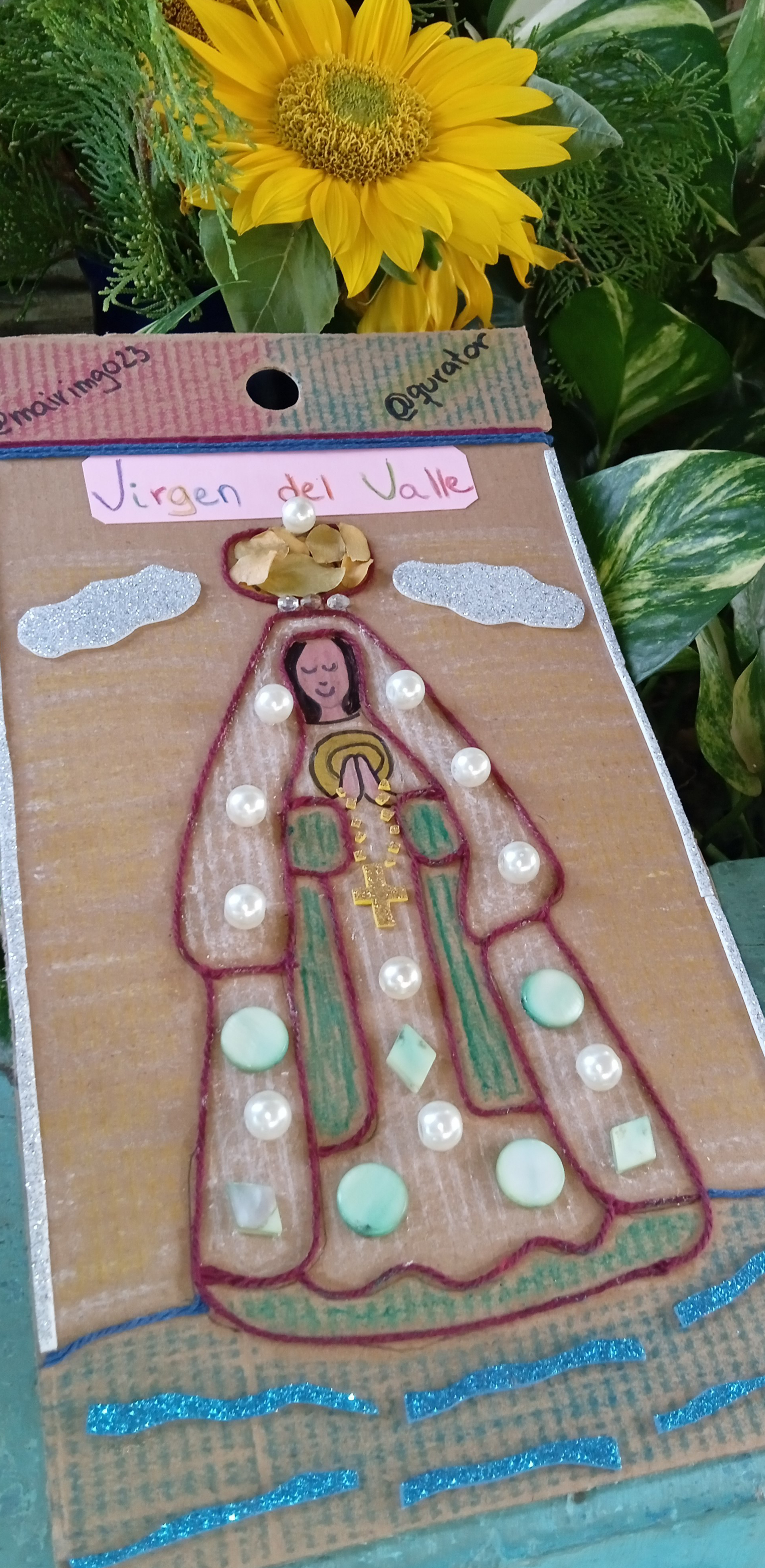 ---