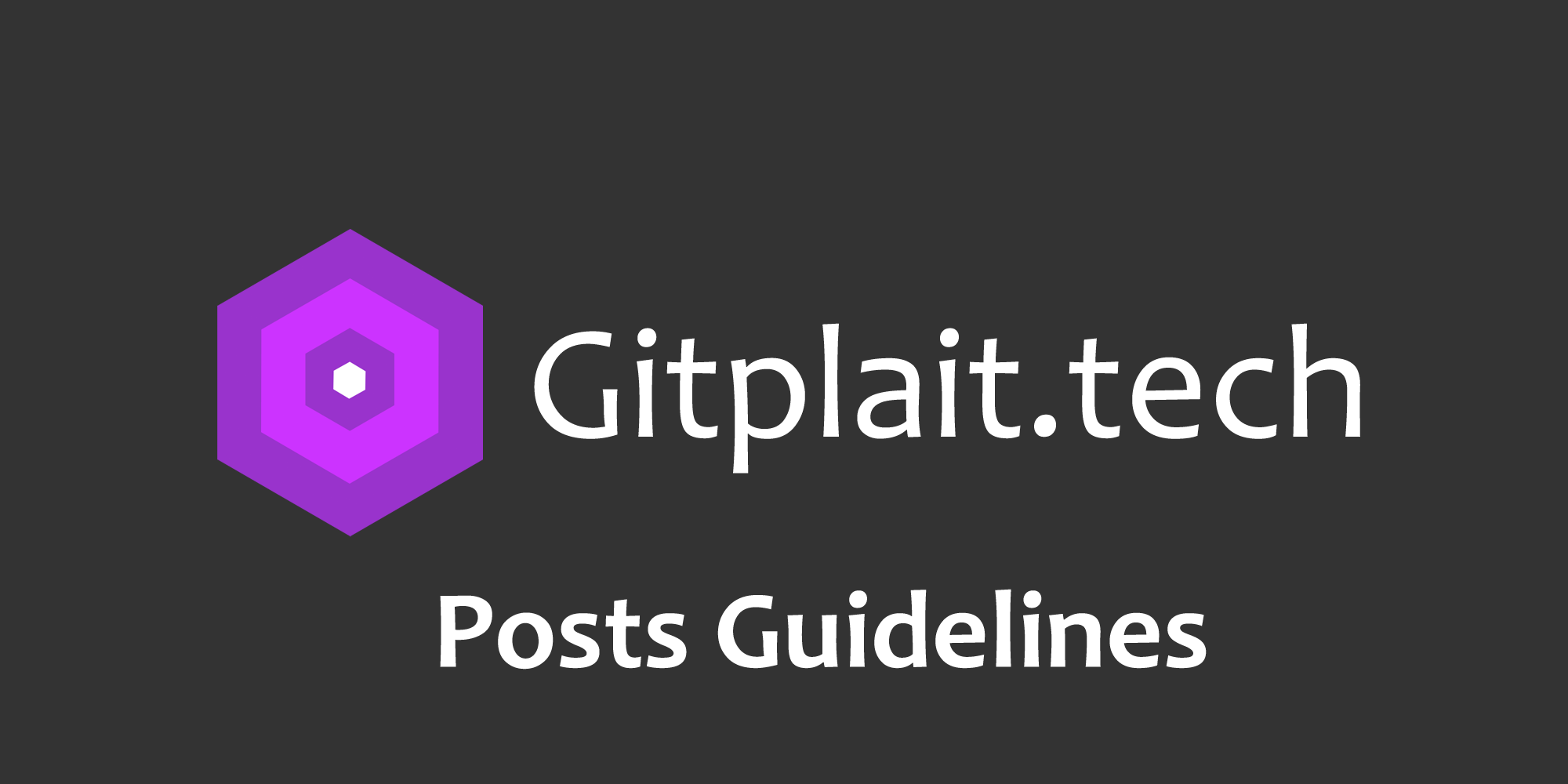 This post will explain the guidelines to use the Gitplait community for all the categories/sections. This will be very simple and clear. Our community is for everyone that has few or major knowledge in the technical world. So, if you think you can do some cool technical stuff, hop in the community. Gitplait are developers, content creators, entrepreneurs, tech-savvy, and we embrace every nationality irrespective of the language or mindset.
We will add all the guidelines here on our front-end https://gitplait.tech/
General guides
Make your post informative and simple to understand
Add as much information needed
Posts can be written in any language, but preferably, English
All commercial assets used in publications should be duly cited with links to the original owner.
Make your posts professional and formal. Quality is our emblem.
Answers to developers (Engage).
This is a category in the community where users can post developers related questions for other developers to help. This is open to everyone that have any dev/code related questions.
The question must be unique and original
Share your codes if possible
Be descriptive and clear
Your question body must contain a minimum of 150 words.
Use the tag #gitplait #gitengage as the first or within the tags.
Coding tutorials
This must be code related tutorials/videos of any language, library, databases or frameworks.
Tutorials may be about a single feature and wide aspect of a project.
Must be descriptive and clear to understand.
For videos, video and audio recording should be clear (HD 480 as the minimum)
Dev & Request
This is to request technical and non-technical works from the community. This category can be used for code related feature request, technical writing tasks, developments works did and other technical tasks.
Clearly state your request (s)
Be descriptive
Include a bounty if it is for a request (s)
Bug hunting (Open source apps, GitHub & GitLab)
Report the bug on the project active (update within 1 year) repository
Ensure the project owner confirm the bug valid before submitting on Gitplait
Provide sufficient detail to reproduce the bug.
Add screenshots, video recordings or animated GIFs.
Include information about your technical environment, browser, the device used and operating system.
Technical documentation
This can be for any technical project and aspect of a project that shows the functionality, architecture and how to use.
Should be well structured
Provide sufficient details to make it easy to follow.
Technical analysis
Should contain sufficient charts and information
Include scripts which generated the results for the analysis, or information on how the data was generated.
Use the tag #gitplait #gitanalysis as the first or within the tags.
Tutorials on Apps
Tutorials on how to use any technical apps are welcome here, e.g. Exchanges, graphics apps/software, games development and more.
Provide the step-by-step process
Be descriptive and clear
Provide sufficient details to make it easy to follow.
Latest technologies
This is a free blog on any latest technology, Artificial Intelligence, Blockchain, Augmented Reality, Virtual Reality, Cognitive Cloud Computing, Websites, Apps, Engineering and more.
We are working to see that the Hive blockchain becomes home to decent tutorials.
We have a curation trial on Hive.vote and we would be glad to see more people following us as we curate QUALITY on Hive. link
To delegate, use the links or adjust 10HIVE, 20HIVE, 50HIVE, 100HIVE, 200HIVE, 500HIVE, 1,000HIVE, 10,000HIVE, 100,000HIVE
Thank you!
Join the Community and let's solve problems and build together.
Follow Us On Social Media