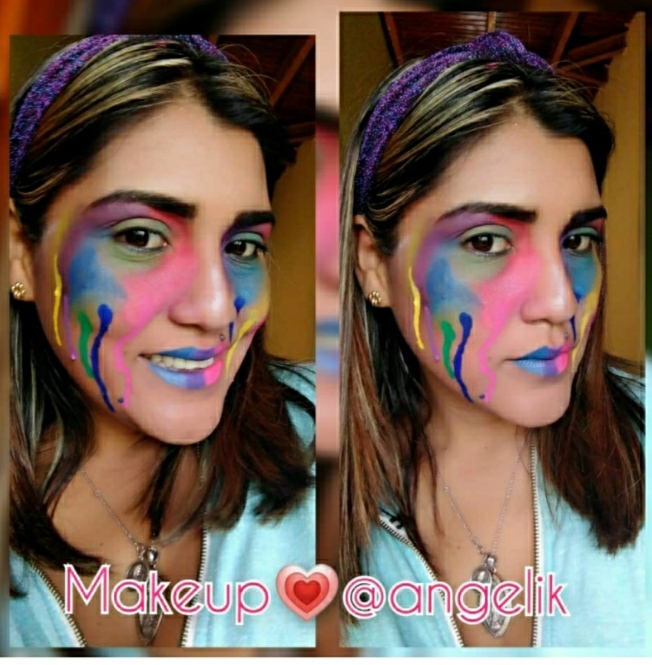 Hola amigos!
Espero que se encuentren muy bien, con la mejor actitud de comenzar mañana una nueva semana llena de muchos éxitos.
Hoy quise traer a esta fabulosa plataforma un maquillaje artístico inspirado en lágrimas de colores, esperando que les guste.
Cuando hablamos de lágrimas se nos viene a la mente melancolía, tristeza, en este caso son lágrimas de felicidad. De estar bien y conseguir siempre el lado positivo a las dificultades, todos los días son aprendizajes y solo tenemos que reforzar lo mejor de cada momento.
En este maquillaje artístico colorido me quise enfocar sobre las lágrimas de felicidad y en representación a la variación de colores que le coloqué ,para que transmita la alegría. Crear un maquillaje para mejorar en mis prácticas de cada día, esperando ser una profesional en el arte del maquillaje.
Aquí les presento lo que realicé, espero que les guste, un fuerte abrazo y mis mejores deseos para todos los que cada dia estamos en esta hermosa plataforma como es hive.
Hi friends!
I hope you are very well, with the best attitude to begin tomorrow a new week full of many successes.
Today I wanted to bring to this fabulous platform an artistic makeup inspired by colored tears, hoping you like it.
When we talk about tears, melancholy, sadness come to mind, in this case they are tears of happiness.
From being well and always getting the positive side to difficulties, every day is learning and we just have to reinforce the best of each moment. In this colorful artistic make-up I wanted to focus on the tears of happiness and in representation of the variation of colors that I put on it, so that it transmits joy.
Create a makeup to improve in my daily practices, hoping to be a professional in the art of makeup.
Here I present what I did, I hope you like it, a big hug and my best wishes to all of us who are on this beautiful platform every day as it is hive.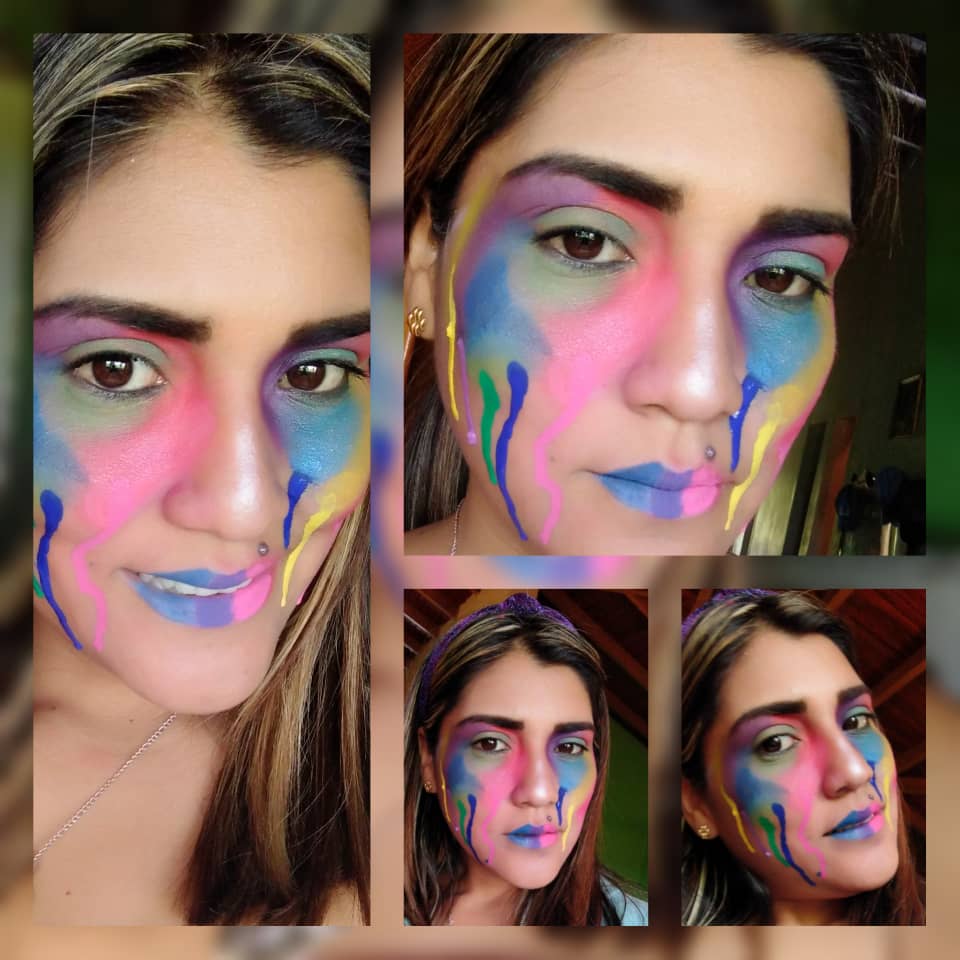 Materiales a utilizar:/The materials to use:
Crema hidratante
Corrector de ojeras
Base
Polvo compacto
Tableta de sombras
Rímel
Lápiz delineador de ojos
Brillo labial
Moisturizer
Ear correcter
Base
Compact dust
Shadow tablet
Máscara
Eyeliner pencil
Lip gloss
Los pasos para realizar el maquillaje son los siguientes:/The steps to perform makeup are as follows:
Paso 1./Step 1.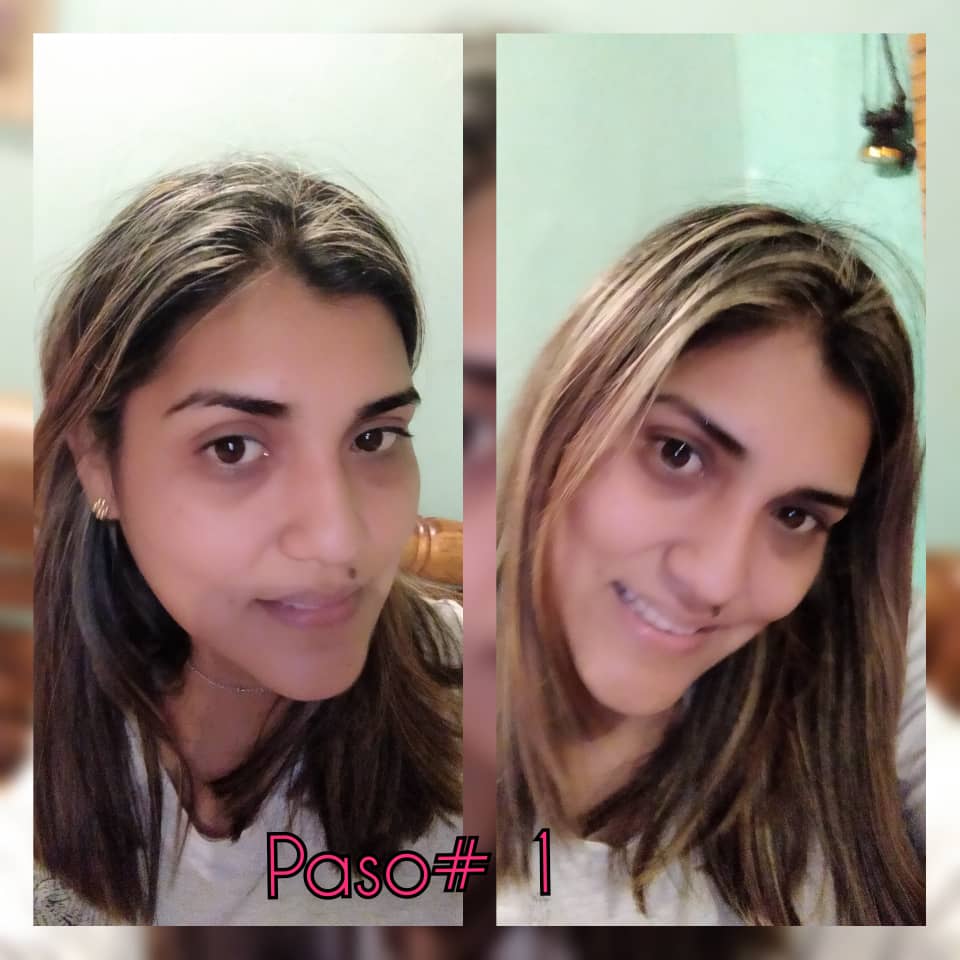 Para realizar este hermoso maquillaje comencé como siempre a preparar el rostro, es un paso importante para cuidar nuestra piel; hacer buena limpieza y colocar una crema hidratante de calidad, de manera de proteger nuestra piel. Esto nos ayuda a mantener nuestro rostro muy bien hidratado.
Luego procedí a aplicar en mis cejas un retoque con lápiz y sombra para darle un poco de volúmen, fue algo muy rápido porque cuento con unas cejas pobladas y no requiero de mucho maquillaje y siempre trato de usarlas sin tanto maquillaje.
To make this beautiful makeup I began as always to prepare the face, it is an important step to take care of our skin; do a good cleaning and place a quality moisturizing cream, in order to protect our skin.
This helps us keep our face very well hydrated. Then I proceeded to apply a touch-up with pencil and shadow to my eyebrows to give it a little volume, it was something very fast because I have bushy eyebrows and I don't require a lot of makeup and I always try to use them without so much makeup.
Paso 2./ Step 2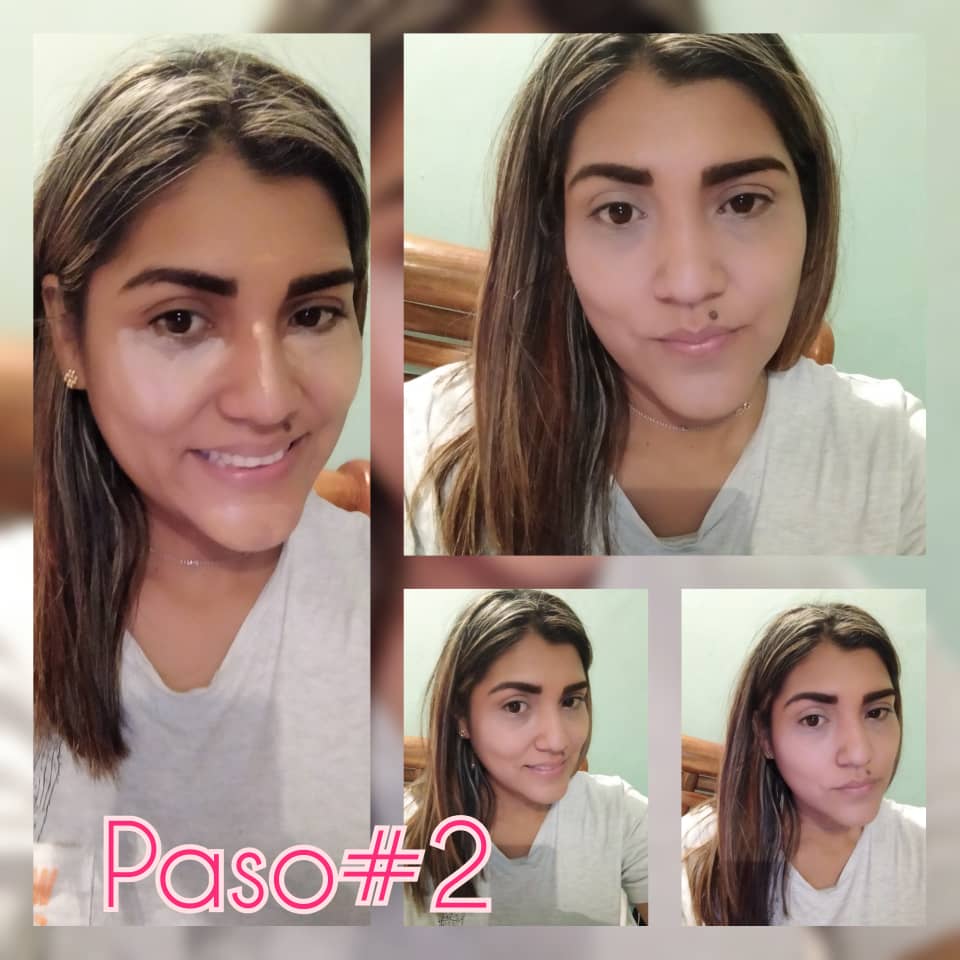 Teniendo mi rostro limpio y mis cejas retocadas, comienzo a colocarle base de maquiladora por todo mi rostro y comienzo hacer mi fantasía, utilizando la sombra morada y el color rosado, color amarillo, color verde, una lluvia de colores, para mi esta fantasía inspirada en lluvias de colores, representando la felicidad de crear contenido. También procedí a colocar a mi párpado sombra de color verde.
Having my face clean and my eyebrows retouched, I begin to apply makeup base all over my face and begin to make my fantasy, using the purple shadow and the pink color, yellow color, green color, a shower of colors, for me this inspired fantasy in showers of colors, representing the happiness of creating content. I also proceeded to apply a green shadow to my eyelid.
Paso 3/ Step 3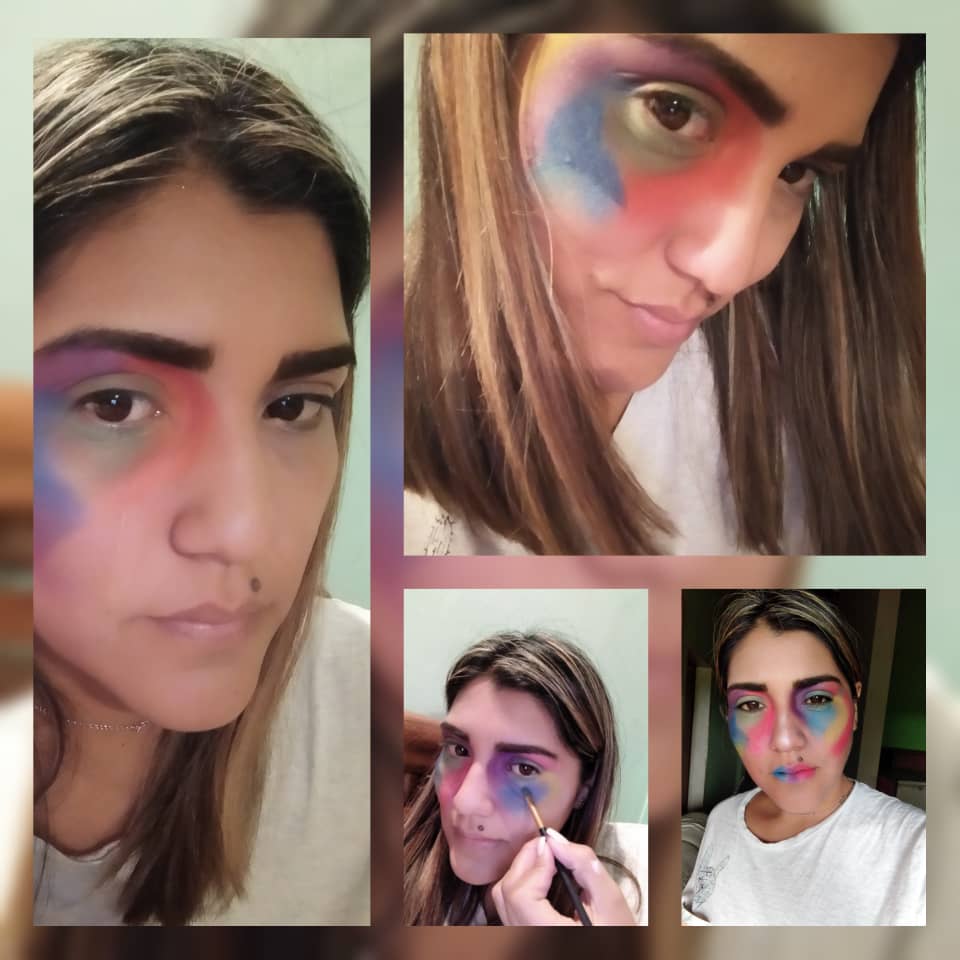 En este paso realicé en mi otra parte del rostro, la misma combinación de fantasía de colores, y también haciendo las lágrimas de felicidad con pintura al frío, dando forma similar a las lágrimas.
In this step I made the same color fantasy combination on my other part of my face, and also made tears of happiness with cold paint, giving a similar shape to tears.
Paso 4/ Step 4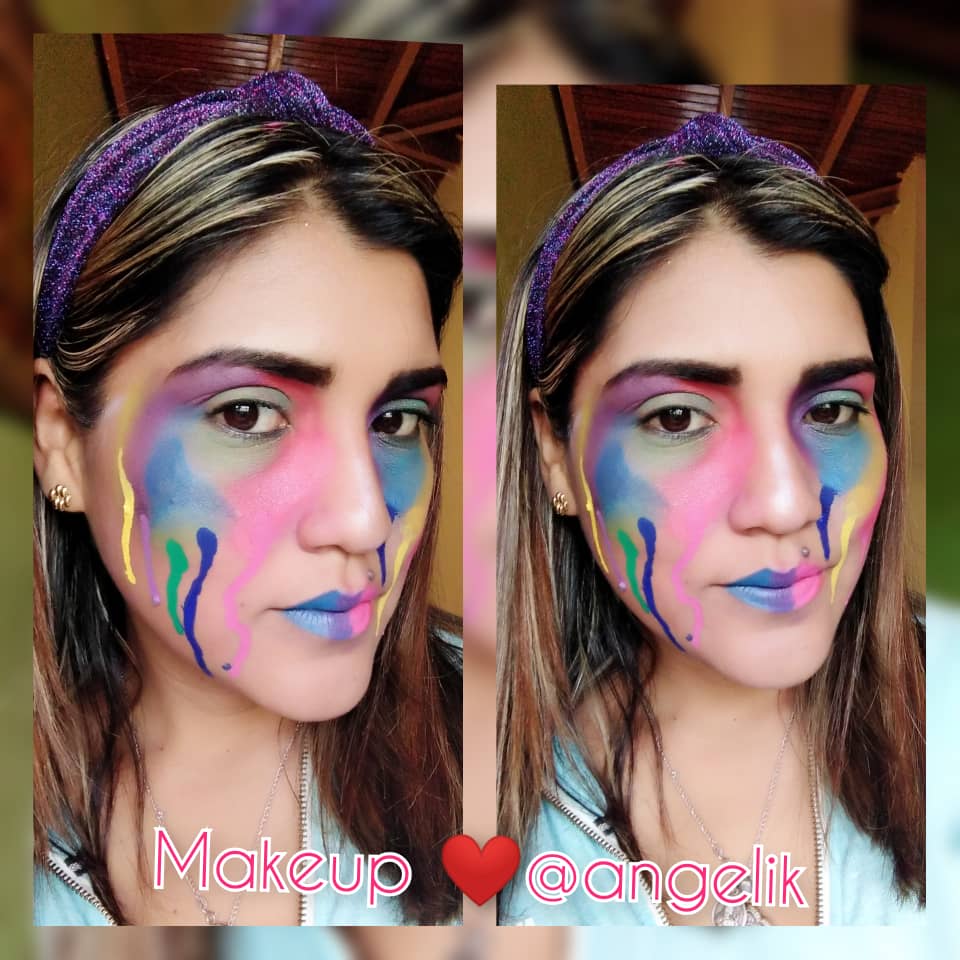 En este paso realicé los retoques finales, para tal fin utilicé la sombra de color morado, color azul y color rosado maquillar mis labios.
Para finalizar mi fantasía coloqué e hice un delineado color negro por debajo del ojo .
In this step I made the final touches, for this purpose I used the shade of purple, blue and pink to make up my lips.
To finish my fantasy, I placed and made a black outline below the eye.
Muchísimas gracias amigos, agradecida enormemente por tomar su valioso tiempo en leer mi post .Espero que les haya gustado mi maquillaje, que cada día voy mejorando y aprendiendo más en esta bella comunidad.
Un fuerte abrazo, que tengan buenas noches hasta la próxima, amigos.
Thank you very much friends, I am enormously grateful for taking your valuable time to read my post. I hope you liked my makeup, that every day I am improving and learning more in this beautiful community.
A big hug, have a good night until next time, friends.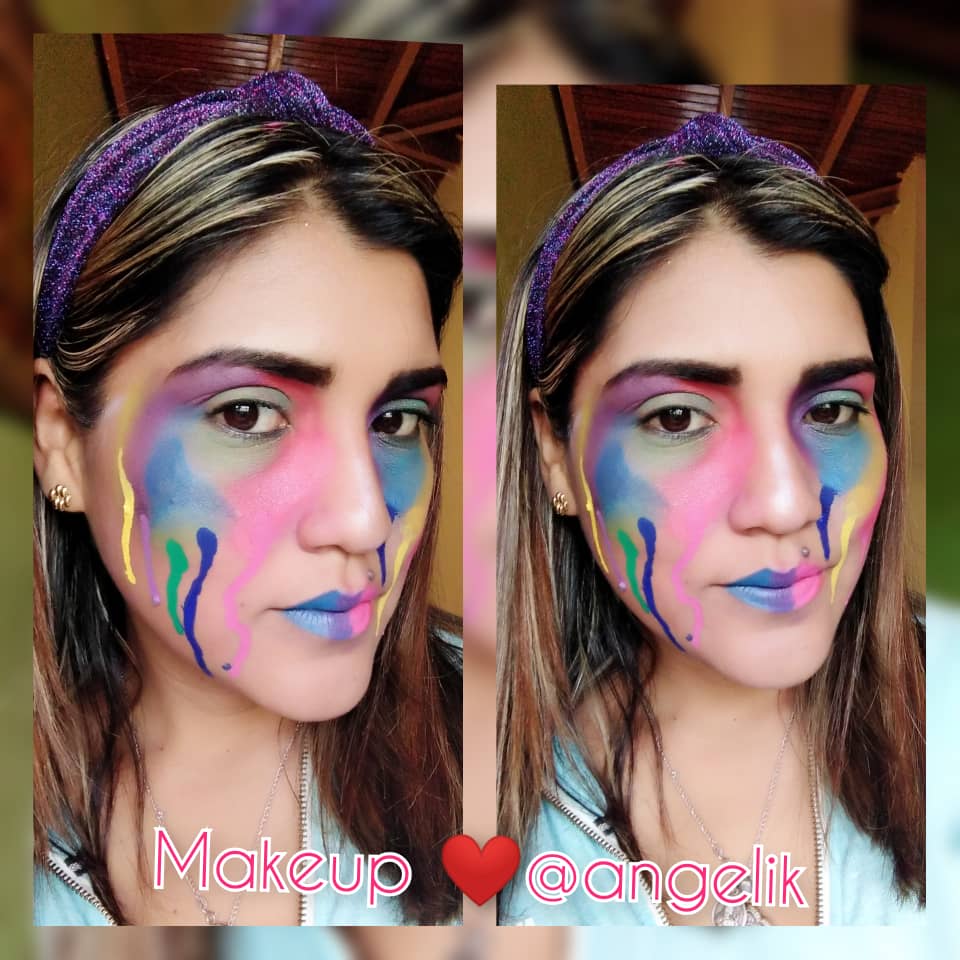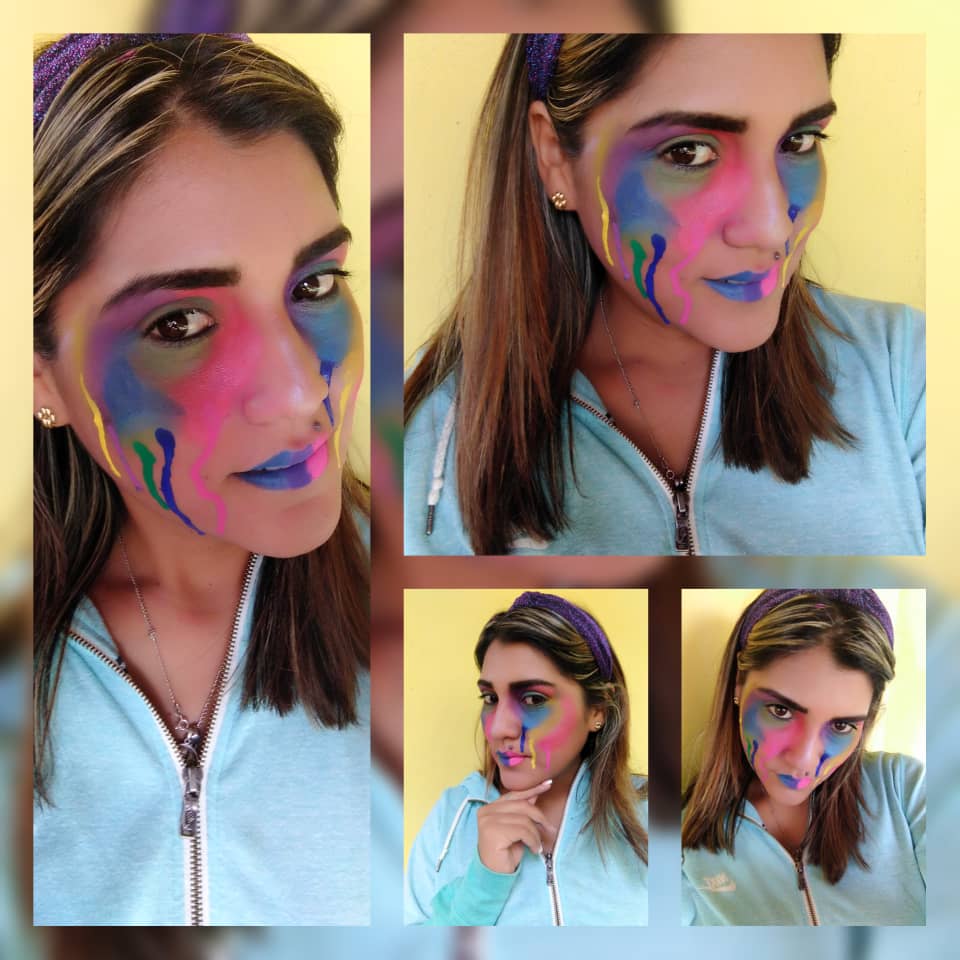 Hasta nuestro próximo encuentro en @angelik
Until our next meeting at @angelik
Fotos tomadas con teléfono móvil Redmi 8