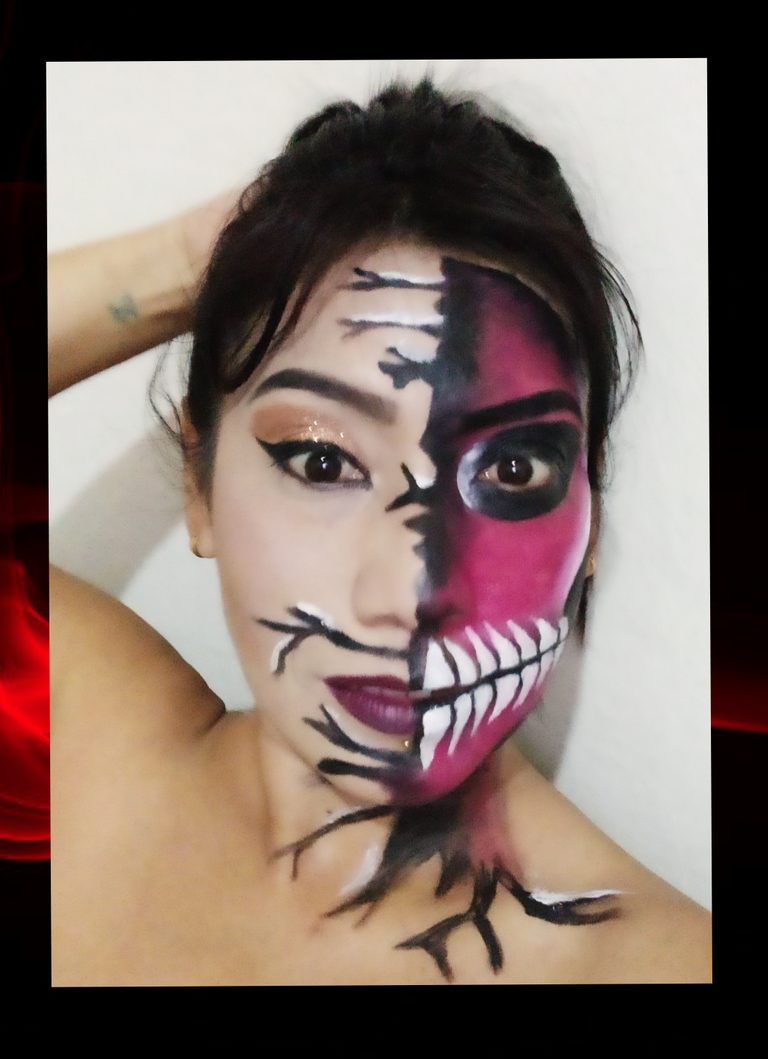 🌸🎨💚
Hello friends of HIVE and this community of @makeuopower I send you a greeting with love, wishing you many successes.
Today I come to bring you a Duo Makeup that is to say combined in one half perform a conventional glamorous makeup, and the other half is a face Painting makeup art (facial anatomy), I hope you like my presentation.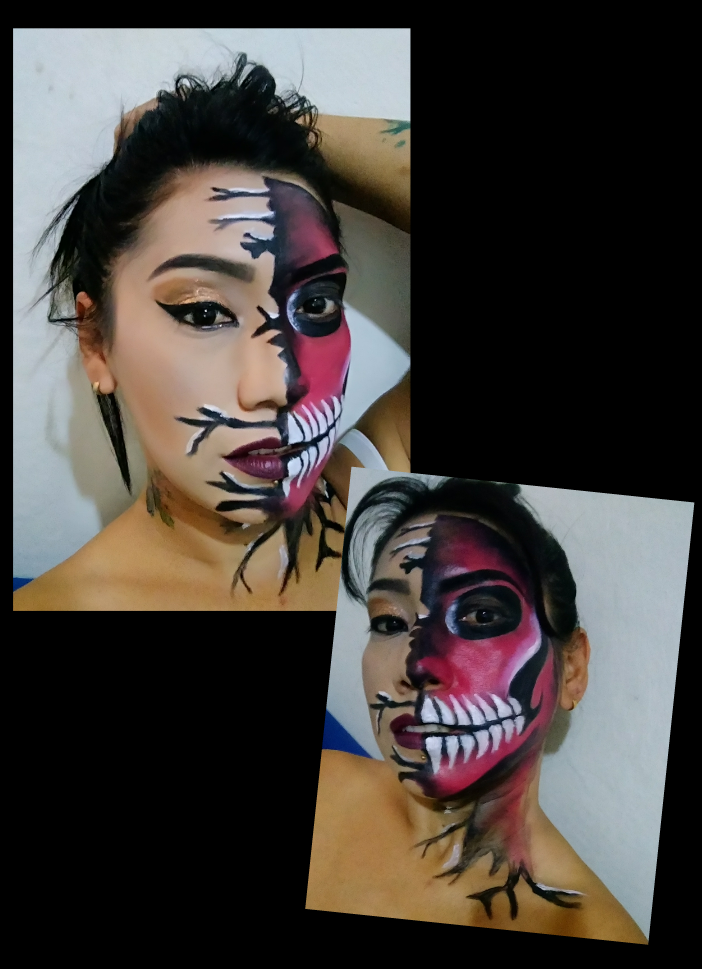 Hola amigos de HIVE y de esta comunidad de @makeuopower les mando un saludo con cariño, deseándoles muchos éxitos.
Hoy vengo a traerles un Maquillaje Dúo es decir combinado en una mitad realice un maquillaje convencional glamuroso, y la otra mitad es un maquillaje artístico face Painting (anatomía facial), espero que les guste mi presentación.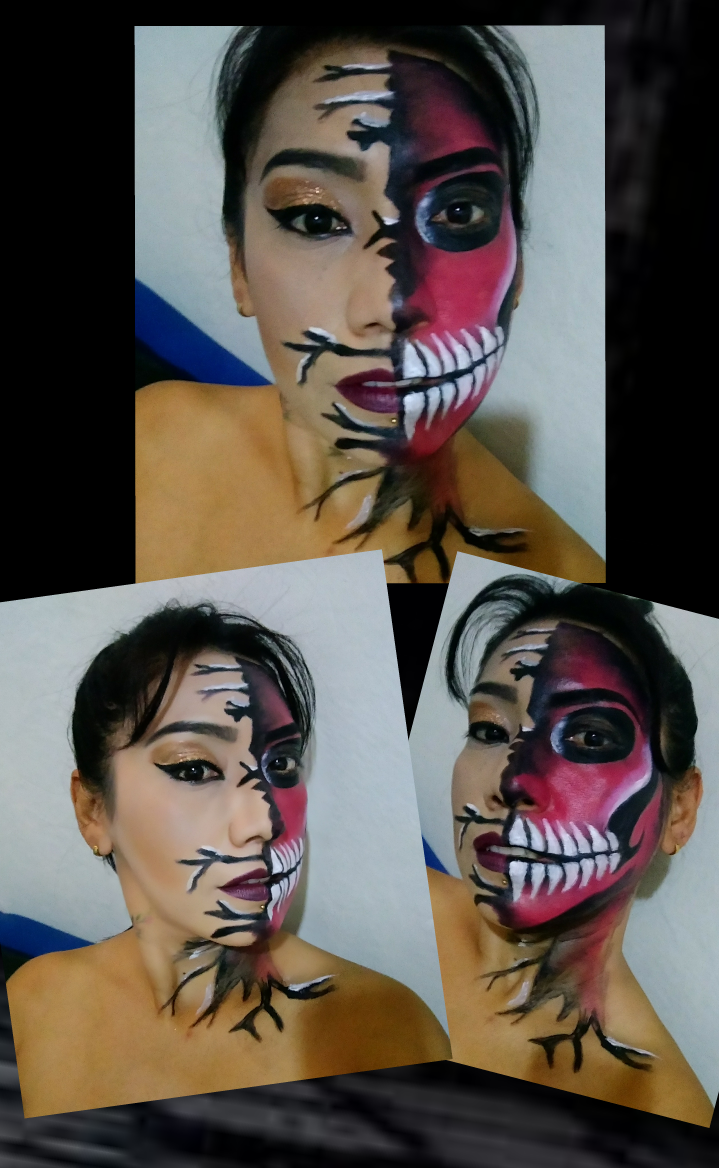 ---
To do this make-up use the following materials, primer, liquid foundation, pressed powder, eyeliner pencil, fuchsia and red wine lipstick, black and white body paint, liner and blending brushes, brown and gold eyeshadow, black eyeliner and mascara.
Para realizar este maquillaje utilice los siguientes materiales, primer, base líquida, polvo compacto, lapiz delineador de ojos, pintura labial fucsia y color vino tinto, pintura corporal en tono negro y blanca, pinceles para delinear y para difuminar, sombra de ojos en tono marrón y dorado, delineador de ojos negro y rimel.
---
🌸🎨💚🌸🎨💚🌸🎨💚🌸🎨💚🌸🎨💚🌸
Makeup steps
To start I cleanse my face, and apply a moisturizer.
Once I have my face clean, I apply a primer to smooth my face, followed by a liquid foundation and a compact powder to seal.
Once I had my face in an even tone, I took the brown eyeliner pencil and drew the outline on my face that would serve as a guide for the application of the paint.
Once I had drawn the division on my face I started with the artistic makeup, face painting, starting with the application of the fuscia paint on my right cheek area, part of the forehead, chin and part of the neck.
Then I took the eyeliner brush and the black body paint and I did the outlining of the drawing starting with the edges of my face, I did the outlining and filling of my eyebrow, a part of my cheek, the neck area and the eye. Then I took the blending brush and started to expand the black color from the starting point of the outlines to the framing.
Finally I took white body paint and a fine brush and painted the teeth of my drawing and made strokes in various areas of my drawing to give it light.
This way I finished with the artistic makeup side and now it's time to do the conventional makeup.
To do the conventional side of the makeup I again applied some pressed powder and with a fine brush I did my eyebrow outlining around the edges and filling it in.
Then I took a brush and applied brown shadow along the crease area of my eyelid to frame the eye and followed with a gold tone shadow and to finish I applied an eyeliner along the upper contour of my eye and primer on my eyelashes.
I followed with a brown blush and applied it on the lower part of my cheek to outline my face.
Then with the brown eyeliner pencil I drew the edge of the middle of my mouth and applied a lipstick in a red wine tone.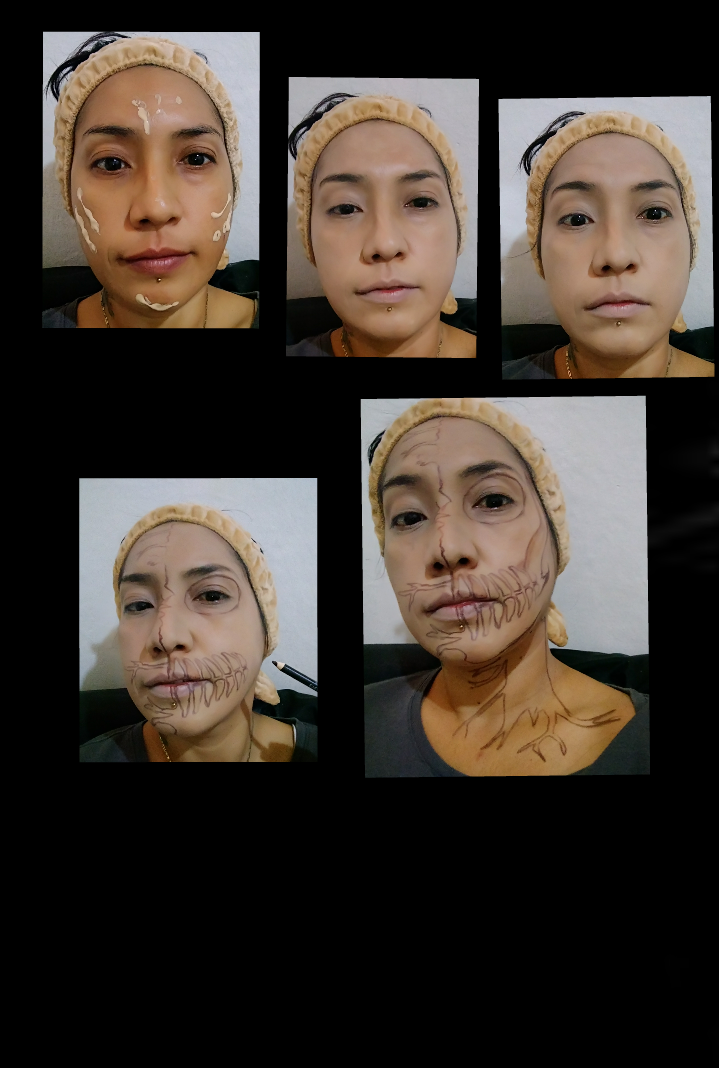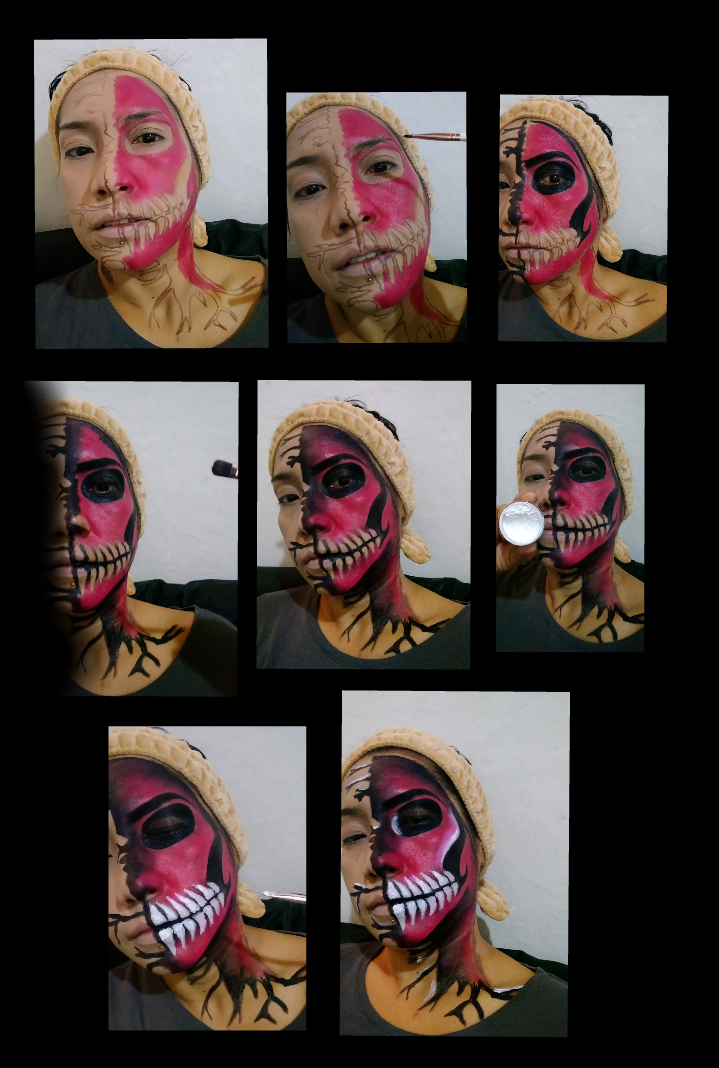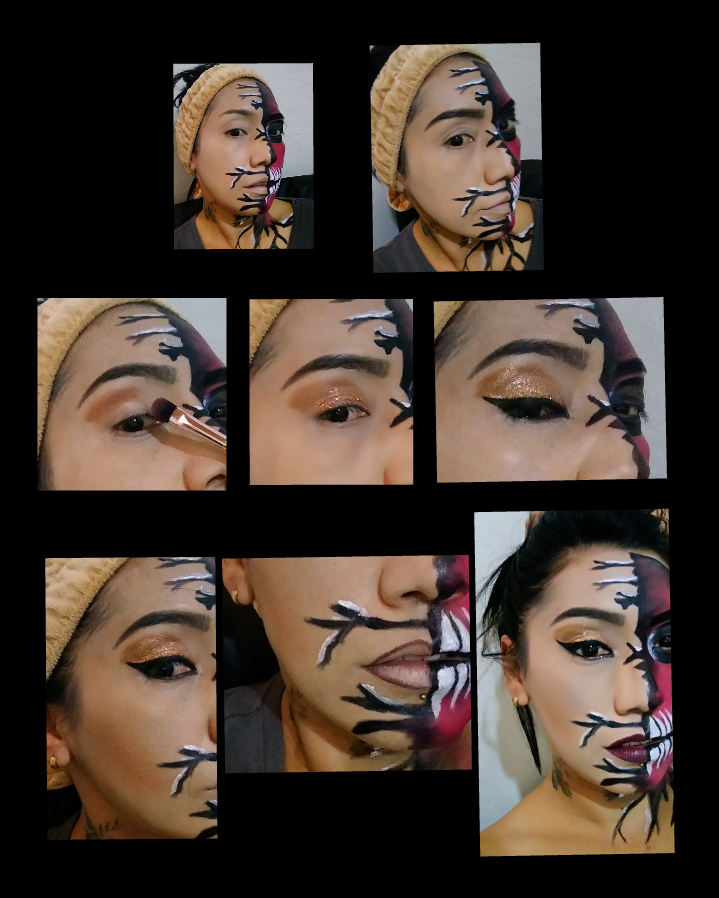 Pasos del maquillaje
Para empezar hago una limpieza en mi rostro, y me aplicó una crema hidratante.

Un vez que tengo mi rostro limpio, aplicó un primer para suavizar mi rostro, seguido de una base líquida y un polvo compacto para sellar.

Al tener mi rostro en un tono uniforme tome el lápiz delineador de ojos color marrón y realice el dibujo en mi rostro que me serviría de guía para la aplicación de la pintura.

Una vez que tenía dibujado la división en mi Rostro empecé por el lado del maquillaje artístico, face Painting, empezando por la aplicación de la pintura fuscia por la zona de mi mejilla derecha, parte de la frente, menton y parte del cuello.

Luego tome el pincel para delinear y la pintura corporal en tono negro e hice el delineado del dibujo empezando por los bordes de dividian mi rostro también, hice el delineado y relleno de mi ceja, una zona de mi mejilla, la zona del cuello y el ojo. Luego tome el pincel para difuminar y me puse a expandir el color negro desde el punto de partida de los delineados hasta enmarcar.

Para terminal tome pintura corporal blanca y un pincel fino y pinte los dientes de mi dibujo e hice trazos en varias zonas de mi dibujo para darle iluminación.

Así termine con el lado del maquillaje artístico ahora toca hacer el maquillaje convencional.

Para realizar el lado del maquillaje convencional aplique nuevamente un poco de polvo compacto y con un pincel fino realice mi ceja haciendo un delineado por los bordes y rellenando.

Luego tome un pincel y aplique sombra marrón por la zona del pliegue del párpado para enmarcar el ojo y seguí con una sombra en tono dorado y para terminar aplique un delineado por el contorno superior de mi ojo y primer en mis pestañas.

Seguí con un rubor marrón y lo aplique en la zona baja de mi mejilla par perfilar mi rostro

Luego con el lápiz delineador marrón dibuje el borde de la mitad de mi boca y aplique un labial en un tono vino tinto.
---
So I'm done with my duo makeup, conventional and artistic, I hope you liked the result as much as I did.
Así he terminado con mi maquillaje dúo, convencional y artístico, espero que les haya gustado el resultado tanto como a mi me gusto.
---
🌸🎨💚🌸🎨💚🌸🎨💚🌸🎨💚🌸🎨💚🌸
More results
Más resultados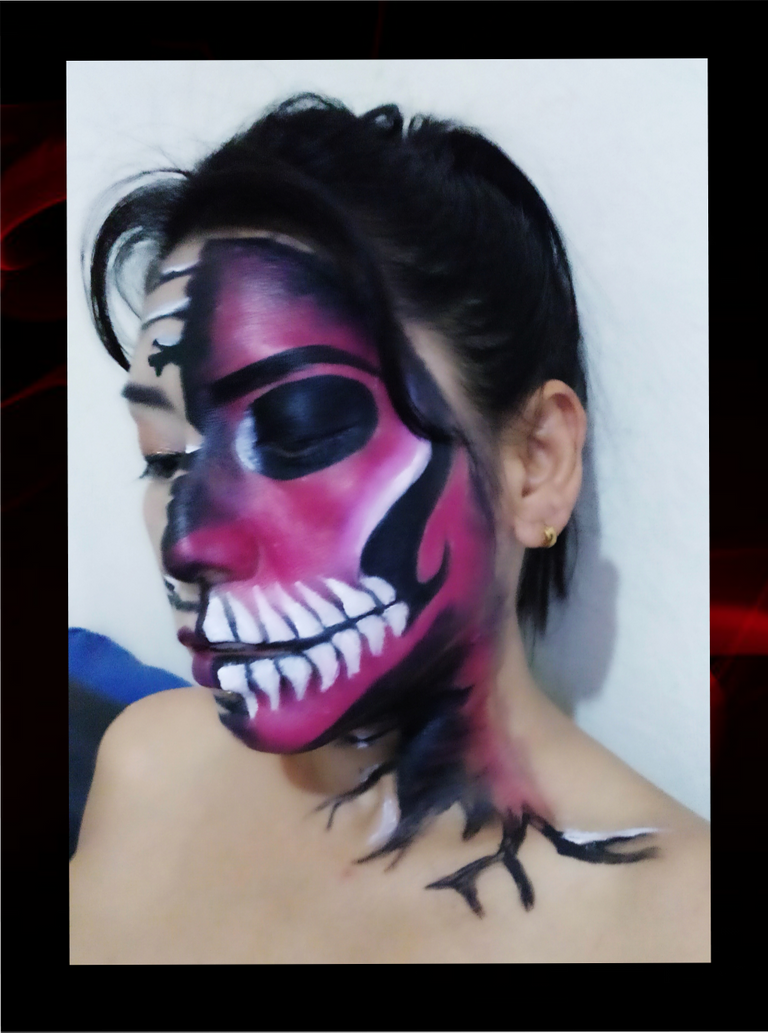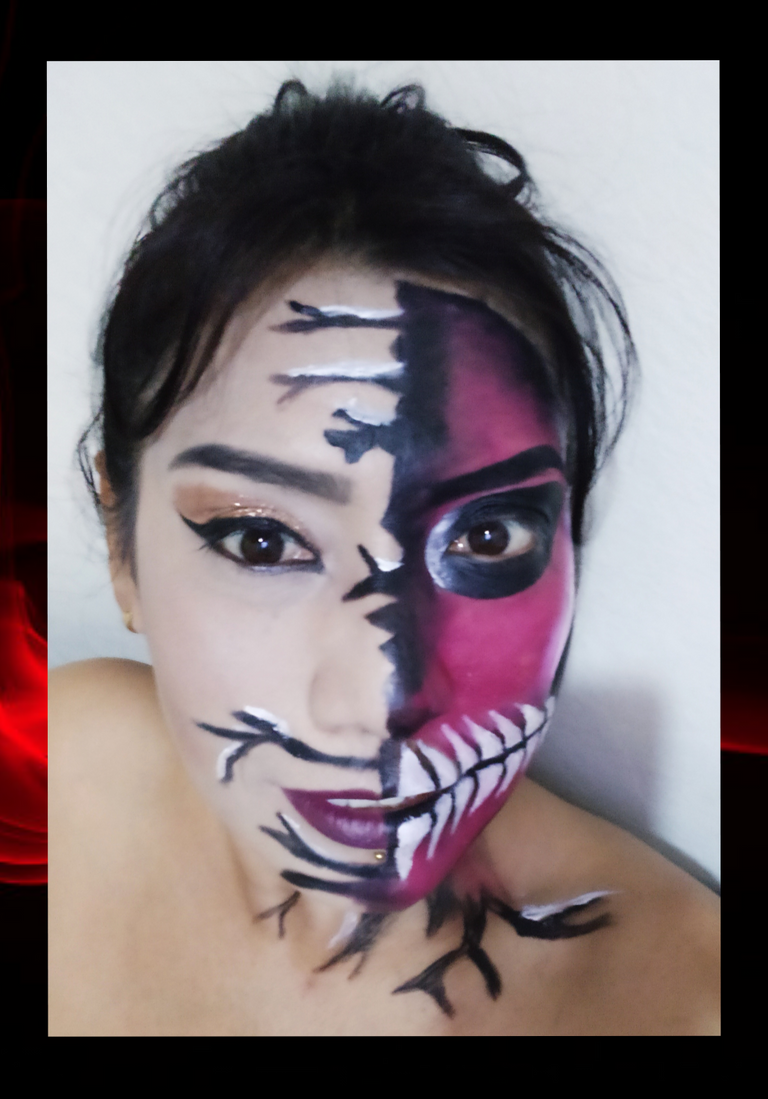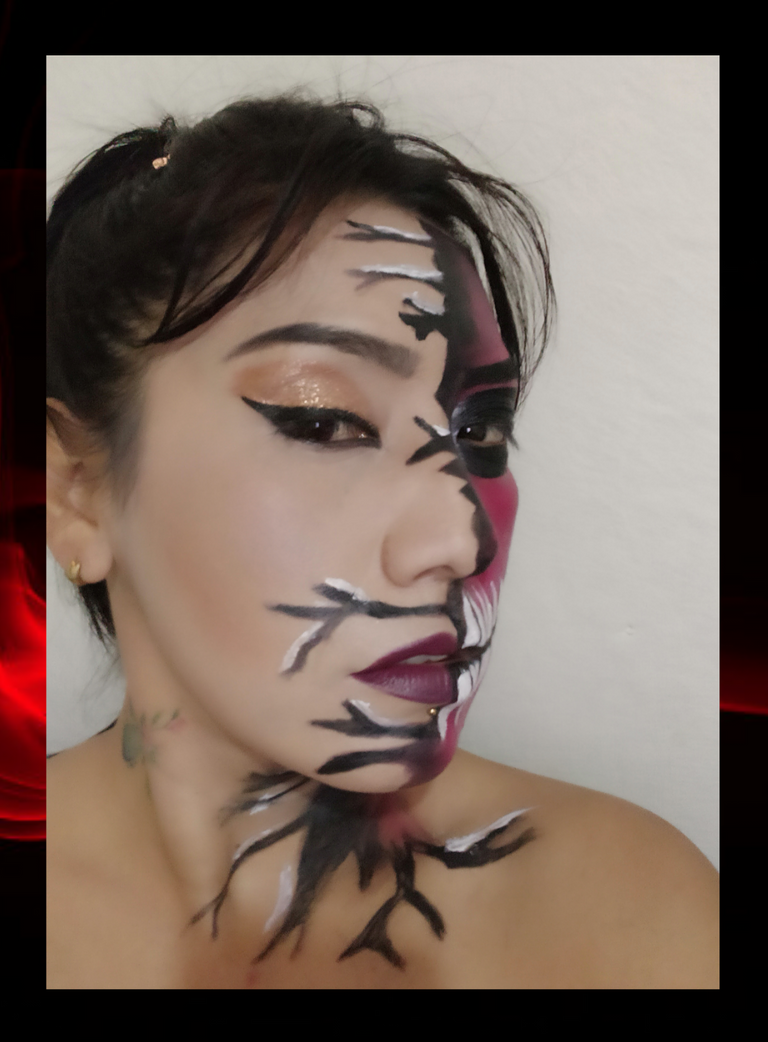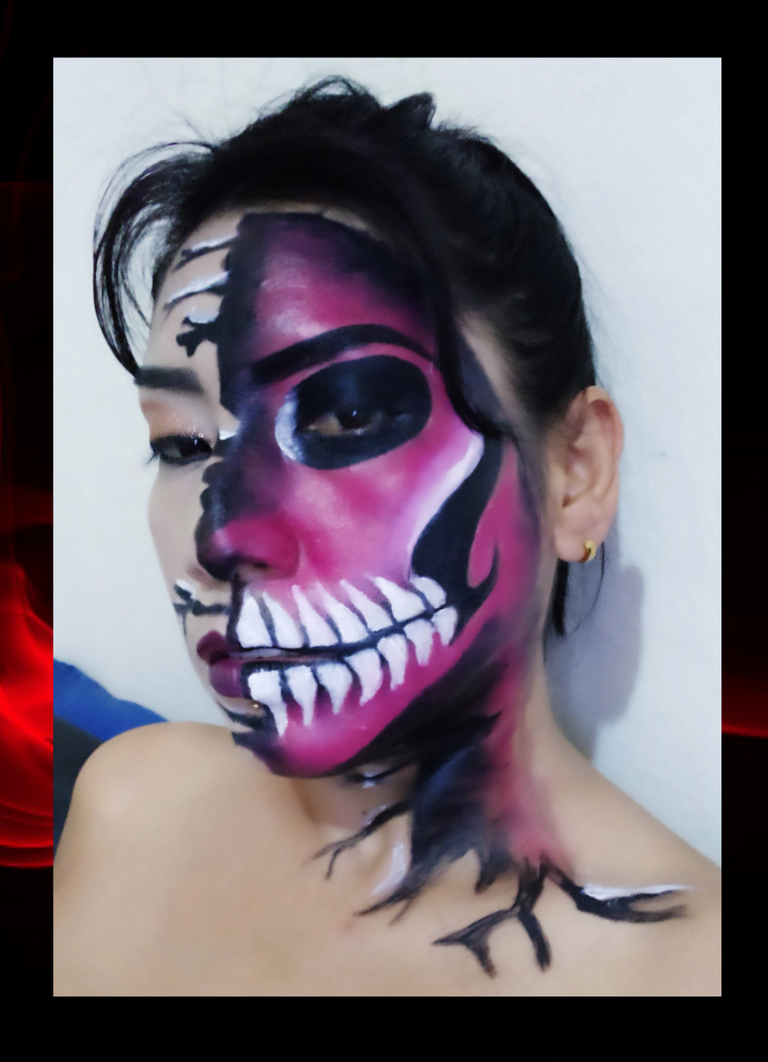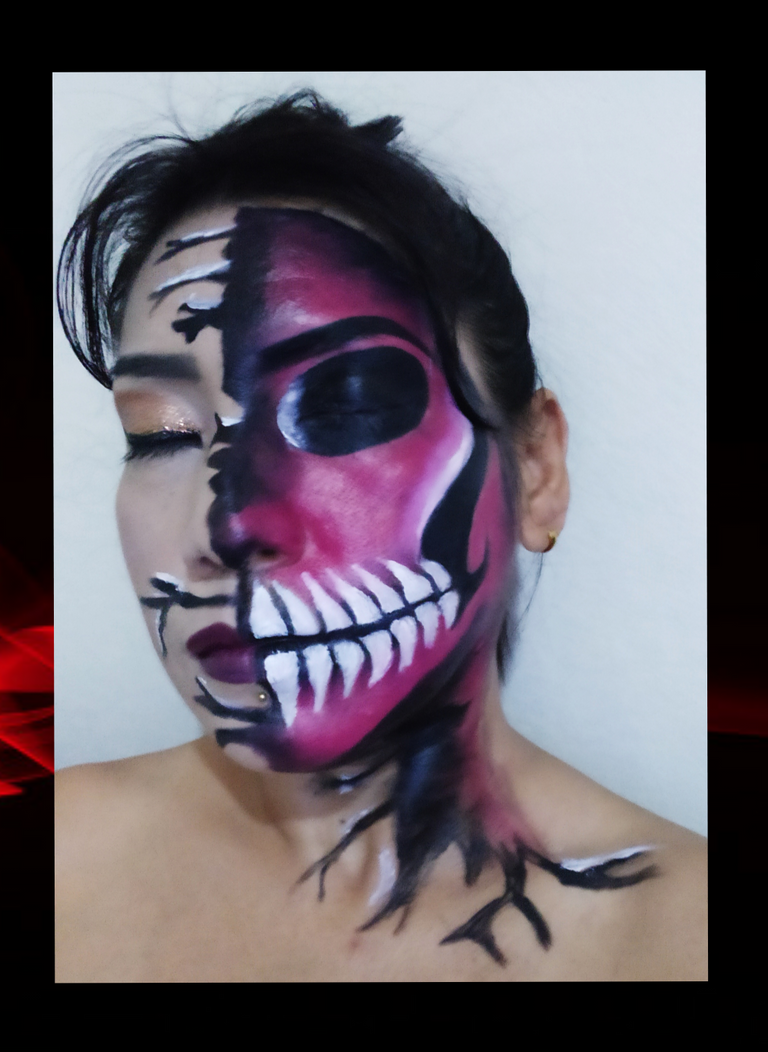 🌸🎨💚🌸🎨💚🌸🎨💚🌸🎨💚🌸🎨💚🌸

I say goodbye until another opportunity.
🤗
If you like my work you can follow me.
@borbolet
🍒
thanks for your support
Me despido hasta otra oportunidad.
Si les gusta mi trabajo me pueden seguir.

@borbolet
🍒
Gracias por su apoyo.
Images of my property.
Imagenes de mi propiedad.