Hello beautiful and dear community I am back today with a post about different nails. First time I publish some nails made by me for me, usually I do not do my nails despite being a manicurist at the moment but it is because I do not have time, and because I'm doing a professional manicurist technician and then in each module I must be without nails and are every 15 days then it gives me pain to spend material, but today I made an exception and I had a long time without making me a little love in my nails.
Hola hermosa y querida comunidad he vuelto el dia de hoy con un post sobre uñas diferentes. Primera vez que publico unas uñas hechas por mi para mi, por lo general no me hago las uñas a pesar de ser manicurista por los momentos pero es porque no me da tiempo, y porque estoy haciendo un tecnico de manicurista profesional y pues en cada modulo debo estar sin uñas y son cada 15 dias entonces me da dolor gastar material, pero el dia de hoy hice una excepcion ya tenia mucho tiempo sin hacerme un cariñito en mis uñitas.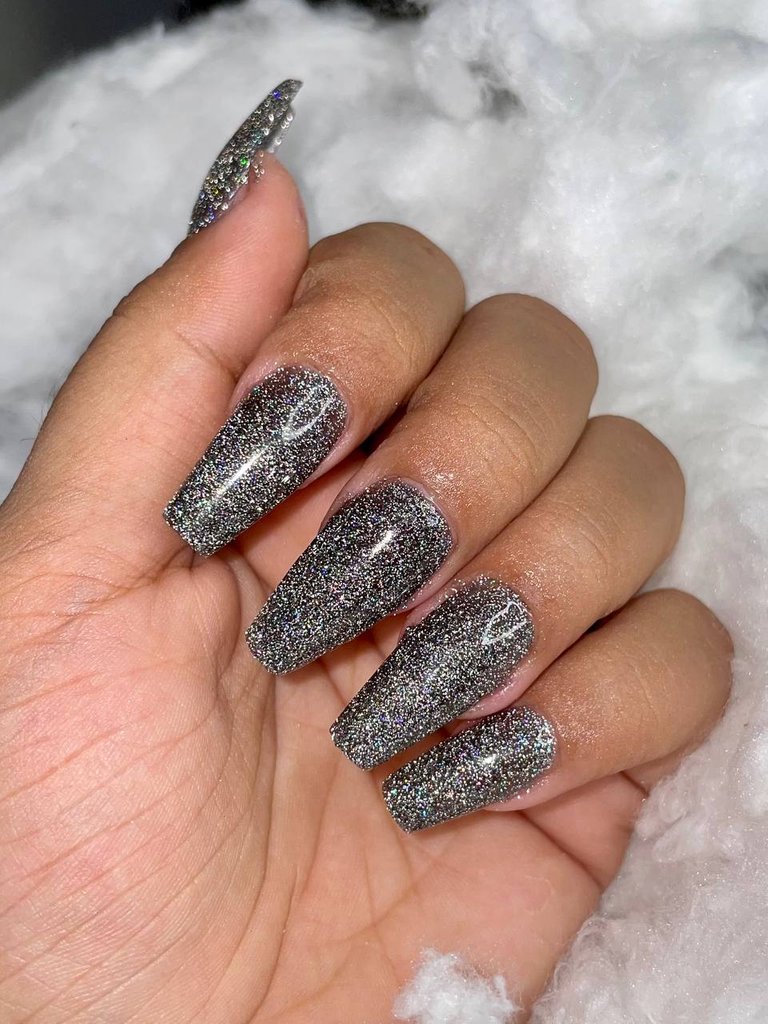 The 4th module was yesterday and these were the nails we did, 4 nails in different shapes Piper, Square, Almond and Marilin, with reverse technique and a lot of new effects that the teacher taught us, the truth was in love with these nails as I am finally seeing much improvement in my finish and technique with acrylic and I am very happy about that. The course is two days and the day before we worked with polygel and the truth is that I don't like it as much as the acrylic, that's why I show you these that were much better. For these nails as I knew I had to remove them quickly I didn't apply the preparers to be able to take them off but I had to cut them so they could come out as they were too stuck together.
El 4to modulo fue el dia de ayer y estas fueron las uñas que hicimos, 4 uñas en formas diferentes Piper, Cuadrada, Almond y Marilin, con tecnica de reversa y un monton de efectos nuevos que nos enseño la profesora, la verdad estaba enamorada de estas uñas ya que porfin estoy viendo bastante mejoria en mi acabado y tecnica con el acrilico y me siento muy feliz por eso. El curso es de dos dias y el dia anterior trabajamos con polygel y la verdad no me gusta tanto como el acrilico por eso les muestros estas que quedaron mucho mejor. Para estas uñas como sabia que debia quitarmelas rapido no aplique los preparadores para poder despegarmelas pero tuve cortarlas para que pudieran salir ya que estaban demasiado pegadas.
As I don't have much time today I did an express nail technique, the famous and spectacular Jelly tip, they are plastic nail tips that come ready to paste on your nail with a special glue, I use the glue and the tips of the brand maxglow and they are great they last about 15 days, it is not as resistant and durable as the acrylic but it is spectacular and requires very little work and it is a spectacular finish.
Como no tengo mucho tiempo el dia de hoy me hice una tecnica de uñas express, el famoso y espectacular Jelly tip, son tips plasticos de uñas que ya vienen listos para pegar en tu uña con una pega especial yo uso la pega y los tips de la marca maxglow y son geniales duran aproximadamente 15 dias, no es tan resistente y duradero como el acrilico pero es espectacular y requiere muy poco trabajo y queda un acabado espectacular.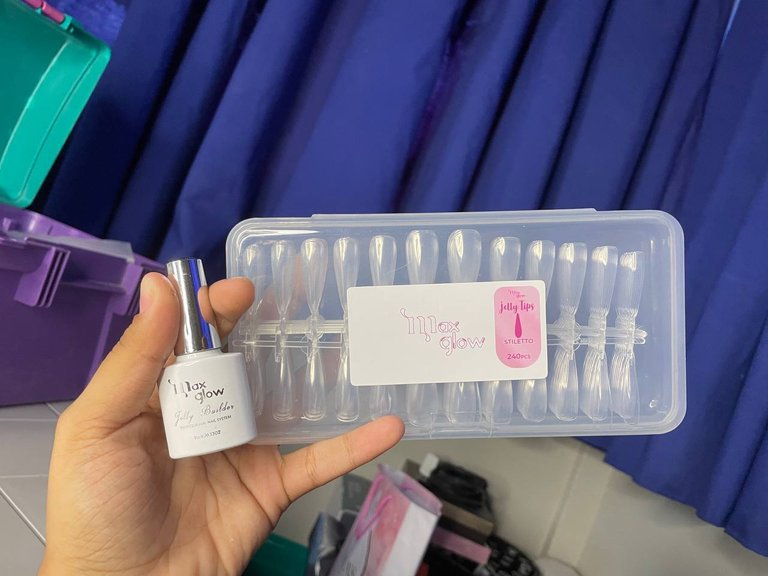 To prepare our nail using these tips we need 3 preparers, the nailpre which cleans and dehydrates the first layer of the nail, the bonder which creates the adhesion and the base coat.
Para preparar nuestra uña usando estos tips necesitamos 3 preparadores, el nailpre que limpia y deshidrata la primera capa de la uña, el bonder que crea la adherencia y la base coat.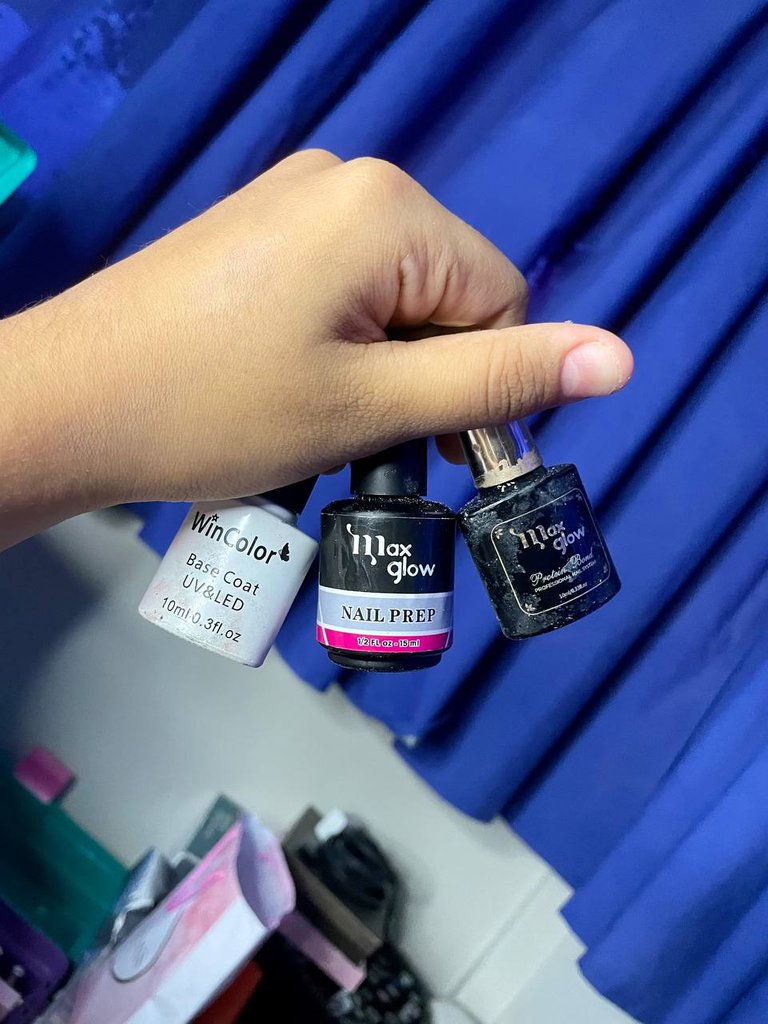 LET'S START WITH THE STEP BY STEP
The first thing I do is prepare my nail, doing a simple dry manicure, for this I need a cuticle cutter a pusher and a file, I push my cuticle backwards creating a pocket to be able to cut the cuticle and then I create adhesion channels with my file, I apply the preparers that I mentioned before and cure in a lamp for 60 seconds since the base coat needs to dry, and then with my specific jellytips glue I apply a drop and glue my tips on all my nails.
I cut them with my guillotine and file all the layer of the tip so that the semi-permanent adheres well, I apply my base coat on my tip and then I cure it in the lamp and then to finish I apply my reflective paint in this case black color and seal it with finish coat.
EMPECEMOS CON EL PASO A PASO
Lo primero que hago es prepara mi uña, haciendole una manicura en seco sencilla, para ello necesito un cortacuticulas un empujador y una lima, empujo mi cuticula hacia atras creando bolsillo para poder cortar la cuticula y luego creo canales de adherencia con mi lima, Aplico los preparadores que ya mencione anteriormente y curo en lampara 60 segundos ya que la base coat necesita secarse, para luego con mi pega especual de jellytips aplicon una gota y pego mis tips en todas mis uñitas.
Los corto con mi guillotina y limo toda la capa del tip para que el semipermanente se adhiera bien, Aplico mi base coat sobre mi tip la curo en lampara y luego para finalizar aplico mi pintura reflectiva en este caso de color negro y la sello con finish coat.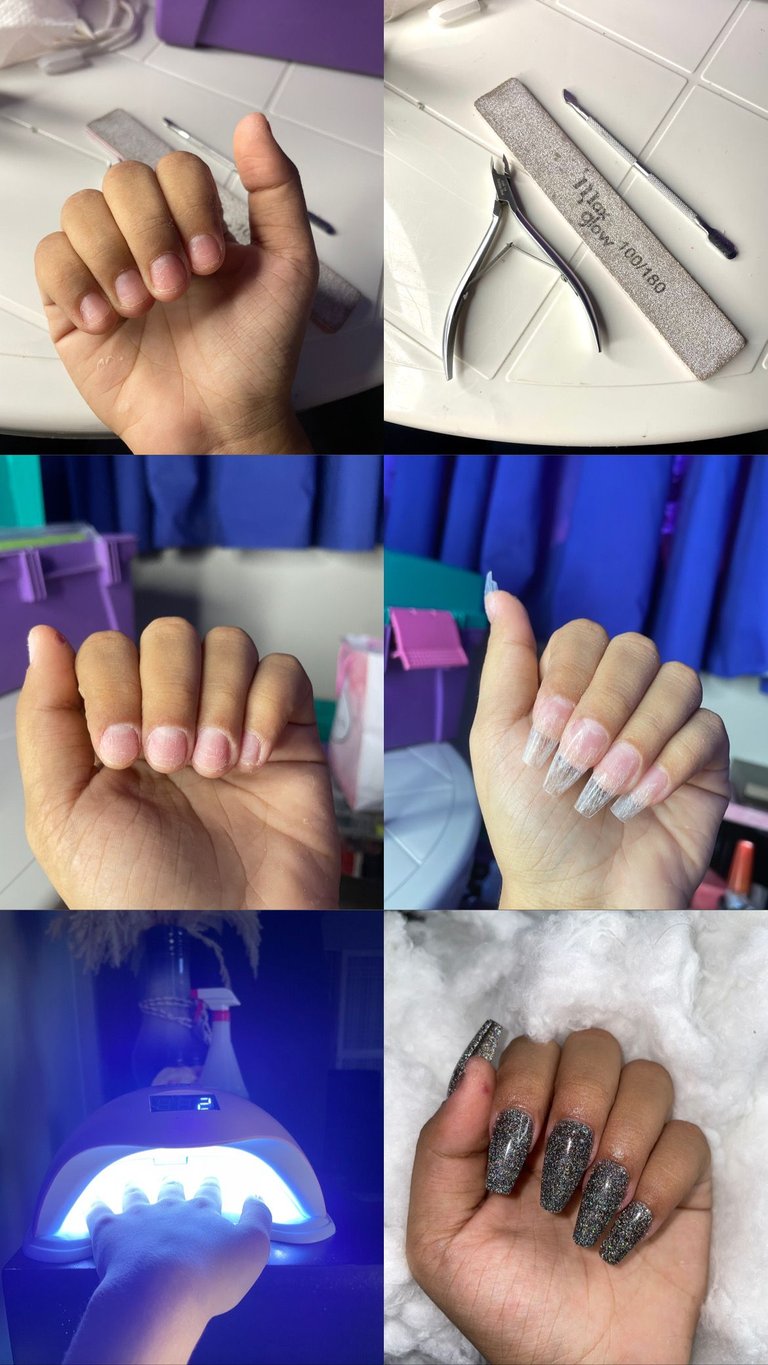 This was the final result, obviously I love long and outrageous nails that shine brighter than the sun and what better than reflective paints. They are reflective because when the flash hits them they change color and the effect is impressive and they are my favorite, here you can see them with flash and without flash.
Este fue el resultado final, obviamente me encantan las uñas largas y escandalosas que brillen mas que el sol y que mejor que las pinturas reflectivas. Son reflectivas ya que cuando les pega el flash cambian de color y se ven puros brillos el efecto es impresionante y son mis favoritas, aqui pueden verlas con flash y sin flash.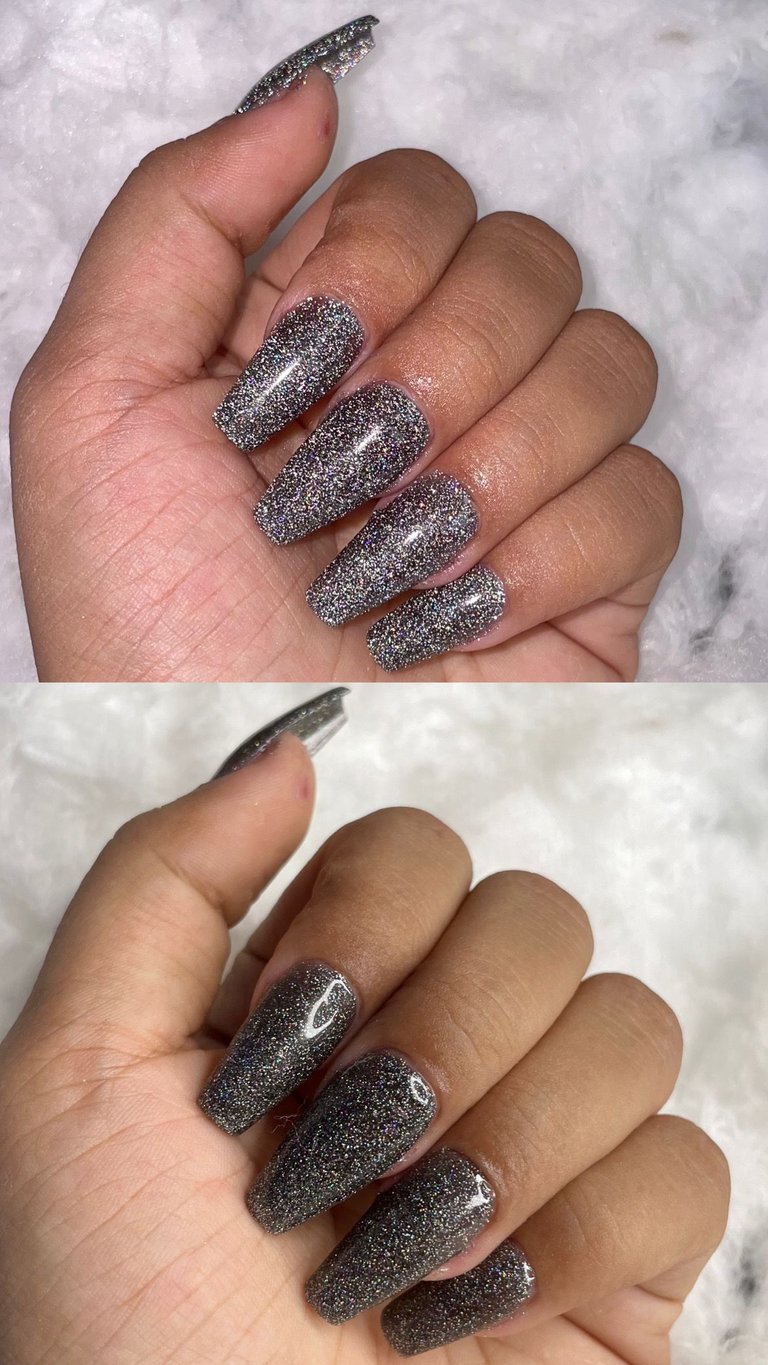 I love them so black without flash, they still shine and it's amazing how easy and fast this system can be done and it looks so perfect and natural.
Me encantan asi negras sin flash, de igual manera ellas brillan y es increible la facilidad y la rapidez con la que se puede hacer este sistema y queda tan perfecto y natural.
I LOVE THEM MUCH MORE WITH FLASH OBVIOUSLY. I love to share everything I do with you, I hope you leave me in the comments if you would do nails like these, not everyone likes them and let me know what you think.
All photos and videos were taken by me with my phone an iphone 12, in my nail studio, kisses xoxo.
LAS AMO MUCHO MAS CON FLASH OBVIAMENTE. Me encanta compartir todo lo que hago con ustedes, espero me dejen en los comentarios si se harian unas uñas como estas, no a todo el mundo le gustan y diganme que les parecio.
Todas las fotos y videos fueron tomados por mi con mi telefono un iphone 12, en mi estudio de uñas, besitos xoxo.