Hello beautiful meals welcome to a new post of nails, today I return with a different tactic that I had never done before, yes I know I always tell you that but the truth is that for me almost everything with my clients is new remember that I am still a novice, but this client raised the level of difficulty quite late 8 hours doing them, even my light went out in the process was hard work but it was worth it.
Hola comidas hermosa bienvenidos a un nuevo post de uñas, el día de hoy vuelvo con una táctica diferente que nunca había hecho antes, si yo se que siempre les digo eso pero es que la verdad para mi casi todo con las clientas es nuevo recuerden que soy novata aun, pero esta clienta elevó el nivel de dificulta bastante tarde 8 horas haciéndolas, hasta se me fue la luz en el proceso fue un trabajo duro pero valió toda la pena.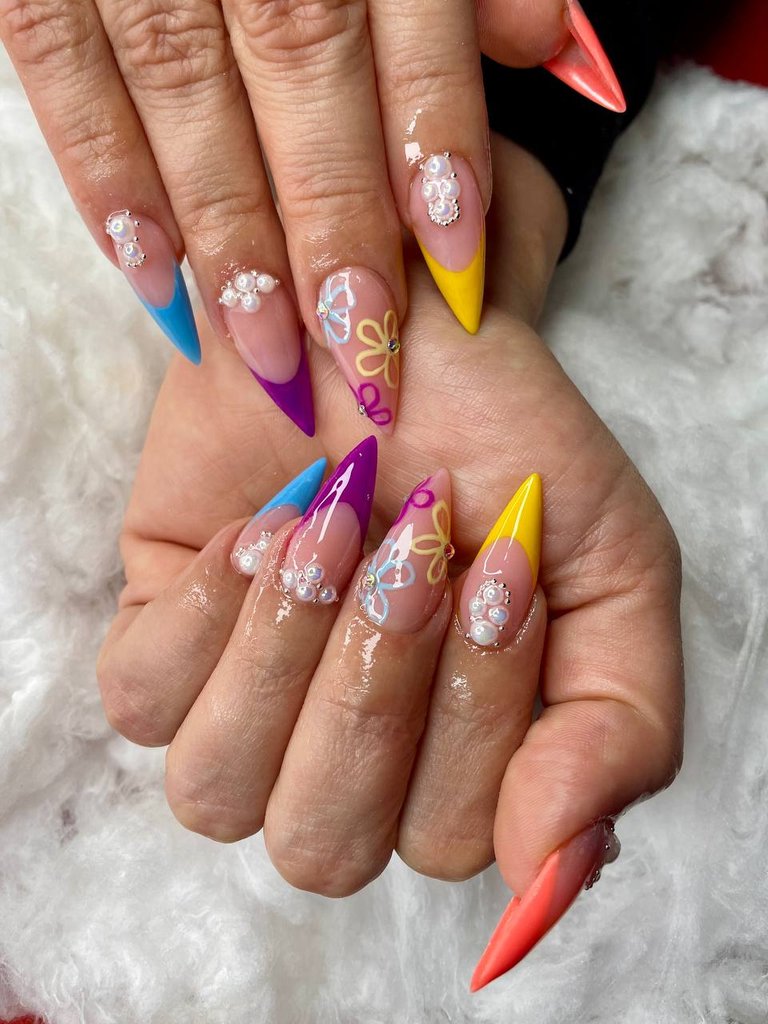 This model was specially requested by my client and for me it was the best to please her, I love doing this kind of nails to me, I have not yet had the opportunity to do them because I am still in the course and finally I just need a module and make my project to graduate as a professional technician in the art of nails.
Éste modelo fue pedido especialmente por mi clienta y para mí fue lo mejor complacerla a mi me encantan hacerme este tipo de uñas a mí, aún no he tenido la oportunidad de hacérmelas porque sigo en curso ya por fin solo me falta un módulo y realizar mi proyecto para graduarme como técnico profesional en el arte de las uñas.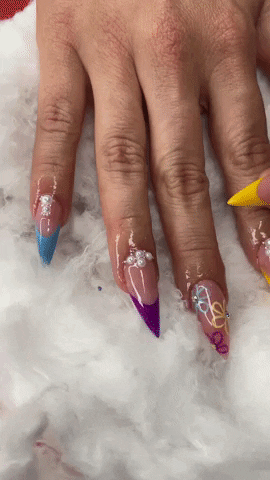 STEP BY STEP✨
To start with this step by step I want you to see my client's nails with a month and a half of growth after having done an acrylic nail system in tips , as you can see the nail is strong and healthy with a quite long growth without any fire ring in our Nails, Remember that it is also our job as a manicurist as well as leaving the nail that we are sculpting perfect take care also our natural nail.
Para comenzar con este paso a paso quiero que vean las uñas de mi clienta con un mes y medio de crecimiento luego de haberle hecho un sistema de uñas acrílicas en tips , como pueden ver la uña está fuerte y sana con un crecimiento bastante largo sin ningún aro de fuego en nuestra Uñas, Recuerden que también es nuestro trabajo como manicurista así como dejar la uña que estamos esculpiendo perfecta cuidar también nuestra uña natural.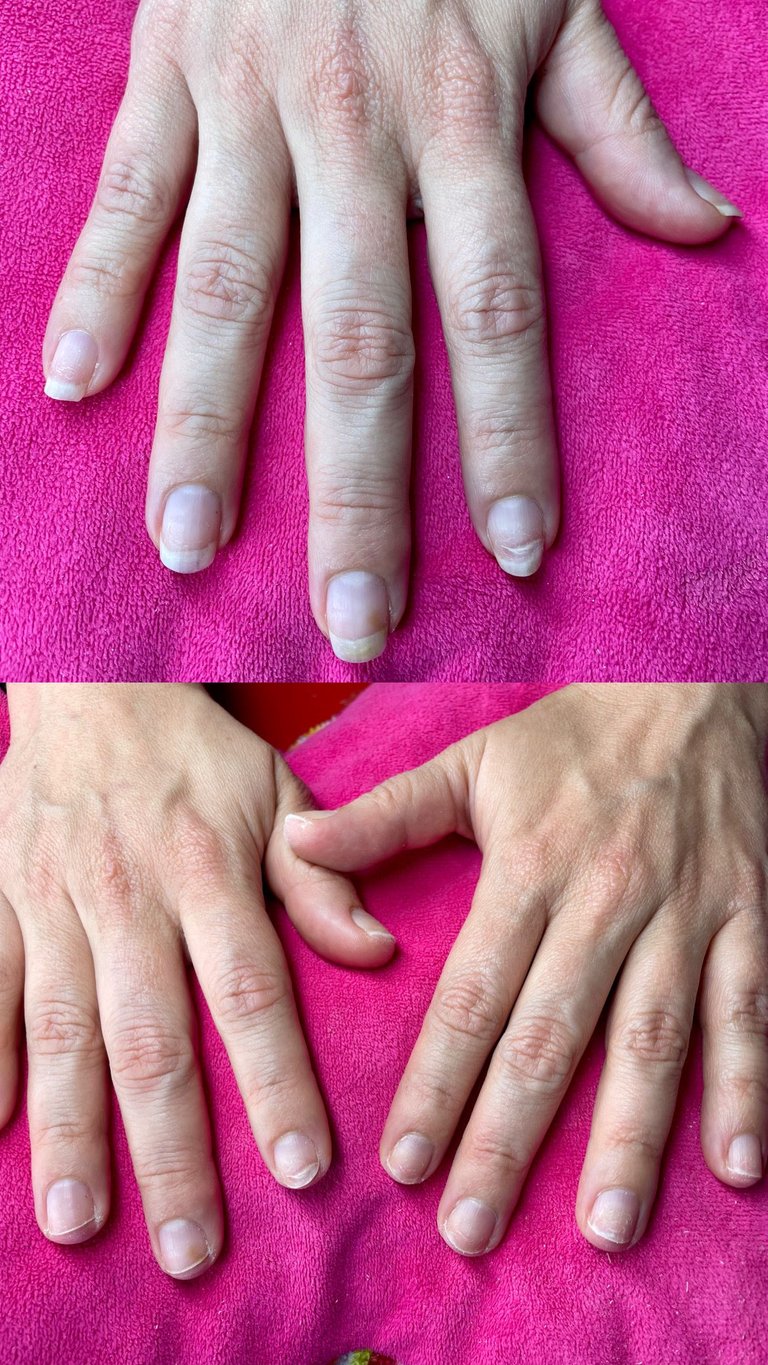 In order to make these nails in molds for my client, obviously we must cut the free edge of our nails, that is to say, the growth, so that there is no premature detachment because we will make extra long nails today.
Para poder realizarle estas uñas en moldes a mi Clienta obviamente debemos cortar El borde libre de nuestra uña es decir el crecimiento para que no haya un desprendimiento prematuro debido a que haremos hoy uñas extra largas.
Then we do our due preparation of the natural nail using our pusher and our professional cuticle nipper and a file to create bonding channels in our nail by filing vertically horizontal as this can create fire rings and we place our naile brand molds.
Luego hacemos nuestro debida preparación miento de la uña natural usando nuestro empujador y nuestro corta cutícula de uso profesional y una lima para crear canales de adherencia en nuestra uña limando de manera vertical horizontal ya que esto puede crear aros de fuego Y colocamos nuestros moldes de la marca naile.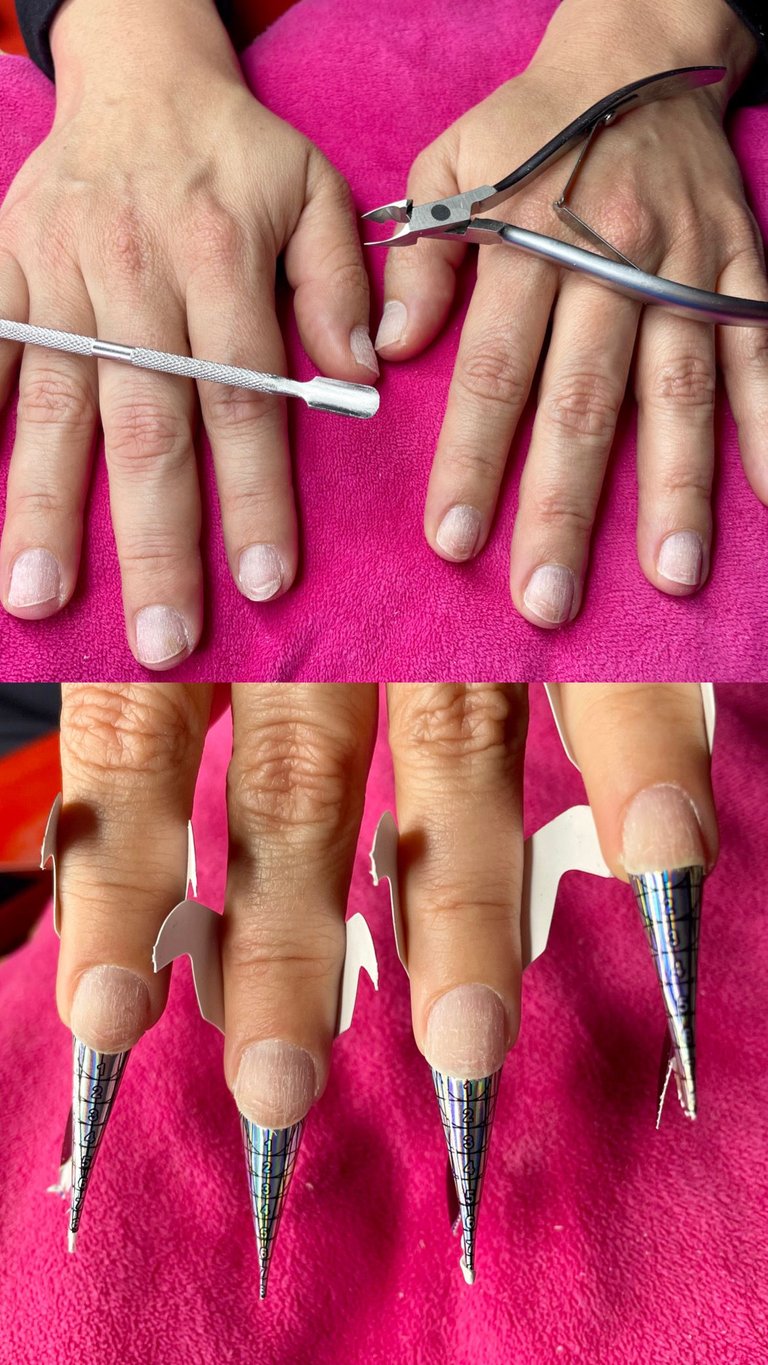 For this step we start with the application of the acrylic but first we must apply our preparers which are the nailprep and the bond so that the product adheres well to the natural nail. In the case of these nails we will be doing reversals as you can see we first apply the camouflage cover to make the smile line and this is filed leaving a bevel and the nail in the middle if we did it complete a perfect stiletto.
Para este paso iniciamos con la aplicación del acrílico pero primero debemos aplicar nuestros preparadores que son el nailprep y el bond Para que el producto se adhiera bien a la uña natural. El caso de estas uñas estaremos haciendo reversas como pueden ver se aplica primero el Cover de camuflaje para hacer la línea de sonrisa y esta se lima dejando un bisel y la uña de el medio si la hicimos completa un stiletto Perfecto.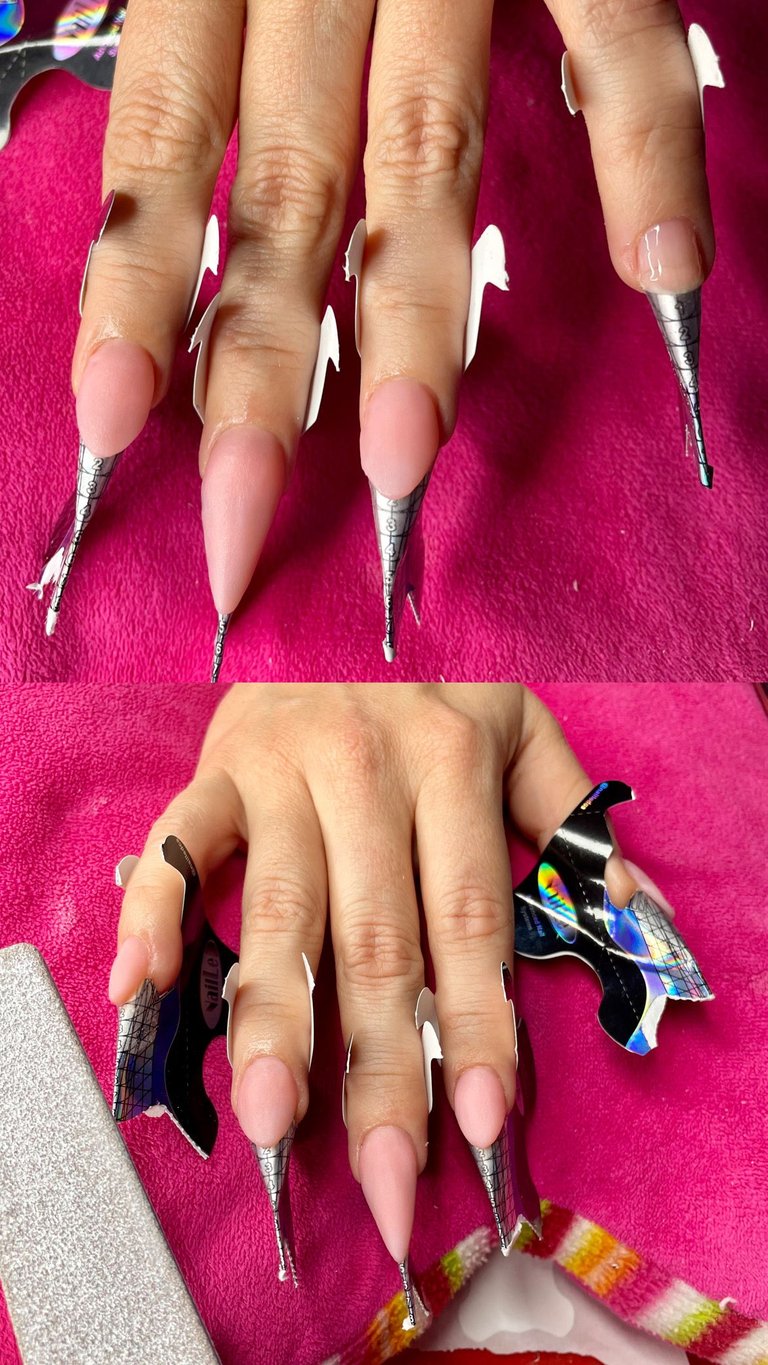 After filing we apply on each nail a different color of Cover giving the shape of our Stiletto nails and finally we proceed to file with our dril.
Luego de limar aplicamos en cada uña un color diferente de Cover dando la forma de nuestras uñas Stiletto y para finalizar procedemos a limar con nuestro dril.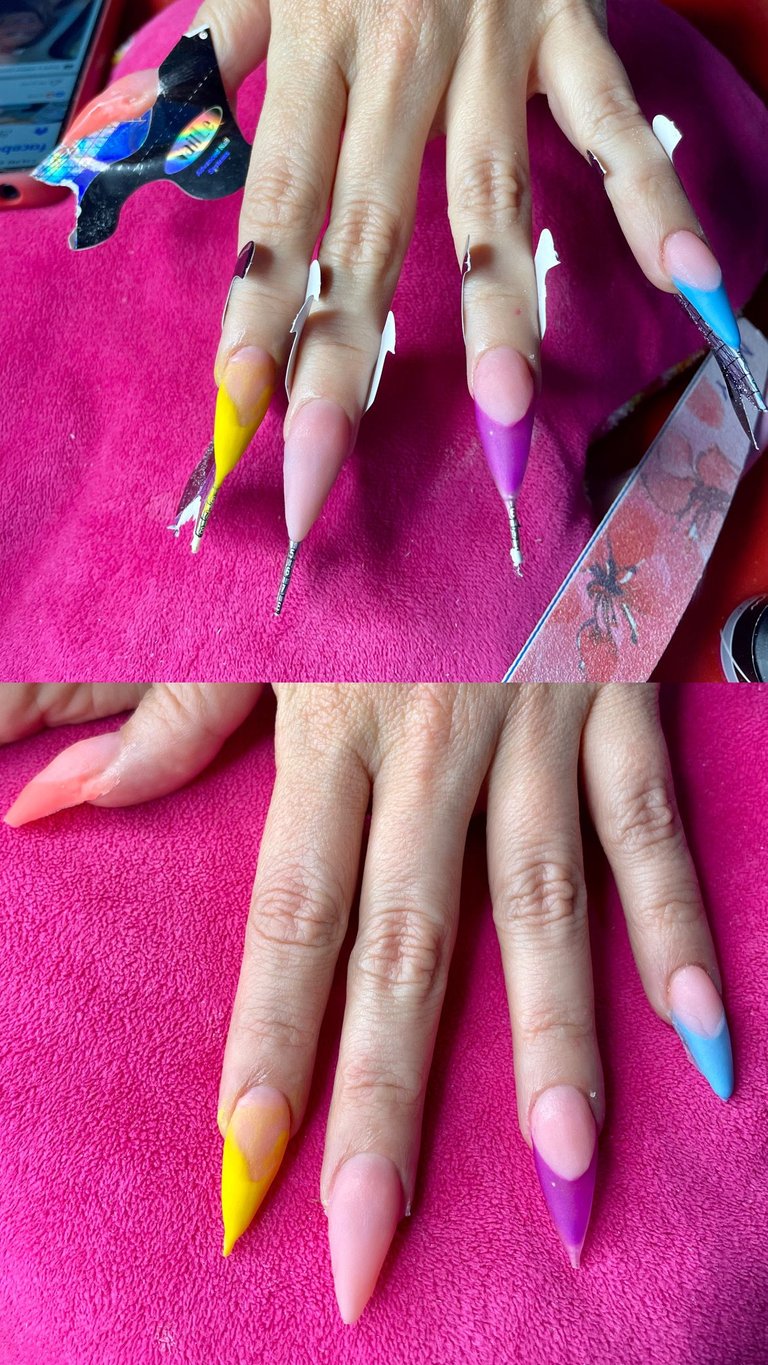 We added some decorations such as a little semi-permanent enamel to make the flowers, litmus stones, pearls of different sizes and pellets, glued this with construction gel and sealed with finish.
Añadimos algunas decoraciones como un poco de esmalte semipermanente para realizar las flores piedras tornasol, perlas de diferentes tamaños y balines pegamos esto con gel de construcción y sellamos con finish.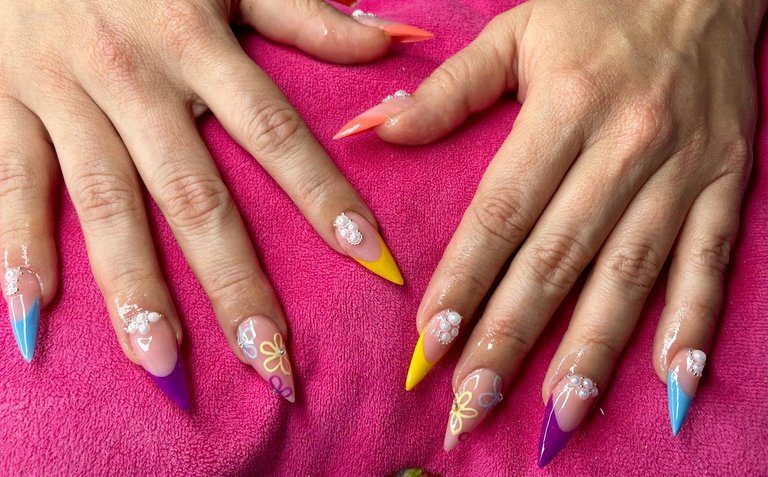 FINAL RESULT✨
These are the final results I hope you liked them the truth to me I love colorful and outrageous so this is are one of my favorites I know I always say this but truly these are favorite I would be able to do them to myself, Thanks for making it this far and if you want to find me on Instagram you can do so at @tovardaniela8 @fanxybeuty and @fanxynails_ ✨.
Éstos son los resultados finales espero les haya gustado la verdad a mi me encanta lo colorido y lo escandalosos así que es son una de mis favoritas yo sé que siempre digo esto pero de verdad estas son favorita que sería capaz de hacérmelas a mí misma, Gracias por llegar hasta aquí y si quieren encontrarme en Instagram pueden hacerlo en @tovardaniela8 @fanxybeuty y @fanxynails_ ✨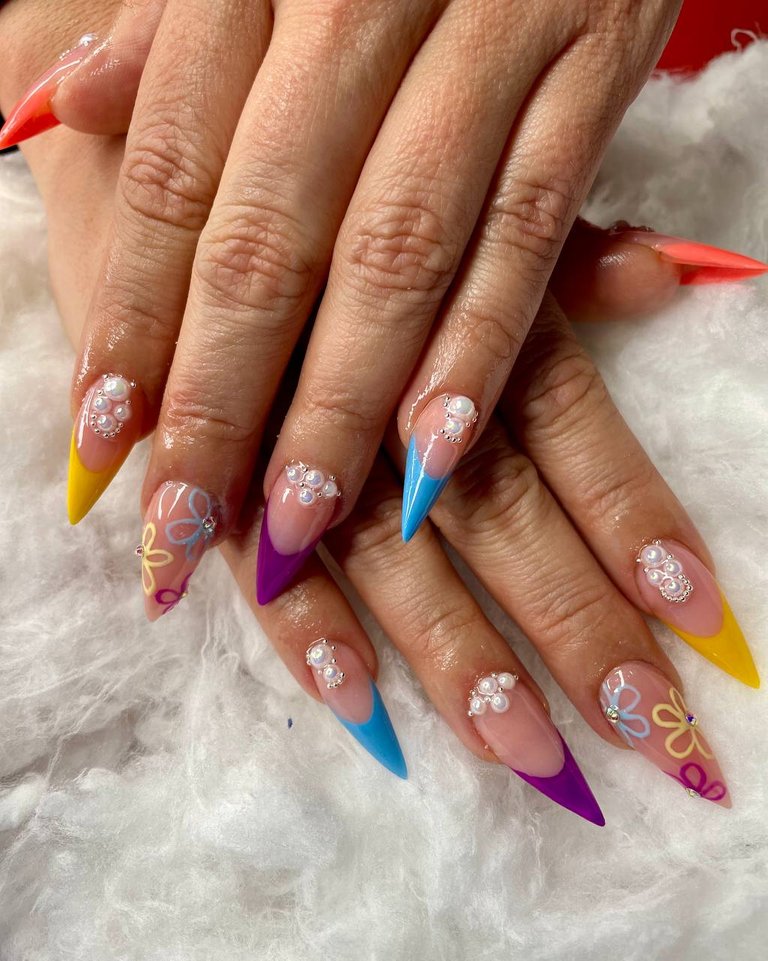 All those pictures taken in the process of the nails were made and taken By my phone an iPhone 12 in the comfort of my studio which is in my house see you in a next Post besitos Xoxo 💋
Todas esas fotos tomadas en el proceso de las uñas fueron hechas y tomadas Por mi teléfono un iPhone 12 en la comodidad de mi estudio que queda en mi casa nos vemos en un próximo Post besitos Xoxo 💋