Hello hivers!
How is everyone doing today?🙂hope you are healthy. How was your day or how is your day going, hope it's great. I'm glad to be here giving another easy and wonderful tutorial. My makeup today will be a cut crease look and I will be making use of blue shades and a light gold shade eyeshadow. I will give a well detailed process on how to achieve my makeup look.
¿Cómo están todos hoy? Espero que estés saludable. Cómo estuvo tu día o cómo va tu día, espero que sea genial. Me alegro de estar aquí dando otro tutorial fácil y maravilloso. Mi maquillaje de hoy será un aspecto de pliegue cortado y usaré tonos azules y una sombra de ojos de tono dorado claro. Daré un proceso bien detallado sobre cómo lograr mi apariencia de maquillaje.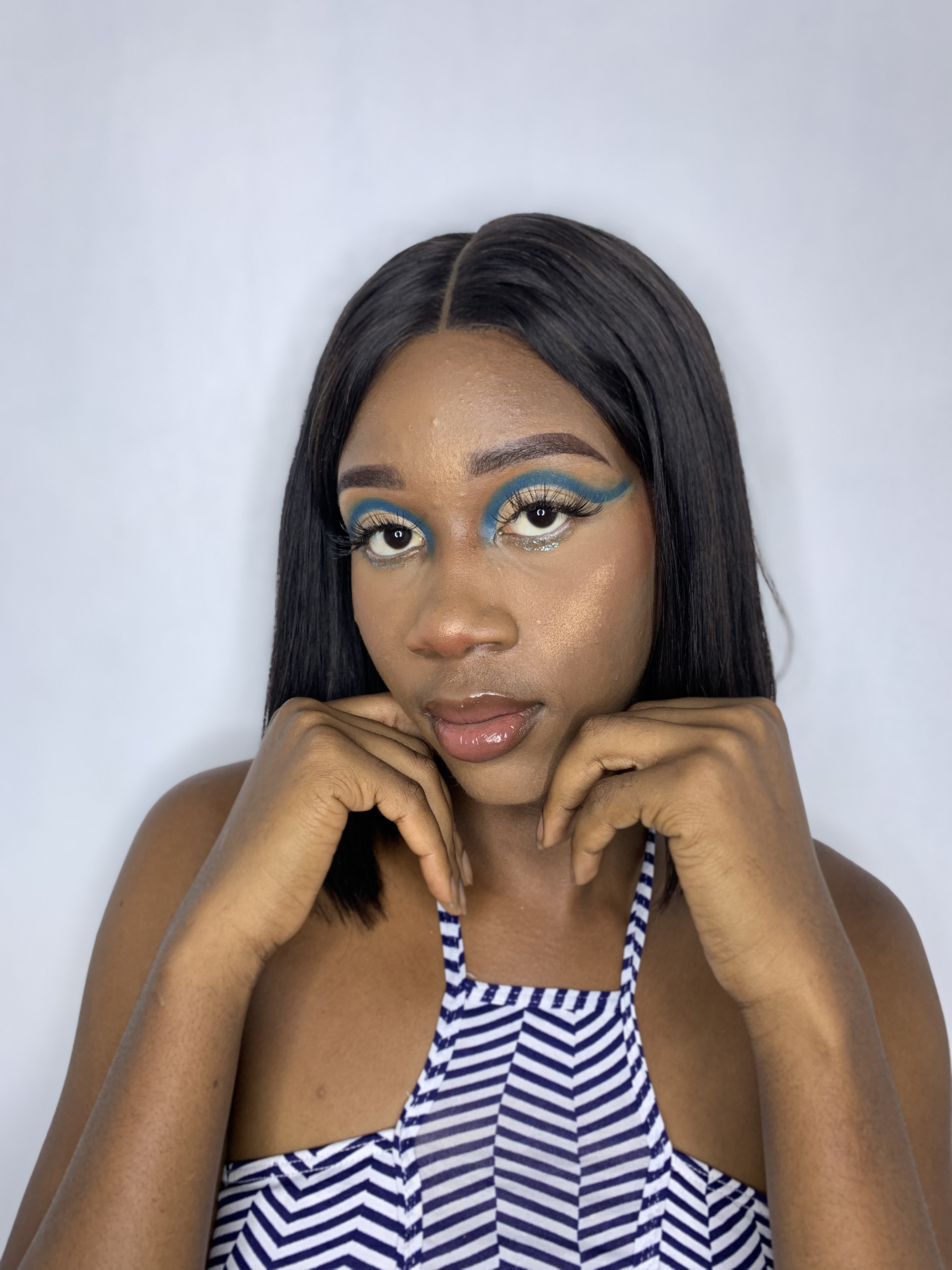 | Requirements | Requisitos |
| --- | --- |
| 🌺Brown eye pencil | 🌺 Lápiz de ojos marrón |
| 🌺 Avour eyeshadow primer | 🌺 prebase para sombras de ojos de avour cosmetics |
| 🌺 Gorgeous me eyeshadow | 🌺 Preciosa sombra de ojos |
| 🌺Zikel Foundation | 🌺 fundación Zikel |
| 🌺 Brushes | 🌺 Brooches |
| 🌺Adventure concealer | 🌺 Corrector de aventuras |
| 🌺Brown lip gel liner | 🌺 Delineador de labios en gel marrón |
| 🌺 Helen C setting powder | 🌺 Polvo fijador Helen C |
| 🌺 Helen C highlighter | 🌺 Iluminador HelenC |
🌺Steps🌺
I'm going to start my makeup today, I will brush my eyebrows using my eyebrow brush, after that I will move ahead to shape my eyebrows using my brown eye pencil to draw a nice shape. I'm going to make use of my contact to correct any mistakes made on my eyebrows. Then I will apply my eyeshadow primer on my eyelid.
Voy a comenzar a maquillarme hoy, me cepillaré las cejas con mi cepillo para cejas, después de eso continuaré para darles forma a mis cejas con mi lápiz de ojos marrón para dibujar una forma agradable. Voy a hacer uso de mi contacto para corregir cualquier error cometido en mis cejas. Luego aplicaré mi primer de sombra de ojos en mi párpado.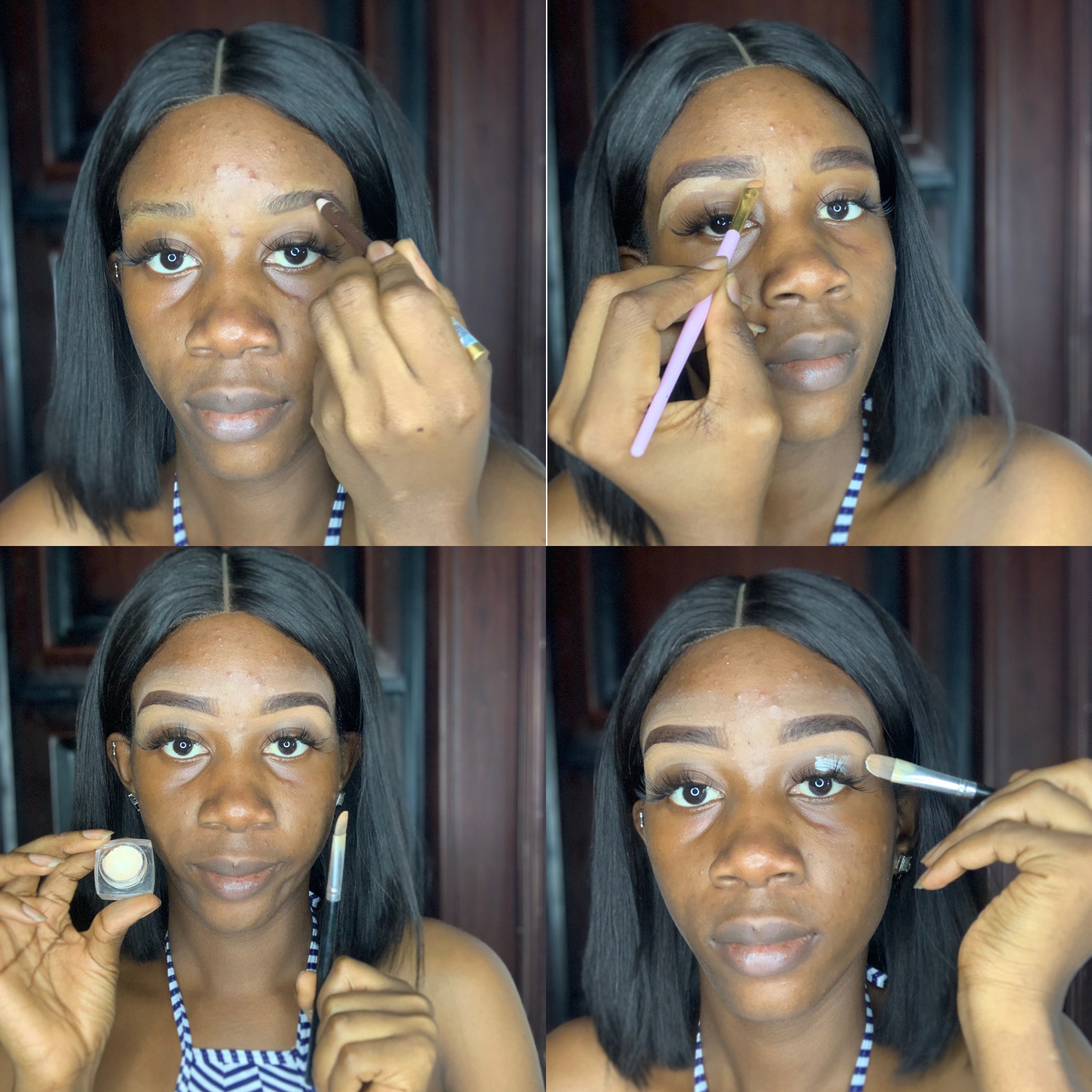 Now I'm going to apply my eyeshadow, I will use a small eyeshadow brush to apply my blue shade starting from the beginning of my eyelid till the end. Then I will use my angle brush and a concealer to cut my crease and blend in the concealer, after doing that I will apply an orange shade eyeshadow above the blue shade to blend it with my skin. Lastly for my eyeshadow, I will apply a light shade of gold on the area I used concealer to highlight.
Ahora voy a aplicar mi sombra de ojos, usaré un pincel pequeño para sombras de ojos para aplicar mi tono azul desde el comienzo de mi párpado hasta el final. Luego usaré mi brocha angular y un corrector para cortar mi pliegue y difuminar el corrector, después de hacer eso, aplicaré una sombra de ojos de tono naranja sobre el tono azul para difuminarlo con mi piel. Por último, para mi sombra de ojos, aplicaré un tono dorado claro en el área que usé corrector para resaltar.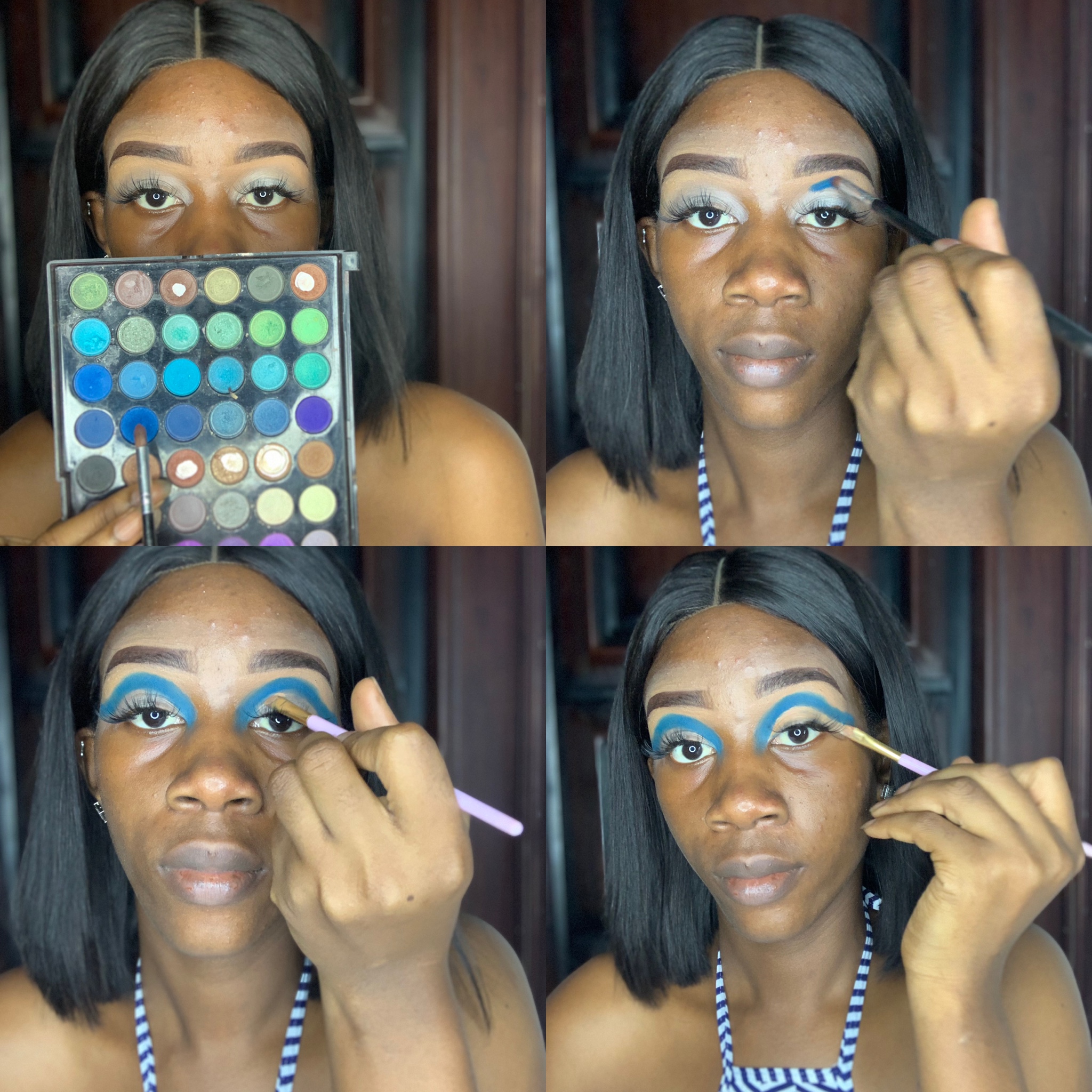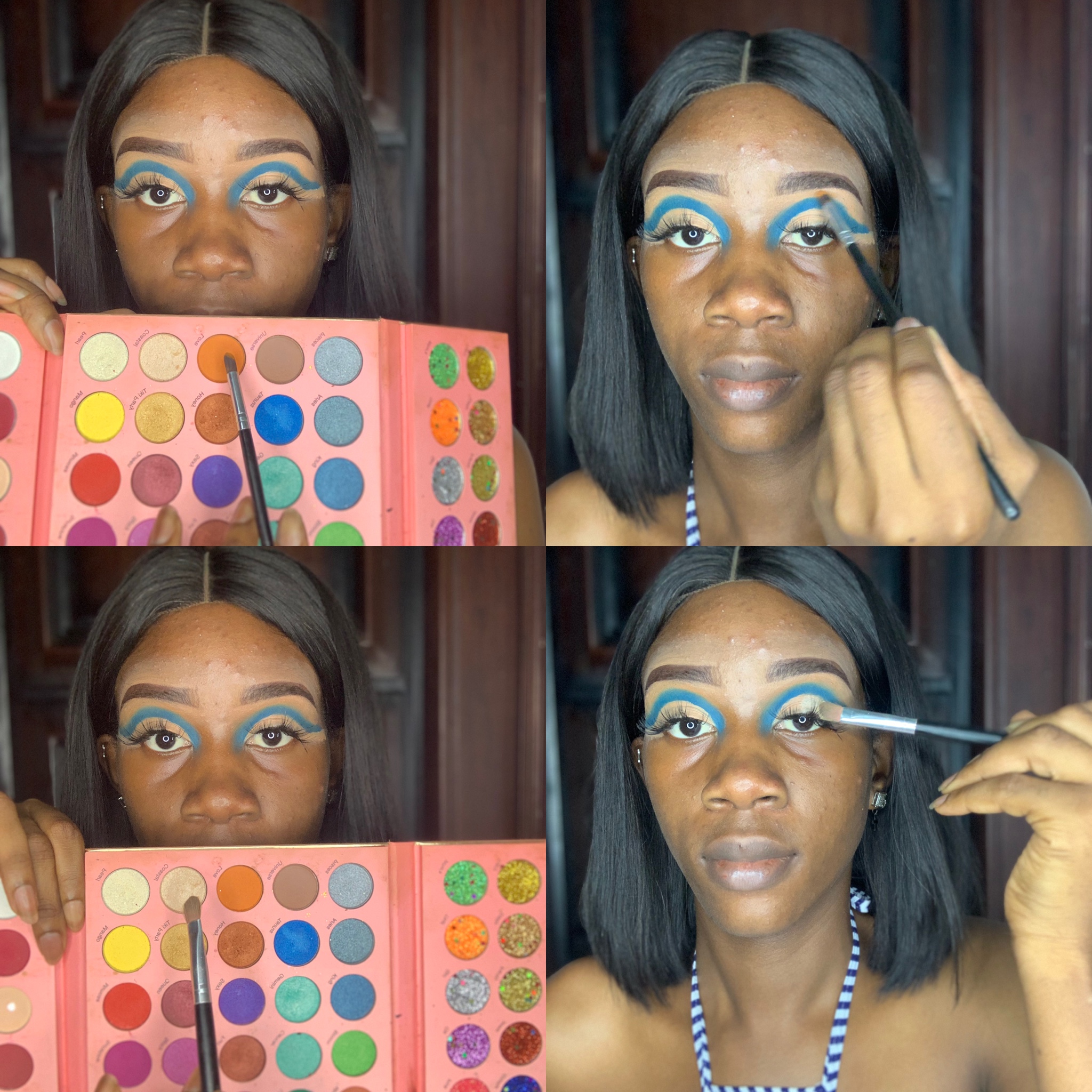 It's time to apply my foundation, I'm going to apply my foundation using a foundation brush, after that I will apply my light shade foundation as my concealer and blend. I'm going to apply my lip cream on my cheek and blend it as my blush. Then I will apply my powder on my face to seal my foundation.
Es hora de aplicar mi base, voy a aplicar mi base con una brocha para base, después aplicaré mi base de tono claro como mi corrector y difuminar. Voy a aplicar mi crema labial en mi mejilla y mezclarlo como mi rubor. Luego aplicaré mi polvo en mi cara para sellar mi base.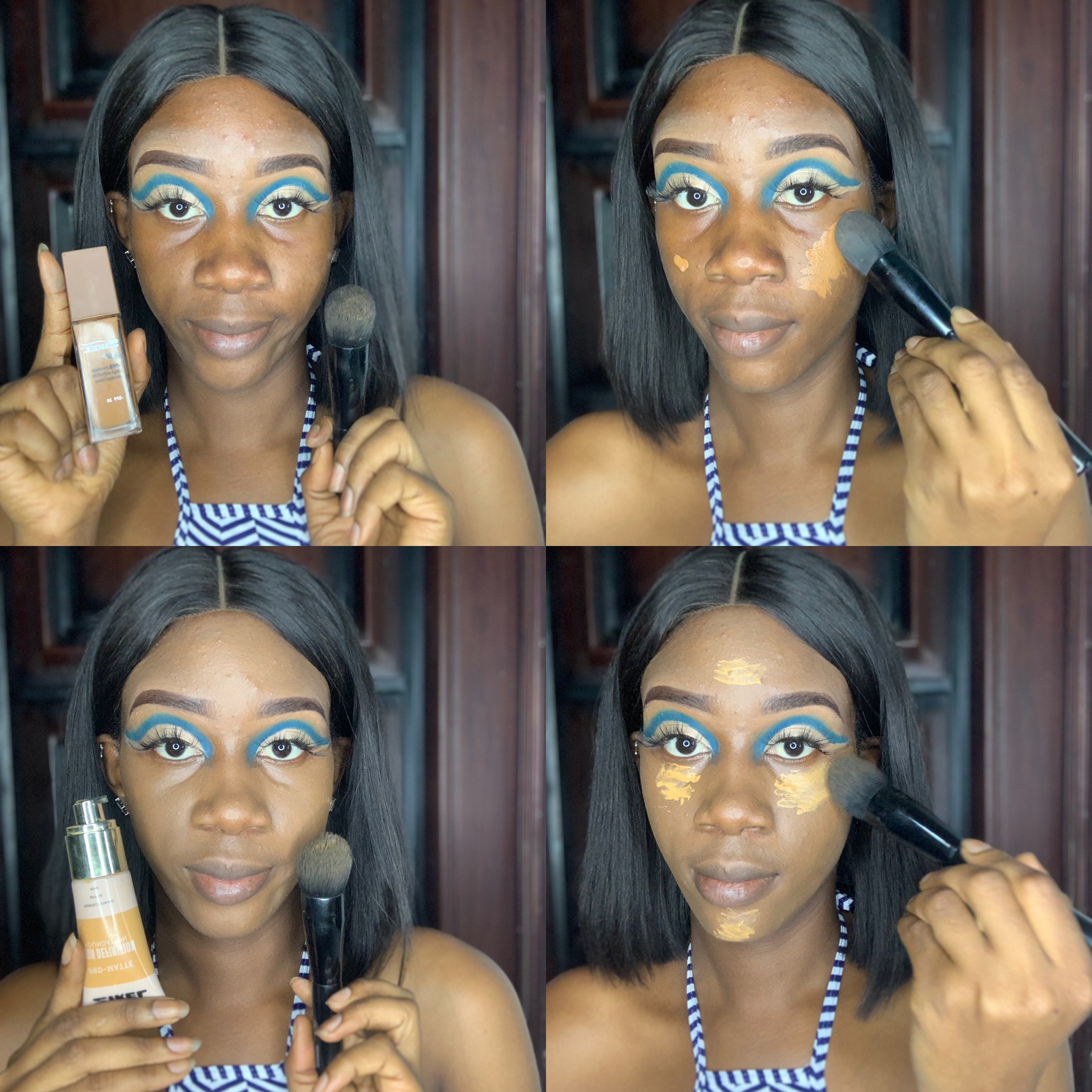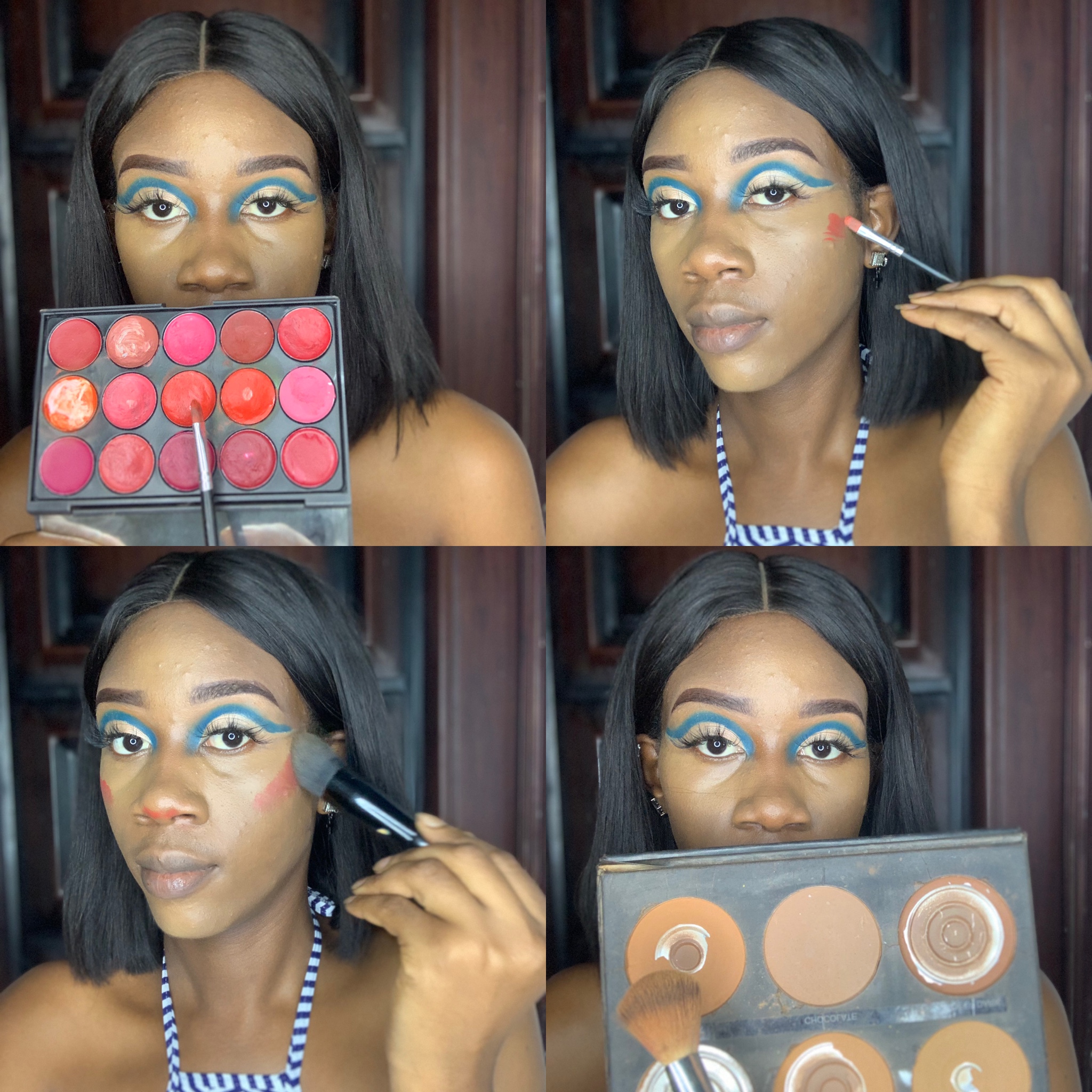 Now I'm going to apply my setting powder on the necessary areas on my face, after that I will apply my lip cream, I will line my lips using my brown lip gel liner and then apply my nude shade from my miss rose lip cream. After that I will apply my glitter liner under my eyes, line it with my white eye liner. I will blend out my setting powder and apply my highlighter.
Ahora voy a aplicar mi polvo fijador en las áreas necesarias de mi rostro, después aplicaré mi crema labial, delinearé mis labios con mi delineador de gel labial marrón y luego aplicaré mi tono nude de mi crema labial miss rose. . Después de eso aplicaré mi delineador de brillo debajo de mis ojos, lo delinearé con mi delineador de ojos blanco. Difuminaré mi polvo fijador y aplicaré mi iluminador.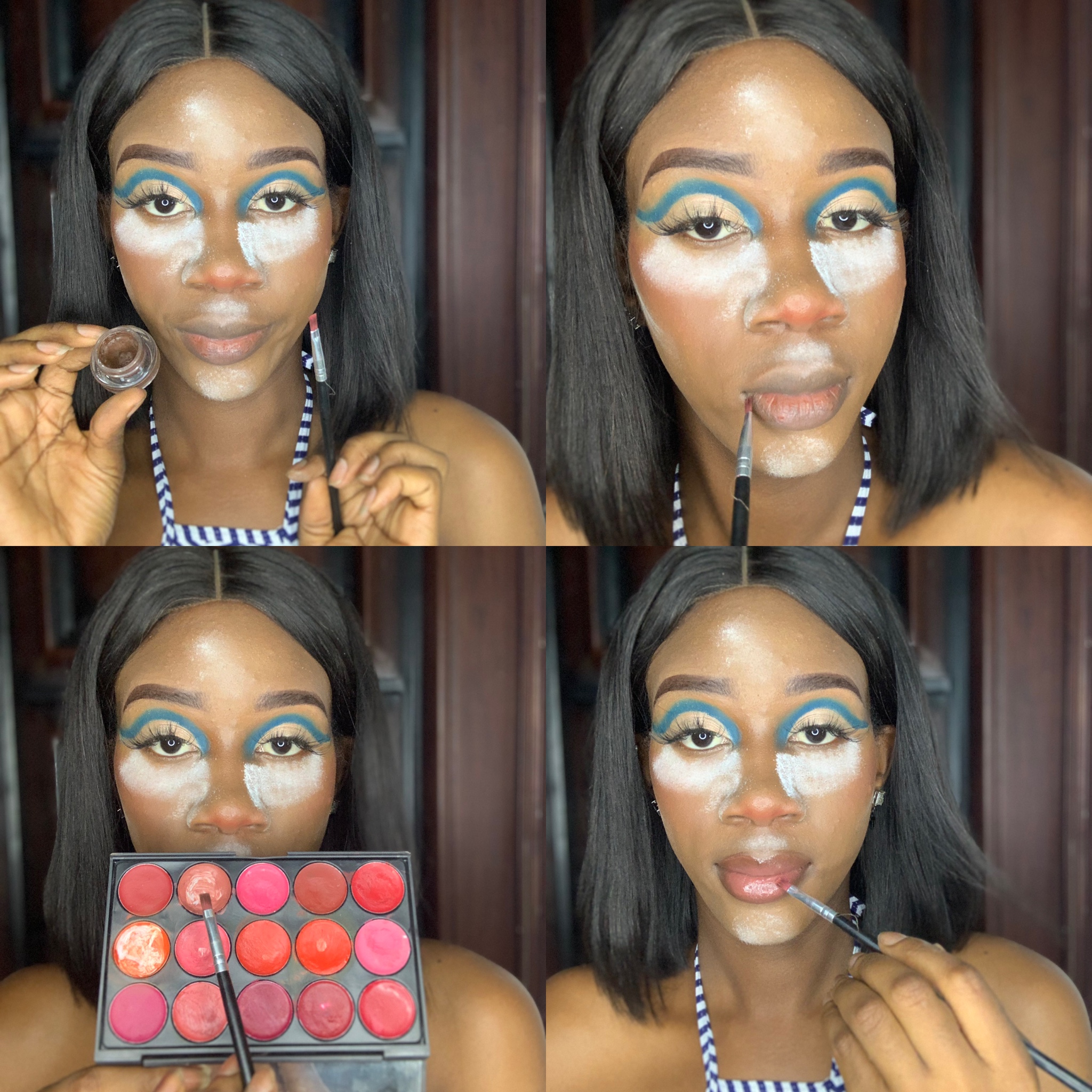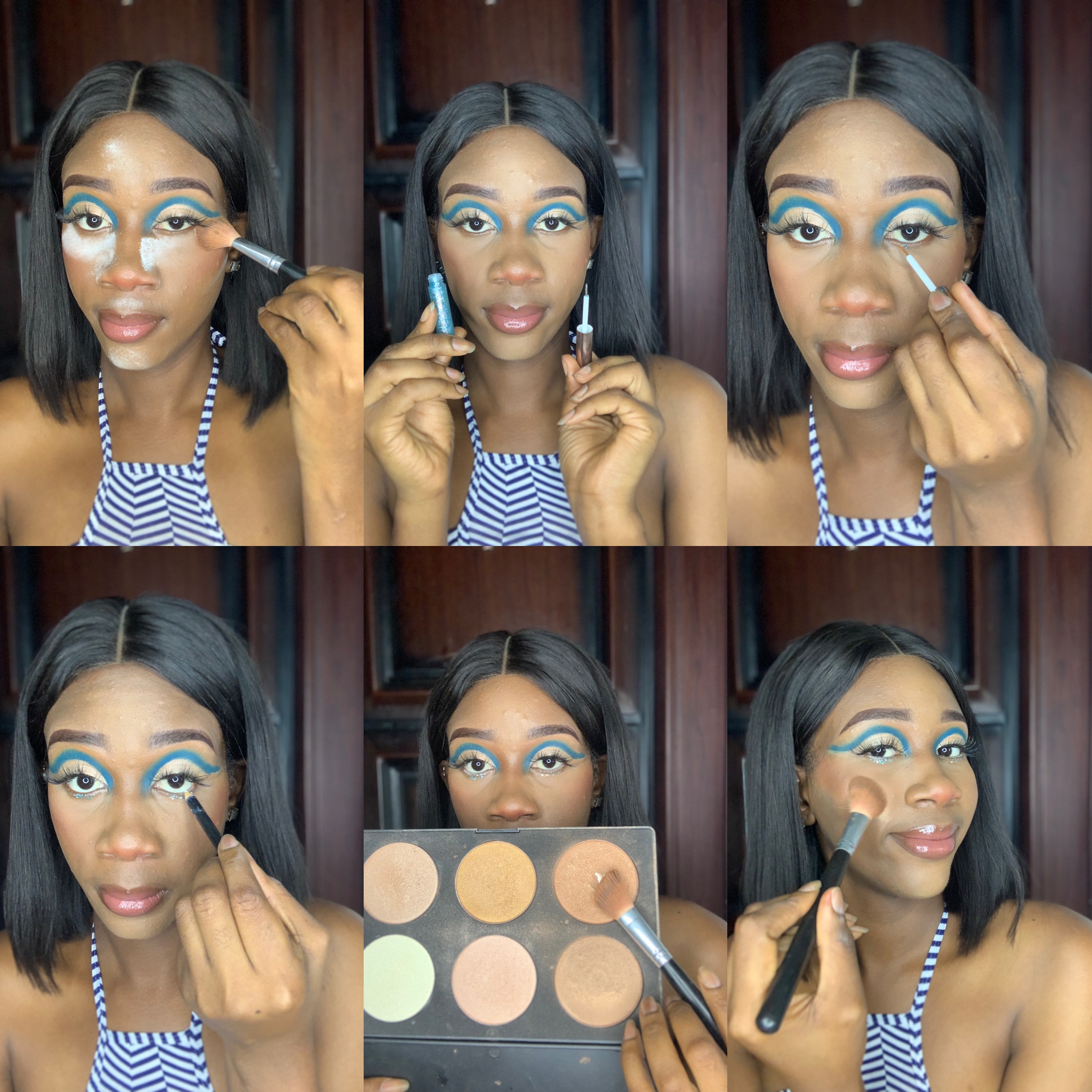 Thank you for reading my post today, as I have come to an end for my post today.🙂 I'm glad you took your time to read my post, I really appreciate. I'm going to share my finish look below.
Gracias por leer mi publicación de hoy, ya que he llegado a su fin para mi publicación de hoy. Voy a compartir mi aspecto final a continuación.🙂🙂❤️❤️.
🌺🌺🌺🌺🌺🌺Finish look🌺🌺🌺🌺🌺🌺🌺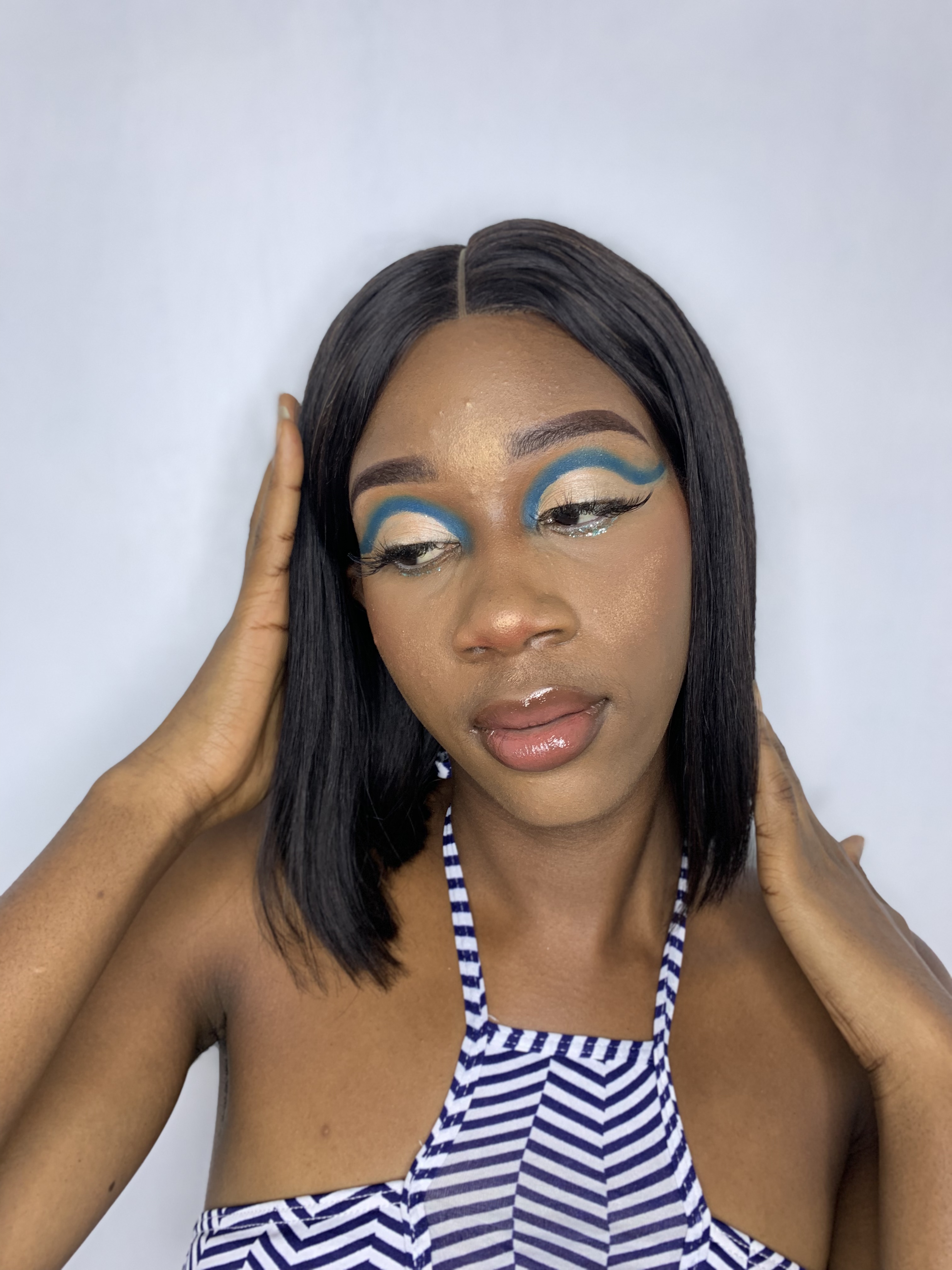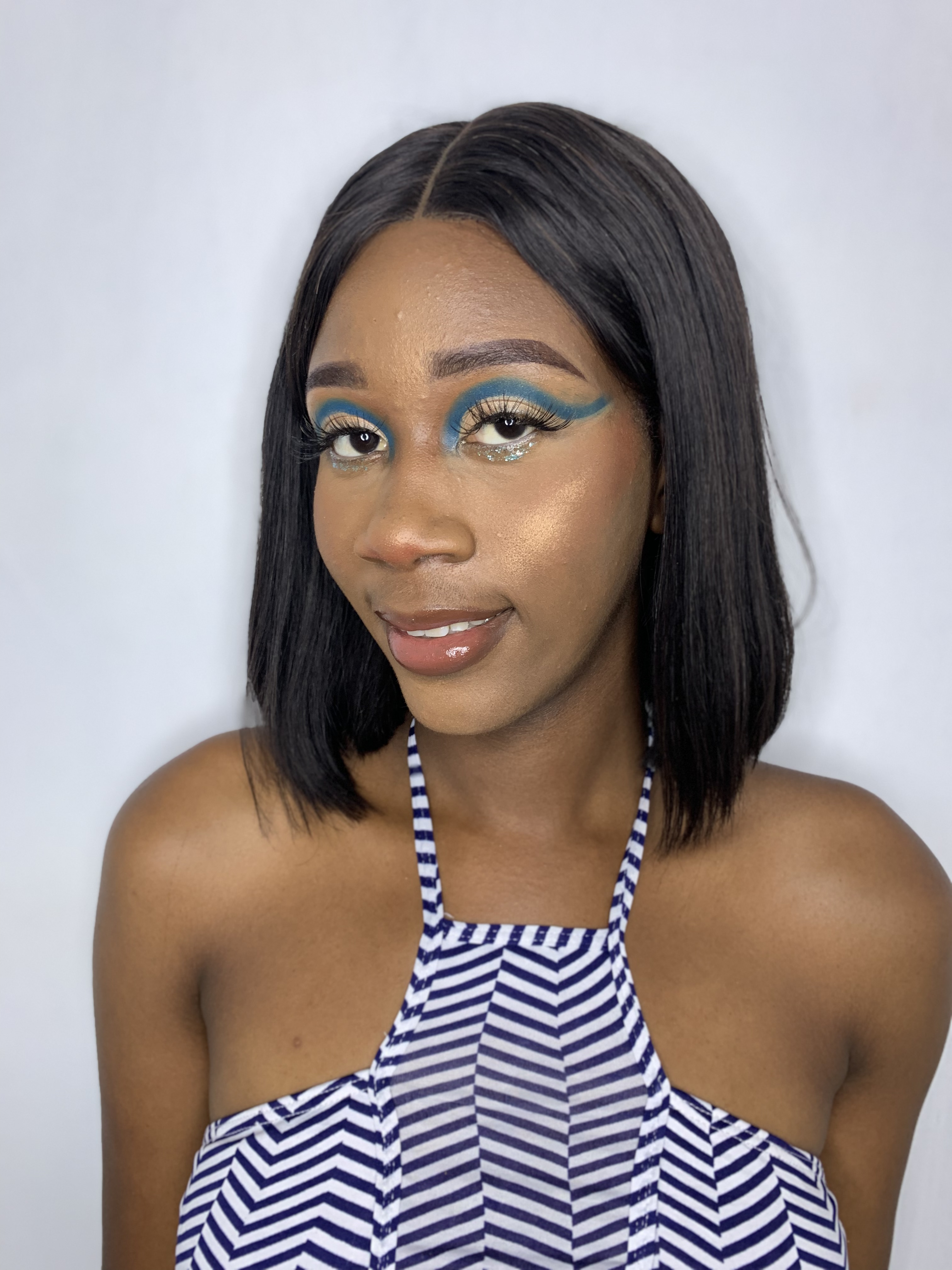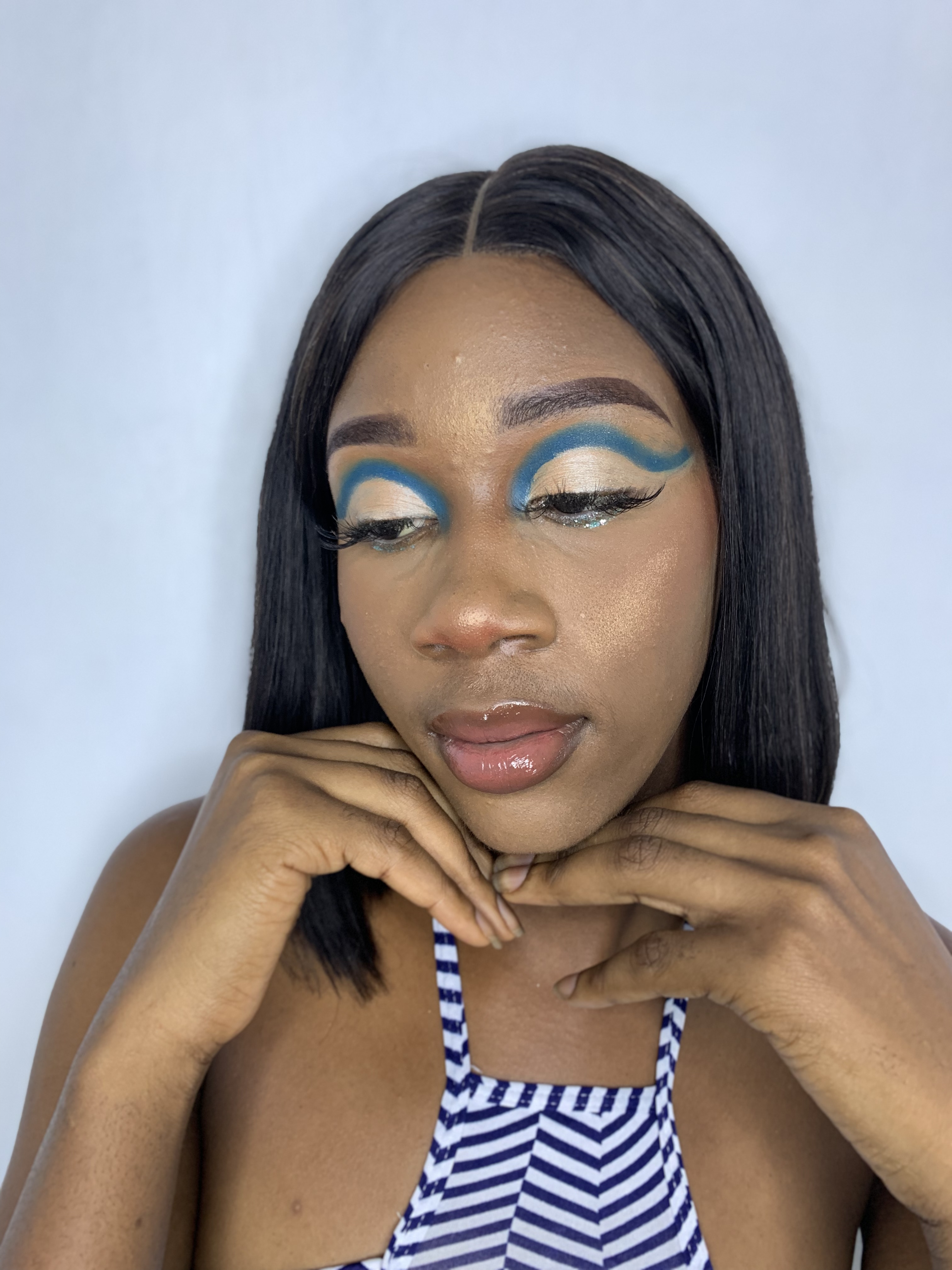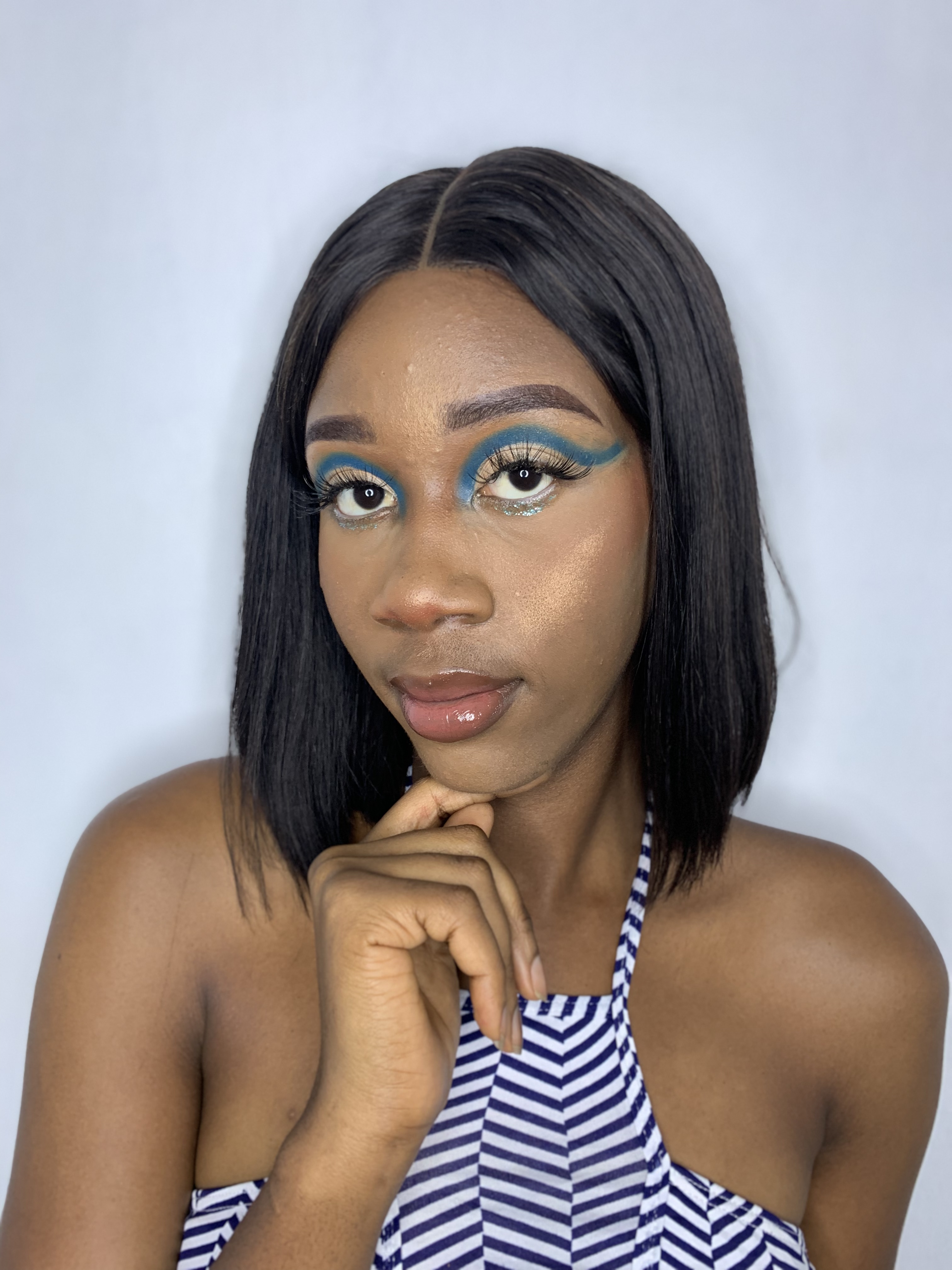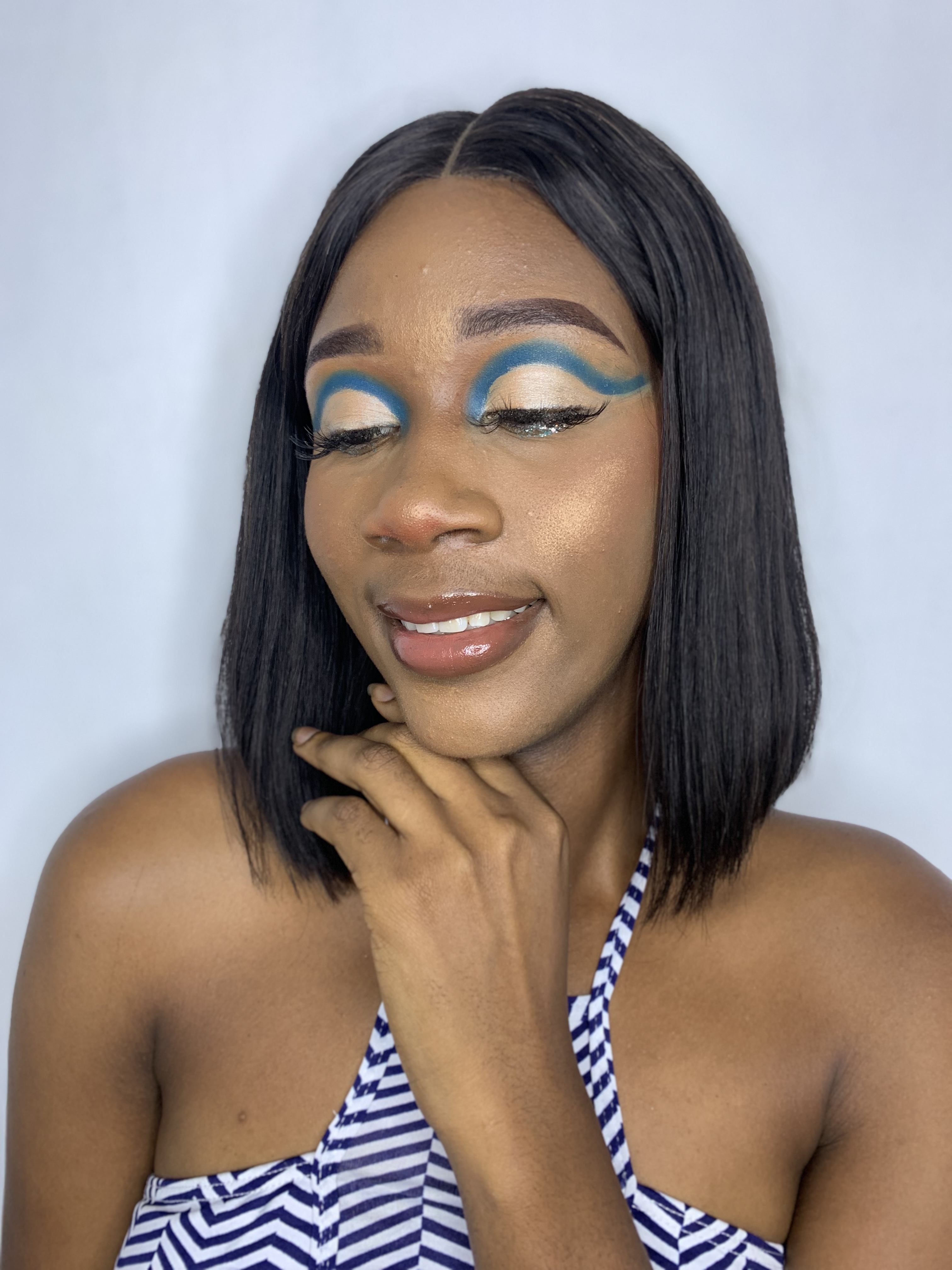 Gracias