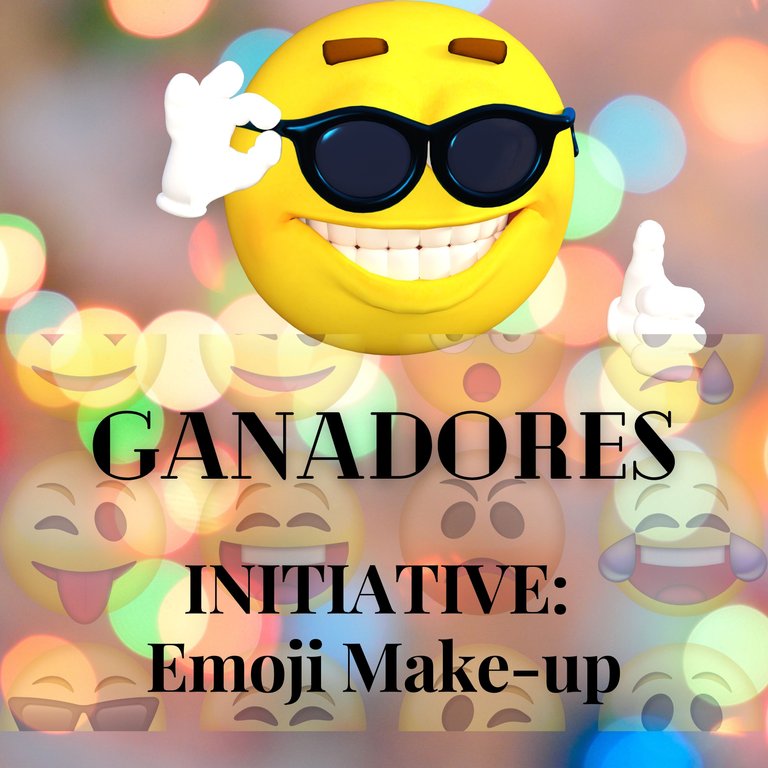 Español
Debo comenzar esta publicación por agradecer primeramente a Dios, a la comunidad #MakeupPower y a todos los que participaron en la INICIATIVA:
MAQUILLAJE INSPIRADO EN EMOJI
por la receptividad y creatividad empleada. ¡Muchas gracias!
Inglés
I must start this post by firstly thanking God, the #MakeupPower community and everyone who participated in the INITIATIVE:
EMOJI INSPIRED MAKEUP
for the receptiveness and creativity employed. thank you so much!
---
PARTICIPACIONES VALIDAS:
@tefyart @ciresophen @rubc @glowshine @katic-19c @borbolet @saravm82 @medicenbecky @yulsy @gabygonz @marytp20 @keilis @mariangeltarg @calisto24 @alejandria12 @gigi8 @nanyuris @fabianag @lolysacc @alexa.art @bea23 @cristzullys @josehany @ckairelys @naty16 @harecova @strangex
Cabe mencionar que, el propósito principal de la iniciativa era recrear un maquillaje relacionado a los emojis que solemos usar en redes sociales, aplicaciones entre otras. Es increíble poder ver tanto material excelente que publicación y que se mantuvo activo durante el transcurso de la actividad, había fecha de caducidad la cual fue extendida hasta el día de hoy permitiéndome leer cada contenido para posteriormente ser evaluado y seleccionar a los ganadores. Además, la participación pudimos apreciar nuevos Hivers interactuando en la comunidad y regalándonos sus obras de arte. ¡Sigue siendo Maravilloso! Como punto importante, la selección de los ganadores resulto ser compleja ya que la excelencia de cada una de las publicaciones me convirtió el trabajo algo difícil, incluso varias personas realizaron más de 1 publicación, por tal razón me veo en la obligación de distribuir la premiación de la siguiente manera:
It is worth mentioning that the main purpose of the initiative was to recreate a makeup related to the emojis that we usually use in social networks, applications and others. It is incredible to see so much excellent material that was published and that remained active during the course of the activity, there was an expiration date which was extended until today allowing me to read each content to be subsequently evaluated and select the winners. In addition, the participation we could appreciate new Hivers interacting in the community and giving us their works of art. Continue to be Wonderful! As an important point, the selection of the winners turned out to be complex because the excellence of each of the publications made my job a little difficult, even several people made more than 1 publication, for that reason I am obliged to distribute the award as follows:
---
GANADORA 1ER LUGAR 8 COLMENA:
@yulsy
GANADOR 2DO LUGAR 4 COLMENA: @strangex
GANADOR 3ER LUGAR 2 COLMENA: @calisto24
MENCIÓN ESPECIAL 2 COLMENA @lolysacc
MENCIÓN ESPECIAL 1 COLMENA @keilis

---
Agradecida con @ambarvegas por patrocinar la iniciativa con 6 Hive
¡FELICIDADES PARA TODOS, GRACIAS POR PARTICIPAR!

Utilice traductor DeepL versión gratuita
Imágenes, separadores, banner hechos en Canva
Contenido original de @marytp20
Use translator DeepL free version
Images, separators, banner made in Canva
Original content by @marytp20
---