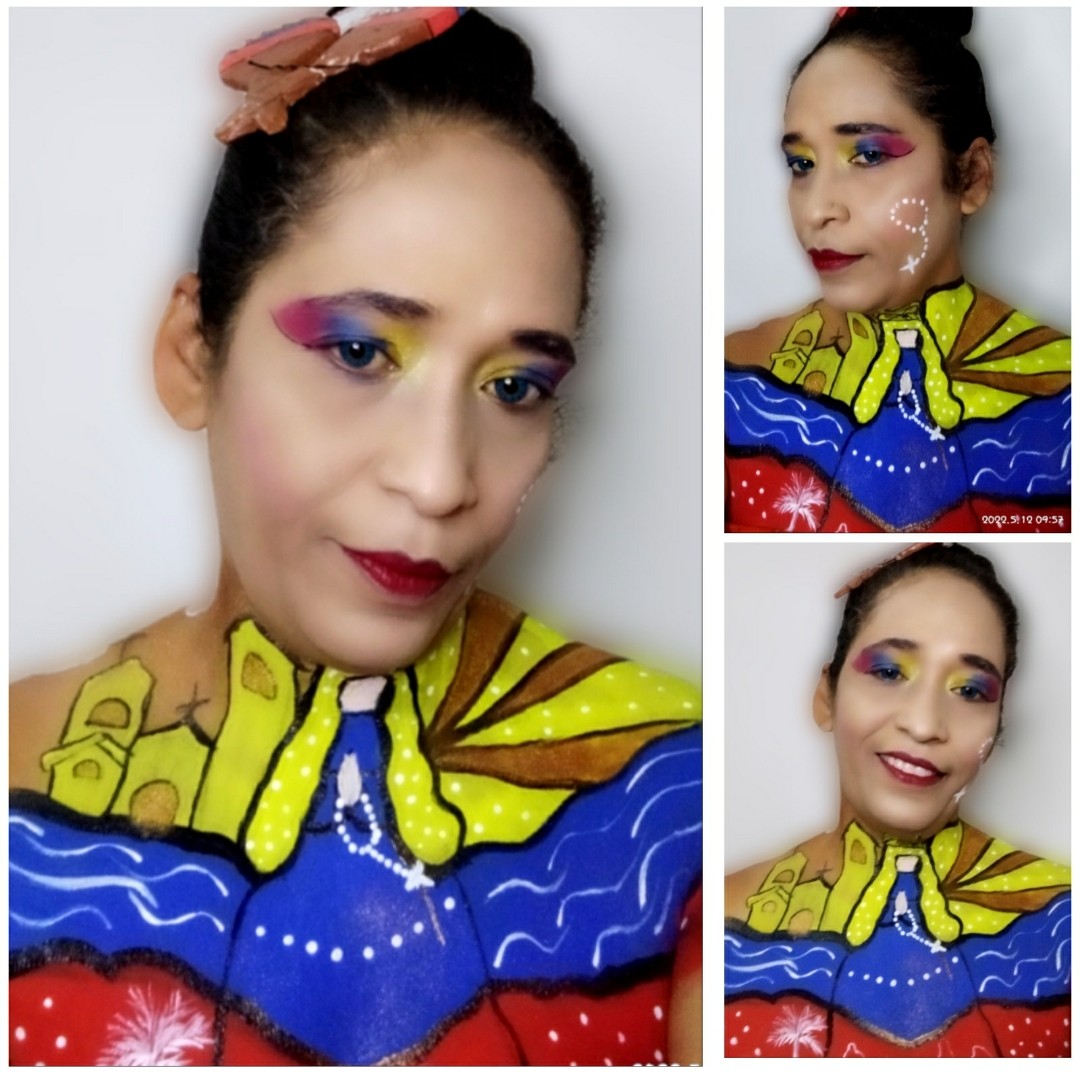 Greetings my loves, welcome once again to my blog I hope you are all very well, I am happy because today I return to the community with another artistic makeup that for me is something significant because this time I worked with the image of the Virgin of the Valley but in a somewhat abstract way, in addition to using the colours of our flag here in Venezuela which are yellow, blue and red.
Saludos mi amores, bienvenidos sean una vez más a mi blog espero que todos se encuentren muy bien, yo feliz pues hoy regreso a la comunidad con otro maquillaje artístico que para mí es algo significativo Ya que en esta oportunidad trabaje con la imagen de la Virgen del Valle pero de una manera un tanto abstracta, Además de que utilice los colores de nuestra bandera de aquí de Venezuela que son el amarillo el azul y el rojo.
This is an image of a virgin which is fervently venerated in the East of Venezuela which is the region where I live, and to which I am so devoted, so today although it is not the day to celebrate her feast I wanted to pay homage to the Virgin of the valley with this artistic make-up, hoping that many will like the somewhat abstract concept that I use.
Esta es una imagen de una virgen la cual es venerada fervientemente en el Oriente de Venezuela qué es la región donde yo vivo, y de la cual soy tan devota por eso el día de hoy aunque no es día de celebrar su fiesta de igual manera quise hacer un homenaje a la Virgen del valle con este maquillaje artístico, esperando que a muchos les guste el concepto un tanto abstracto que utilice.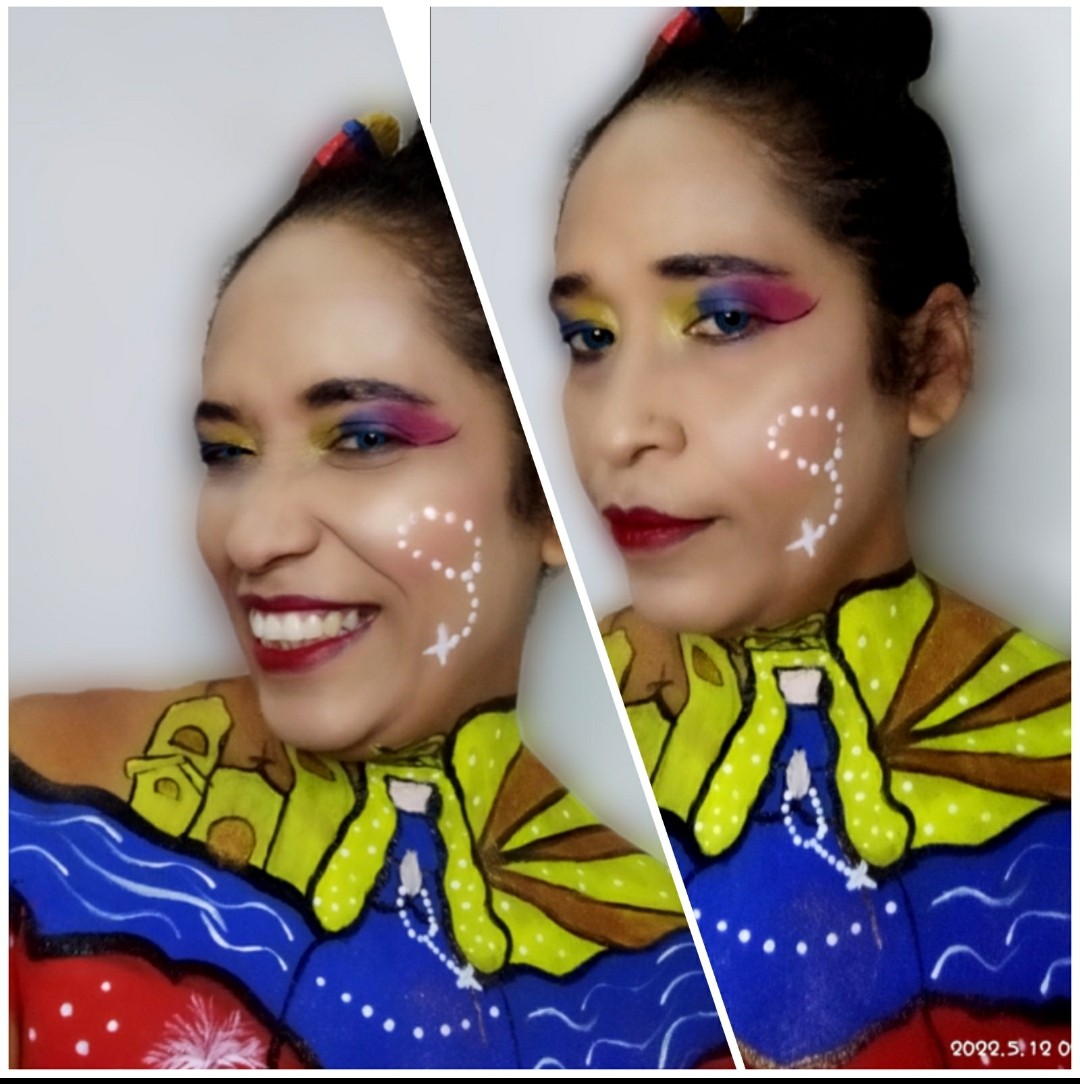 🌹STEP BY STEP // PASO A PASO🌹

First of all I took the black eye pencil and I used it to draw on my chest the sketch that I am going to work with today. I drew the Virgin of the Valley, I also drew the church next to her, and I made some divisions that will be better marked when it comes to colouring it.
Primero que nada tomé el lápiz de ojos de color negro y lo utilice para dibujar en mi pecho el boceto con el que voy a trabajar el día de hoy dibuje la Virgen del Valle también le dibuje la iglesia a un ladito de ella, e hice algunas divisiones que luego se verán mejor marcada a la hora de ponerle color.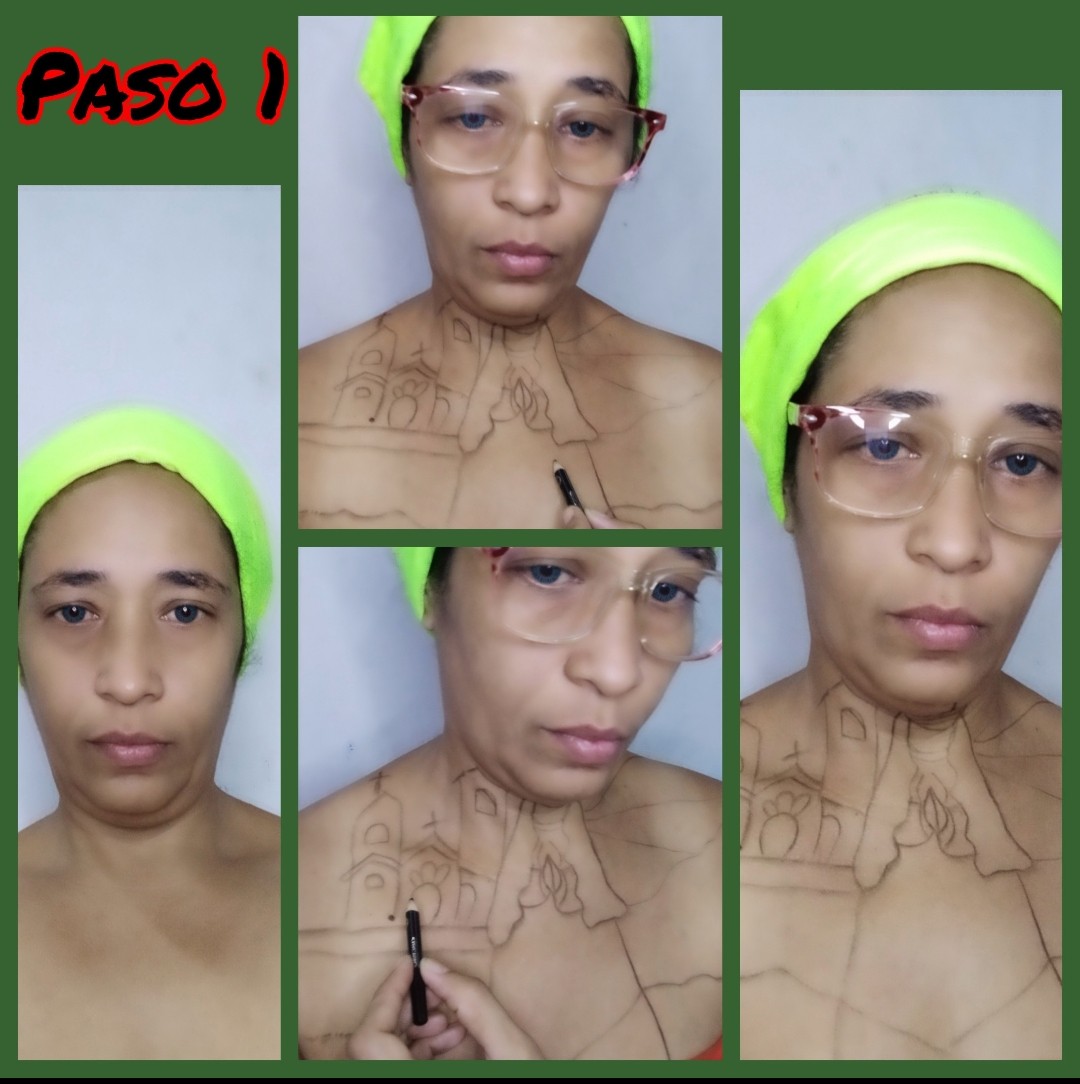 Then I proceeded to give colour, always starting with the lighter colours to the darker ones, so I started with yellow to cover the upper part of the Virgin, then I covered the upper part of my lower make-up with yellow, then I covered it with blue, I used dark blue as it is the characteristic colour of my flag and finally I concluded with the application of red.
Seguidamente procedí a darle color siempre comienzo con los colores más claros a los más oscuros por lo que comencé con el color amarillo cubrir la parte de arriba de la Virgen en fin todo lo que la parte de arriba de mi maquillaje inferior lo hice en color amarillo, después cubrí con el color azul yo utilice el azul oscuro pues es el color característico de mi bandera y finalmente concluir con la aplicación del color rojo.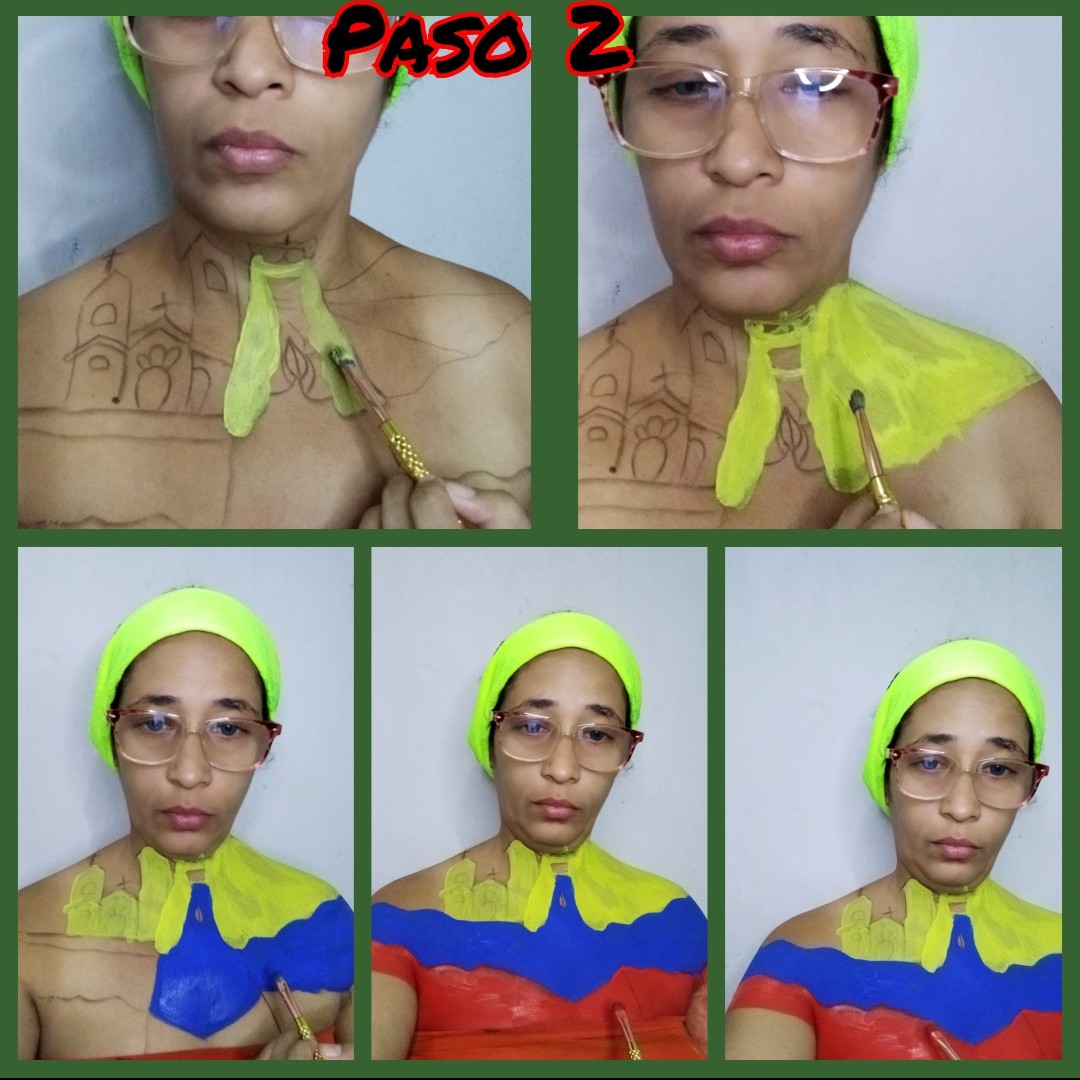 With the black paint and a thin brush I proceeded to outline all my make-up also because this defines the figures I am drawing, I continued with the thin brush but this time with the white paint I drew some dots in different areas of my make-up of my drawing and I also drew a palm tree and some mountains in the red part of the make-up.
Con la pintura de color negro y un pincel un tanto fino procedía delinear todo mi maquillaje también porque esto define en sí las figuras que estoy dibujando, seguí con el pincel fino pero esta vez con la pintura de color blanco dibuje algunos puntos en diferentes zonas de mis maquillajes de mi dibujo y también dibuje una palmera y algunas montañas en la parte roja del maquillaje.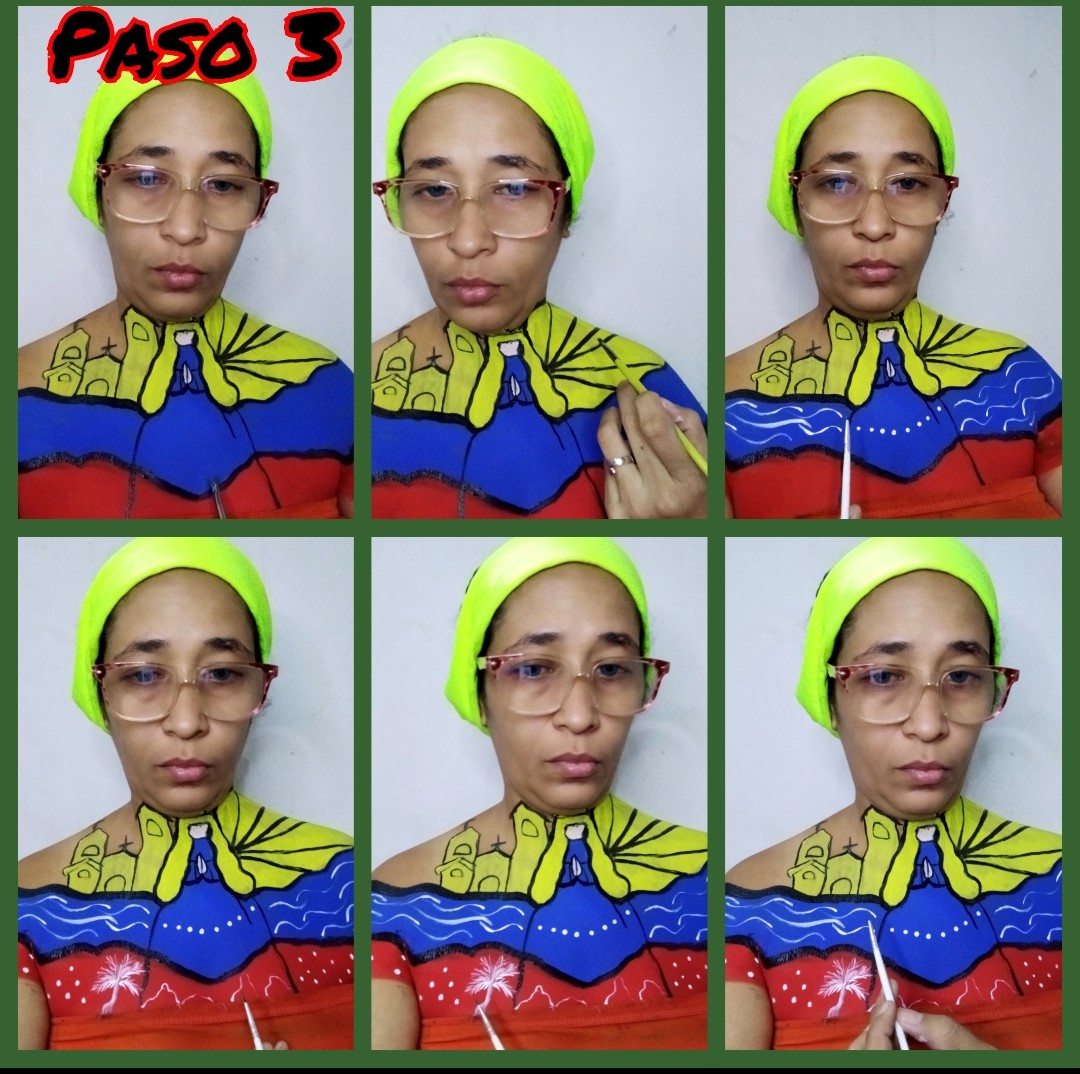 I also took some gold paint and I drew or filled in the sparkles that come out from the Virgin's dress towards the yellow part and I also filled in some parts of the chapels that are painted on the side of the make-up, and with this we conclude the lower part of the make-up, that is to say the part that is on the chest, which is the central element of my make-up.
Tomé también un poco de pintura de color dorado y dibuje o rellene los destellos que salen desde el vestido de la Virgen hacia la parte amarilla y también rellene algunas partes de las capillas que están pintadas a un costado del maquillaje, y con esto damos por concluido la parte inferior del maquillaje, es decir la parte que está en el pecho qué viene a ser el elemento central de mi maquillaje.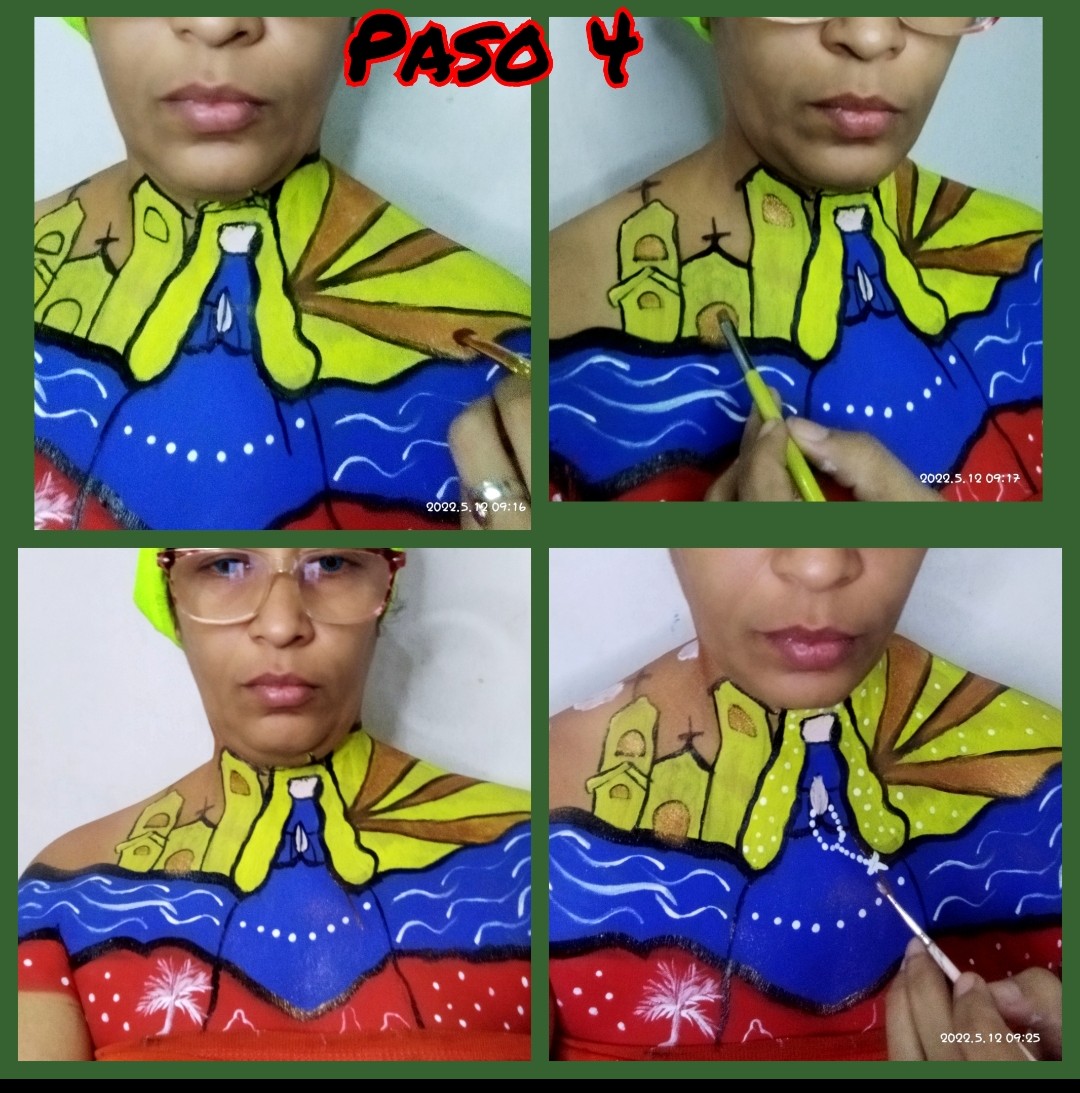 I washed my face well with neutral soap and micellar water then I moisturised it with a cream, and once my face was prepared I proceeded to do the make-up. It is something very pretty and very easy and quick to do the eye make-up part.
Lavé bien mi rostro con jabón neutro y agua micelar luego lo hidrate cono una crema, y una vez preparado mi rostro procedí hacer el maquillaje es algo bien bonito y bien fácil y rápido de elaborar la parte del maquillaje de los ojos.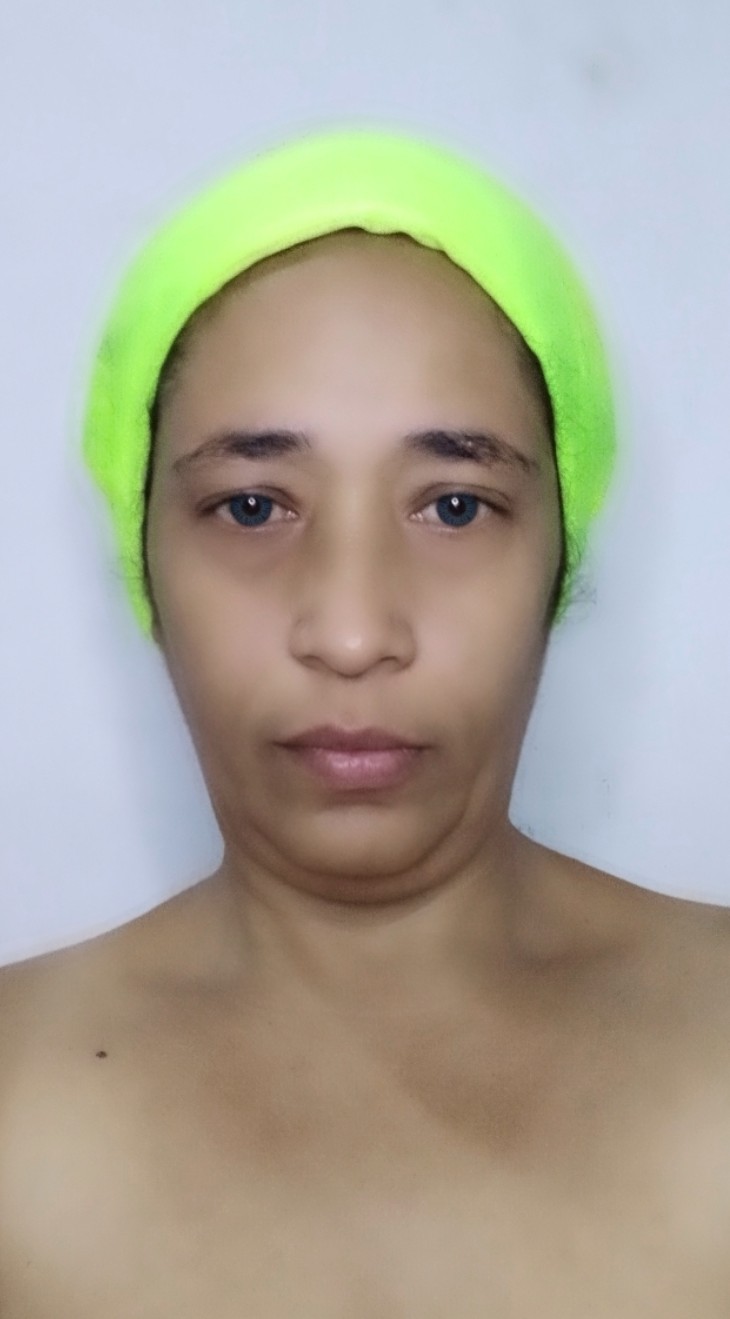 I applied the liquid concealer on my face, blended it with a sponge and then sealed it with translucent loose powder to seal the concealer well, then I applied the liquid foundation. I always use the number three foundation, which is the one that most resembles my skin tone, then I also blended it with a sponge and sealed it with a little compact powder, I also use number 3, and when I finished, it gave my skin a very nice look, which I personally like a lot.
Me apliqué El corrector de ojeras líquido en mis en mi rostro lo difuminé con una esponja y luego lo selle con polvo suelto traslúcido para sellar bien el corrector luego me apliqué la base líquida yo siempre utilizó la base número tres qué es la que más se asemeja a mi tono de piel luego la difumine también con una esponja y la terminé sellando con un poco de polvo compacto yo utilizo también el número 3 es todo al terminar le da un aspecto muy lindo a mi piel que a mí en lo personal me gusta mucho.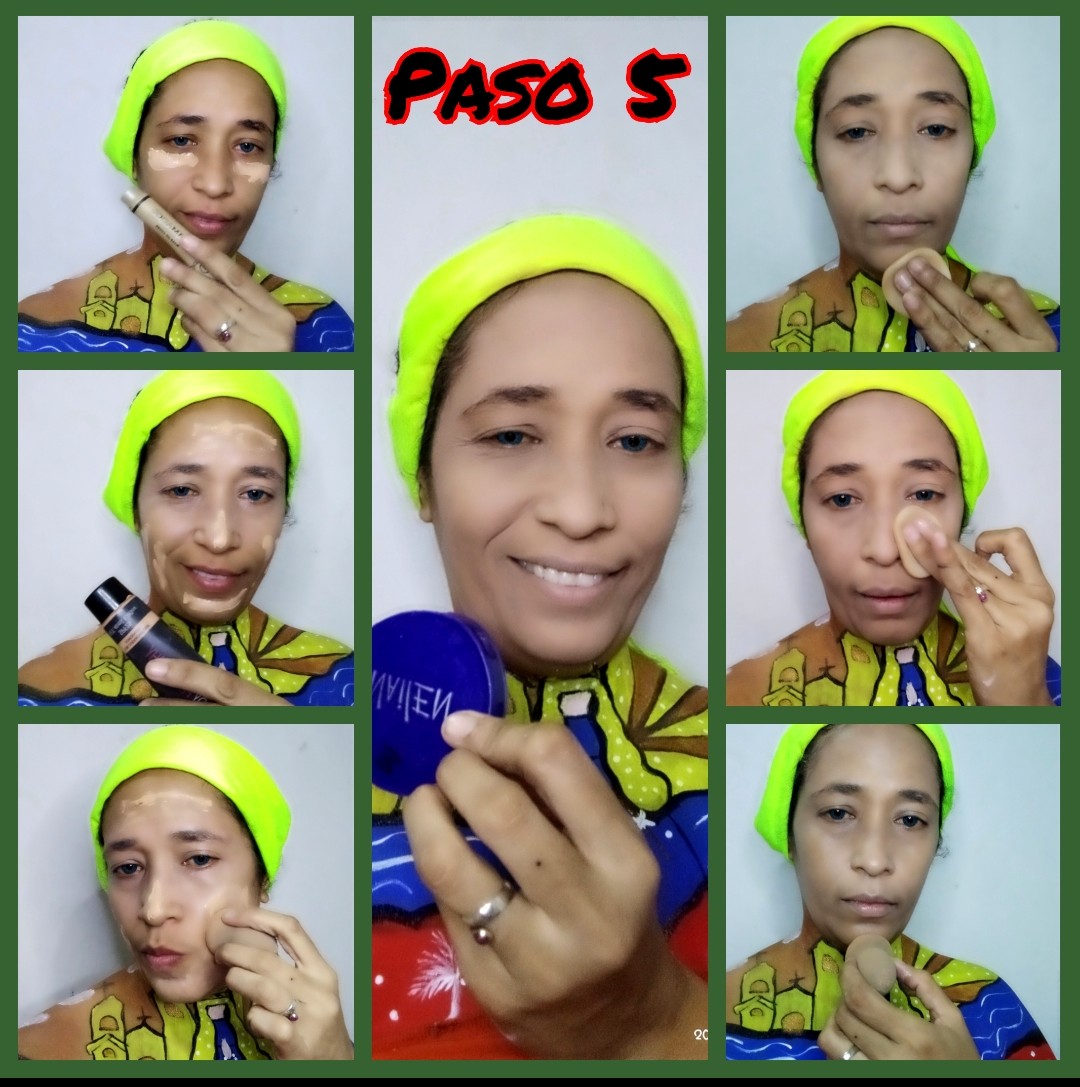 I started with the yellow shadow, followed by the blue one and finally I finished with the red one, I also took some pigment and applied it on the water line of my eye and also a little bit I applied it on my eyebrows to fill and give a good shape and define them, then I applied the mascara and mascara as you want to call it.
Ya cuando el rostro está preparado voy a proceder a aplicarme las sombras Yo comencé con la sombra amarilla seguí con la azul y finalmente terminé con la de color rojo, también tomé un poco de pigmento y lo aplique en el la línea de agua de mi ojo y también un poco lo aplique en mis cejas para rellenar y dar una buena forma y definirla luego me apliqué la máscara de pestañas y rímel como quieran llamarle.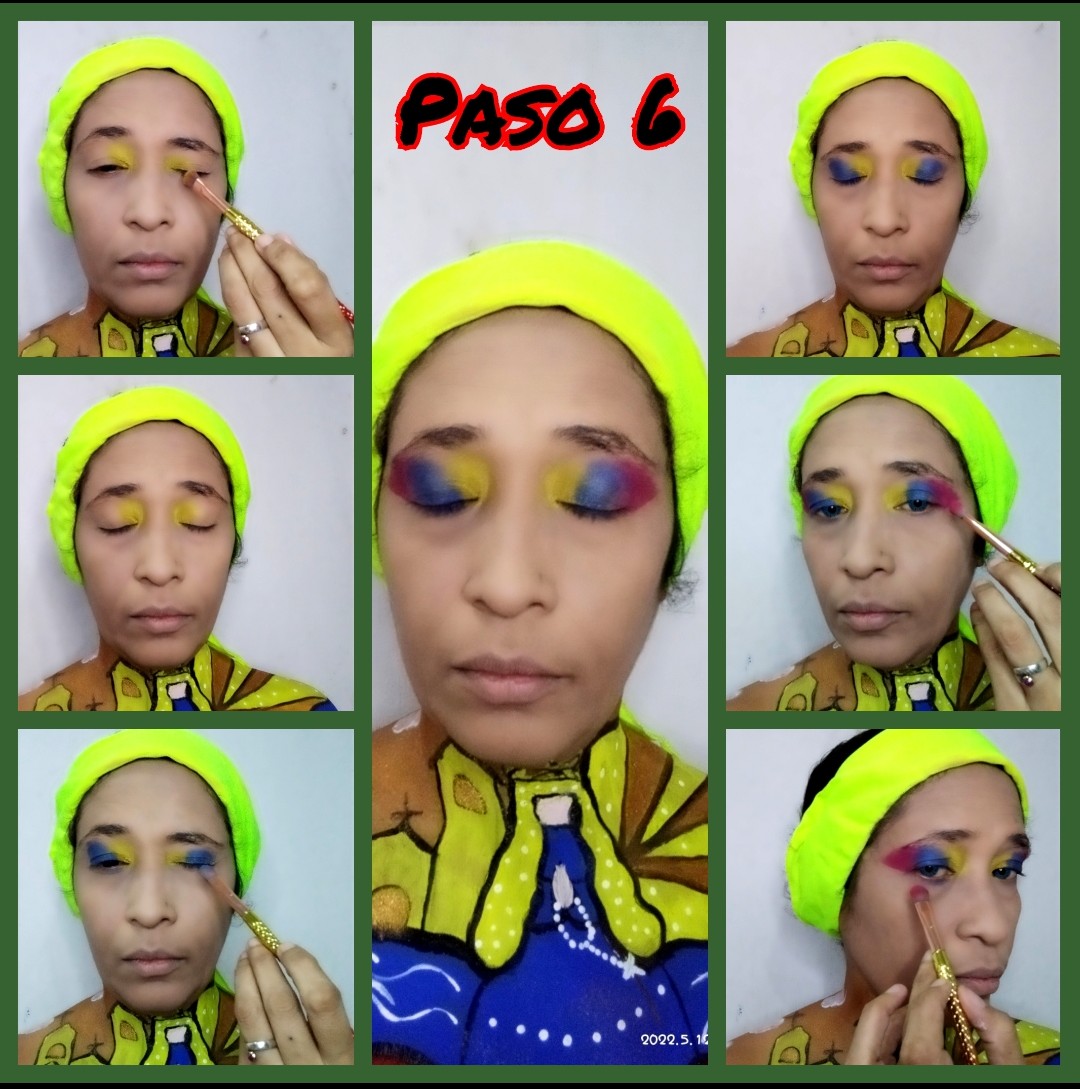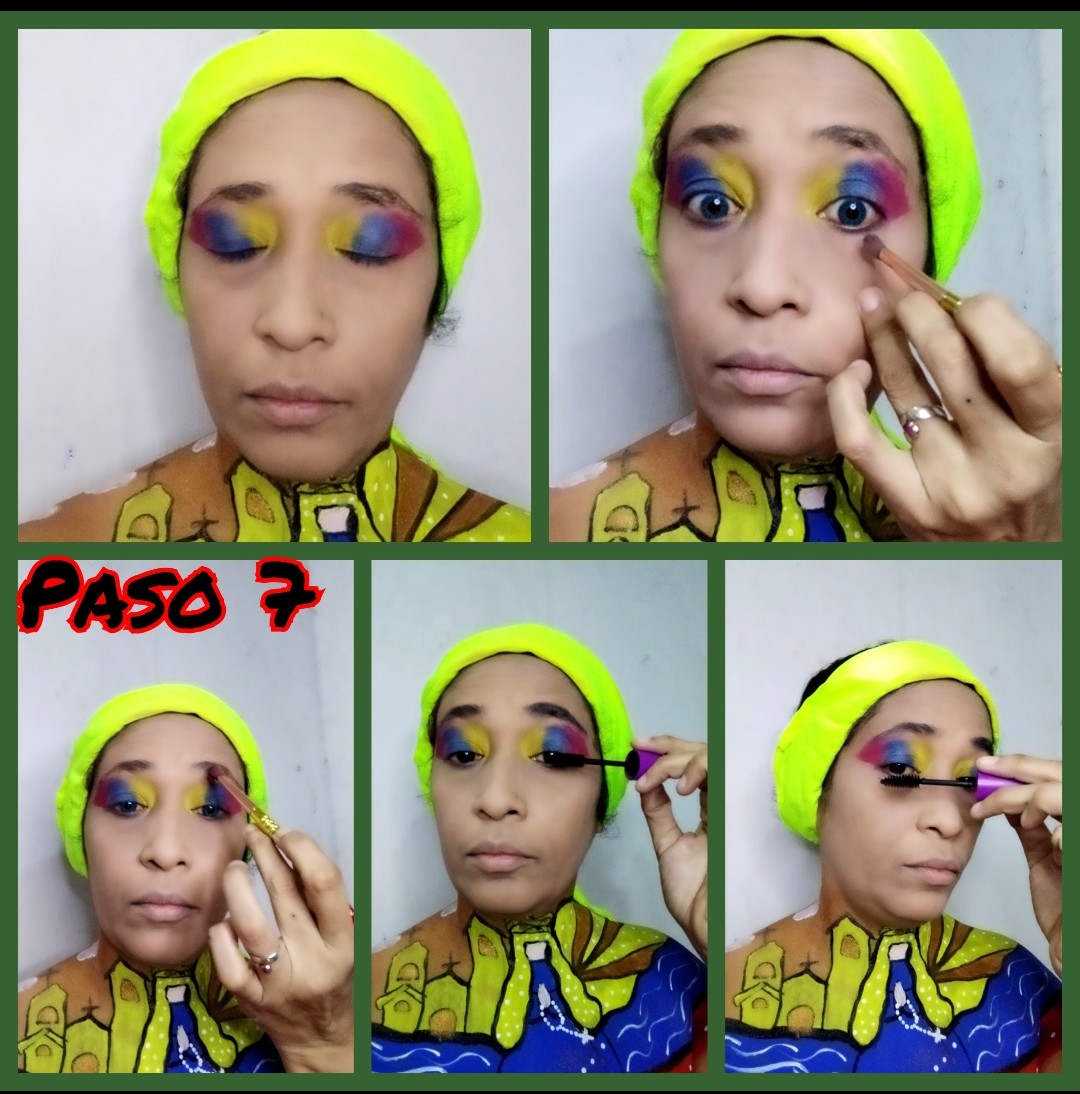 I applied a little pink blush, I applied some eyeliner, and I applied a strong red lipstick to contrast with all the makeup and to highlight, and to conclude the makeup I drew on my cheek a small rosary with white paint and finally I applied the highlighter on my face to highlight it to give it life and shine a little and make it look much more beautiful.
Me apliqué un poco de rubor color rosa me aplique un poco de delineador, y aplique un labial de color rojo fuerte para que hiciera contraste con todo el maquillaje y pudiera resaltar, ya para concluir el maquillaje dibuje en mi mejilla un pequeño Rosario con pintura de color blanco y finalmente me apliqué el iluminador en mi rostro para destacarlo para darle vida y que brillo un poco y se vea muchísimo más bonito.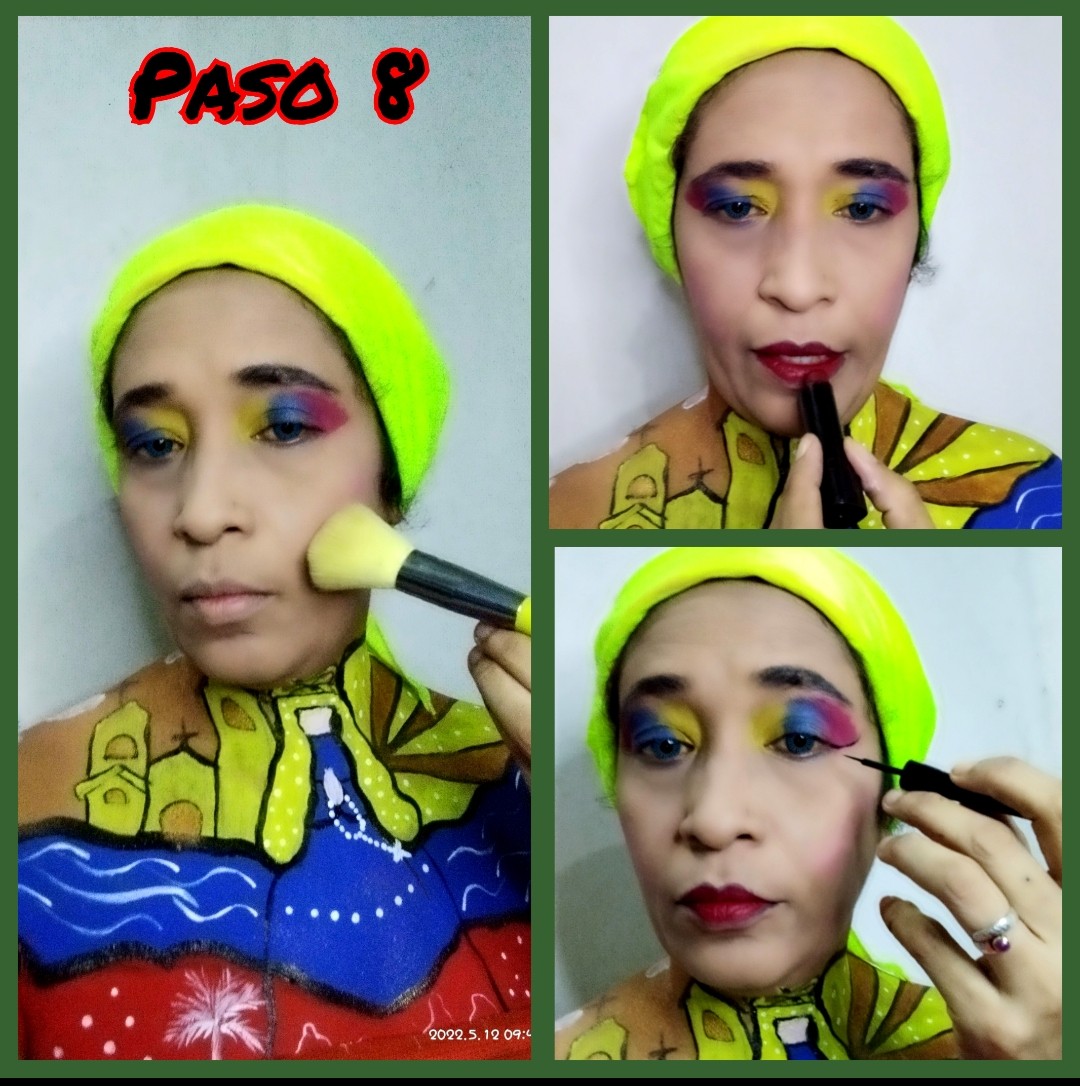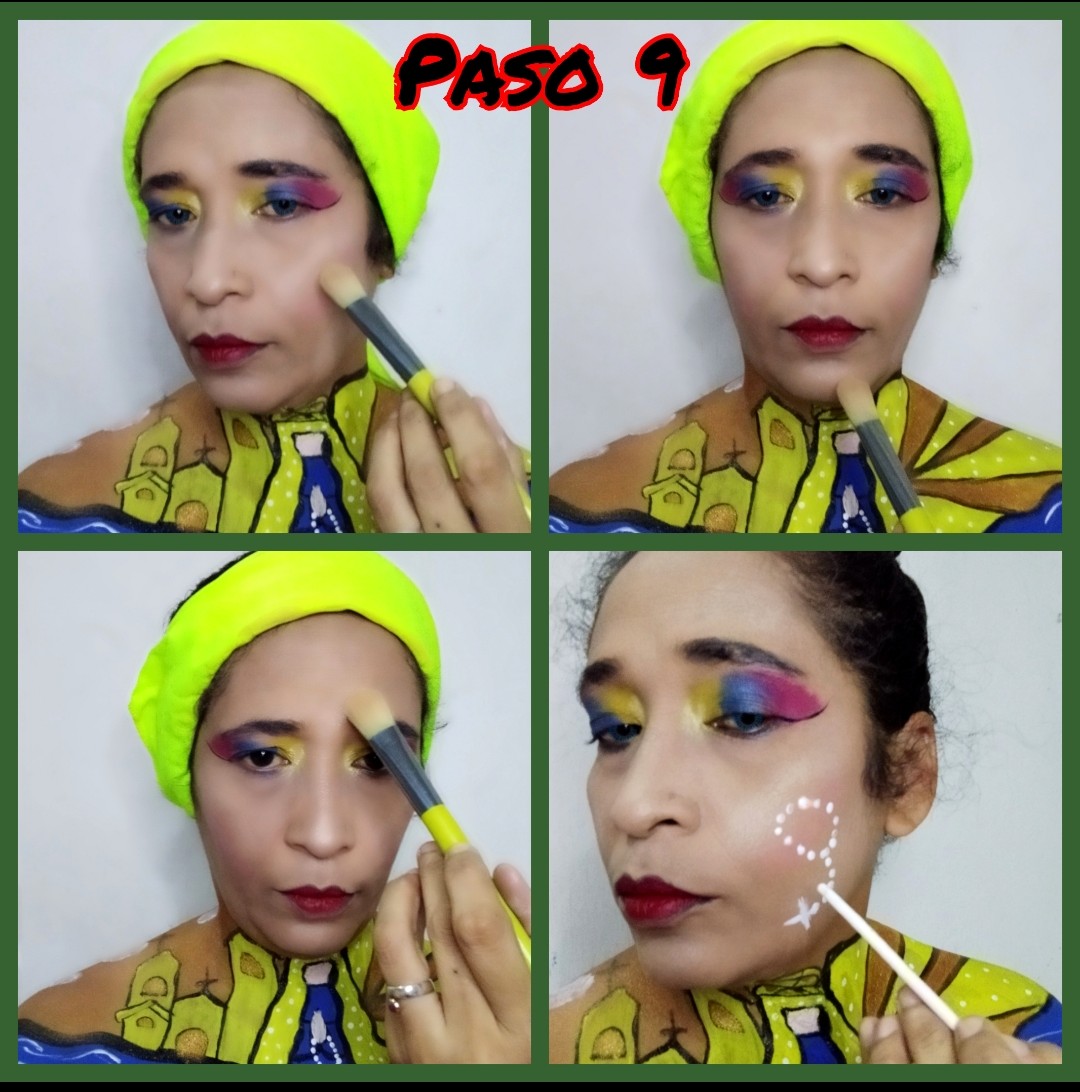 🌹💖FOTOS DEL RESULTADO FINAL🌹💖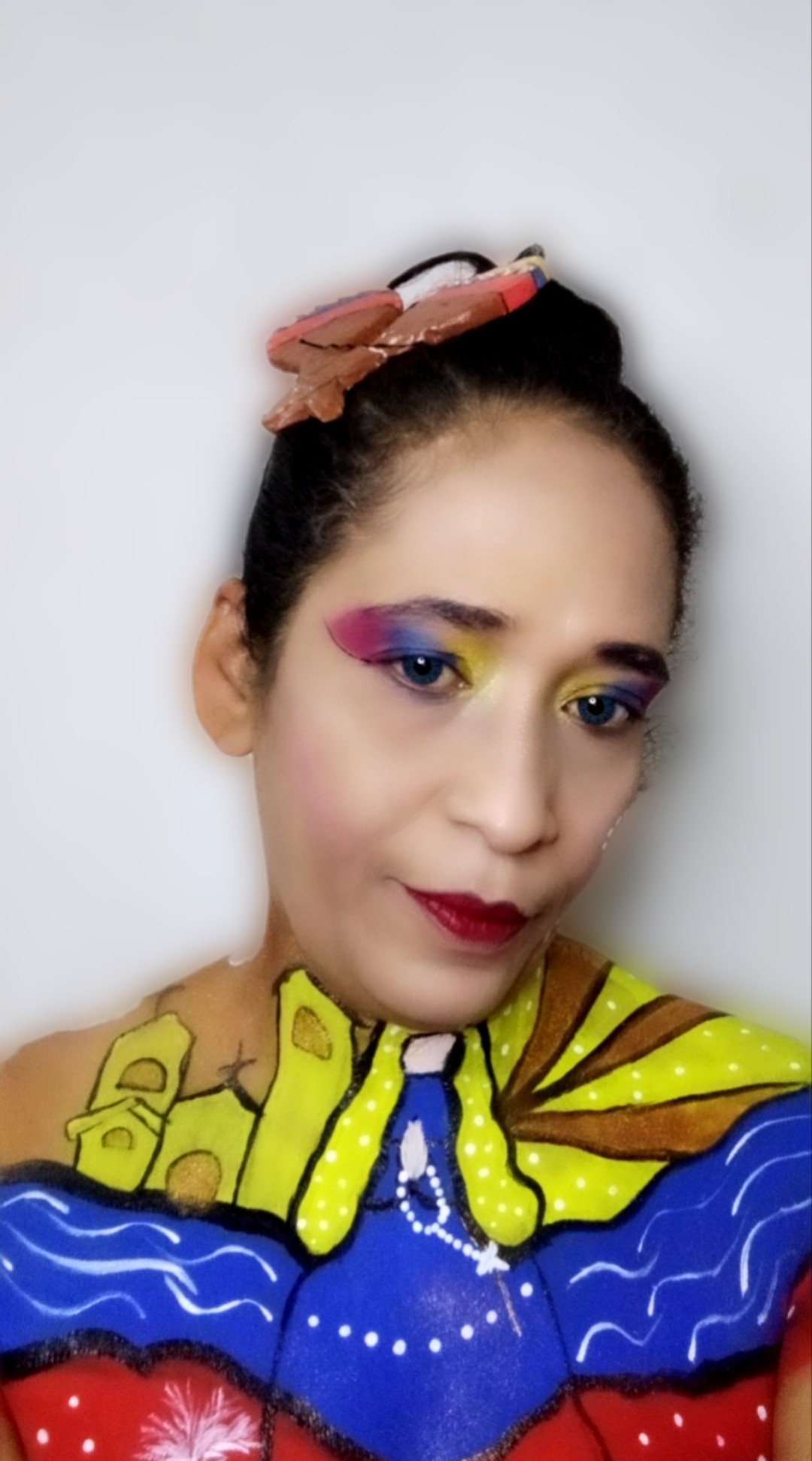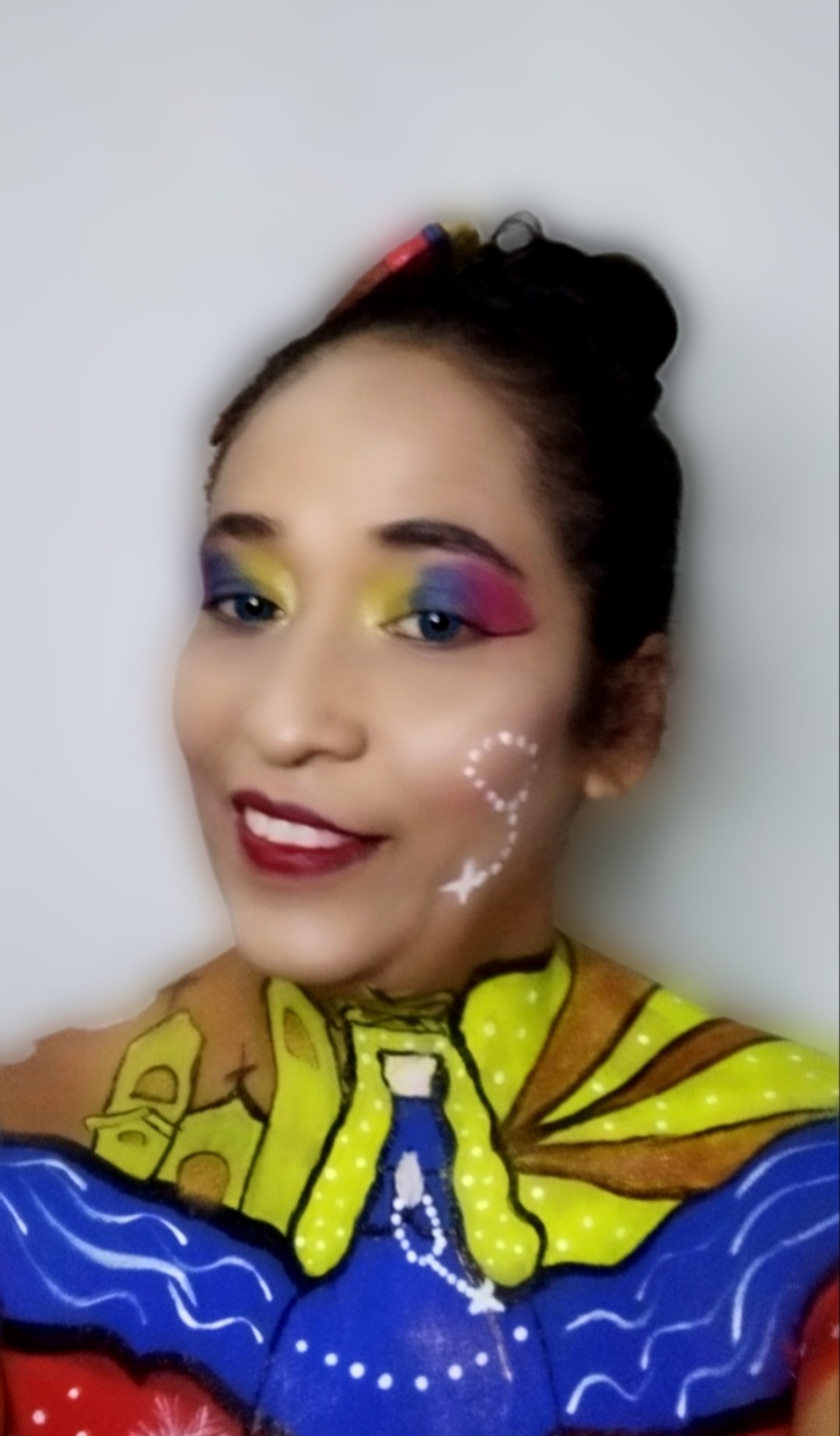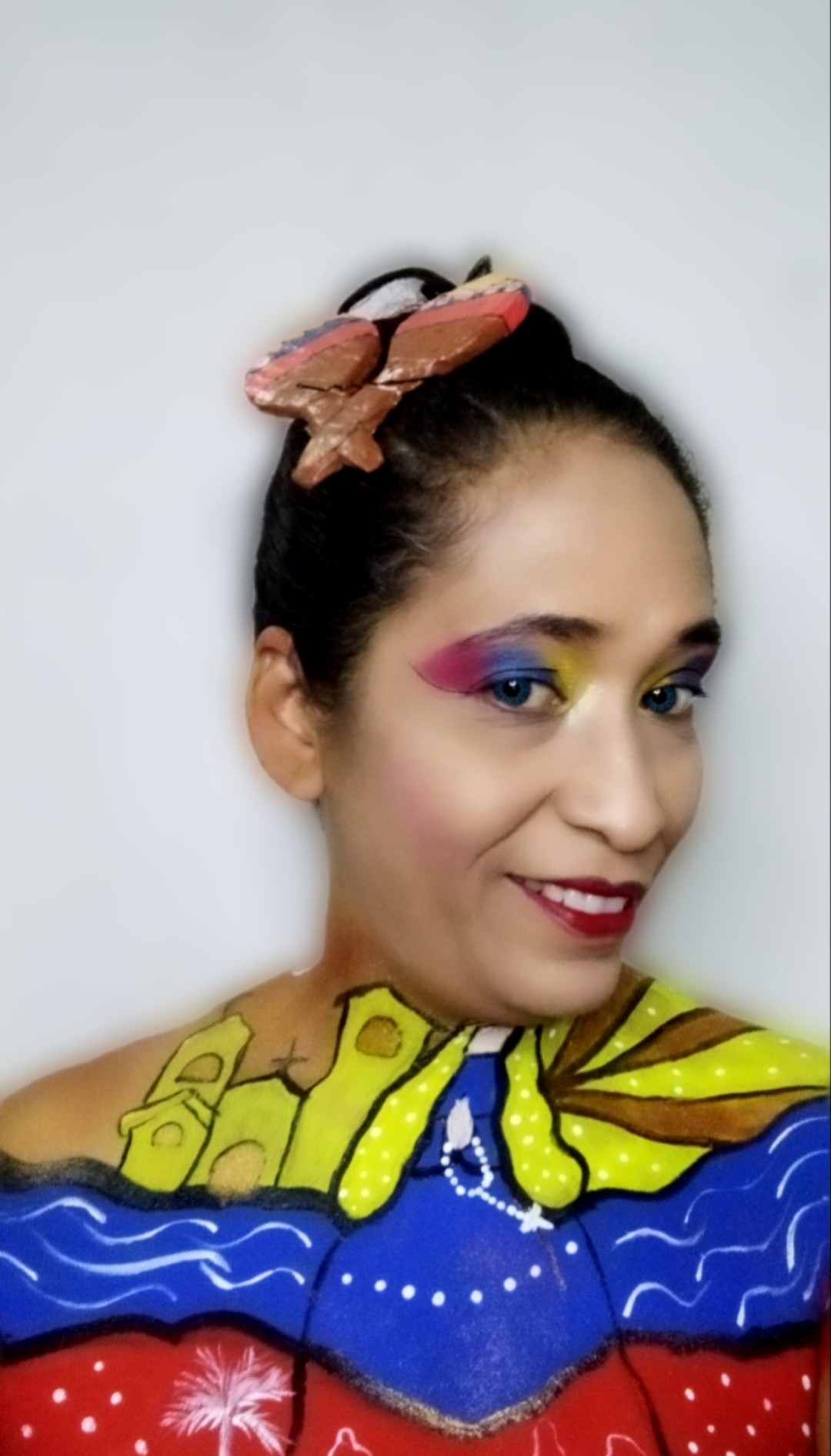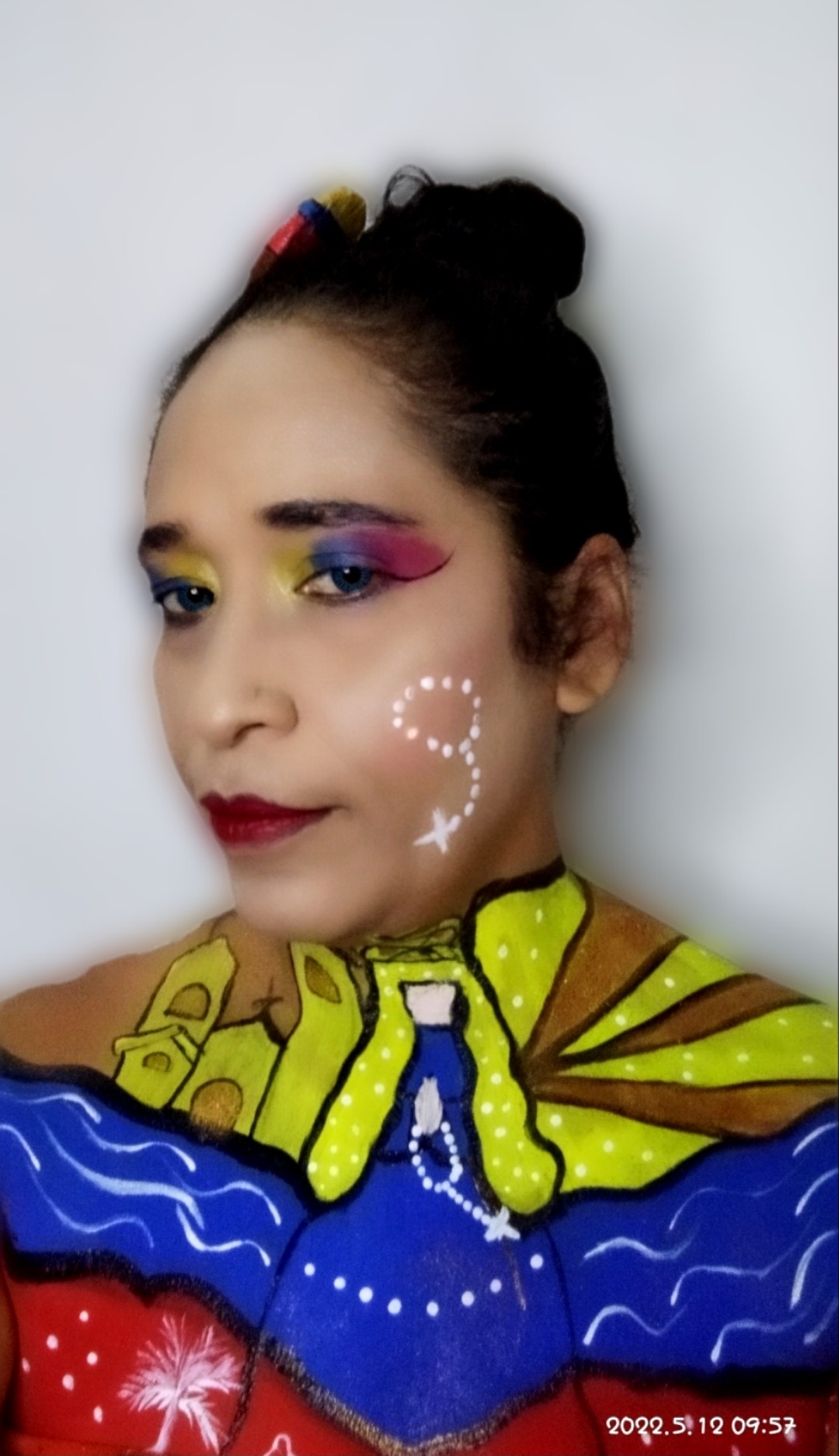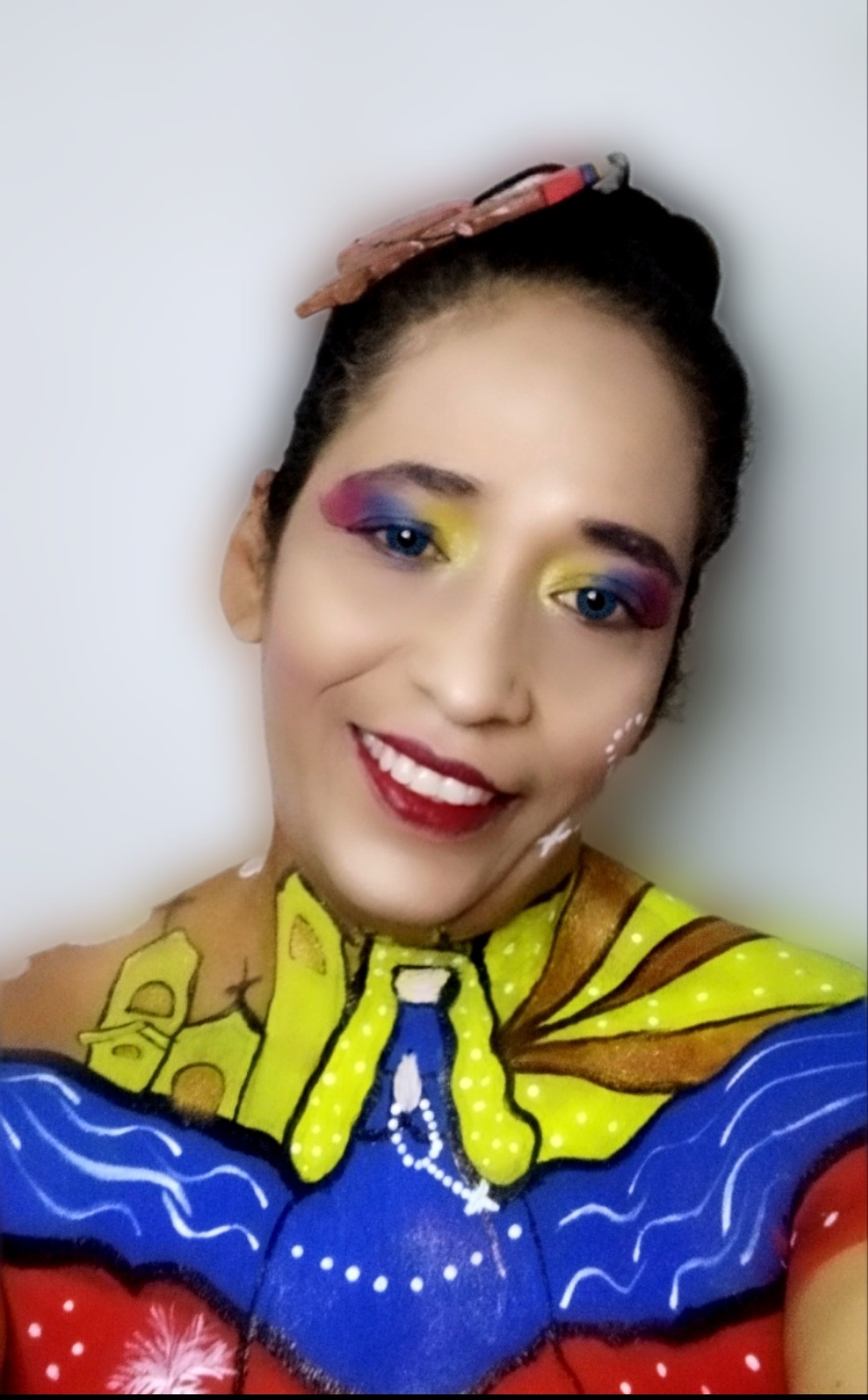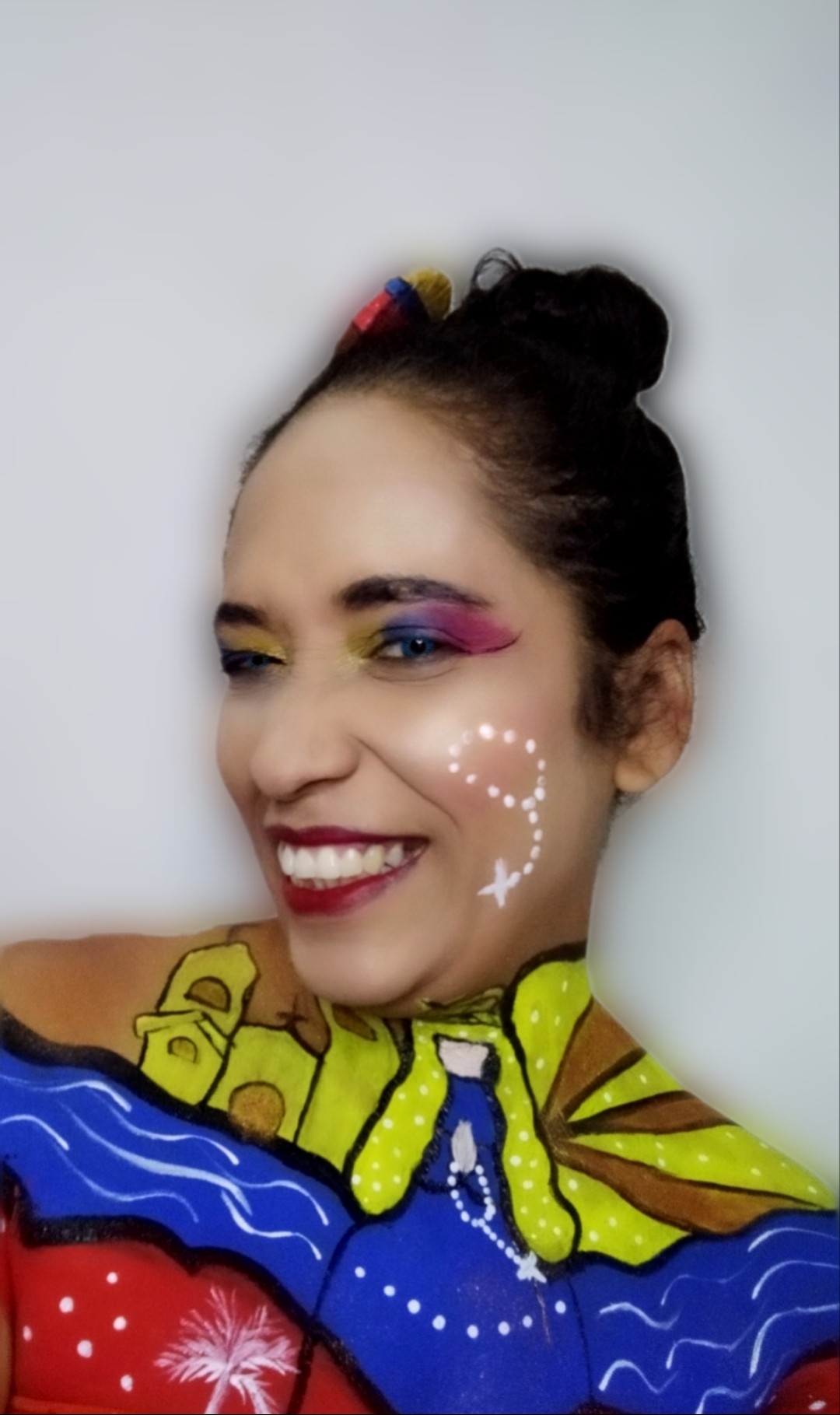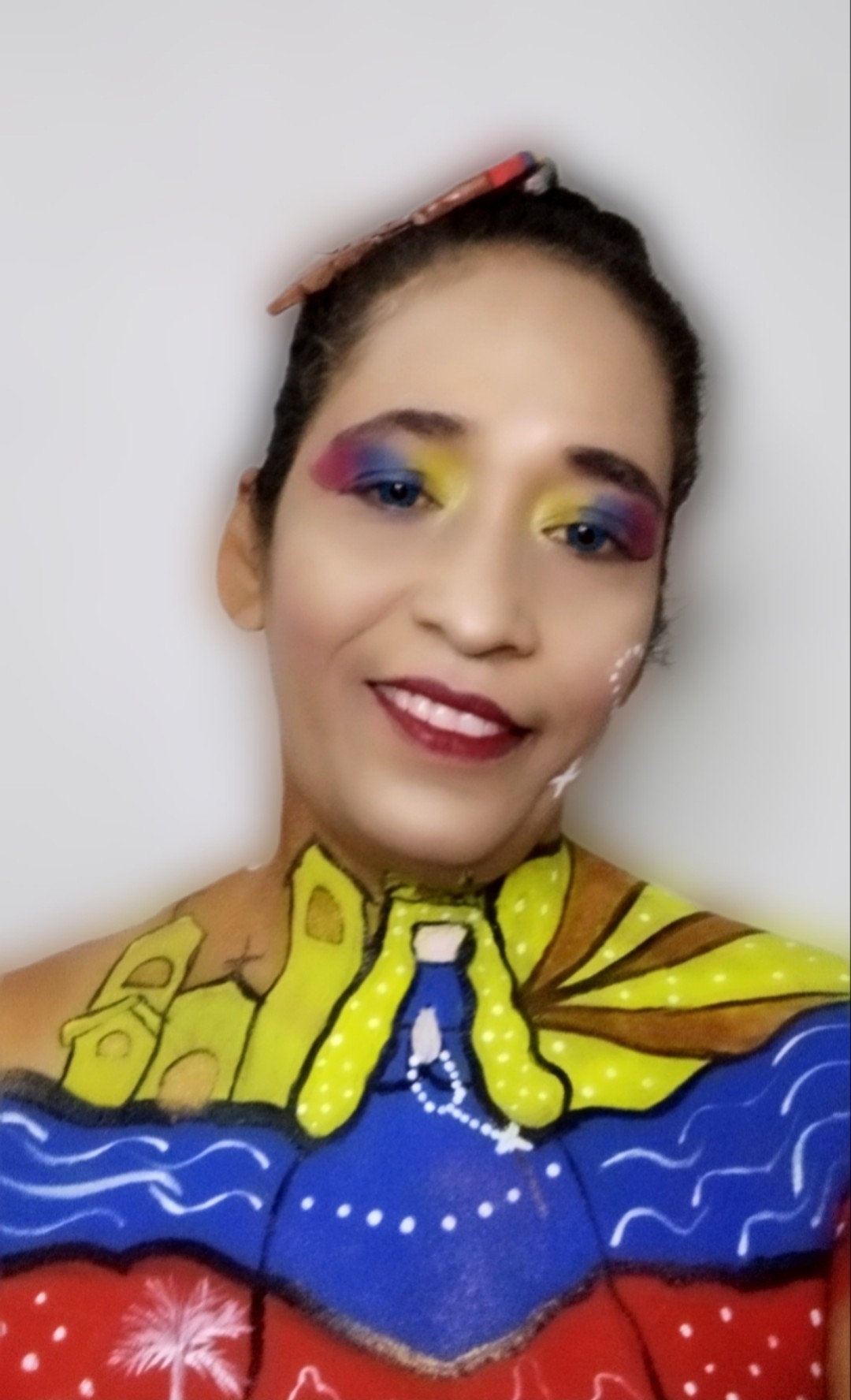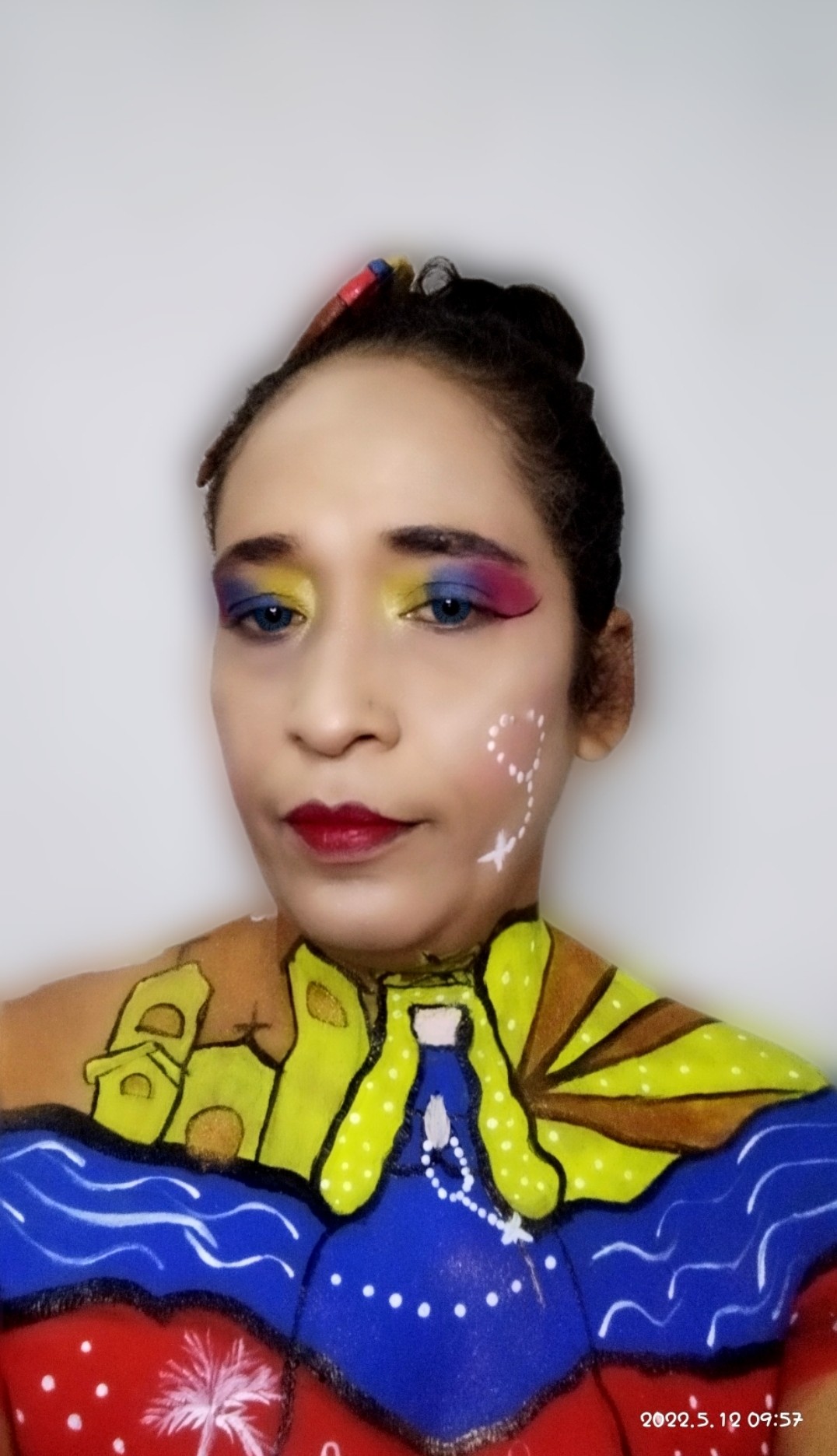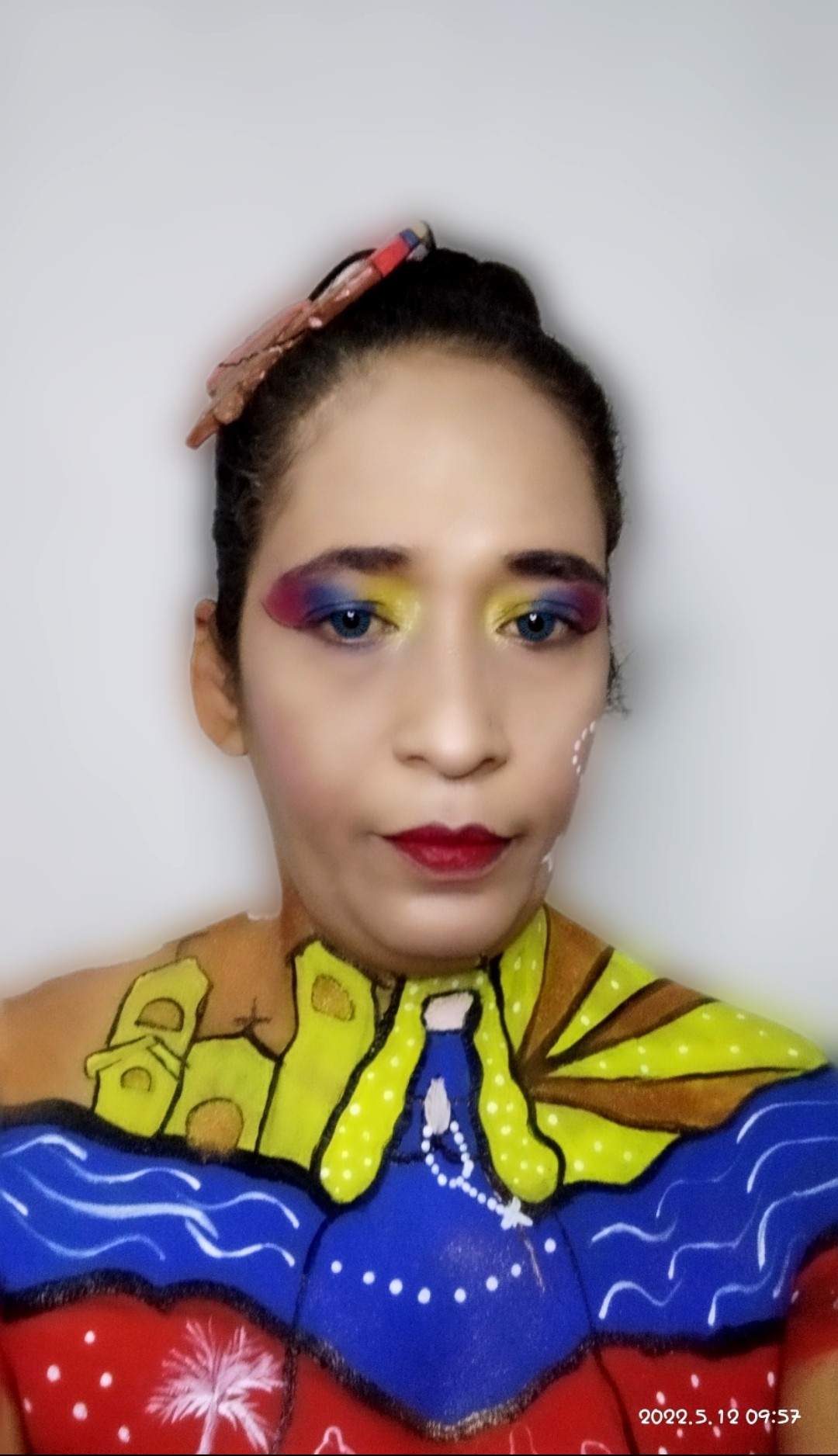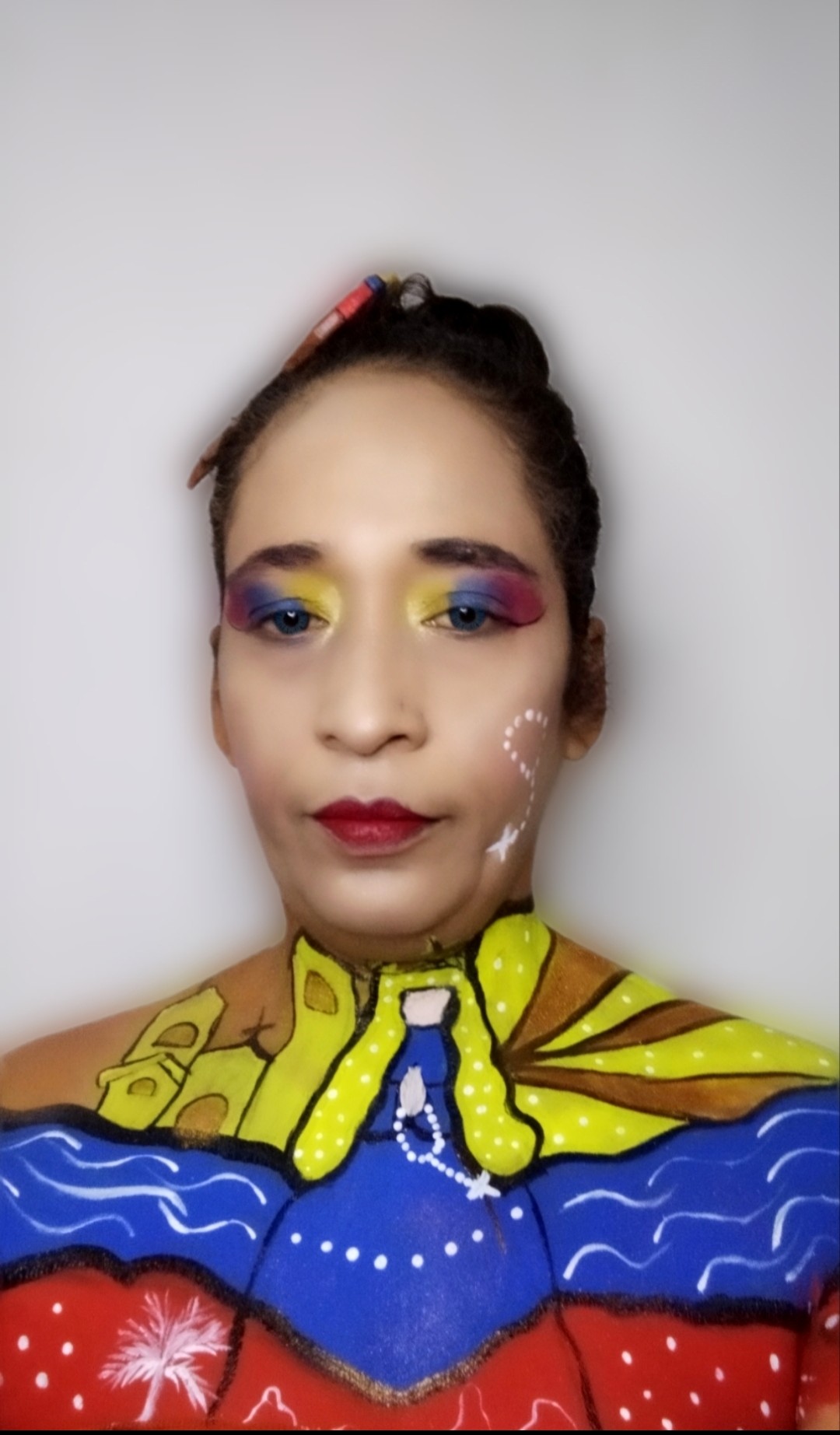 Well my beautiful girls beautiful bees that make life within the makeup community, but also those who make life within the platform and that in some way or another take the trouble to stop by to visit my blog, I want to thank you for so much support, without you really could not have continued, for you I get up every day with the spirits up to continue bringing new proposals of makeup that are to your liking, for now is all I say goodbye as always in all my posts reminding you that life is beautiful and in colours and that it is better if those colours are placed in our face to create beautiful makeup.
Bueno mi chicas bellas hermosas abejitas que hacen vida dentro de la comunidad de maquillaje, pero también aquellas que hacen vida dentro de la plataforma y que de alguna u otra forma se toman la molestia de pasar a visitar mi blog, quiero agradecerles por tanto apoyo, sin ustedes realmente no hubiese podido continuar, por ustedes me levanto día a día con los ánimos arriba para seguir trayendo nuevas propuestas de maquillaje que sean de su agrado, por ahora es todo Me despido como siempre en todos mis pos recordándole que la vida es bella y en colores y que es mejor si esos colores lo colocamos en nuestro rostro para crear hermosos maquillajes.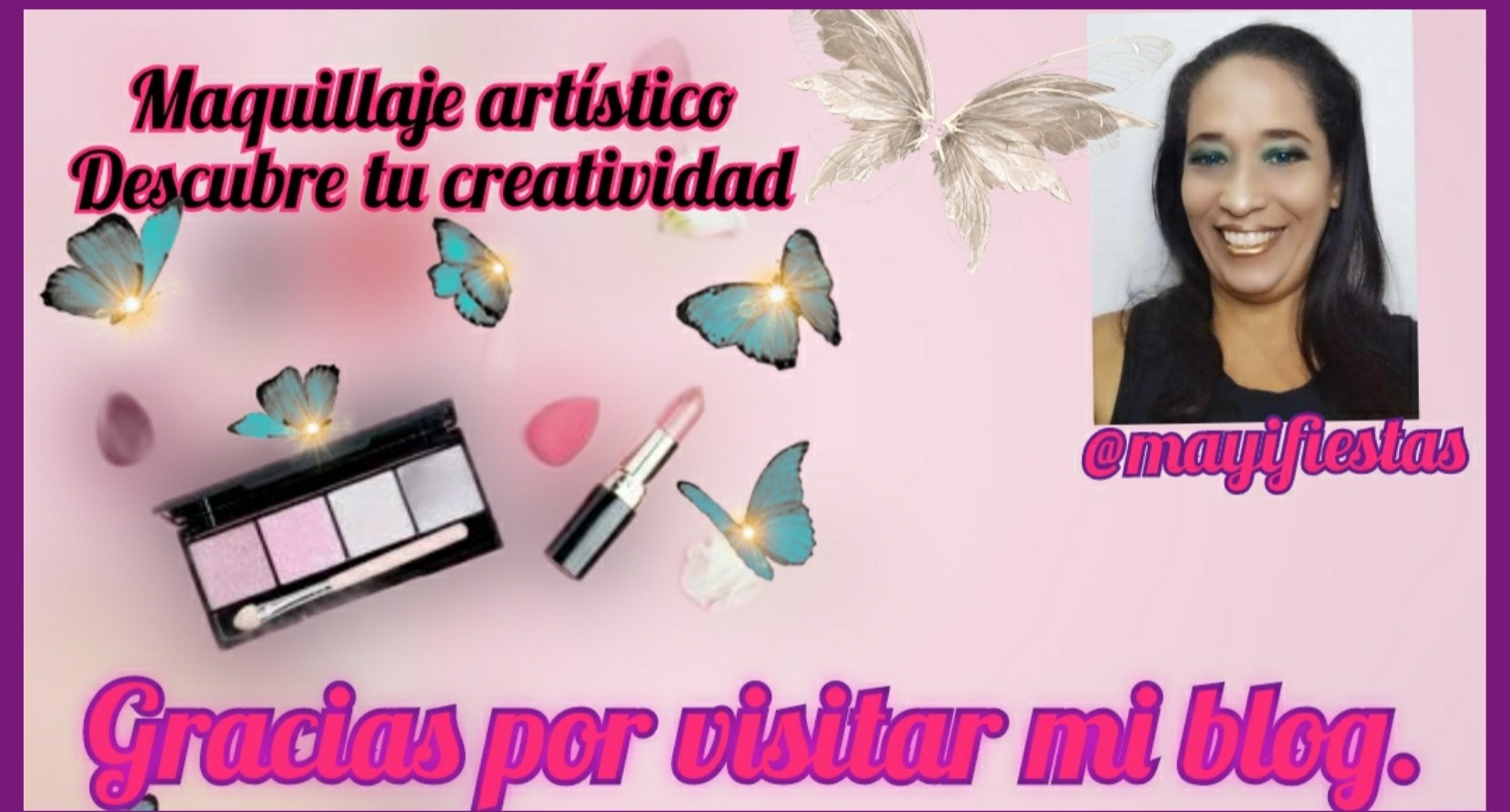 📸All photos were taken with my Xiaomi readmi 9T phone and are my property and exclusive material for #hive, use Deepl translator and polish for editing the photos.
📸Todas las fotos fueron tomadas con mi teléfono Xiaomi readmi 9T y son de mi propiedad y es material exclusivo para

#hive

, utilice el traductor Deepl y el programa polish para la edición de las fotografías.