Makeup inspired by galaxies and aliens
We are not alone in the universe
---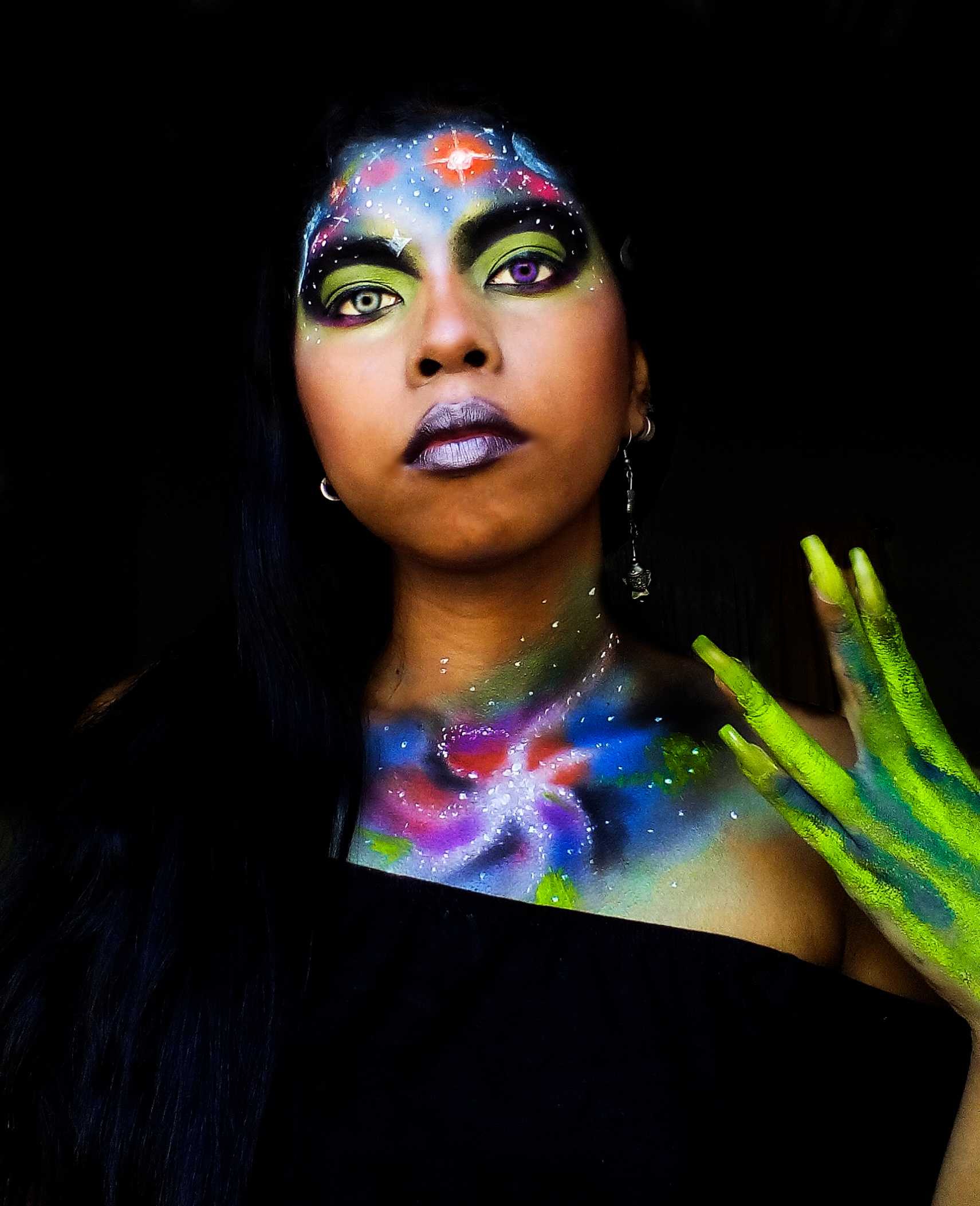 ---

Espero se encuentren súper bien, hoy he realizado un maquillaje inspirado en los extraterrestres que habitan en el extenso universo. Tengo la creencia y la fe en que no somos los únicos habitantes de este universo y aunque mis ojos no han tenido la dicha de presenciar un ser de este tipo y no sé cómo son físicamente, pues he decidido tomar como referencia el clásico alienígena verde con ojos grandes y negros para realizar este maquillaje además del maravilloso universo, a continuación les muestro como realice este maquillaje que me ha encantado y ojalá a ustedes también.


I hope you are super well, today I have made a makeup inspired by the aliens that inhabit the vast universe. I have the belief and faith that we are not the only inhabitants of this universe and although my eyes have not had the happiness of witnessing a being of this type and I do not know how they are physically, I have decided to take as a reference the classic green alien with big black eyes to make this makeup in addition to the wonderful universe, then I show you how to do this makeup that I loved and hopefully you too.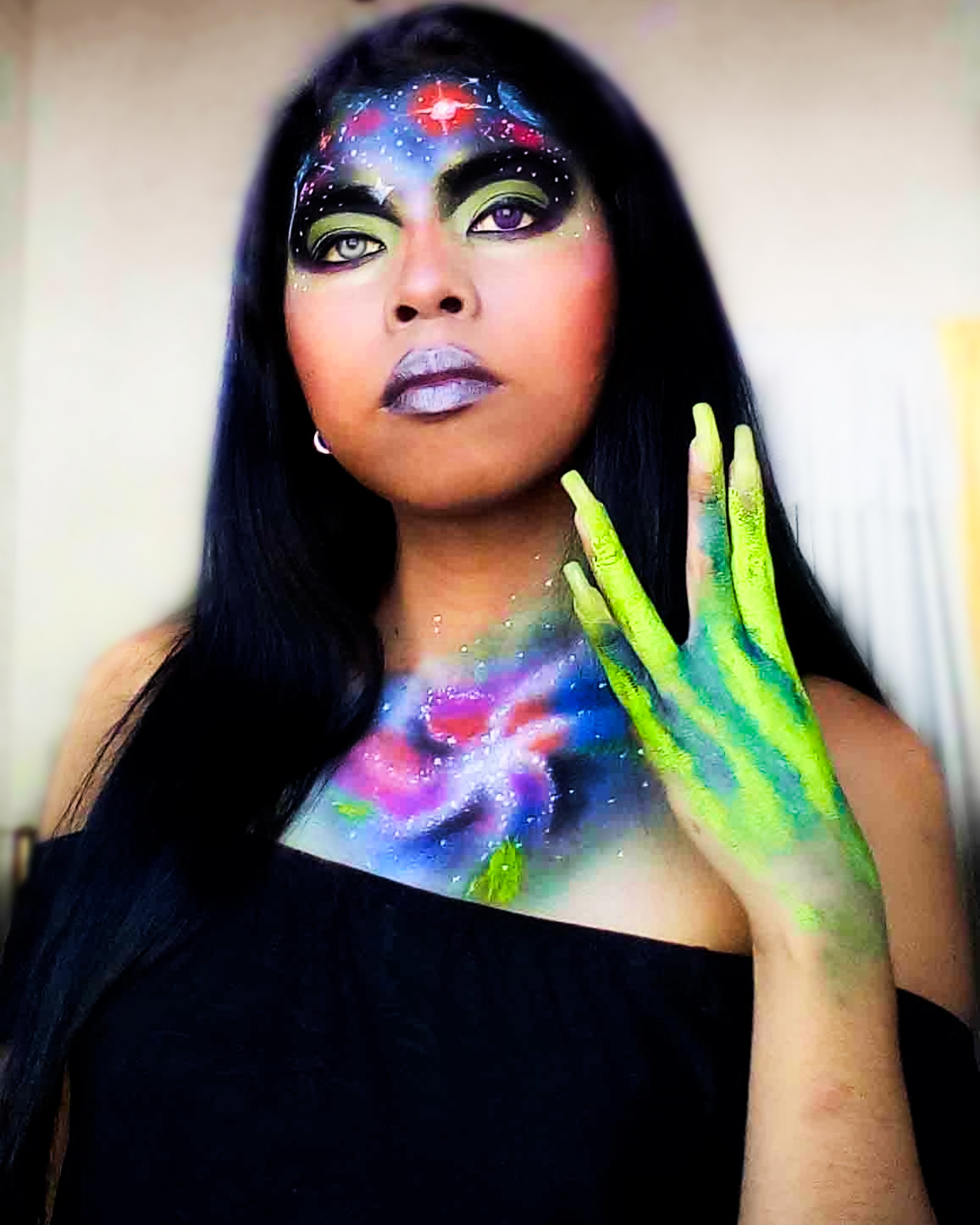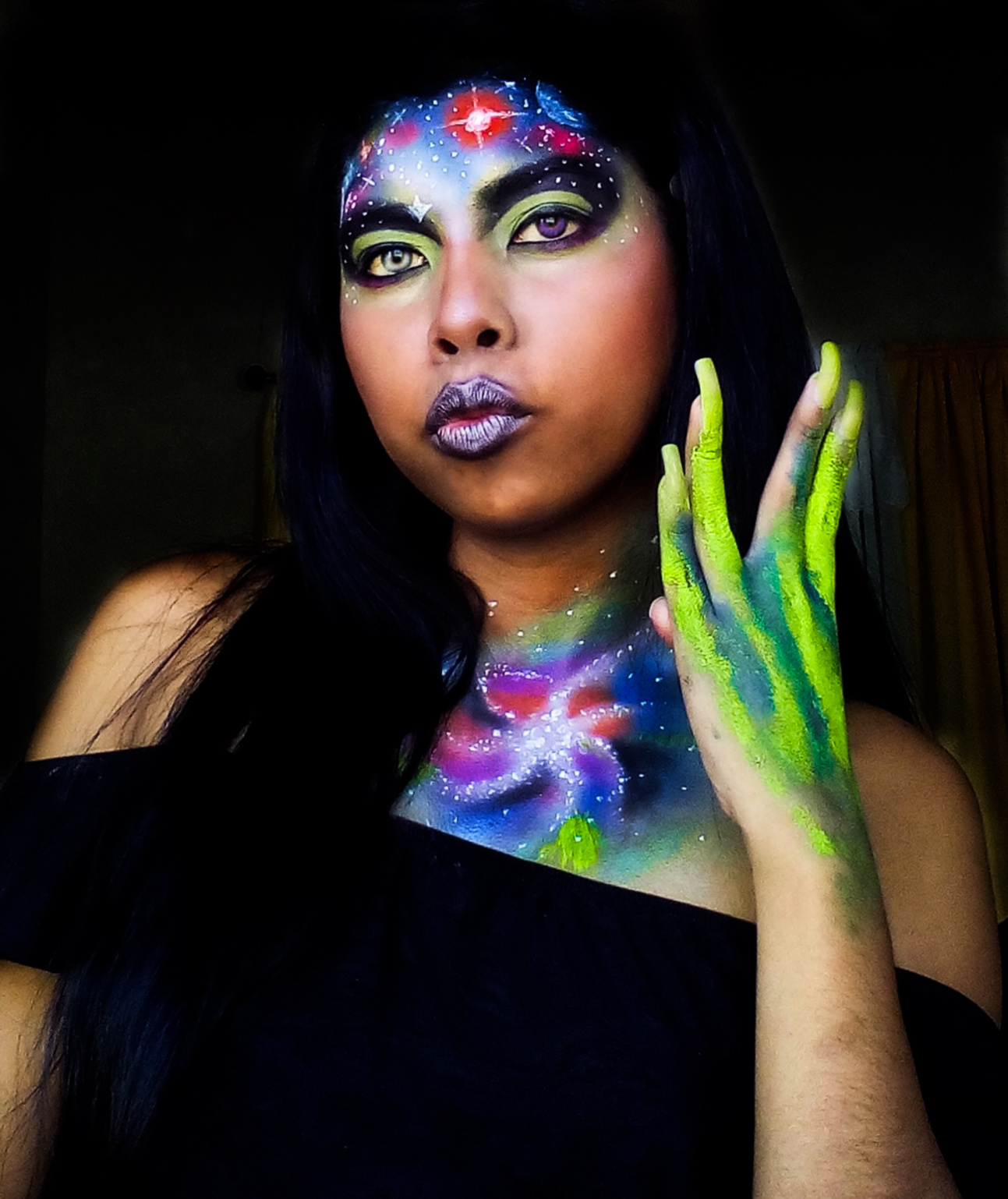 ---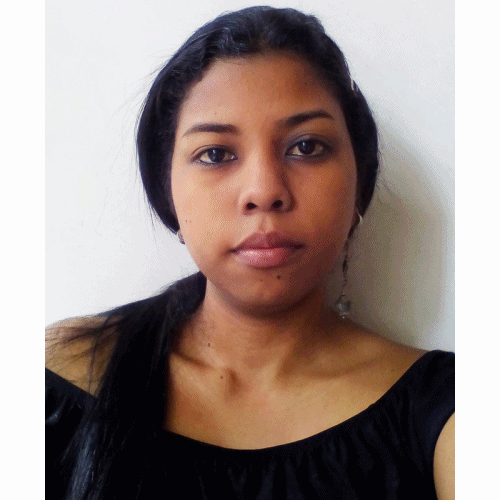 🔴 Primer paso: después de haber dejado limpio mi rostro lo hidrate un poco para crear una barrera en la piel para ahora si empezar a aplicar el maquillaje esta vez inicie aplicando corrector únicamente en el área de los ojos y las cejas. | 🔘 First step: after having cleaned my face, hydrate it a little to create a barrier on the skin for now if you start applying makeup this time, start applying concealer only in the eye and eyebrow area.
---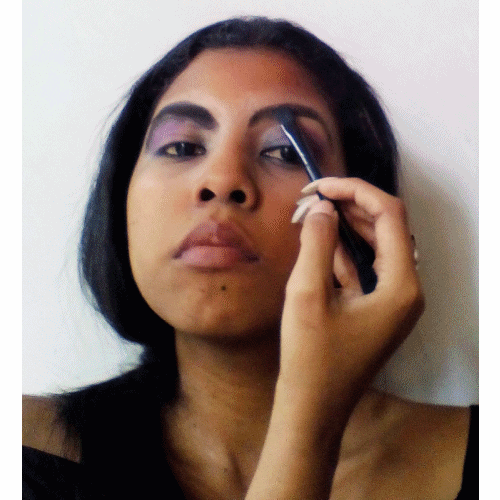 🔴 Segundo paso: realice un degradado redondeado desde mi ceja con sombra negra degradándola hacia el centro del ojo con sombra morada oscura, luego realice un corte con corrector redondeado siguiendo la forma en que aplique la sombra, en esa zona aplique sombra verde. | 🔘 Second step: make a rounded gradient from my eyebrow with black shadow, degrading it towards the center of the eye with dark purple shadow, then make a cut with rounded concealer following the way I apply the shadow, in that area apply green shadow.
---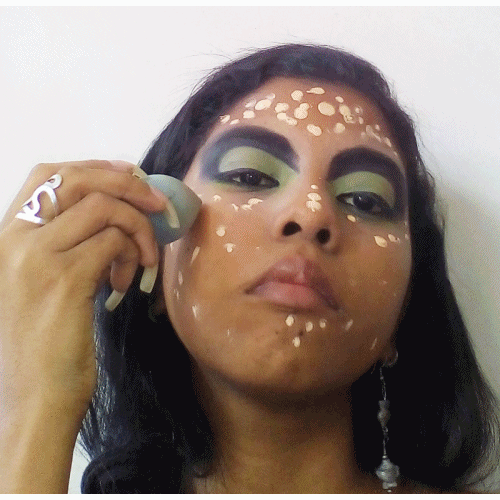 🔴 Tercer paso: ahora si aplique base en todo mi rostro en un tono bastante claro, pero con mayor abundancia en la frente, allí realice un degradado de colores semejante al espacio y agregue estrellas lunas y cometas con pintura blanca, selle el resto de la base aplique rubor, iluminador, y labial morado metalizado. | 🔘 Third step: now if I apply base all over my face in a fairly light tone, but with greater abundance on the forehead, there make a color gradient similar to space and add stars, moons and comets with white paint, seal the rest of the base Apply blush, highlighter, and metallic purple lipstick.
---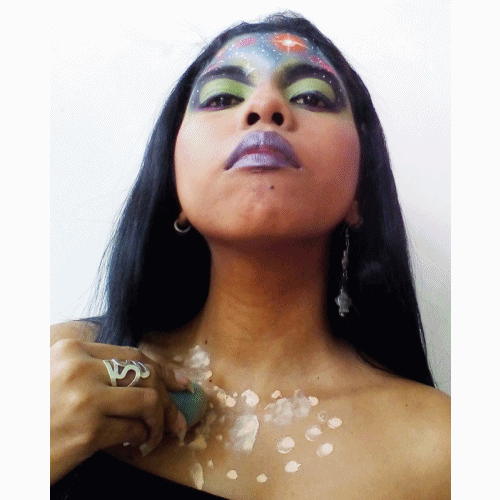 🔴 Cuarto paso: aplique base en la zona de mi cuello y pecho e inicie realizando una especie de espiral con sombra blanca de allí me guie para agregar el resto de los colores tratando de saturarlos muy bien luego agregue muchos puntos con pintura blanca. | 🔘 Fourth step: apply base in the area of my neck and chest and start making a kind of spiral with white shadow from there I guided me to add the rest of the colors trying to saturate them very well then add many points with white paint.
---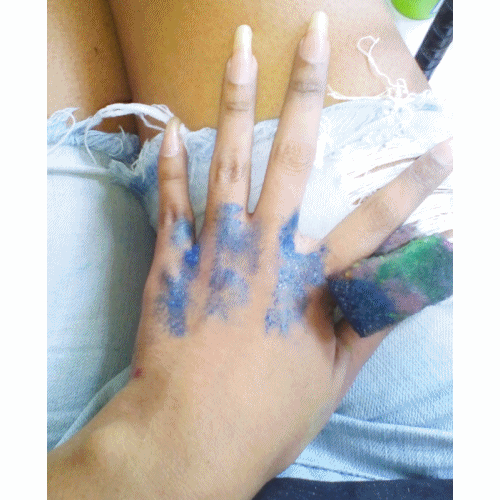 🔴 Quinto paso: con una esponja y pintura verde y azul pinté mi mano dándole un aspecto raro tratando de hacer parecer los dedos más largos y listo. | 🔘 Fifth step: with a sponge and green and blue paint I painted my hand giving it a weird look trying to make the fingers look longer and that's it.
---

Para realizar este maquillaje utilicé: base, polvo compacto, rubor, iluminador, sombras de muchos colores, pinturas blanca verde y azul, corrector líquido, labial, mascara de pestañas, pinceles, esponja y brochas. También he utilizado tres editores para lograr el efecto que quería photoscape para recortar y difuminar el fondo, photoshop para editar los ojos y polarr online para oscurecer el fondo y agregar un poco de saturación.
To make this make-up I used: foundation, compact powder, blush, highlighter, shadows of many colors, white, green and blue paints, liquid concealer, lipstick, mascara, brushes, sponge and brushes. I have also used three editors to achieve the effect I wanted: photoscape to crop and blur the background, photoshop to edit the eyes, and polarr online to darken the background and add a bit of saturation.