Hoy les traigo mi participación en la iniciativa de @mintdreams que consiste en realizar un maquillaje inspirado en criaturas mitológicas. Decidí hacérmelo inspirado en Medusa.
Today I bring you my participation in the @mintdreams initiative that consists of making a makeup inspired by mythological creatures. I decided to get it inspired by Medusa.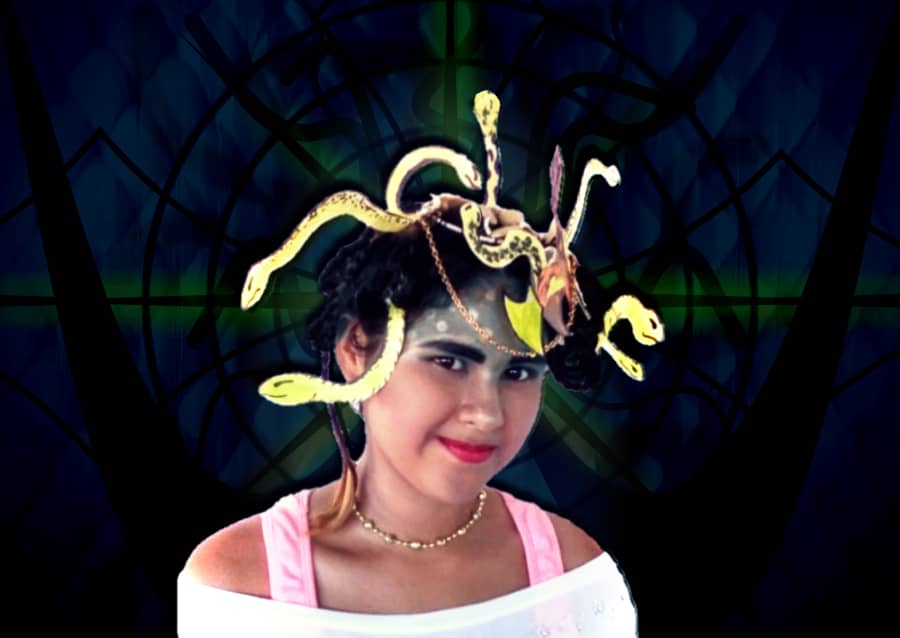 La mujer serpiente no siempre tuvo una apariencia escalofriante. Medusa era una de las tres hermanas gorgonas (una clase de monstruo femenino). A diferencia de Esteno y Euríale, ella era la única mortal en la familia. Con su inconfundible cabello de serpientes y el poder de convertir a quien la mire en piedra, es uno de los monstruos más populares en las historias de la antigüedad. Ovidio de forma breve, pero impactante. Medusa era una hermosa joven y Poseidón la deseó para él.
Snake Woman didn't always have a creepy appearance. Medusa was one of the three Gorgon Sisters (a kind of female monster). Unlike Esteno and Euryale, she was the only mortal in the family. With its unmistakable snake hair and the power to turn whoever looks at it to stone, it is one of the most popular monsters in the stories of ancient times. Ovid in a brief, but powerful way. Medusa was a beautiful young woman and Poseidon desired her for him.
El dios de los mares la atacó y la violó dentro de un templo dedicado a Atenea. La diosa tomó este ataque como una ofensa y castigó a la mujer dándole serpientes en lugar de cabello y con la maldición de convertir en piedra a quien mirase.
The god of the seas attacked her and raped her inside a temple dedicated to Athena. The goddess took this attack as an offense and punished the woman by giving her snakes instead of hair and with the curse of turning whoever looked to stone to stone.

Paso a paso
Step by Step
1) Realice una limpieza en mi rostro, apliqué la bese en todos mi rostro, incluyendo mis parpados, luego la difumine.
1)I cleansed my face, applied the kiss to all of my face, including my eyelids, then blurred it.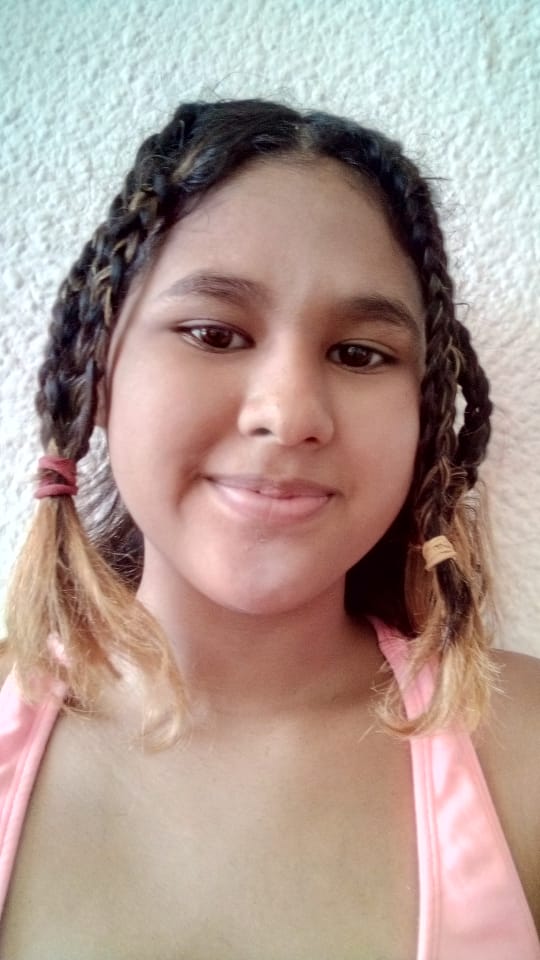 2)En mis ojos apliqué un polvo translucido, para sellar la base. Apliqué una sombra verde marino, comencé desde el inicio del lagrimal hasta donde termina mi ojo, difumine en movimientos circulares.
2)In my eyes I applied a translucent powder, to seal the base. I applied a marine green shadow, starting from the beginning of the tear to where my eye ends, blur in circular movements.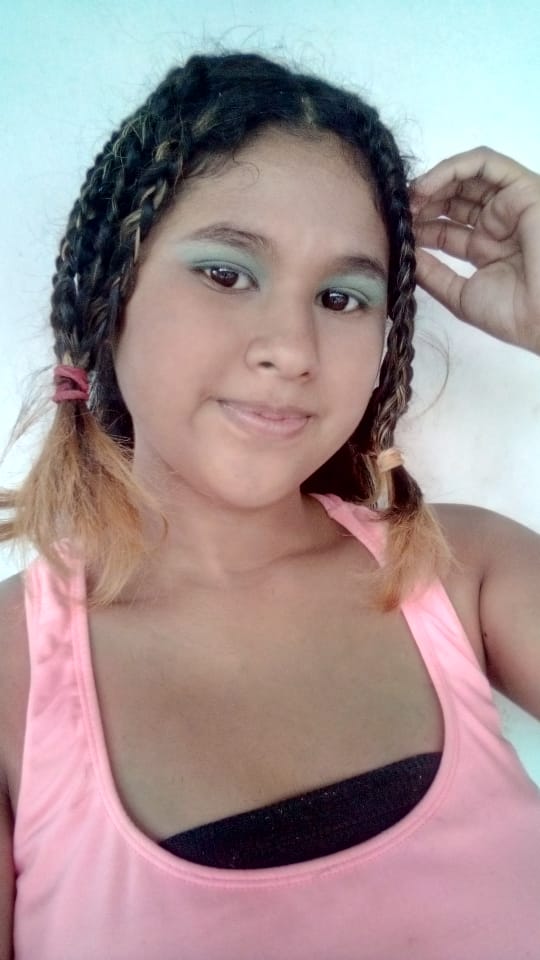 3)Utilice un lápiz delineador para dar forma a la ceja. Con el mismo lápiz, haz trazos verticales siguiendo la inclinación natural de los vellos, las rellene con sombra para cejas.
3)Use an eyeliner pencil to shape the brow. With the same pencil, make vertical strokes following the natural inclination of the hairs, fill them with eyebrow shadow.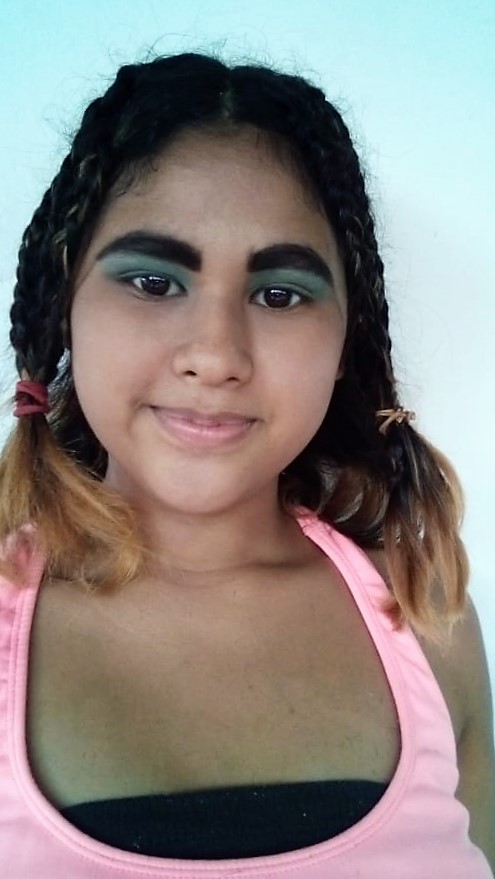 4)Luego apliqué rubor, y delinee mis labios primer el arco de cupido y después el labio inferior con un lapiz rojo, luego rellene con el labial rojo.
4)Then I applied blush, and outlined my lips first the cupid's bow and then the lower lip with a red pencil, then I filled in with the red lipstick.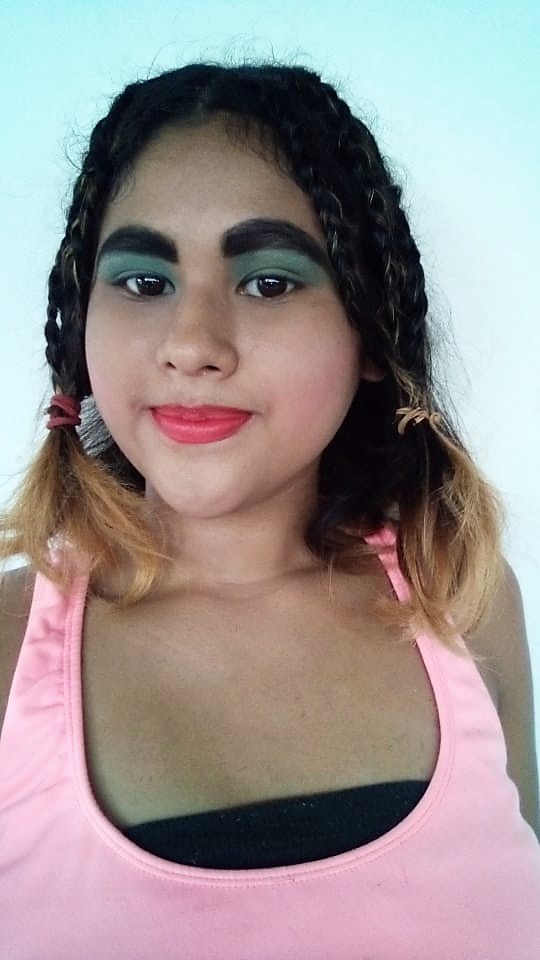 5)Pinte mi frente con una pintura verde clara, y con una brochita hice los puntos en mi frente de dorado hasta mi nariz.
5)I painted my forehead with a light green paint, and with a brush I made the dots on my forehead in gold up to my nose.

6)Por último hice unas serpientes de cartulina y las coloqué en mi cabeza para darle un toque mas parecido, y me puse unos collares dorados para combinar.
6)Finally I made some cardboard snakes and I putted them on my head to give it a more similar touch, and I put on some golden necklaces to match..
Resultado Final.
Final Result.