I have just got in from a hard day's Urbex session in Halifax and Bradford which was a resounding success.
As a consequence, I'm knackered and should be hitting the sack and not typing this stuff you are reading now.
Visiting all these places is all well and good but when you realise you have 42 in the bag waiting to be written up, you need to get in gear and write.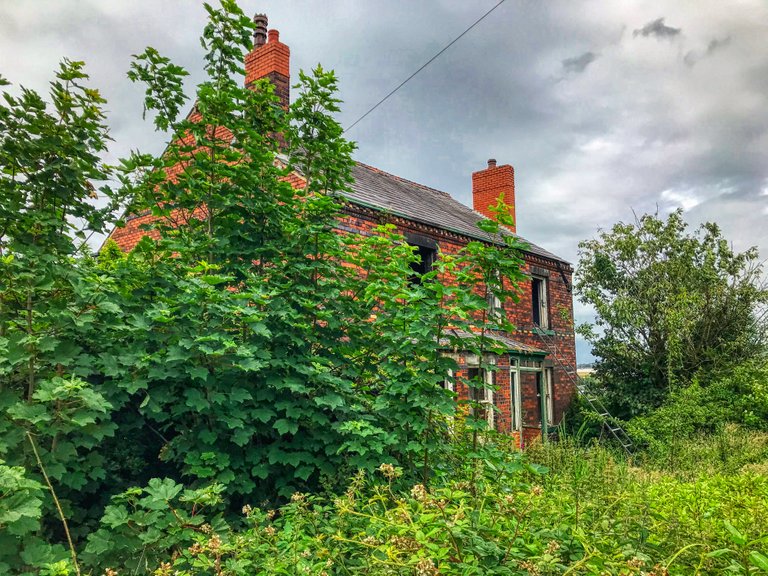 The Pig Farm was a visit last June and a rare solo for me. @bingbabe was with me but too chicken-shit to come in. I had no choice but to brave the big bad farmhouse alone.
As for the history, I do know the real name of the farm but other than the usual, 'plans to renovate the land into several homes', there's nothing out there.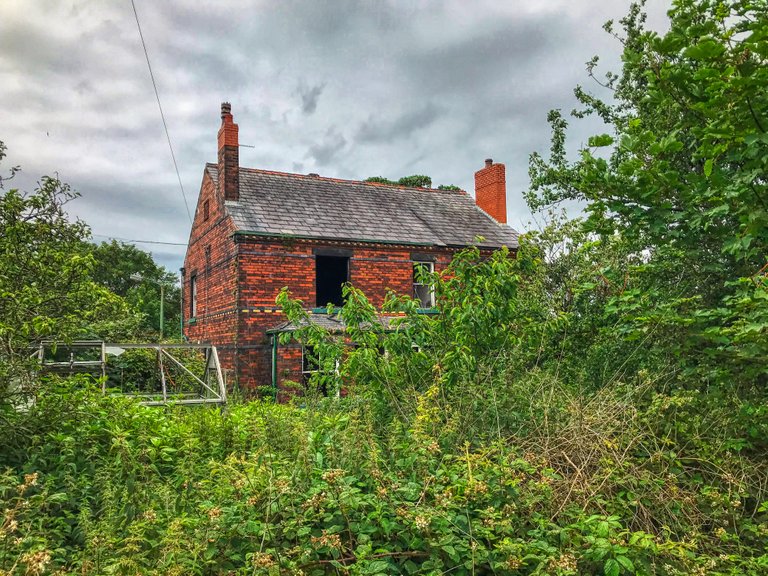 I won't add the article link as I don't want to reveal the location of this one.
The google images are so old for this rural location that it shows cars on the grounds and the premises obviously habitable.
That was 2015, and so if I can assume the owners left shortly after this, that's five years of possibly being empty.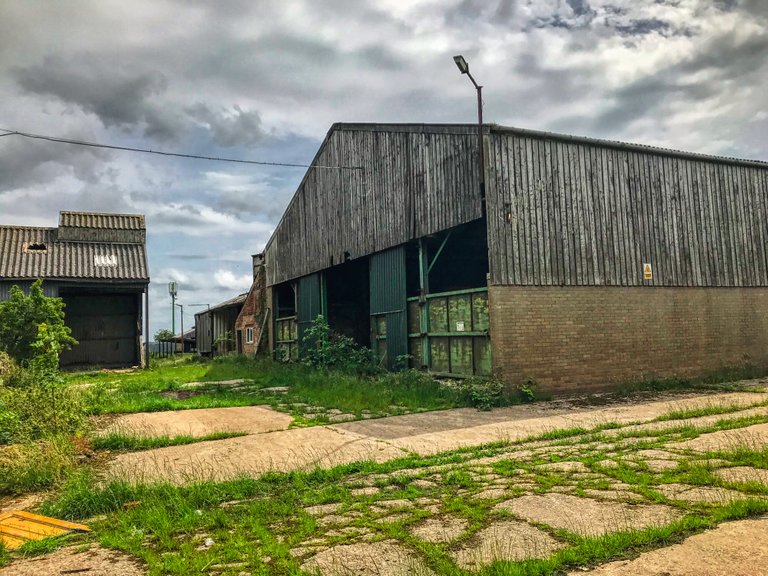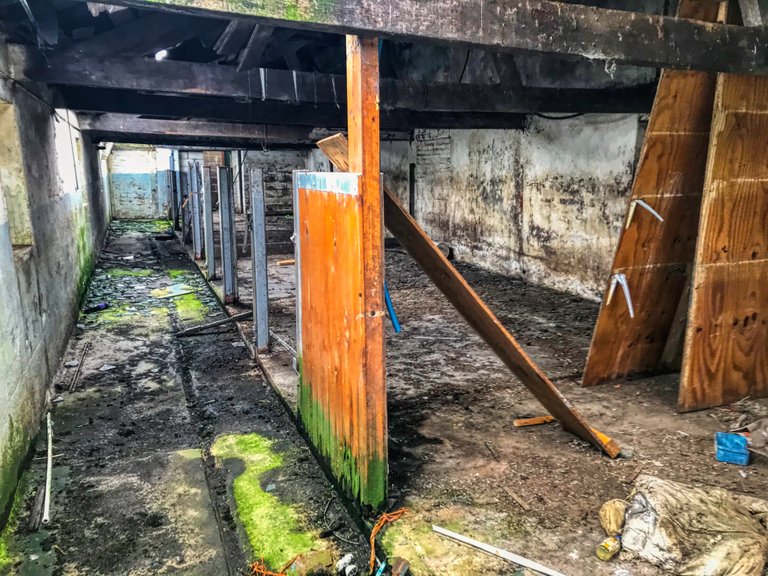 Pigs are not photogenic; the barns they lived in and the shit they deposit, even less so. I made short work of the outhouses, made for the main course, and hoped something might be left after half a decade of neglect.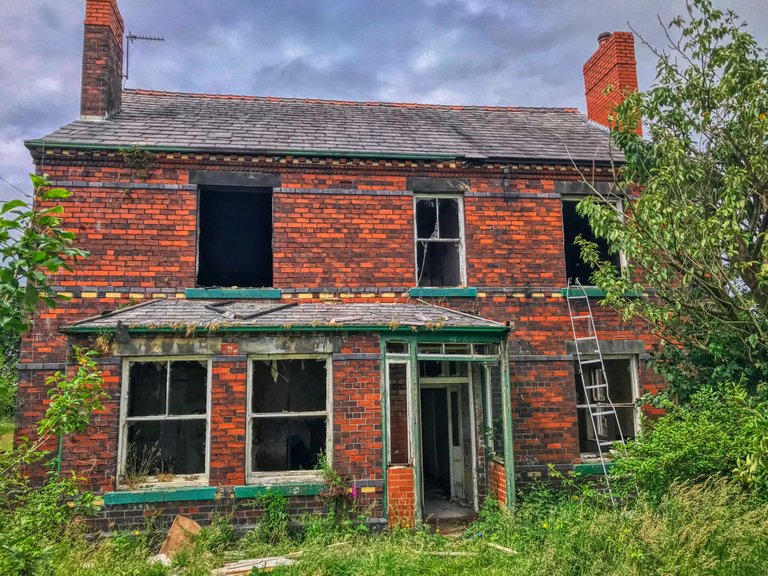 The decision to take the wonky ladder or head through the front door was a tough one, what would you have done?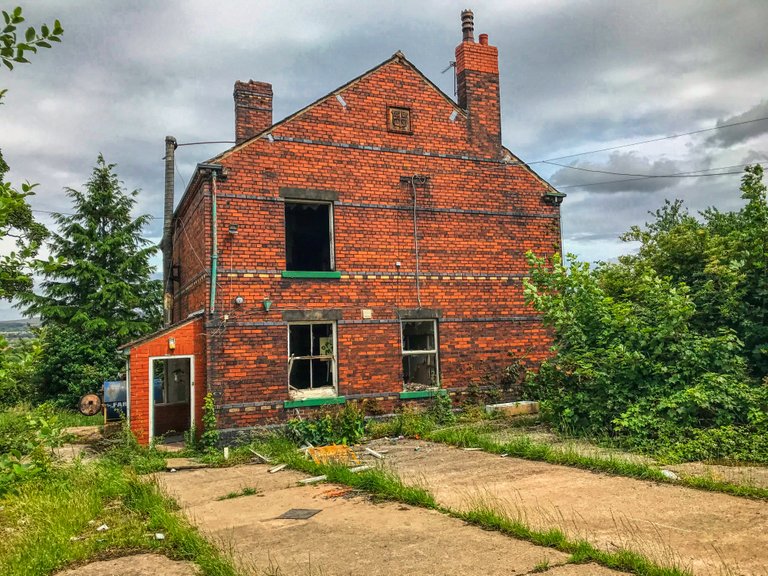 In the end, I did neither and entered via this side door.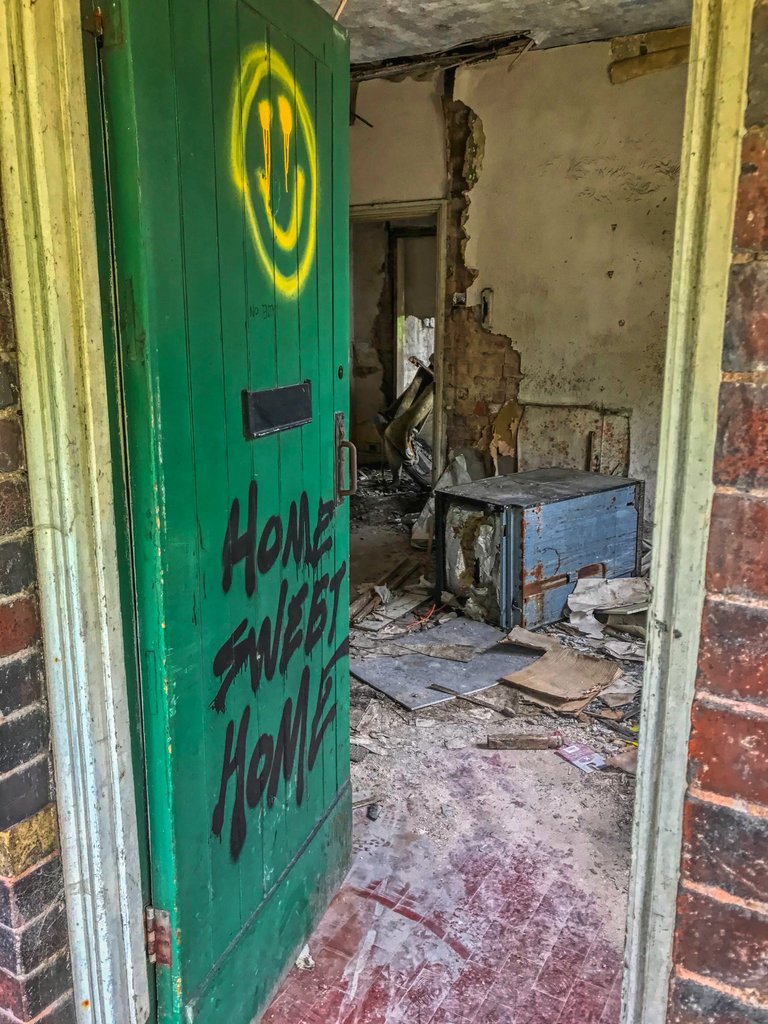 Feeling at home right away, courtesy of the welcoming graffiti, I found myself in the kitchen.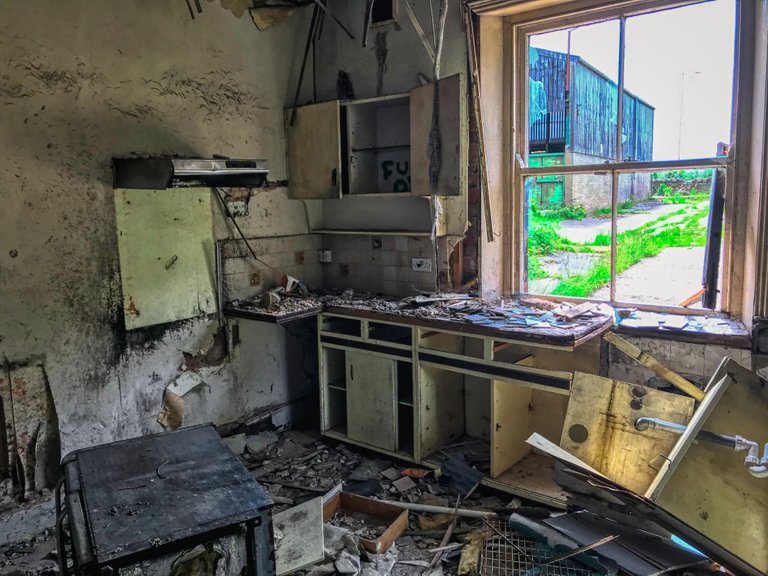 What was written in the open cupboard, I just can't imagine?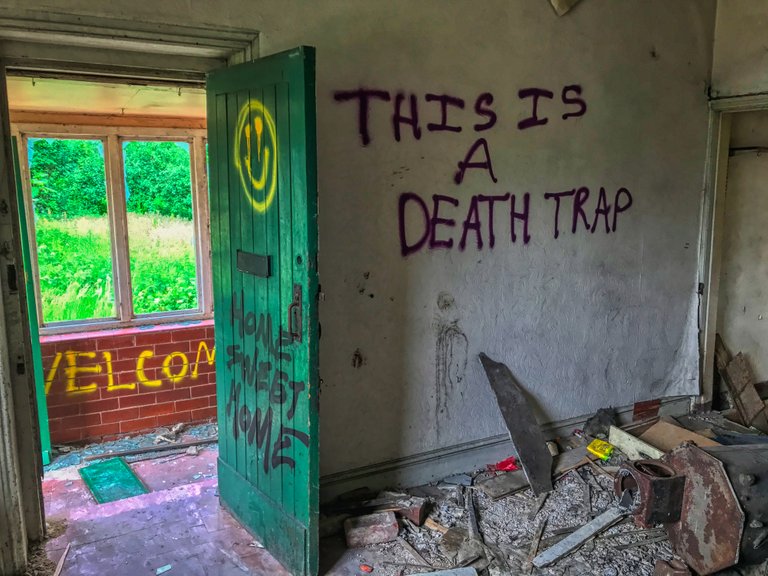 It is truly gratifying when you see information such as this. The Urbex community are such a helpful set of people, full of advice and tips.
Needless to the warning, I continued and noticed the 'death-trap' in front of me.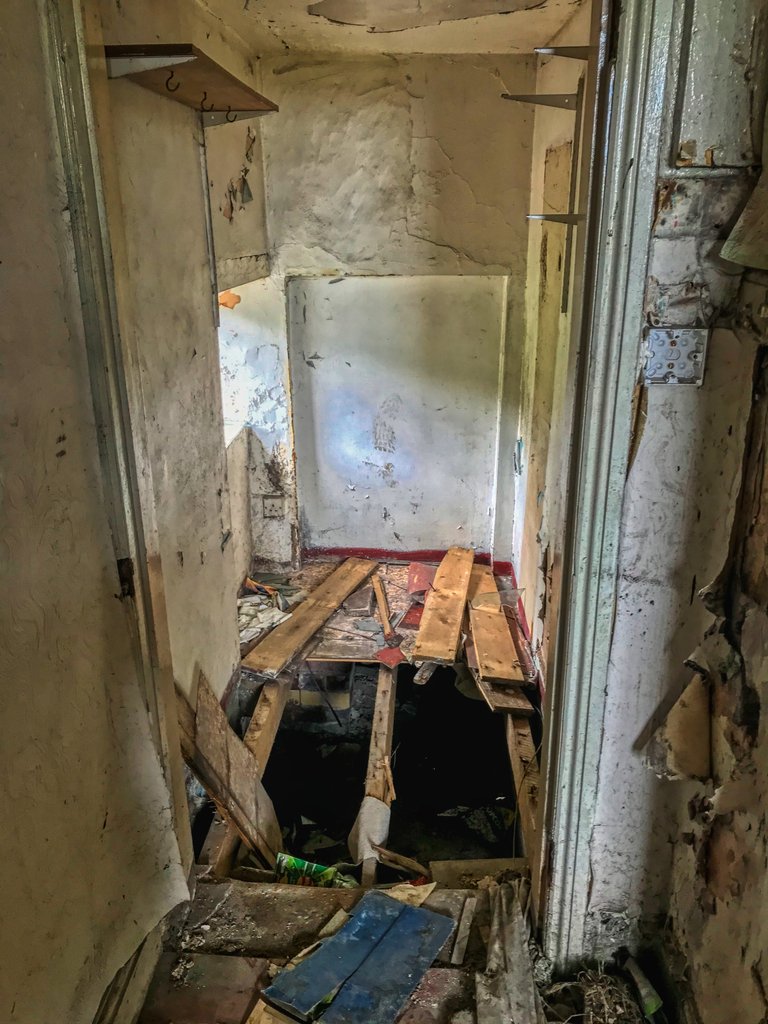 …'I could have balanced on the dodgy beams, so long as I didn't mind nails sticking in my feet'…
The room I was forced to avoid, it was small and insignificant looking.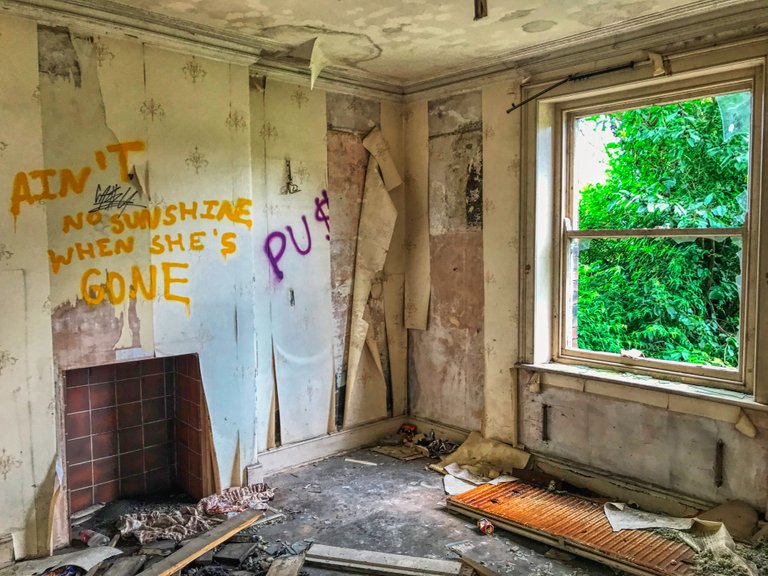 Finding 'stuff' in The Pig House was not going to be easy. On this occasion, the previous owners had removed everything when they left.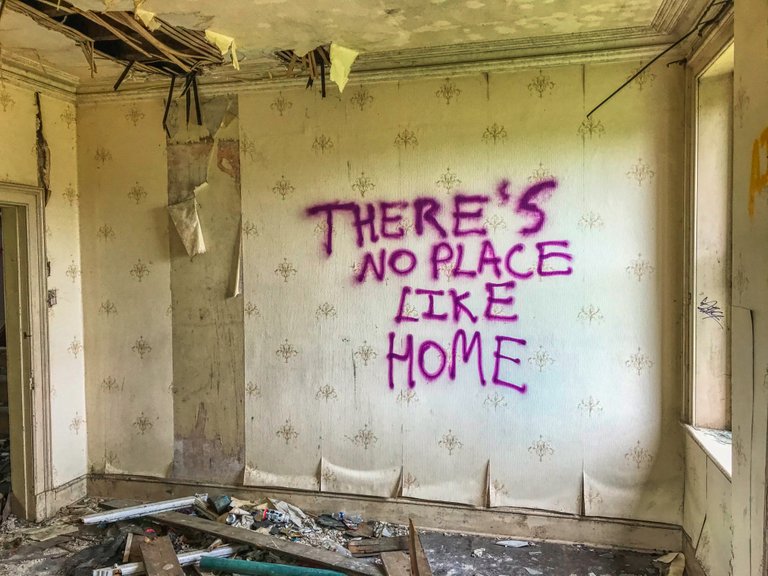 Most inconsiderate of them I say. They did leave the wallpaper I suppose.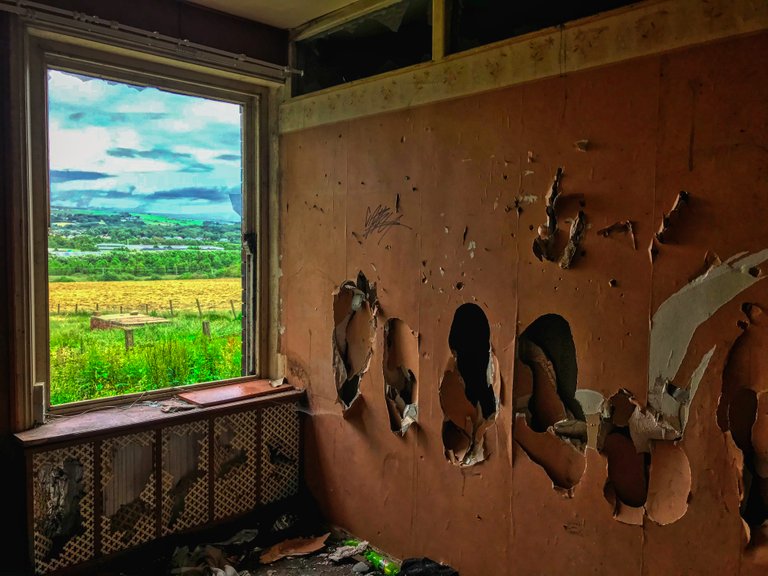 What a great view of the countryside, my filtering makes it a little too colourful on this occasion.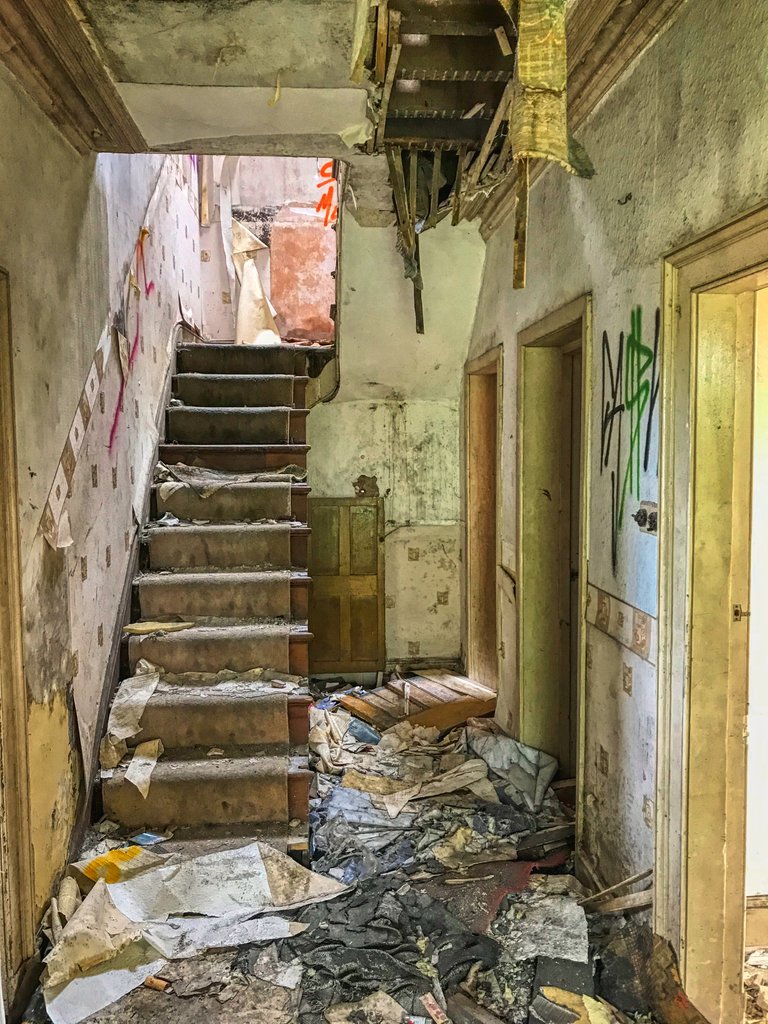 The stairs looked nice and sturdy, with no banister and just a tad of a hole on the other flight.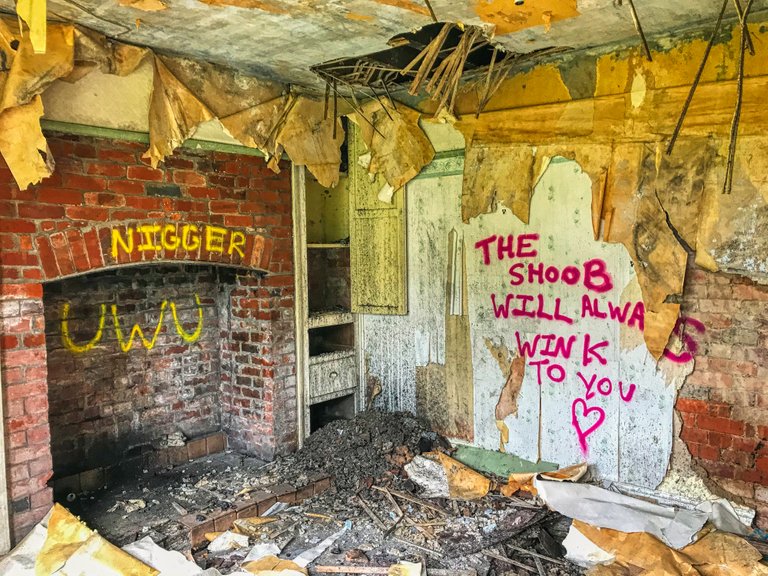 You can't escape racism in old buildings, it's everywhere.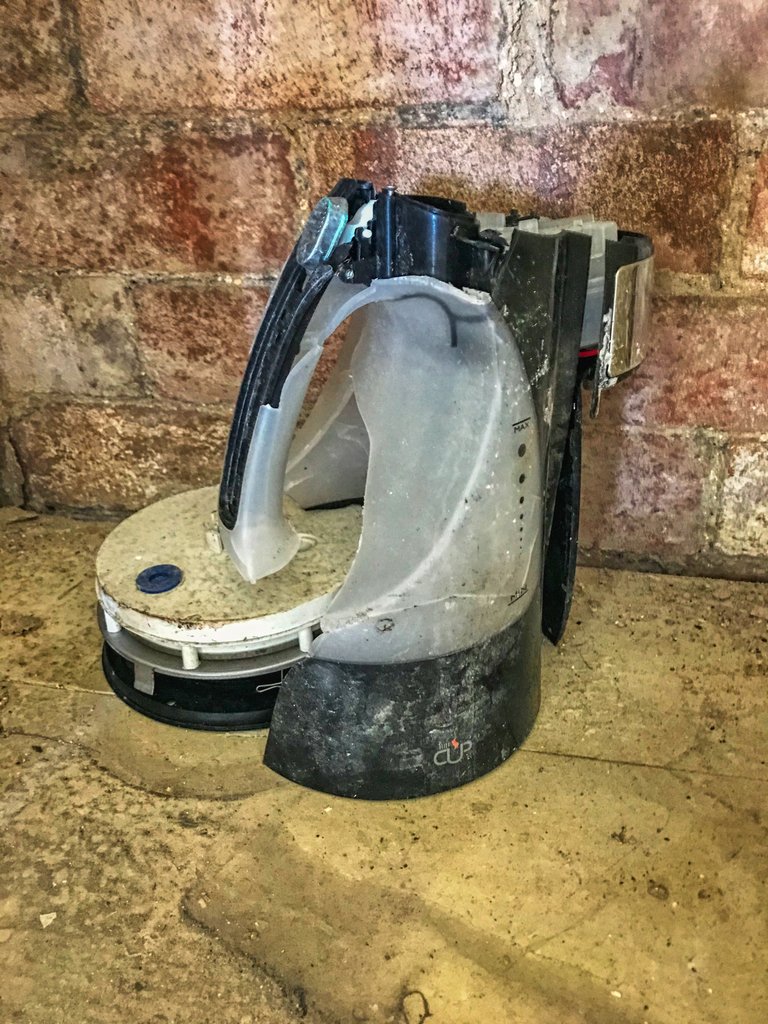 A broken kettle; I had found something other than stones, bird shit, and grime. Was there hope for more?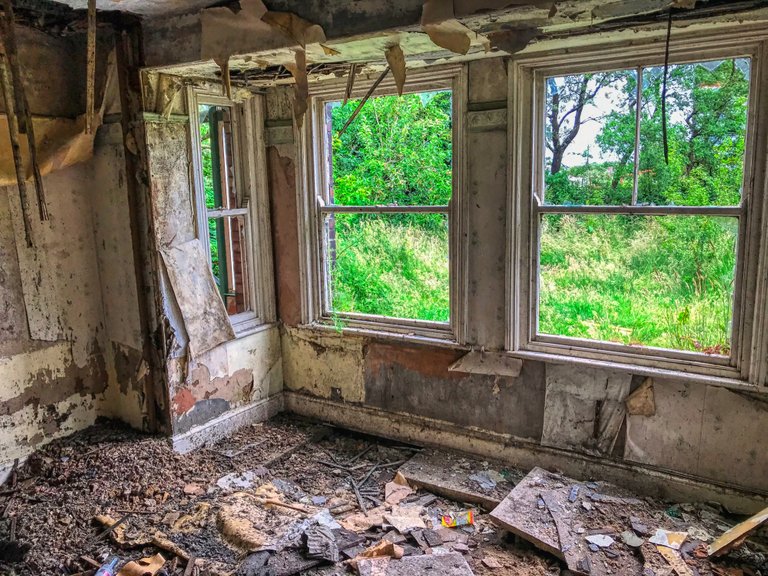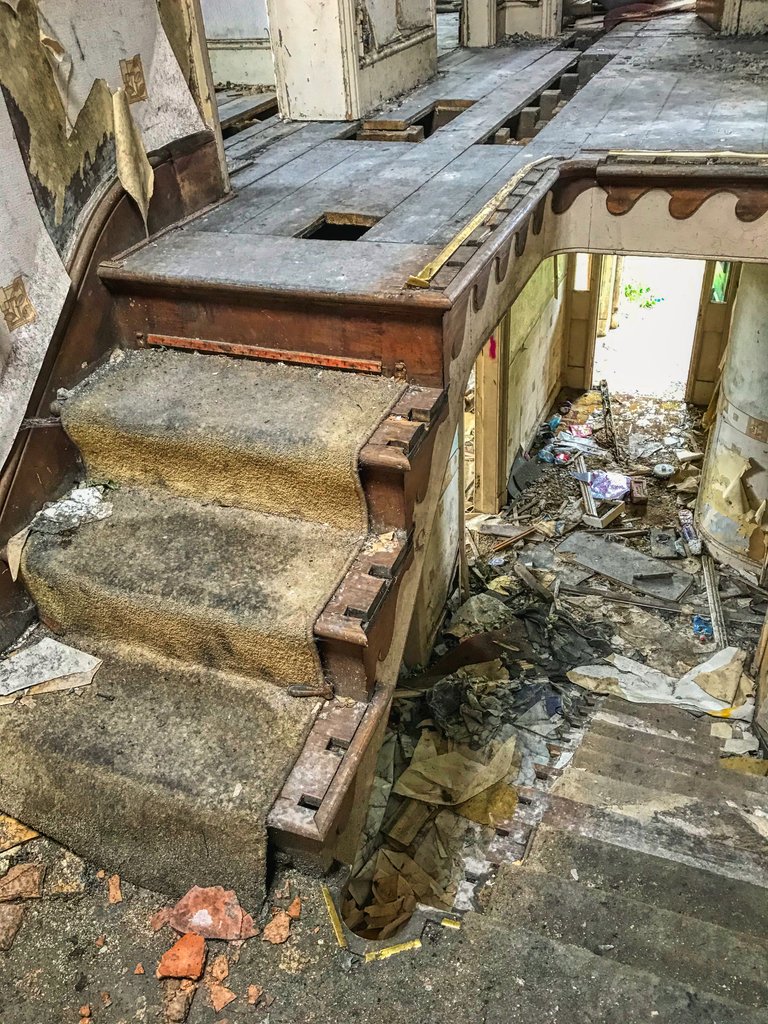 So upstairs was a little dodgy, with plenty of holes and spongy wooden flooring. I would give it another 2 years and then going upstairs will be out of the question.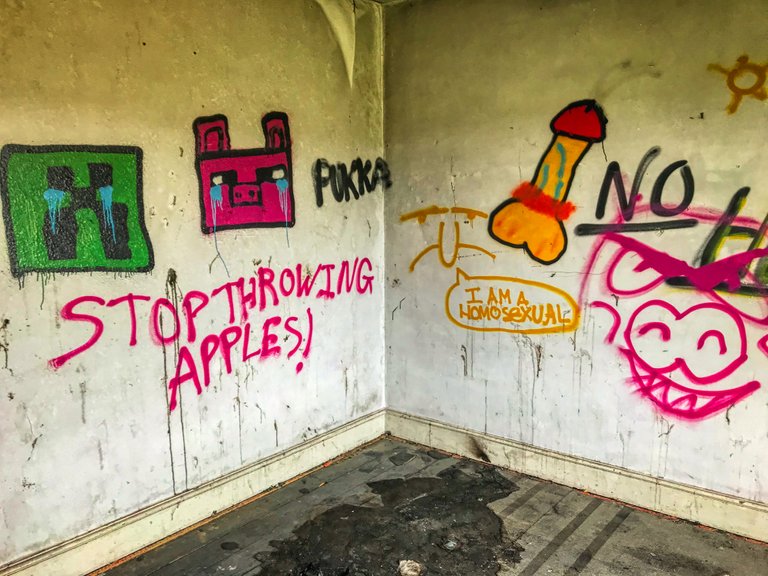 I was treading most tentatively on the second floor. Every step gave me a creak making it unnerving.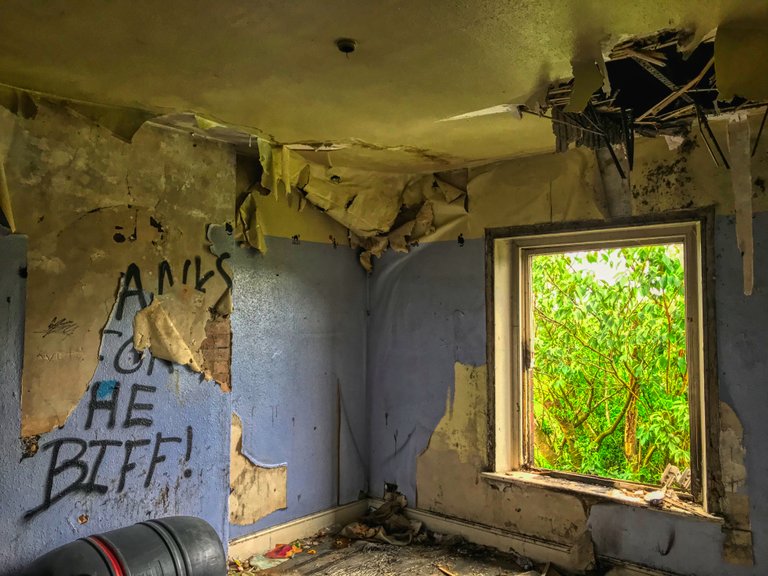 One room burnt out and the other laid with the finest Axminster. Which one to visit first?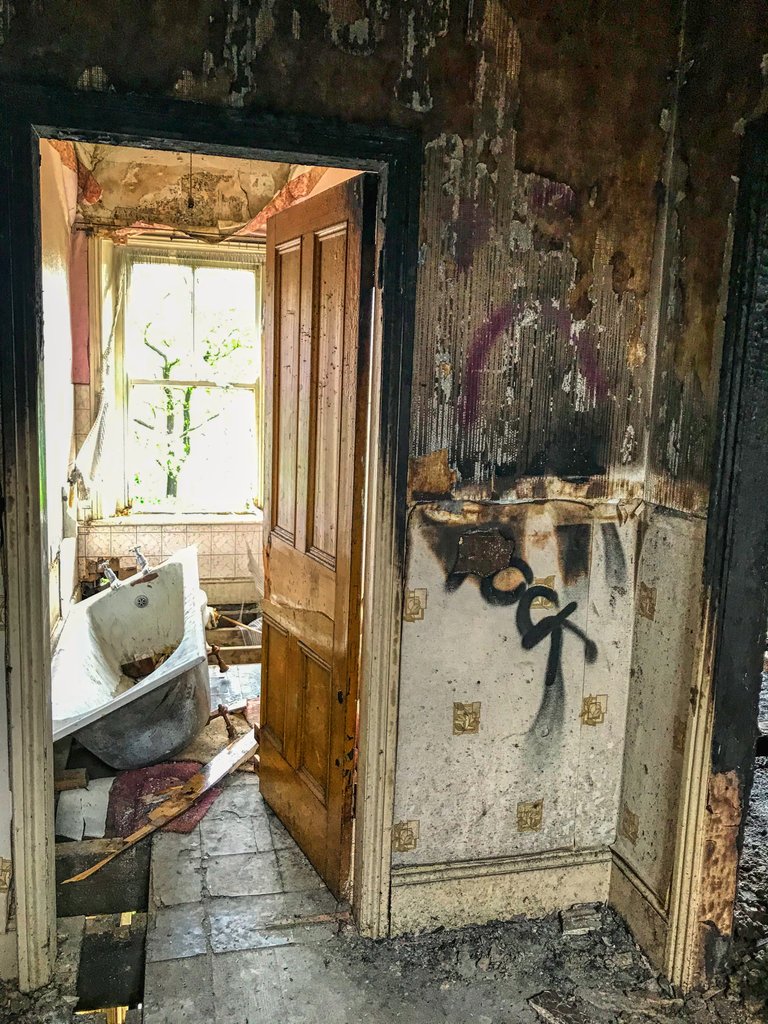 Next to the burnt room was the bathroom, except taking a bath is now out of the question.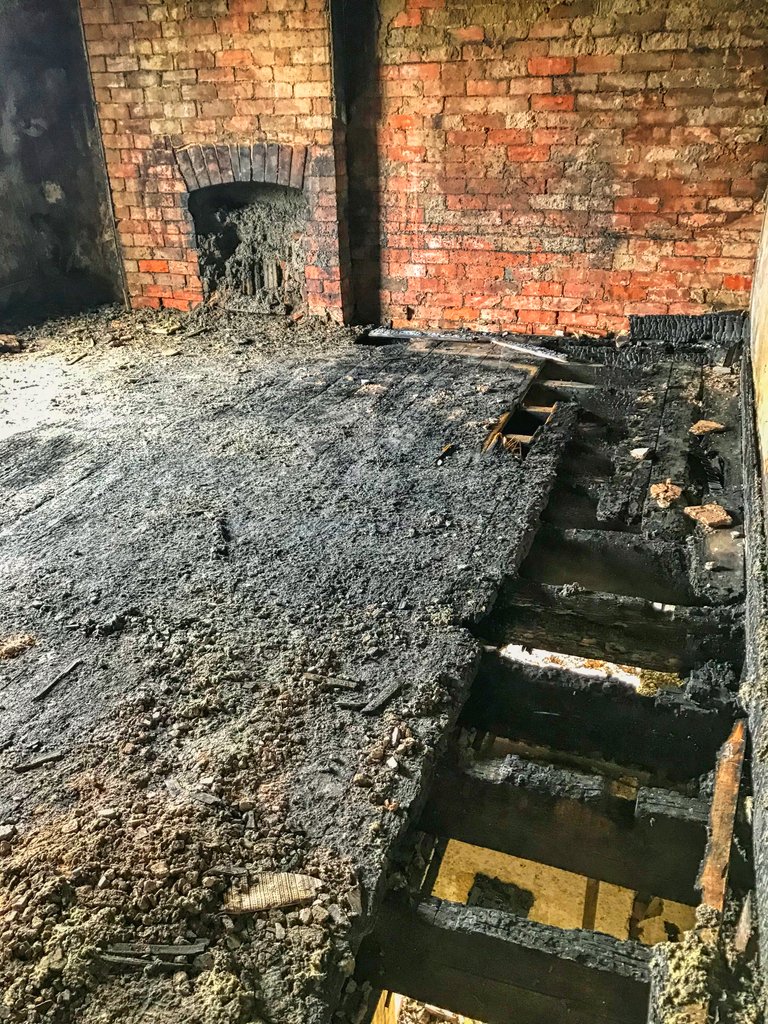 I thought it unwise to tread in the burnt room.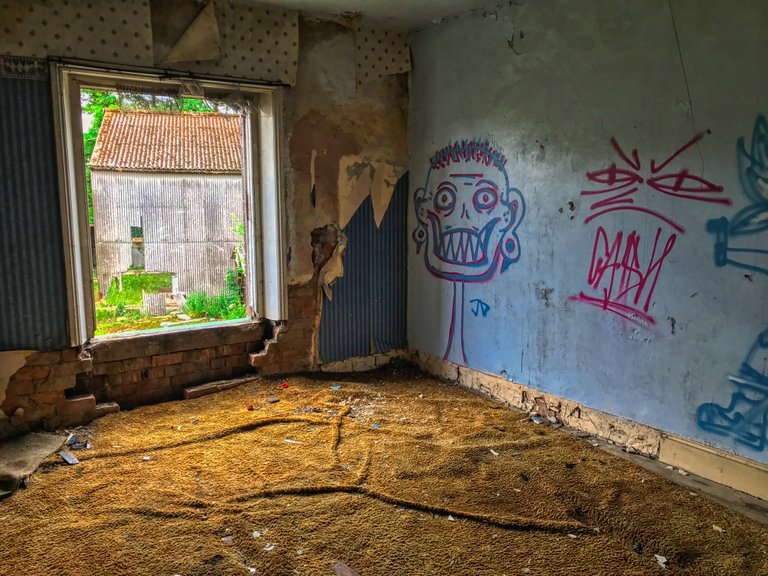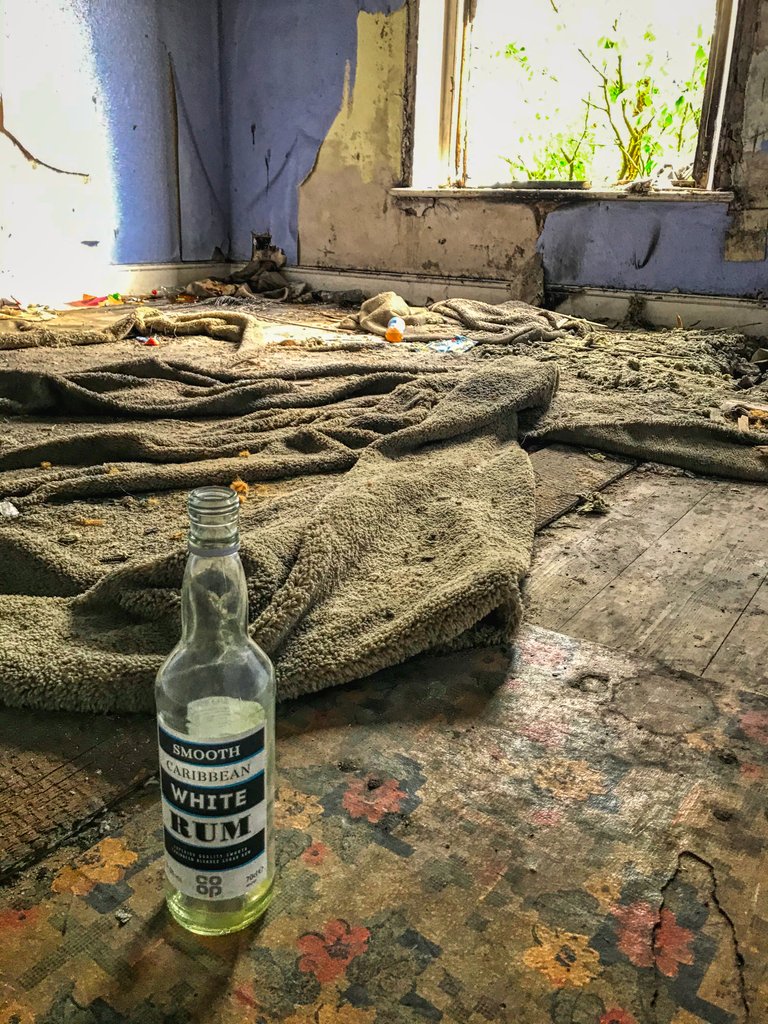 The Axminster room is obviously where the action happens. Is that some rum left in the bottle, or piss?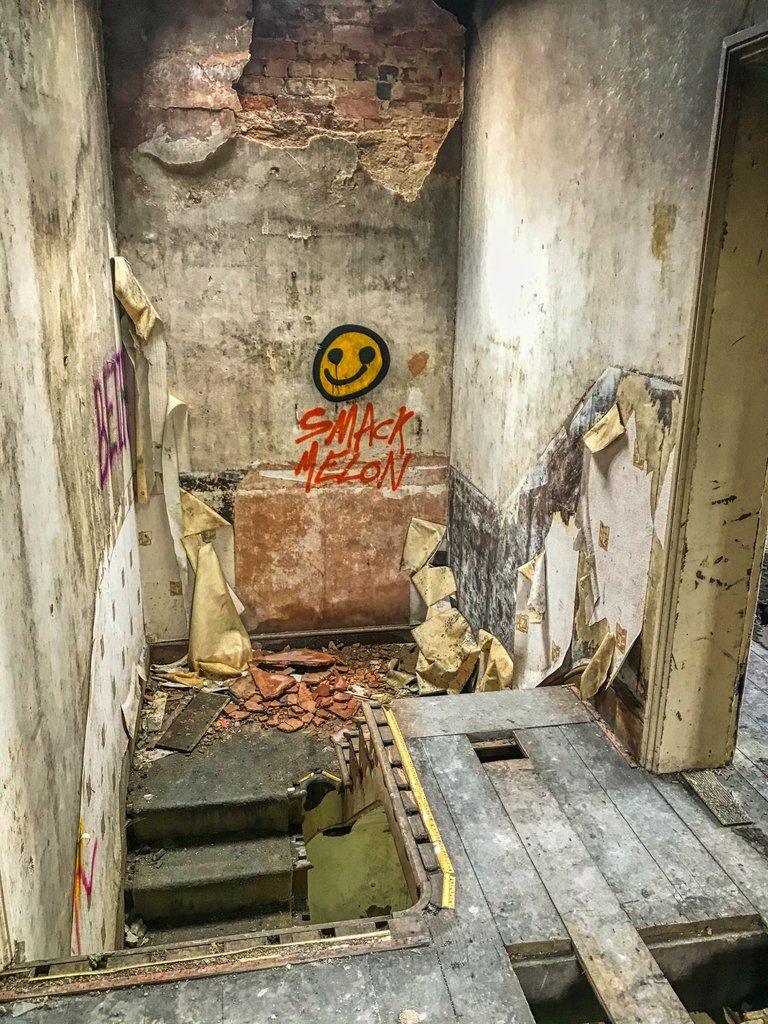 I made my way very slowly downstairs again. The upper floor maybe being part of the warning scribbled on the lower floors' walls.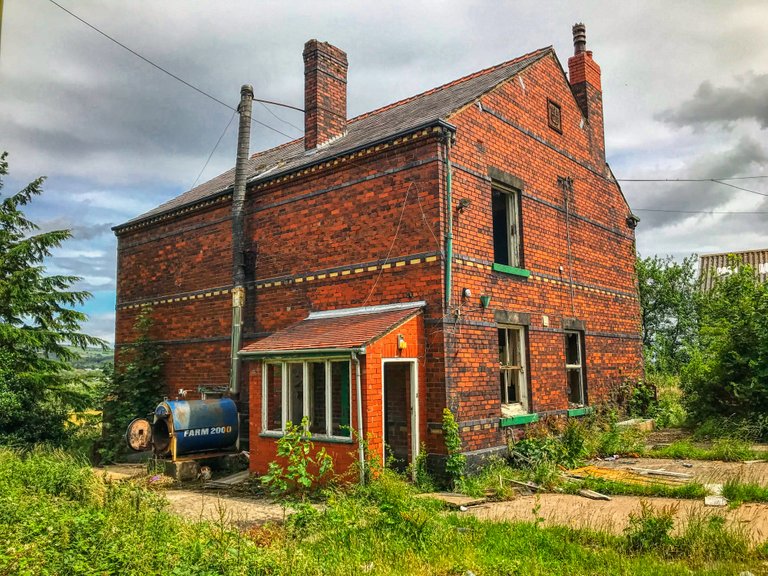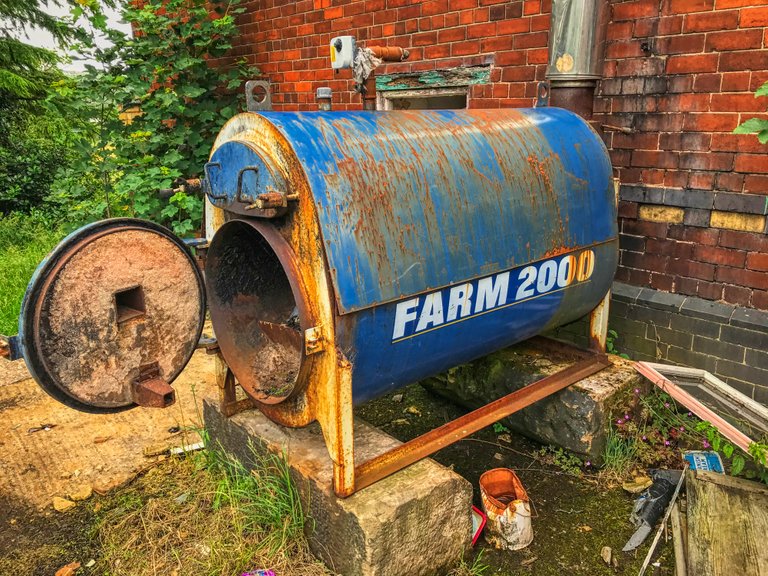 They must have produced their own power once.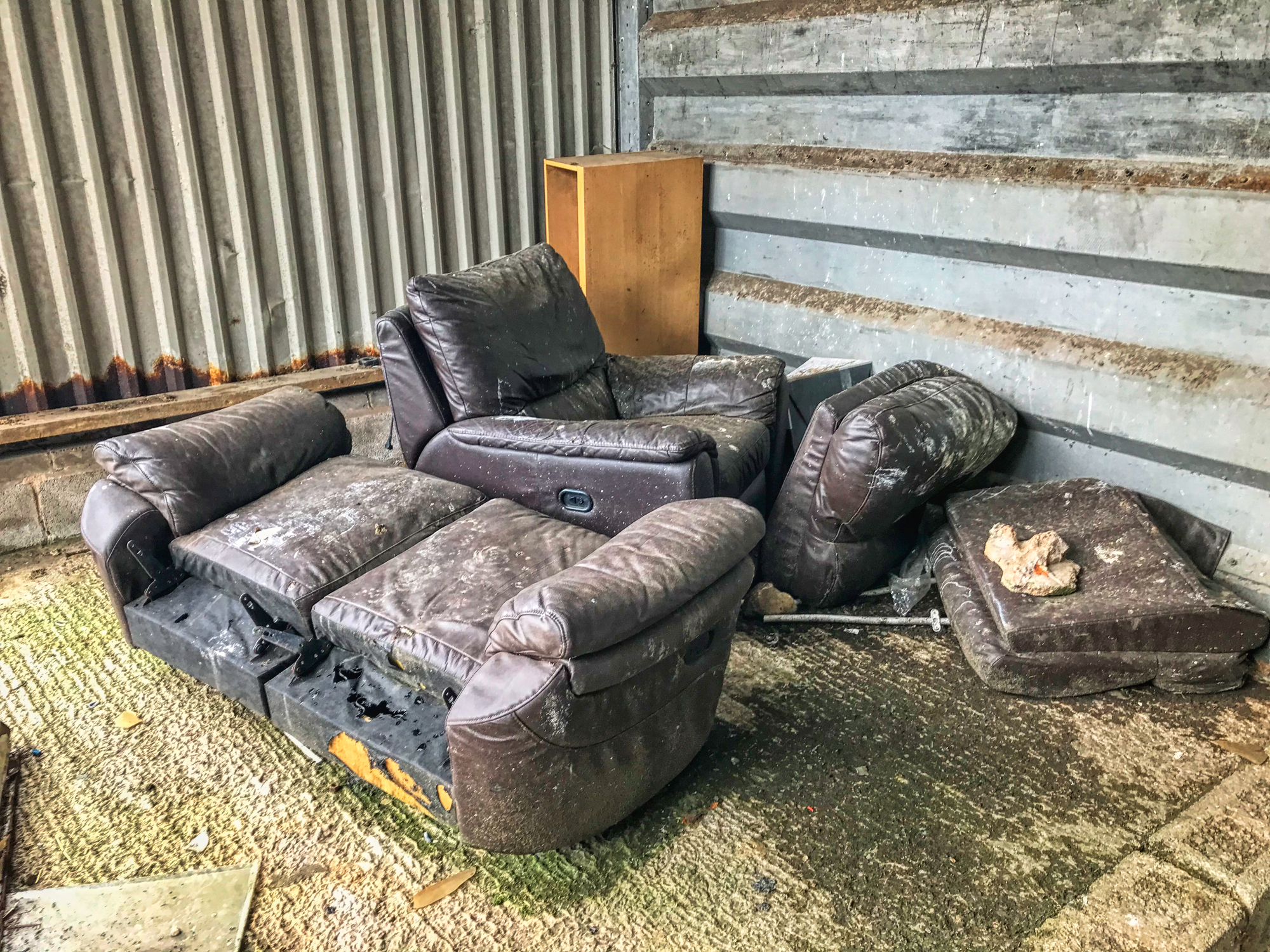 The sofas were in the closet outhouse, nice leather with just a hint of mould.
In all honesty, there was little to see in The Pig Farm. I do love farmhouses usually, they are up with the best explores, but not all farmhouses are equal.
There some classic English Literature in that statement somewhere. Doesn't that fit with the pigs?

Do you like posting your Urbex content and photography for FREE on Facebook and YouTube? I like to get some form of reward for my work and every time I create I do just that. Take a look at The Urbex Community on HIVE.
If you want to keep creating for FREE then ignore what you are reading. If you want to be like me and gain something other than BUGGER ALL for your work then click here and learn about posting on the HIVE blockchain.

Earn FREE EOS from Coinbase by taking partaking in a simple quiz here
Earn currency while you play brewing virtual beer with CryptoBrewMaster
Earn currency while you play and become a global Rock Star with Rising Star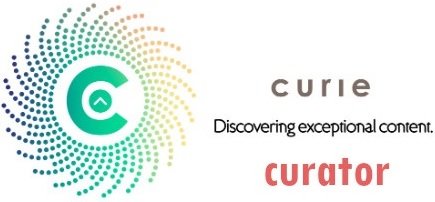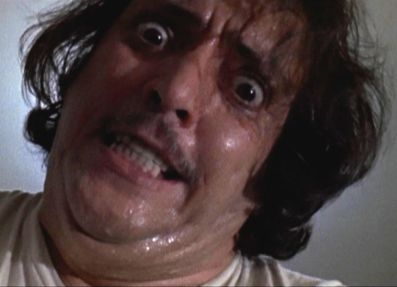 If you found this article so invigorating that you are now a positively googly-eyed, drooling lunatic with dripping saliva or even if you liked it just a bit, then please upvote, comment, rehive, engage me or all of these things.