After dinner, I watched "Magadheera" on Amazon Prime Video with my family. Having recently seen "RRR" at the movie theater, I wanted to watch this movie, which also has the same director and the same lead actor.
Although it was quite different from what I had imagined (compared to "Baahubali" and "RRR," "Magadheera" is much closer to a comedy), the story was quite good, with its unorthodox storyline typical of Indian cinema. The whole family watched it together, giggling and laughing.


When we were about halfway through watching the movie, my older son noticed that the living room door was stuck open. I also tried turning it, but the knob just kept spinning and the key inside didn't seem to turn.
We are on the second floor of an apartment building, the living room is on the balcony side, and there is only one door that leads to the front door. I looked up how to open the door on the Internet, and tried to open it by inserting plastic cards and wire hangers into the door, but it did not open. So all four members of my family were trapped in the living room. We couldn't even go to the bathroom‼
I tried calling the call center of the management company, but was told that the line was busy... I had no choice but to call the branch office where I had signed the contract when I moved in and told them what had happened, and finally a repair person was able to come.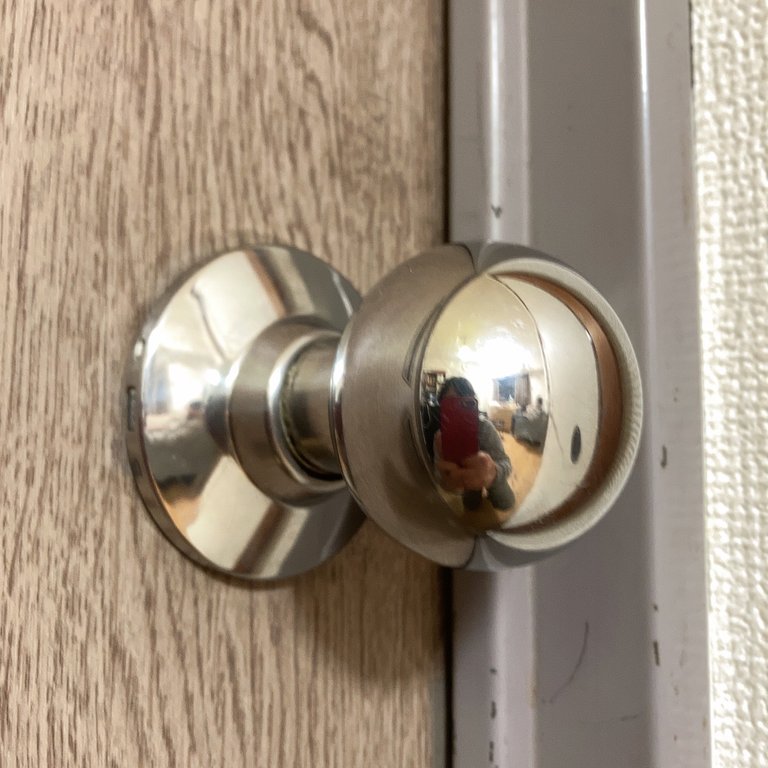 But the front door is of course locked and we are locked in the living room and cannot open the front door. So in order to get the repair people into my house, we had to drop the key from the balcony for them to catch it (thank goodness the key was left in the living room...)
I successfully handed them the keys from the balcony and they were able to safely enter the house. The doorknob that had stopped opening was disassembled and opened, which probably took about 10 minutes of work. From what I could see, it didn't look like it could be opened with plastic cards or wire hangers.
It was a mishap, but in a way it was a good thing that it stopped opening when all four of my family were in one room. Because it didn't seem like it would be easy to open from the other side. If, for example, the lock had been stuck when only the second son (4) was left on the front door side, it would have been difficult in many ways.
I did notice that the doorknob was not working well after the new year. I should have contacted the management company earlier to have it fixed. Housing-related problems should not be left unattended.
I will remember this incident every time I watch "Magadilla" from now on!




○●━━━━━━━━━━━・・・‥‥




晩御飯の後、Amazonプライムビデオで『マガディーラ 勇者転生』を観ていました。先日映画館で『RRR』を観てきたこともあって、同じ監督・同じ主演のこの映画も観てみたくなったのです。
結果、思っていたのとはだいぶ違いましたが(『バーフバリ』『RRR』と比べるとかなりコメディ寄り)インド映画らしい滅茶苦茶感がなかなか良く、家族でゲラゲラ笑いながら観ていました。


半分くらいまで観たところで、長男がリビングのドアが開かなくなっていることに気づきました。言われて私も回してみましたが、ノブの部分がくるくる回るばかりで中のカギが回っていないようなのです。。。
我が家はマンションの2階、リビングがあるのはベランダ側、玄関に通じるドアはその一つしかありません。インターネットでドアの開け方を調べ、プラスチックのカードや針金ハンガーなどをドアの隙間に入れて開けようと頑張りましたが、開きません。というわけで家族4人、全員がリビングに閉じ込められた状態になってしまいました。トイレにも行けない(笑)
管理会社のコールセンターに電話してみるも「回線が混み合っています」・・・やむを得ず入居時に契約した支店に電話して事情を話し、ようやく修理の方に来てもらえることになりました。
ただ玄関の鍵はもちろん閉まっており、リビングに閉じ込められている私たちは玄関を開けることができません。そこで修理の方に家の中に入ってもらうためには、ベランダから鍵を落として彼らにキャッチしてもらわなければなりませんでした(鍵がリビングに置いてあって良かった…)。


鍵の受け渡しはうまく行き、無事家の中に入ってもらうことができました。開かなくなったドアノブは分解して開けてもらいましたが、作業に10分くらいは掛かっていたでしょうか。見ていた感じ、プラスチックカードや針金ハンガーで開けられる雰囲気ではありませんでした。
災難ではありましたが、反対側からなら簡単に開くというわけでもなさそうだったので、4人全員が一室に揃っている時に開かなくなったのはある意味良かったです。例えば次男(4)だけが玄関側に取り残された状態で鍵が開かなくなったりしていたら、色々と大変だったことでしょう。
確かに年が明けてから、ドアノブがちょっとゆるゆるしていたのは気づいていたんです。もっと早くに管理会社に連絡して、直してもらうべきでした。住居関連の不具合は、放置していてはダメですね。


今後『マガディーラ 勇者転生』を観る度に、この一件を思い出すことになりそうです😅