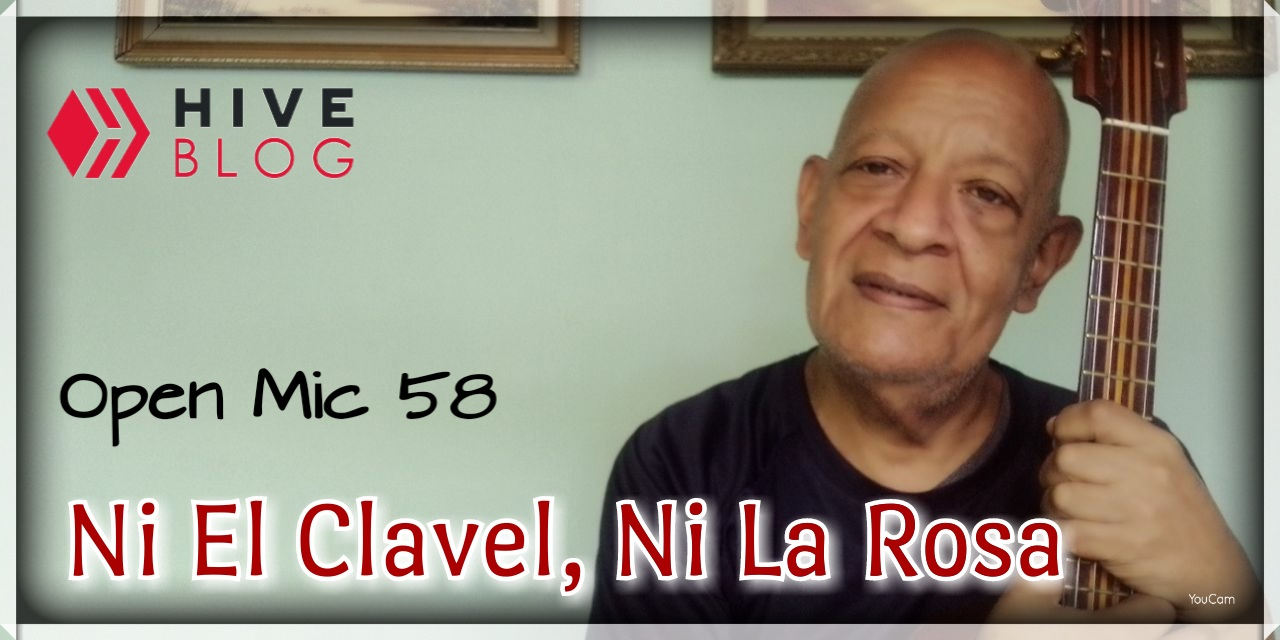 Happy Open Mic Community Day! We have reached week 58 and the theme to share is "Memories". Countless songs come to my mind, my own and by great artists of the past, but among all of them, I want to pay a small tribute to one of the Latin American favorites.
He composed and performed this song titled "Ni El Clavel, Ni La Rosa". It was the fourth track from his first album "Fuiste Mía Un Verano" and dates from 1968. Like all his songs, it is a great classic of the ballad in Spanish.
The song is based on the memory of love. In that nothing is more important than being loved, and when the years pass and life changes, all we have to do is remember, remember those beautiful feelings that once tied us in our souls to continue renewing them every day until the end of our lives. lives ... That's love!
I recorded my video with a Yezz 1 Max Plus and edited it with Camli App. Also, I edited the selfies with PhotoDirector App. Thanks Open Mic for this week's topic. What a thrill to make music and share anecdotes through our music! Success for everyone, and until next week.
Sometimes I feel that my soul is in shadow
then I lean in, I kiss you and there is light
and I get beautiful, very tender words
I smile and say to myself: "This is love".
I remember one afternoon I discovered that your hair
smelled like a lemon blossom smells
poking at your gaze, I knew there was heaven
and my mouth silently murmured a song:
La la la la ra [This is love]
And I sang to the miracle of knowing that you love me
and I yelled at the people that the sun looks like you
and that nothing matters to me, neither the carnation nor the rose
and that spring passes without me seeing it
because you cover everything, even the pleasure that I ignore
And the air that I breathe doesn't help me
if I do not feel the breath of your mouth in my mouth
and if I see a child, while smoking I wait,
I tell him that he is very cute, and in his laugh I see you.

¡Feliz día comunidad de Open Mic! Hemos llegado a la semana 58 y el tema a compartir es "Memories". Innumerables canciones vienen a mi mente, propias y de grandes artistas del pasado, pero de entre todas ellas, quiero hacer un pequeño homenaje a uno de los favoritos de latinoamérica.
El compuso e interpretó esta canción titulada "Ni El Clavel, Ni La Rosa". Fue el cuarto track de su primer álbum "Fuiste Mía Un Verano" y data del año 1968. Al igual que todas sus canciones, es un gran clásico de la balada en español.
La canción se basa en el recuerdo del amor. En que nada tiene más importancia que el ser amado, y cuando pasan los años y la vida cambie, lo único que debemos hacer es memoria, recordar aquellos hermosos sentimientos que una vez nos ataron en alma para seguir renovándolos cada día hasta el fin de nuestras vidas... ¡Eso es el amor!
Grabé mi video con un Yezz 1 Max Plus y lo edité con Camli App. Además, los selfies los edité con PhotoDirector App. Gracias Open Mic por el tema de esta semana. ¡Que emoción hacer música y compartir anécdotas a través de nuestra música! Éxito para todos, y hasta la próxima semana.
A veces presiento que mi alma está en sombras
entonces me inclino, te beso y hay luz
y me salen lindas palabras muy tiernas
sonrío y me digo: "Esto es el amor".
Recuerdo que una tarde descubrí que tu pelo
olía como huele la flor de un limonero
hurgando en tu mirada, yo supe que había cielo
y mi boca en silencio, murmuró una canción:
La la la la ra [Esto es el amor]
Y le canté al milagro de saber que me quieres
y le grité a la gente que el sol se te parece
y que nada me importa, ni el clavel ni la rosa
y que la primavera pasa sin que la vea
porque lo abarcas todo, hasta el placer que ignoro
y el aire que respiro no me sirve de alivio
si no siento el aliento de tu boca en mi boca
y si veo algún niño, mientras fumando espero,
le digo que es muy lindo, y en su risa te veo.