Hive Open Mic ( #openmic ) is a global community of music lovers, for music fans and musicians. Each week is a live music invitation for expression and connection.
---
Hive Open Mic - Highlights
Week 26: October 4-10, 2020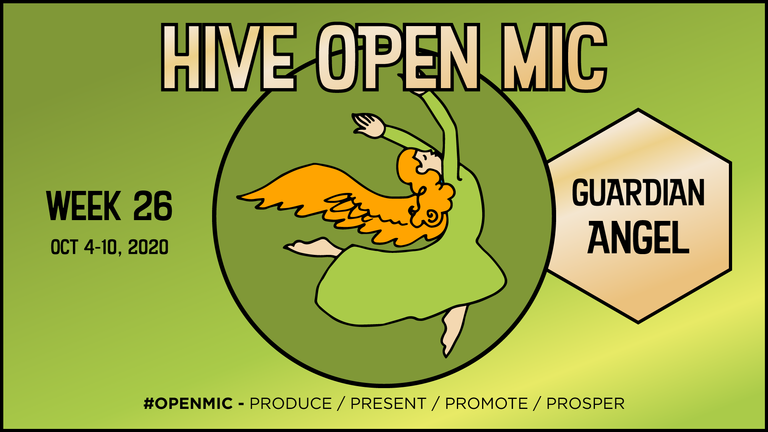 Today's highlights reveal tremendous artistry as Hive Open Mic participants explore new territory. Many of these songs speak to the "Guardian Angel" theme, with various interpretations. One person's song is dedicated to his mother—his guardian angel. Others dedicate songs to their girlfriends, holding these ladies in the same light. Let's look and listen.
---
🔥
Spotlight
Potpourri Matamoros (Cover) by @ylich
[Due to a @threespeak error, the video cannot be embedded here.]
View the Original Post
English: These chorus lines are stellar, with multiple versions of the artist's voice singing in harmony. It's a long song at 7+ minutes, and he keeps it interesting with some variety in the video effects, festive transitions, glimpses behind the scenes into the multitrack audio production work. Feels fitting for a song of this nature, being suitably quirky, energetic, fun, and exploratory. Perhaps most impressively, @ylich even created the background audio himself—the musical backing is a midi composition made for a keyboard. Impressive!
Español: Estas líneas de coro son estelares, con múltiples versiones de la voz del artista cantando en armonía. Es una canción larga de más de 7 minutos, y la mantiene interesante con algo de variedad en los efectos de video, transiciones festivas, destellos detrás de escena en el trabajo de producción de audio multipista. Se siente apropiado para una canción de esta naturaleza, siendo adecuadamente peculiar, enérgico, divertido y exploratorio. Quizás lo más impresionante es que @ylich incluso creó el audio de fondo él mismo: el acompañamiento musical es una composición midi hecha para un teclado. ¡Impresionante!
---
🔥
More Highlights
Nosotros (Cover) by @melor9
[Due to a @threespeak error, the video cannot be embedded here.]
View the Original Post
English: Exceptional singing in this one. I'm becoming more and more familiar with the unique qualities of this man's voice—his timbre, and I'm glad to get to know him in this way. It's a friendship centered around live music, how cool. @melor9 carries this song with grace and gusto, clarity and beauty. "Nosotros" is a well-known Bolero, by Perdo Junco.
Español: Canto excepcional en este. Me estoy familiarizando cada vez más con las cualidades únicas de la voz de este hombre, su timbre, y me alegra conocerlo de esta manera. Es una amistad centrada en la música en vivo, qué genial. @ melor9 lleva esta canción con gracia y gusto, claridad y belleza. "Nosotros" es un conocido Bolero de Perdo Junco.
---
View the Original Post
English: Ah, I adore the romantic gesture of a sweet serenade. This song is angelic in its divine melody as well as the lyrical substance, and I feel the soulful expression of love is much like the angels singing through the voice. Wonderful. This song is offered in honor of @jesuslnrs' guardian angel—the special lady in his life. The song is written by José Miguel Velasquez, made famous by Mexican performer Cristian Castro.
She lifted me off the ground with her love and simple existence, and just as I was already losing all hope of change.
Español: Ah, adoro el gesto romántico de una dulce serenata. Esta canción es angelical en su melodía divina, así como en la sustancia lírica, y siento que la expresión conmovedora del amor se parece mucho a los ángeles que cantan a través de la voz. Maravilloso. Esta canción se ofrece en honor al ángel de la guarda de @jesuslnrs, la dama especial en su vida. La canción está escrita por José Miguel Velásquez, hecho famoso por el intérprete mexicano Cristian Castro.
Ella me levantó del suelo con su amor y su simple existencia, y justo cuando ya estaba perdiendo toda esperanza de cambio.
---
In the Morning When I Rise (Cover) by @joshuabbey
View the Original Post
It's always a pleasure hearing from this musician. I appreciate his way of celebrating the presence of Jesus in his life, a man whose earth walk continues to inspire, like a guardian angel. I get a feeling of peace and hope through the song here.
---
[Due to a @threespeak error, the video cannot be embedded here.]
View the Original Post
@celticheartbeat tells the story of a special person in his life who is his guardian angel—his girlfriend. "Thinking Out Loud" is a song by Ed Sheeran. This is one of the world's greatest romance songs, in my opinion. I film a lot of weddings in my work as a videographer, and this song is often designated for the first dance. It's magic like that.
---
[Due to a @threespeak error, the video cannot be embedded here.]
View the Original Post
English: This precious man presents an original song, full of delight. His song fills me with joy, feeling the gratitude for his guardian angel—your mom. It's a beautiful sentiment, inspiring to me. I see my mom and dad in a similar light, being my guardians, and imagining their angelic/saintly qualities too.
Español: Este hombre precioso presenta una canción original, llena de alegría. Su canción me llena de alegría, sintiendo la gratitud por su ángel de la guarda, tu mamá. Es un sentimiento hermoso que me inspira. Veo a mi mamá y a mi papá bajo una luz similar, siendo mis guardianes e imaginando sus cualidades angelicales / santas también.
---
Inmagine / Imagine (Cover) @beto14
[Due to a @threespeak error, the video cannot be embedded here.]
View the Original Post
English: Community, let's welcome @beto14, joining us for the first time. This is a great first entry. "Imagine" is one of my favorite songs, and this man carries it brilliantly. I'm thankful for the remembrance of the legendary songwriter, John Lennon, on his birthday week—he would've been 80 years old.
There are people who dream of a better world and that beyond the evil of man we can make Love prevail.
Español: Comunidad, demos la bienvenida a @ beto14, que se une a nosotros por primera vez. Esta es una gran primera entrada. "Imagine" es una de mis canciones favoritas, y este hombre la interpreta de manera brillante. Estoy agradecido por el recuerdo del legendario compositor, John Lennon, en la semana de su cumpleaños: tendría 80 años.
Esa frase revela que hay personas que soñamos con un mundo mejor y que mas allá de la maldad del hombre podemos lograr que prevalezca el Amor.
---
"The Animals Come" (Original) by @cabelindsay
View the Original Post
My entry is an original song about serving the planet, the people, and the animals, protecting the waters of our world. In this way, we are like the guardian angels.
---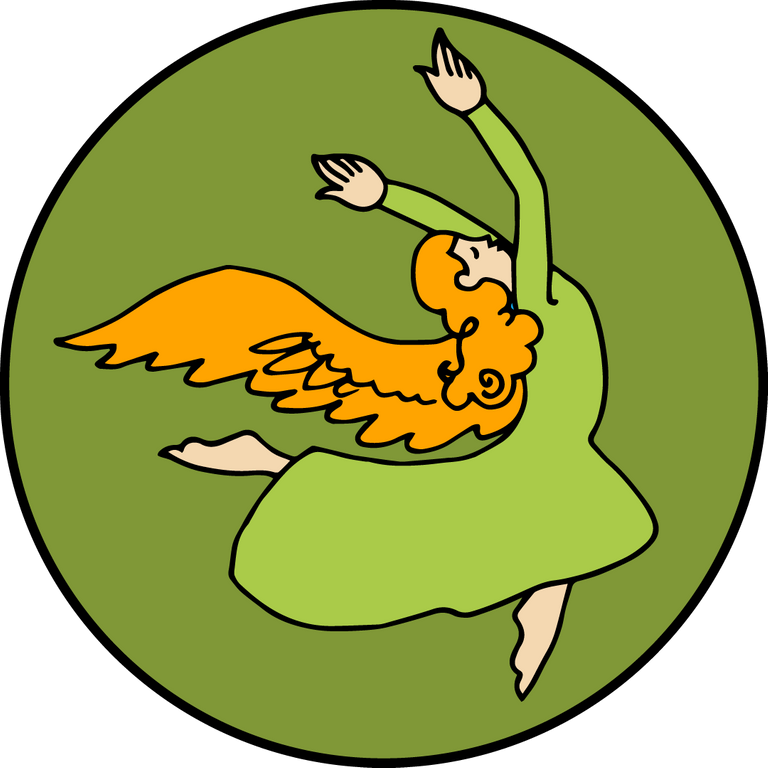 Appreciation
Hive Open Mic showcases Hive's gifted and talented musicians. I honor these artists for expressing themselves in a way that creates connection. To me, we all benefit through the camaraderie between musicians and music fans, sharing a musical vibration. Please join me in extending our gratitude through claps, finger snaps, and tips to individual musicians.
---
Inspiration
Violinist Rachel Podger performs "Rosary Sonata," a.k.a. "The Guardian Angel." This is a composition by Heinrich Ignaz Franz von Biber. I like the videography, showing the simplicity of an artist in her element, with juxtaposition of a rushing train and traffic outside. Inside, she is focused, immersed in the music, channeling something pure, refined, and divine.
---
Acknowledgements
I am grateful for the various ways this event stretches me as a music maker and a generous listener. I enjoy the surprises, discovering songs that inspire me. I get the impression we're all making progress, sharing our art with the world, making steady steps toward global harmony. And our unique way of honoring artists is centered around live music. What an amazing opportunity to connect.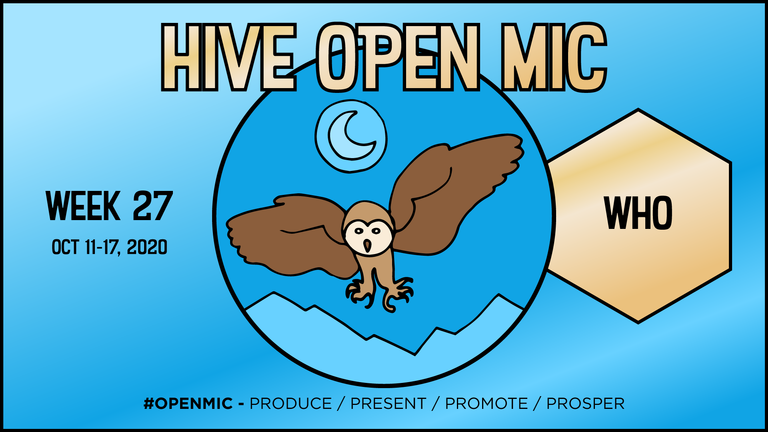 Note: Hive Open Mic - Week 27 is underway now. This week's invitation is: "Who."
🌞 🌜 🌟 ✨
🦢 🕊️ 🌿 🌸