Hive Open Mic ( #openmic ) is a global community celebrating live music on Hive. Each week is a new event, encouraging musicians to share songs with an international audience.
---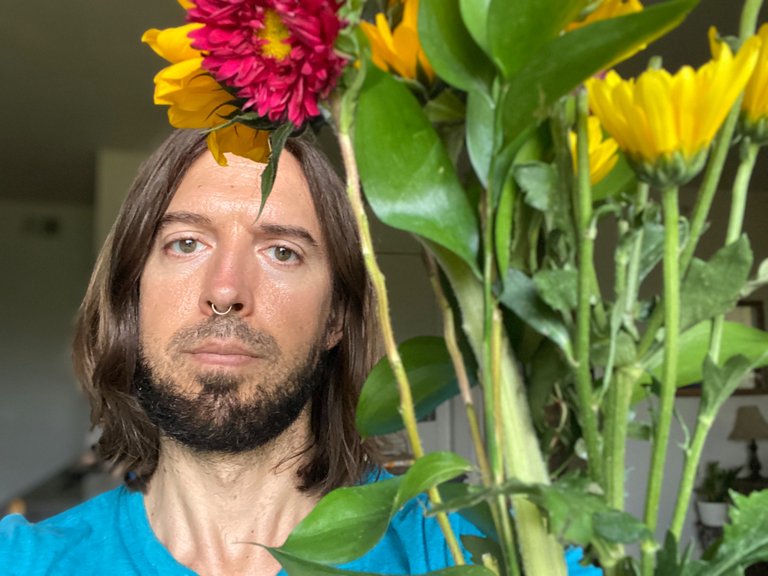 Oof, I'm experiencing a challenging downswing in my emotional state this week. I think the main wave is a a long-lasting transition that is finally coming to completion. Specifically, I'm talking about a 2-year separation of a 10-year marriage.
Thankfully, the kids' mom and I are close friends. In fact, last weekend I helped her move into a home with her current companion. Me, I'm feeling very separated and a little too isolated, but not quite divorced enough to be fully free and single. It's kind of complicated, and awkward for sure. We'll submit our final decree of divorce next Thursday.
Dating at age 42 feels pretty funny at times, for a million reasons. Sure, I've had a couple of relationships, but I haven't yet found someone ready to get to know the other half of me: a dad. Yesterday I took myself on a date to my favorite cacao place, then went to the greatest library, and bought myself some flowers, showing myself some love. And then I went out to meet with some musicians for a jam, and it happened to be in the neighborhood of my ex-girlfriend and all of a sudden my heart started beating so fast I could hardly handle it. I felt like a fish out of water, floundering, wow, how strange!
I'm trying my best to remain calm, and this slow rite of passage is definitely testing my patience. The hardest struggle comes at night, when my mind keeps getting stuck in patterns, trying to make magic happen or something. But I really just want to sleep. Now I'm following a strict routine of self-care before bed, and still hardly sleeping. I'm grateful for the rosary, helping me to create spaciousness from the stress.
Interestingly, my sense of security is actually OK, even though I'm largely alone, trying to build various kinds of connections, finding gray hairs, supporting three kids with colds for 10 days straight, and a computer crash too! I just moved though it all. I'm humbled by the fact that this is my first Hive post written on a phone, knowing that phone posts are the only option for some of us. Somehow, on a root chakra level, I think I'm doing good work staying grounded, making strong, safe choices.
Still, I'm feeling the sadness of all this change. Feels appropriate that this week's Hive Open Mic theme invites us to share a song that speaks to the emotions. Here's a new song, written this week.
---
Yahi
💛