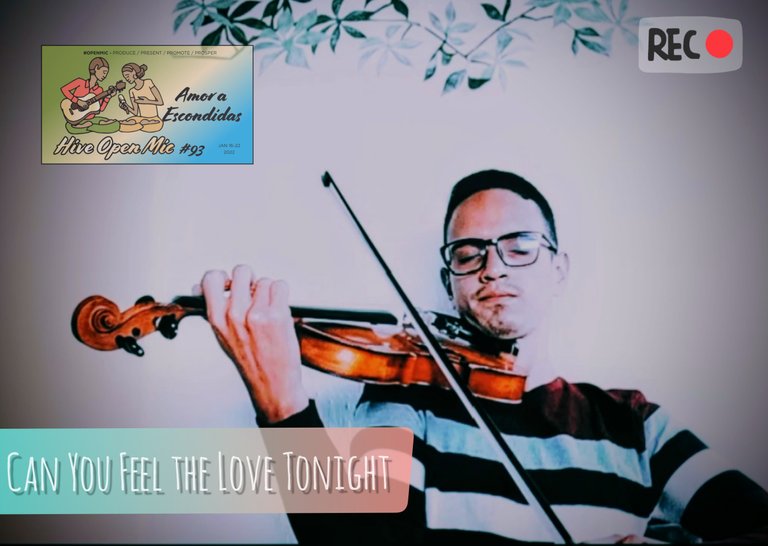 Hacer música desde el corazón se puede volver una adicción, ya son dos semanas en las que Open Mic se pone su traje de amor como tema principal.
En el vídeo mencioné semana 92 sin recordar que vamos exactamente por la semana 93 de Hive Open Mic, mi memoria me empieza a echar broma jajajaja. Para esta oportunidad escogí este tema por ser una pieza hermosa de una de las escenas más bellas de la película "El Rey León".
Esta canción fue creada por Elton John y la letra de Tim Ricey hace gala en la escena donde Simba y Nala cantan su amor, mientras tanto Timón y Pumba se lamentan porque su joven león se irá lejos en busca del amor.
La interpretación que les traigo el día de hoy es un cover de violín con acompañamiento de piano con estructura de estrofa, coro + bis.

Making music from the heart can become an addiction, it's already two weeks that Open Mic wears its love suit as the main theme.
In the video I mentioned week 92 without remembering that we are exactly on week 93 of Hive Open Mic, my memory is starting to joke me hahaha. For this opportunity, I chose this song because it is a beautiful piece from one of the most beautiful scenes of the movie "The Lion King".
This song was created by Elton John and the lyrics by Tim Ricey show off the scene where Simba and Nala sing their love, while Timon and Pumba lament because their young lion will go far away in search of love.
The interpretation I bring you today is a violin cover with piano accompaniment with verse, chorus + encore structure.

Aún estando fuera de casa he tenido que poner a prueba diferentes editores de vídeo, ayer mostraba un corto realizado con la app InShot y el día de hoy decidí probar la app de Filmora Go en Android, aunque la versión de escritorio la amo y es mi herramienta principal, no podría decir lo mismo de su app móvil.
Sigue siendo de preferencia InShot ya que me ofrece más herramientas, efectos y transiciones. El día que dé con la app que me sea útil al menos un 90% de lo que podría hacer en la PC, posiblemente compre la versión pro, mientras tanto seguiré probando; si tienen alguna buena recomendación con gusto le daría una oportunidad, solo díganme en la caja de comentario con cuál trabajan ustedes.
La edición base del vídeo lo hice con las configuraciones por defecto del teléfono, luego de esto solo le agregué un último filtro en Youtube. Aunque me encantaría subir los videos a 3speak, las últimas veces ha fallado y no termina de cargar ni codificar, no me puedo arriesgar cuando tengo los datos móviles limitados. El próximo video intentaré subirlo a 3speak pero cuando esté en casa.
No los entretengo más y los dejo con el vídeo esperando lo disfruten, cualquier comentario y/o sugerencia los leo y gustosamente les responderé. Más abajo les dejaré la letra de esta canción en Inglés.
Even being away from home I had to test different video editors, yesterday I showed a short film made with the InShot app and today I decided to try the Filmora Go app on Android, although I love the desktop version and it is my main tool, I could not say the same about its mobile app.
I still prefer InShot as it offers me more tools, effects and transitions. The day I find the app that is useful to me at least 90% of what I could do on the PC, I will probably buy the pro version, meanwhile I will keep trying; if you have any good recommendation I would gladly give it a try, just tell me in the comment box which one you work with.
The base editing of the video I did with the default settings of the phone, after that I just added a last filter on Youtube. Although I would love to upload the videos to 3speak, the last few times it has failed to load and encode, I can't risk it when I have limited mobile data. Next video I will try to upload to 3speak but when I am home.
I won't keep you any longer and I leave you with the video hoping you enjoy it, any comments and suggestions I read them and I will gladly answer them. Below I will leave you the lyrics of this song in English.

Lyrics
There's a calm surrender
To the rush of day
When the heat of a rolling wind
Can be turned away
An enchanted moment
And it sees me through
It's enough for this restless warrior
Just to be with you
And can you feel the love tonight?
It is where we are
It's enough for this wide-eyed wanderer
That we got this far
And can you feel the love tonight
How it's laid to rest?
It's enough to make kings and vagabonds
Believe the very best
There's a time for everyone
If they only learn
That the twisting kaleidoscope
Moves us all in turn
There's a rhyme and reason
To the wild outdoors
When the heart of this star-crossed voyager
Beats in time with yours
And can you feel the love tonight?
It is where we are
It's enough for this wide-eyed wanderer
That we got this far
And can you feel the love tonight
How it's laid to rest?
It's enough to make kings and vagabonds
Believe the very best
It's enough to make kings and vagabonds
Believe the very best
Lyrics Source

Los separadores usados y muchos otros están disponible haciendo clic aquí y su uso es de libre distribución, hay muchos que son realmente geniales se los recomiendo.

Fuente de Imágenes, captura de pantalla de mi teléfono y editada con la app InShot. Vídeo realizado y editado con mi Xiaomi Redmi Note 10 Pro.
The separators used and many others are available by clicking here and their use is free for distribution, there are many that are really cool and I recommend them.

Image source, screenshot from my phone and edited with the InShot app. Video taken and edited with my Xiaomi Redmi Note 10 Pro.

---

Banner made in Canva ||| Banner realizado en Canva