After being told that all the hotels were full and that I could try to arrange one for myself notwithstanding that I would have to be back at the airport by 6am I asked the gentleman assisting me what he suggested and he said he could take me to a take out coffee shop that was open 24 hours per day and that he would leave the wheelchair with me.
This is part 1 of my story:
https://ecency.com/hive-184437/@christinepoulos/my-disastrous-lufthansa-experience
I managed to get some help to charge my phone again. My daughter opted to phone me every hour on the hour to check in on me although I tried very hard to persuade her to try to get some sleep.
My phone battery seemed to be going down quickly so I was not comfortable to watch something on it or do my Spanish or Dutch lessons. It was very difficult to leave my bags in the lounge whilst buying some sustenance. I found a mango yoghurt with muesli (was ghastly) and a little fruit juice at a very handsome price of 10.74 euros.
Eden, my daughter continuously called to check in on me and I must have dozed for a very short time to wake up and see the place where I was sitting was very empty. When I looked at the board for my flight it showed cancelled.
I had been to the bathroom twice asking strangers to keep an eye on my bags - laptop included :(. and now I put my bags onto the wheelchair and went in search of a Lufthansa counter.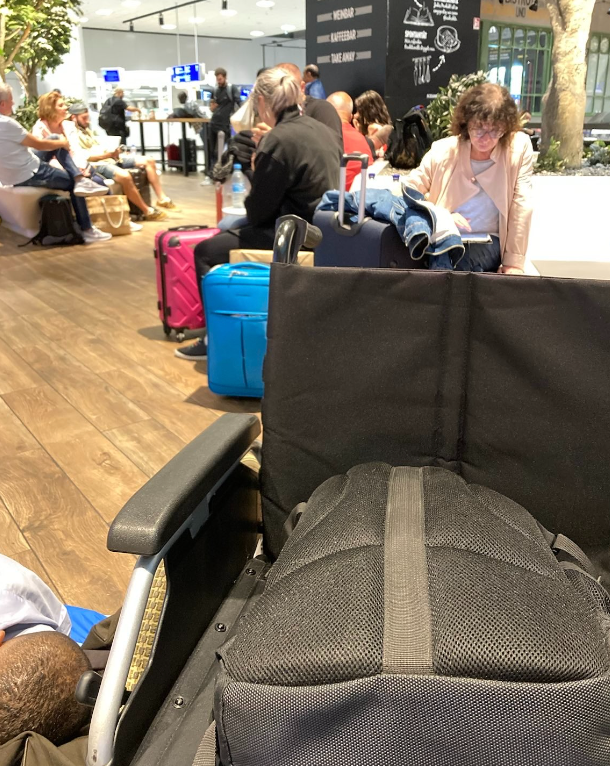 Loaded my hand luggage and computer bag onto the wheelchair
Due to my recent operation on my stomach I am not allowed to pick up more than 2kgs - so I prayed that I did not do any damage.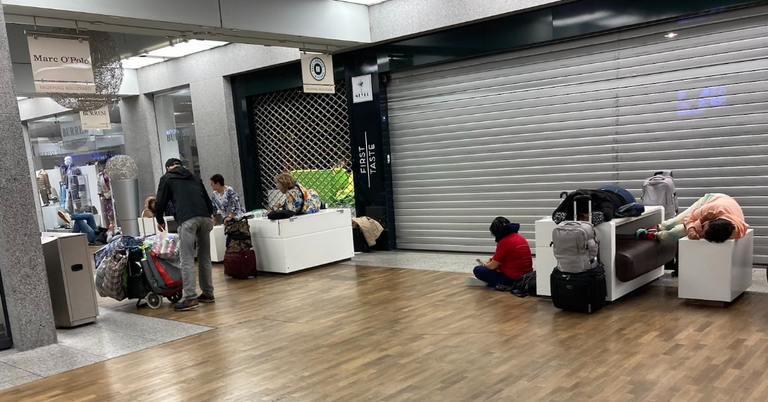 Bodies everywhere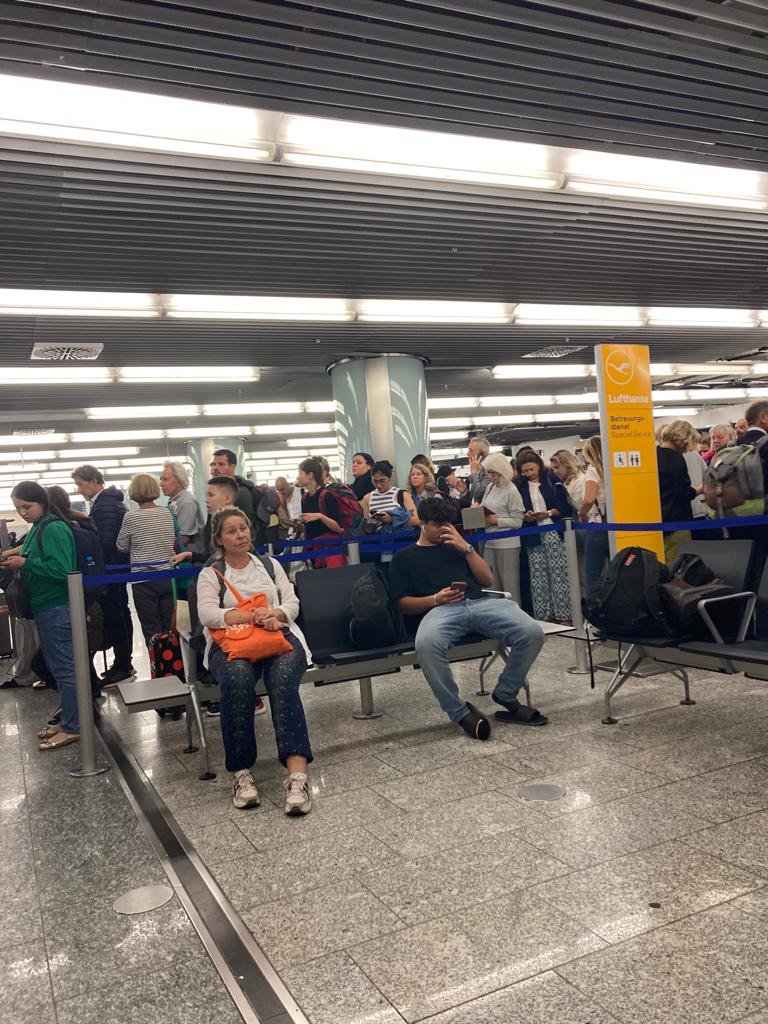 People waiting to be rebooked on other flights
Found Lufthansa and went straight to the front of the counter and they called for a new person to assist me. Again a long wait and finally a young lady came to help - she was not very friendly nor helpful. I believe her name was Sarah. She insisted on me checking my hand luggage onto the flight as she claimed she had a sore back and would not be able to help me with my luggage. By this time I was too exhausted to argue and so I allowed my bag to go on with no cable ties and/or locks.
I met a lovely German couple on my previous flight and at least talking to them made the time go quicker.
Finally on the flight to Amsterdam and realised that my son would not be able to meet me at the airport as he was at work - and had only started the job on the Monday so was unable to request time off.
Arriving in Amsterdam I was met by a lady on one of those electric golf cart type vehicles who drove very quickly through the traffic of people - that was quite nerve wracking - she sent a replacement to help me with my luggage and the new assistant was replaced again by a guy. Luckily a passenger helped me take the bags of the conveyer belt. Assistant was nowhere to be seen at this stage.
Was my drama over? No, because now my phone battery was dying and my daughter was getting hold of me on a normal line because I wasn't on the wi-fi either.
To cut a very long story short I went to an electronic shop to buy a charger (a two pin which is used in Holland) and which set me back 27 euros.
There I was treated in a very friendly manner and the gentleman who served me watched my bags while I ran to the loo - and my phone was busy charging.
Went through to the street and found a taxi straight away (another 65 euros) and found my way to my son's apartment,
He came home from work to find me there and that was a very happy joyful moment for both of us.
My 6th day in Holland now and loving every moment. Happy blogs to follow ...