When I was young, my parents lived on seven partially-wooded acres which backed up to state land. Every December my dad and older brother would tramp out into the woods and find a Christmas tree to cut down. Despite the open rafters in the living room, the tree often had to be shortened prior to setting it up. (Why do trees always grow several inches after being brought into the house?)
Since I had grown up with fresh Christmas trees, I naturally assumed that's what my husband and I would use. And we did, for the first five years of our marriage, which began in 1983. Unfortunately, his job often took him out of town all week, so he wasn't always available to go find a tree when I was in the mood to set it up and decorate it. The first year he cut a small one from the trees on the property where we were renting a house. The second year we ended up at a tree lot at the last minute and bought a tiny tree that was left.
The next two years I believe he brought home a tree from his parents' property after hunting for deer with his dad. They lived a good three hours away, so this was obviously not going to be a regular solution.
The fifth year I remember well. Our son was three years old. We were still living in Minnesota. Christmas was coming, and hubby was out of town again. I wanted a tree. The temperature was -15 degrees Fahrenheit. I was young and adventurous.
I warmed up my trusty 1981 Dodge Colt, buckled my son into his car seat, and drove to the nearest Christmas tree lot, just 3 or 4 miles away. It was so cold, they were closed! But a neighbor called the owners for me, and they came to the tree lot, sold me a tree, tied it onto my Colt, and we took it home. I got it off the car and into the three-season porch, where it sort of thawed out before I moved it into the house.
Faced with a similar situation in 1988, I bundled up my then-4-yr-old son and my 3-month old daughter, drove 30 miles to the nearest Target store, and purchased a beautiful artificial Christmas tree. When set up, it looked real. I loved it.

This would be the spot to insert a photo of that tree, but that was long before digital cameras or cell phone photography.
We used that tree most of the next 30 years. After moving to evergreen-tree-laden property in north Idaho, my kids wanted the experience of cutting our own tree, so we did that a few times. But the weather didn't always cooperate: too rainy, snow too deep, etc., and the novelty soon wore off.
The trusty artificial tree eventually began to shed like a real tree. I reluctantly faced the fact that it was time to replace it. So, about four years ago, I purchased a much smaller, less real-looking artificial tree. It is easier to assemble, and it doesn't require as much floor space, but I can't fit all of my ornaments on it, either.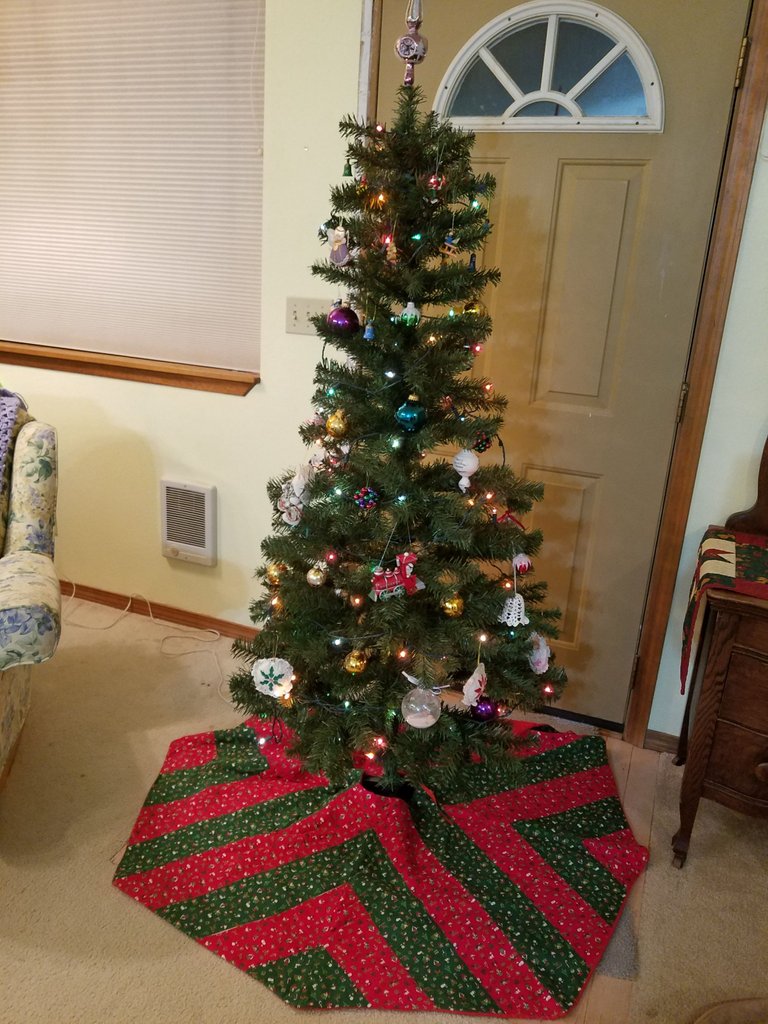 I would consider forgoing the entire Christmas tree tradition except that I love reminiscing about old friends as I place on the branches the ornaments they gave me over the years. And the twinkling lights brighten up the otherwise-drab, cloudy, days so common in north Idaho winters.
So now I am going to return to the living room and string the lights on my small, fake tree, and add ornaments from old friends, some of whom are no longer living, and remember them, and be thankful for the many Christmases past while anticipating many more Christmases to come.
Photo taken on my cell phone.