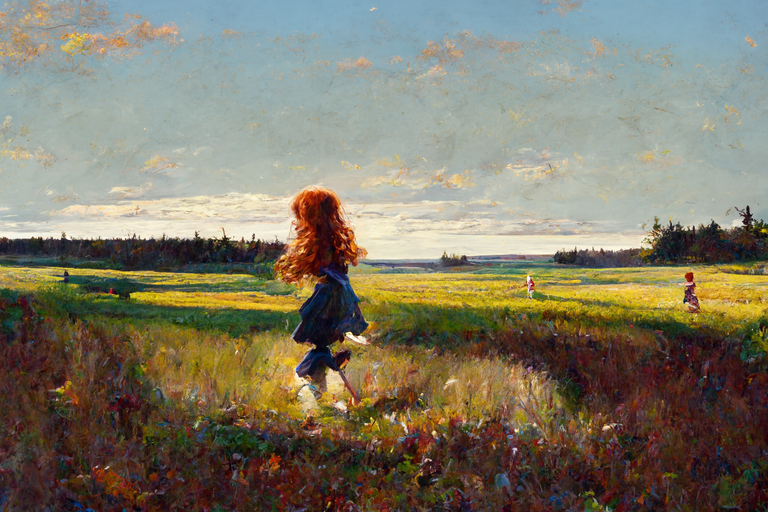 Prince Edward Island is the smallest of the ten Canadian provinces. The little island sitting off the northern border of New Brunswick is 140 miles (225km) long and at it's widest point 40 miles (65km) wide boasting a total population of about 154,000.
In 1867 the country of Canada formed a formal confederation of provinces, PEI was not one of them. Courted by both Canada and the United States, the independent colony agreed to become the seventh Canadian province in 1873. Canada had to agree to pay off the debt from building their trans-isladn railroad to seal the deal.
Early Years
On November 30, 1874 in Clifton, PEI (now New London, PEI) Lucy Maud Montgomery was born to Hugh Montgomery and Clara Macneil. The Montgomery's and Macneils were both prominent landholding families on the island with direct ties to Scottish clans. The Montgomerys were a passionate lot and the Macneils Puritanical, making for an interesting match.
Twenty-one months later Lucy's mother died of tuberculosis. Not long after her father left her in the care of her Macneil grandparents and headed west, effectively abandoning his daughter. His passionate, demonstrative daughter would grow up to become an internationally renowned writer, L.M. Montgomery.
Writing Accomplishments
In her lifetime, she would publish: 20 novels, 530 short stories, 500 poems and 30 essays. Her first novel, published in 1908 was Anne of Green Gables. The novel would remain in print for over 100 years, sell more than 50 million copies worldwide in 36 different languages including braille.
No other fictional character of Canadian origin has come close to the level of international fame as Anne of Green Gables has. Not even Superman. Her books and many of her stories were set in the Cavendish area on the island.
Her Young Life
The area where she was raised. Her grandparents had the local post office in their home where locals would gather to swap stories. Learning from her grandfather, she became immersed in the Scottish oral, learning the structures and techniques of spoken narrative.
Her privileged birth gave her access to more books than most. She was a voracious reader adding to her vivid imagination. When she took an early interest in writing it was discouraged and even ridiculed by the family.
Lucy was highly intelligent and sensitive with an impulsive temperament. Her personality brought her into direct conflict with her rigid Puritanical grandparents. The more they tried to control her, the more isolated, different and persecuted she felt.
I cannot remember the time when I was not writing, or when I did not mean to be an author image - Lucy Maud Montgomery
A Year With Her Father
In 1890 she went west to spend a year with her father and his new wife. She had idolized her absent father but once she spent time with him she came to the painful realization, her cared very little about her welfare.
While staying with her father she managed to have a poem published in the Patriot in Charlettotown, PEI. It gave her hope of being a writer and to never give up.
Teaching Leads Her to Dalhousie
She returned to PEI, studied to be a teacher and by July 1894 she had her first students. In those days, women would teach until they married. Montgomery worked and saved her meager earnings so she could attend Dalhousie College in 1895.
She could only afford to remain there for one year. Her English literature professor, Archibald MacMechan recognized her talent as a writer and encouraged her to pursue writing. Dalhousie and its Forrest Building would become the model she draw on in her 1915 novel, Anne of the Island.
Her Grandfather's Death
She returned to teaching and found herself in a few unsuccessful relationships. In March 1898 her grandfather died. She escaped a poor relationship and returned to Cavendish to care for her grandmother and run the post office. The position allowed her to absorb more local colour and vibe she would use in her stories. She could also send out her writing without anyone knowing
Send them out she did. Between 1898 and 1911 she published hundreds of stories, poems and her most novel, Anne of Green Gables.
Her Secret Engagement & Marriage
In 1903 she met the recently ordained Rev. Ewen Macdonald after he was hired as the local Presbyterian minister. In 1906 the became secretly engaged, agreeing to wait until her grandmother passed before marrying. In 1910 the Rev Macdonald accepted a minister at Leaskdale, Ontario. A year later her grandmother passed.
Not long after, the couple married and enjoyed an extended honeymoon in Scotland and England funded by the royalties she was receiving from her writing. They returned to Ontario where Montgomery would spend the rest of her life, with some visits back to the PEI. The couple would have three boys: Chester in 1913, Hugh died at birth in 1914 and Ewan in 195.
All of her books would be set in PEI except for The Blue Castle which was set in the Muskoka district of Ontario where the couple vacationed in the 1920s. Many of her stories drew their characters from people around her in Ontario.
Life in Ontario
In 1925 the United Church of Canada was formed bringing together Congregationalists, Methodists and many Presbyterians. Macdonald's two congregations voted to remain Presbyterian. Not long after a lawsuit over a car accident went against Macdonald. Local gossips started targetting Lucy as she was both working but making enough to afford a maid. Something small town wags decided they didn't like in a minister's wife.
In 1926 Macdonald was called to a church in a community west of Toronto, Halton Hills then known as Norval. Lucy became involved in the life of the church while keeping up her writing, literary events and a growing demand for her speaking service. Macdonald's mental health deteriorated and by 1934 he spent a few months in a sanitorium.
By 1935 it was necessary for Macdonald to retire. The couple bought a home in Swansea village on the western edge of Toronto. Montgomery's writing career was bringing her honours and recognition from around the world. She was named an Officer of the Order of the British Empire (OBE) and an officer of the Artistic Institute of France. She became the first Canadian woman to be made a member of the British Royal Society of Arts. In 1943 she would be named a Person of National Historic Significance in Canada.
Her books popularity would rise and fall depending on the current reading tastes of the public at large. During the falls she often would be subject to withering critique from reviewers and fellow writers, many of them men who hadn't attained her level of prominence
Life wore Lucy Maud Montgomery down and she spiraled into a long period of illness characterized by anxiety, depression and severe weight loss. She died on April 24, 1942. Her official cause of death was given as nervous illness but her actual cause has never been determined. Her physician son misread a transcription she had made of a journal entry from 1940 and thought it was a suicide note. There was no autopsy done.
A century later, the stories of Anne of Green Gables continue to be enjoyed by children of all ages around the world. Their setting in PEI brings millions to the island economy every year as fans travel there to see the settings for the stories.