One of the main features of this "new normal" we are entering is accelerated inflation. While we should all be concerned about inflation, the stenographers of the government (otherwise known as the mainstream media) still try to gaslight the public. In fact, the MSM propaganda is getting so ludicrous, they are now directly mocking the public.
Let's start with a July 2021 article by CNBC, that boasts about higher salaries due to inflation... Parody is indistinguishable from reality.
MSNBC tweet: https://twitter.com/CNBC/status/1413132513350803460
Archive: https://archive.ph/6qAAH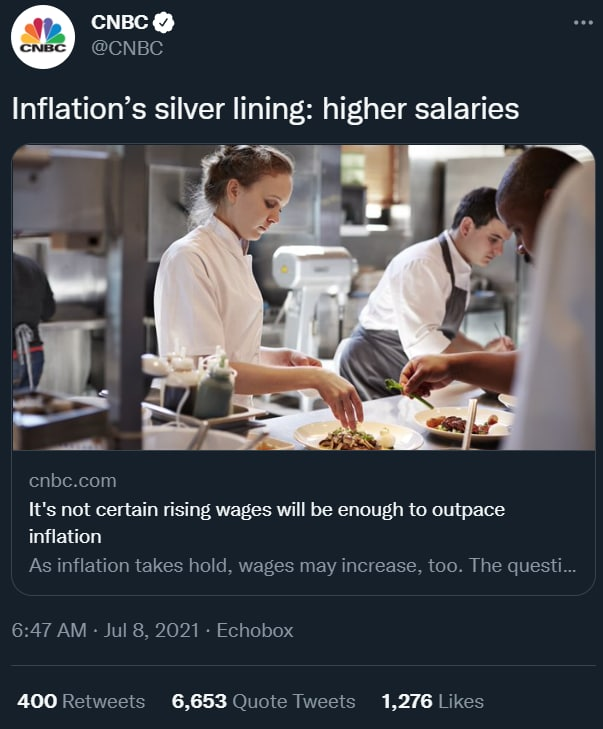 Fast forward to March 2022, and now Bloomberg posts switching to lentils if you make less than $300k...
Bloomberg tweet: https://twitter.com/bopinion/status/1505292742993321993
Archive: https://archive.ph/wip/Z5j7f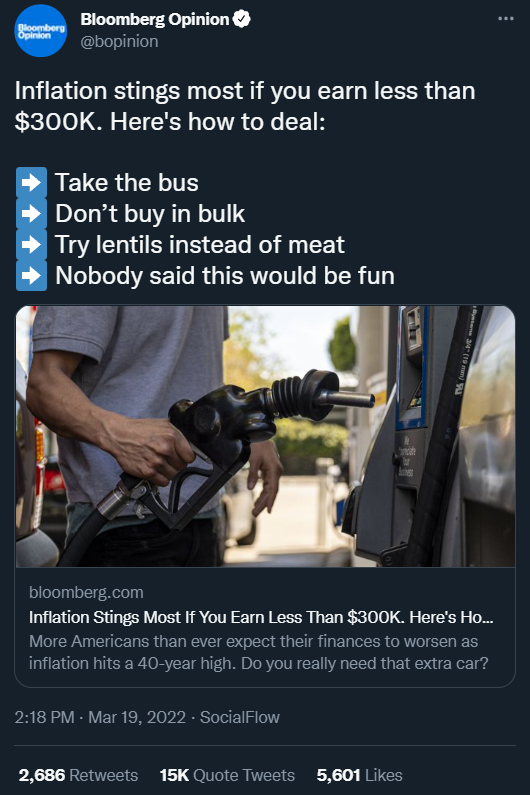 This is open-mockery of the public by billion-dollar media monopolies. In other words, this is open psychological warfare against the public to keep them ill-informed and unprepared for the massive transfer of wealth from the already poor to the already rich. This is best illustrated in my previous post about The Economist being "blindsided" that printing trillions of dollars would lead to rampant inflation.
https://peakd.com/hive-106474/@mes/collage-of-msm-gaslighting-about-inflation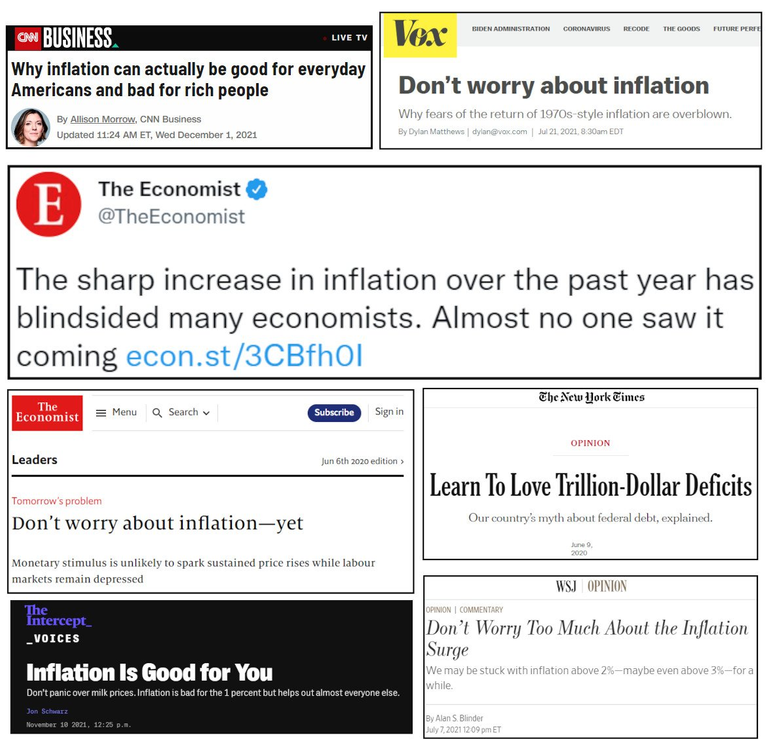 You'll Own Nothing and Be Happy
Why the gas-lighting? Why the mockery? Why the lies?
The reason is that the mainstream media companies are following a script handed to them by international precursors to a world government. One such precursor is the unelected World Economic Forum (WEF), which as far back as November 2016, has been predicting a world where you'll be happy and own nothing... In other words, they envision a world straight from George Orwell's 1984.
Facebook video: https://www.facebook.com/watch/?v=10153920524981479
Archive: https://archive.ph/fX42p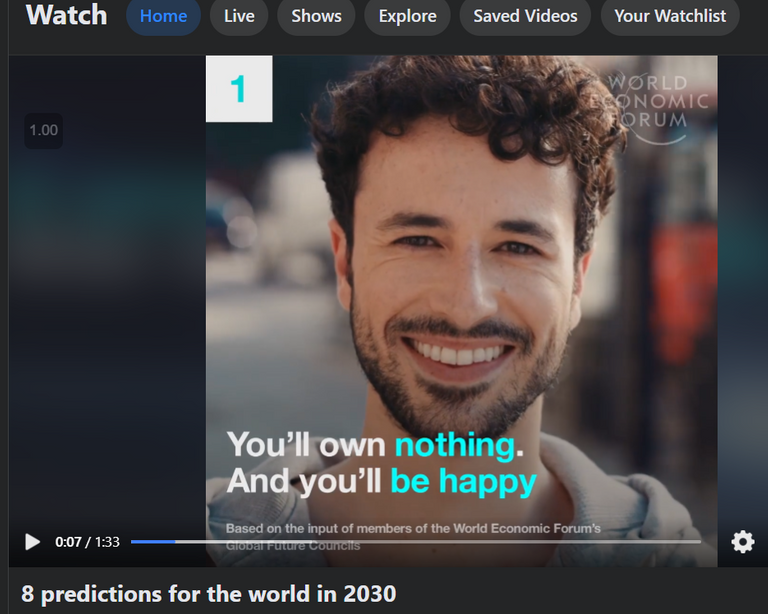 The WEF isn't just handing the script to mainstream media, sometimes they are directly writing their articles. Such as Forbes posting the WEF's Own Nothing / Be Happy article.
Forbes article: https://www.forbes.com/sites/worldeconomicforum/2016/11/10/shopping-i-cant-really-remember-what-that-is-or-how-differently-well-live-in-2030/?sh=2595a0491735
Archive: https://archive.ph/0LzKi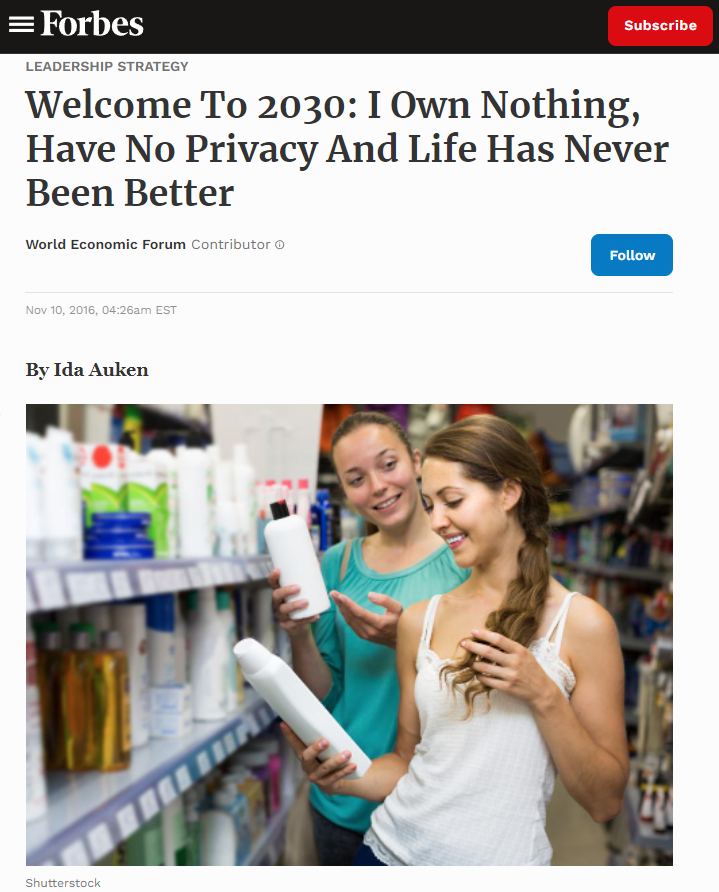 Maybe it's a good idea to hedge against inflation by stockpiling on lentils...