---
Hola, amigos de #geekzone, el día de hoy continuaremos nuestra aventura en MH Stories, la verdad es que creo que de nuevo me he vuelto a enganchar con este juego y lo único que puedo pensar es en recuperar todos esos monsties que mi hijo tan amablemente eliminó de mi cuenta, así que no descansaré hasta volver a tenerlos a todos, sobre todo a mi amado Kirin.
Sí, yo sé que ya parezco disco rayado, pero es que fue algo verdaderamente doloroso que aún no he podido superar, porque de hecho me di cuenta de que no solamente había perdido ese, sino que también había borrado a la Rathian Dorada y ahí sí que no me pude quedar tranquila porque ella es mi monstruo favorito, así que tomé cartas en el asunto y regresé al único lugar en el que es posible conseguir un huevo de Rathian Dorada: La torre del engaño.
Hello, #geekzone friends, today we will continue our adventure in MH Stories, the truth is that I think I'm hooked again with this game and the only thing I can think of is to recover all those monsties that my son so kindly deleted from my account, so I will not rest until I get them all back, especially my beloved Kirin.
Yes, I know I sound like a broken record, but it was something really painful, I still can't get over it, but it was something really painful that I still have not been able to overcome, because in fact I realized that not only I had lost that one, but I had also deleted the Golden Rathian and there I could not stay calm because she is my favorite monster, so I took matters into my own hands and returned to the only place where it is possible to get a Golden Rathian egg: The tower of deception.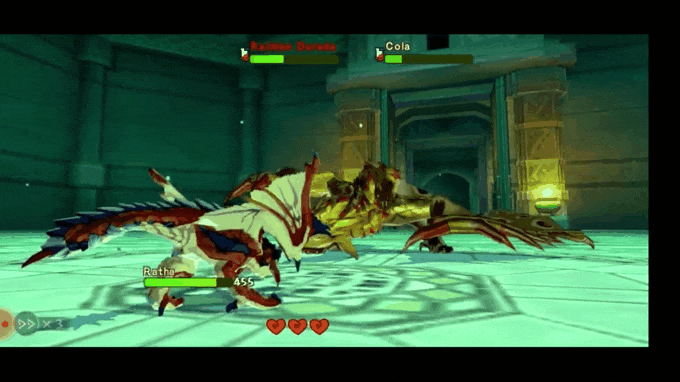 En esta ocasión tuve que repetir los pisos del 10 al 19, por suerte es posible repetirlos, porque si no no sé qué haría porque como les dije antes este es un Monstie que no se puede conseguir de ninguna otra forma, diría que desheredaría a Leo, pero ¿Cuál herencia? jajajaja, además, es un poco mi culpa por darle el juego y no supervisarlo adecuadamente, aprendan de mis errores amigos, que no les pase.
Como les comenté en mi primer gameplay de MHST la torre del engaño está compuesta por varios pisos, los cuales se van haciendo más difíciles a medida que vamos subiendo, yo actualmente me encuentro en el piso 29 en el cual obtuve al Rathalos plateado, pero debido a la purga realizada por mi hijo me vi en la necesidad de retroceder 10 pisos. Según yo esos 10 pisos iban a ser pan comido porque ya los había pasado y bueno, ya estaba en el piso 29, así que en mi cabeza eso era mero trámite, ¡sí como no! Tuve varios momentos críticos en los que estuve a punto de quedarme sin corazones, porque si además le suman que casi no tengo recursos, pues la situación se me complicó demasiado.
This time I had to repeat the floors from 10 to 19, luckily it is possible to repeat them, because if not I don't know what I would do because as I told you before this is a Monstie that can not be obtained in any other way, I would say that I would disinherit Leo, but what inheritance? hahahaha, besides, it's a little my fault for giving him the game and not supervising it properly, learn from my mistakes friends, don't let it happen to you.
As I told you in my first gameplay of MHST, the tower of deception is composed of several floors, which become more difficult as we go up, I am currently on the 29th floor in which I got the silver Rathalos, but due to the purge made by my son I had to go back 10 floors. According to me those 10 floors were going to be a piece of cake because I had already passed them and well, I was already on the 29th floor, so in my head that was a mere formality, yes of course! I had several critical moments in which I was about to run out of hearts, because if you also add that I have almost no resources, then the situation became too complicated.

| | |
| --- | --- |

Los primeros enfrentamientos fueron relativamente sencillos, pero más o menos a partir del quinto se me comenzó a complicar la situación, las duplas de monstruos que más me causaron problemas fueron:
- Gypceros+Cephadrome: fueron un verdadero dolor de cabeza, el Gypceros me cegaba, lo que hacía que fallara todos los golpes, mientras que el Cephadrome me paralizaba y me hacía perder turnos, no dejaba ni que me curara el desgraciado, por un momento pensé que no les iba a lograr ganar porque hubo varios turnos seguidos en los que no podía hacer absolutamente nada, fue una pelea demasiado frustrante.
- Kecha Wacha+Yian kut-ku: aquí simple y sencillamente el Kecha Wacha hacía DEMASIADO daño, hubo un momento en el que se enojó y me bajó prácticamente toda la vida, por suerte él también estaba a punto de morir, así que no fue tan grave la situación, pero me dieron demasiada pelea.
Creo que ni la Rathian que era la "jefe" de estos pisos me causó tanto conflicto como estas dos duplas, yo de verdad pensaba que iba a ser pan comido conseguir el huevo, pero wow, me costó bastante más de lo que esperaba, por suerte lo logré y pude tener de vuelta a la muñeca dorada preciosa ❤️
The first confrontations were relatively simple, but more or less from the fifth one onwards the situation started to get complicated, the monster duos that caused me the most problems were:
- Gypceros+Cephadrome: they were a real headache, the Gypceros blinded me, which made me miss every hit, while the Cephadrome paralyzed me and made me lose turns, it didn't even let me heal the bastard, for a moment I thought I wasn't going to manage to beat them because there were several turns in a row where I couldn't do absolutely nothing, it was a too frustrating fight.
- Kecha Wacha+Yian kut-ku: here simply and simply the Kecha Wacha did TOO much damage, there was a moment when he got angry and practically killed me, luckily he was also about to die, so the situation wasn't so bad, but they gave me too much of a fight.
I think that not even the Rathian who was the "boss" of these floors caused me as much conflict as these two duos, I really thought it was going to be a piece of cake to get the egg, but wow, it took me quite a bit more than I expected, luckily I made it and I could have the precious golden doll back ❤️

| | |
| --- | --- |

Al final del video aproveché para farmear un poco de los materiales que necesito para hacer pociones y esas cosas, porque todavía hay pisos que explorar en la torre y necesito ir armada hasta los dientes, porque si los pisos bajos me han costado, no me quiero imaginar los más altos, voy a SUFRIR, pero bueno, ese es estrés para otro momento, por lo pronto estoy feliz de tener a mi muñeca dorada de regreso.
Espero que disfruten el video y si todavía no lo han hecho, descarguen el demo de este gran juego y disfruten de la magia de Monster Hunter.
At the end of the video I took the opportunity to farm some of the materials I need to make potions and stuff, because there are still floors to explore in the tower and I need to go armed to the teeth, because if the lower floors have cost me, I do not want to imagine the higher ones, I will SUFFER, but well, that's stress for another time, for now I'm happy to have my golden doll back.
I hope you enjoy the video and if you haven't already, download the demo of this great game and enjoy the magic of Monster Hunter.
---
Muchas gracias por leerme, nos vemos en comentarios.
Thank you very much for reading, see you in comments.
---



El intro y outro de los videos se realizó en Invideo con música de Patrick de Arteaga.
Gifs y capturas de pantalla tomadas por mí del juego.
Recursos editados por mí en Canva.
---
The intro and outro of the videos were made in Invideo with music by Patrick de Arteaga.
Gifs and screenshots taken by me from the game.
Resources edited by me on Canva.


---
▶️ 3Speak