---
Hola a todos nuevamente!
No pude con mi genio y tuve que grabar éste juegazo. Barony es un dungeon crawler, rpg de acción bastante intenso. Notarán en el gameplay, que a veces no da respiro y el perder la concentración, puede ser catastrófico con cada paso que damos. Como quizás ya sepan, es del estilo de juegos que a mí me gusta, DIFÍCIL! Claro que sí.
Como verán en la reducida visibilidad de los primeros niveles, una trampa mortal es más que suficiente para acabar con todo nuestro equipo de seguidores, literalmente. Ésto hace que se den momentos épicos cuando juegas con amigos, más de una vez sucede que estás jugando y se escucha un piedrazo caer. Miras hacia abajo y vez que en el chat se escribe "Pedro, no puso soportar la presión y fue aplastado por una roca" JAJAJA.
Incontables risas he tenido con Barony.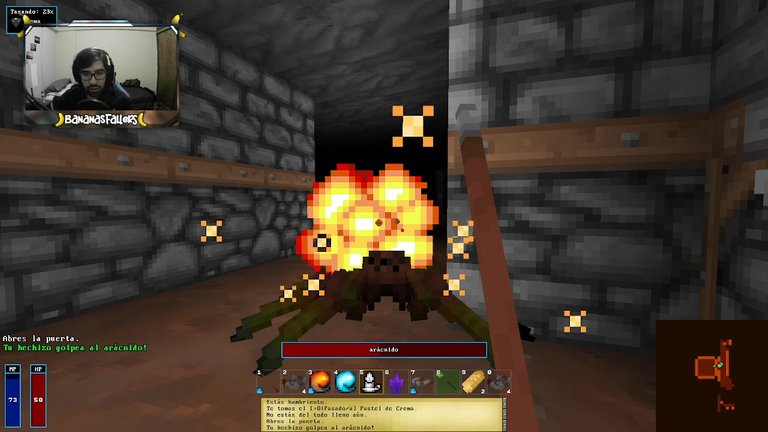 Decidí elegir la clase mago, que comienza con algunas habilidades, entre las cuales, podrán apreciar, la bola de fuego clásica de cualquier juego. A medida que vayamos utilizando los diferentes hechizos. Subirá nuestro skill de magia lo que aumenta el daño que realizamos y nos permite lanzar mejores hechizos.
De hecho, aprovechando a tocar el tema de las Skills. Verán dentro del juego, que hay muchas y todas, hacen lo que se podría esperar que hagan en su propio campo. Por ejemplo, subir el skill de defensa con escudos, hará que nuestro personaje se cubra de mejor manera y reciba meños daño al bloquear, a su vez, aumentando la posibilidad de que nuestro escudo no se dañe al recibir impactos.
Todas las skills tienen un nivel legendario, que nos otorga una pasiva o una activa fuerte por haber llegado al nivel máximo del campo correspondiente, por ejemplo en el escudo, el nivel legendario nos otorga, que los escudos ya no pueden perder durabilidad en su uso, haciendo que podamos resistir cualquier impacto físico sin problemas, es muy útil la verdad.
Inclusive, en el video, subiré una skill llamada nadar a nivel 100. Para poder caminar sobre el agua y la lava. Bastante OP no?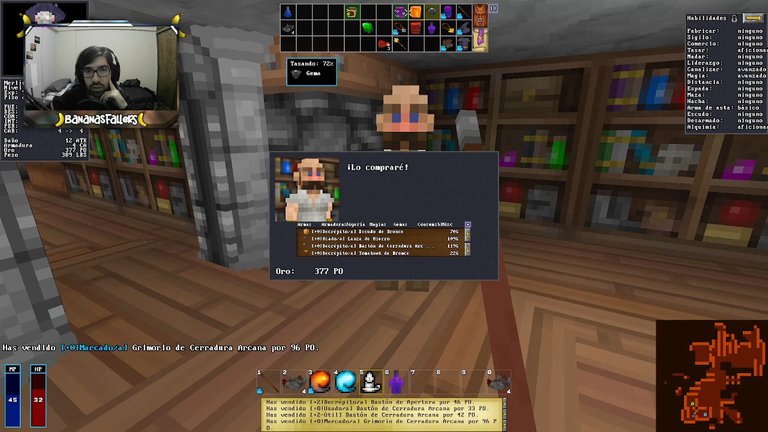 No todo es muerte y destrucción en el dungeon, también encontrarémos zonas especiales con comerciantes, que compraran nuestros items a un valor super bajo y nos venderán todo 3 veces más caro de su precio normal. A medida que subamos el skill de comerciar, nos darán mejores condiciones para nuestros negocios jiji
Hay que tener mucho cuidado de no golpear al comerciante, ya que, por algo se encuentra dentro del dungeon sin problema alguno. Y es que, el comerciante ES REALMENTE FUERTE! Diría que es más fuerte que un Jefazo. Hay maneras estratégicas de matarlo para robarle todo, pero no las verán en el gameplay de hoy.
Te invito a que veas el video, ya que el juego me parece una genialidad, implica mucha práctica y error por que, una vez que muere la party, la partida se borra y comienza de 0, es realmente difícil de ganarlo.
Las imágenes utilizadas en el blog, fueron tomadas de mi Gameplay de Barony, comprado vía Steam.
Las imágenes separadoras y de final de blog, fueron creadas por un amigo diseñador gráfico, para darle más personalidad al canal.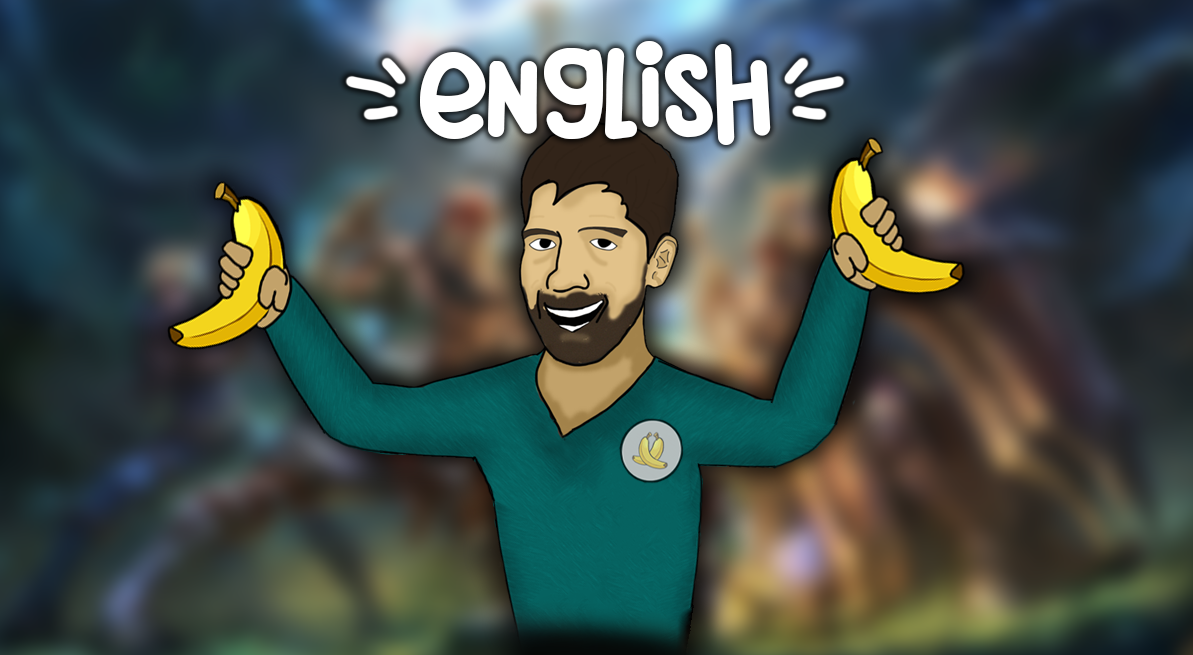 Hello everyone again!
I couldn't with my genius and I had to record this great game. Barony is a pretty intense dungeon crawler, action rpg. You will notice in the game that sometimes there is no respite and losing concentration can be catastrophic with each step we take. As you may already know, it's the style of games that I like, HARD! Of course.
As you'll see from the low visibility of the early levels, one death trap is more than enough to take down our entire team of followers, literally. This makes for epic moments when you play with friends, more than once it happens that you are playing and you hear a stone fall. You look down and you see that in the chat it is written "Pedro, he couldn't withstand the pressure and was crushed by a rock" HAHAHA.
Countless laughs I've had with Barony.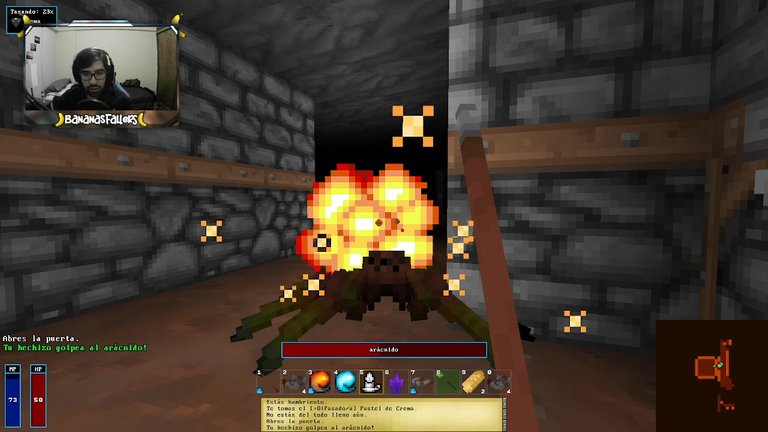 I decided to choose the mage class, which starts with a few skills, among which, you will appreciate, the classic fireball of any game. As we use the different spells. It will raise our magic ability which increases the damage we do and allows us to cast better spells.
In fact, taking advantage of touching on the subject of Skills. You will see within the game, that there are many, and they all do what you would expect them to do in their own field. For example, raising the defense skill with shields will make our character cover better and receive less damage to the block, in turn, increasing the possibility that our shield will not be received on impact.
All skills have a legendary level, which gives us a strong passive or active for having reached the maximum level of the corresponding field, for example in the shield, the legendary level gives us, that the shields can no longer lose durability in their use , making it possible for us to resist any physical impact without problems, the truth is very useful.
Even in the video, I will raise a skill called swimming to level 100. To be able to walk on water and lava. Pretty OP right?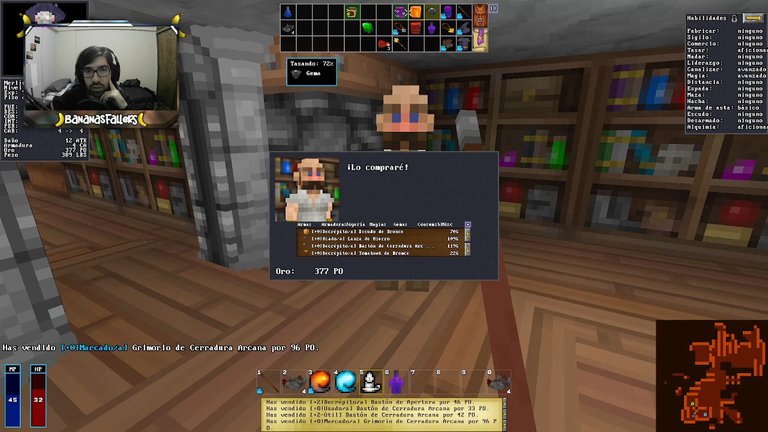 Not everything is death and destruction in the dungeon, we will also find special areas with merchants, who will buy our items at a super low value and will sell us everything 3 times more expensive than its normal price. As we raise the trading skill, they will give us better conditions for our business hehe
You have to be very careful not to hit the merchant, since, for a reason, he is inside the dungeon without any problem HE IS REALLY STRONG! I'd say he's stronger than a Boss. There are strategic ways to kill him to steal everything, but you won't see them in today's game.
I invite you to watch the video, since the game seems brilliant to me, it involves a lot of practice and error, so once the party dies, the game is deleted and starts from 0, it is really difficult to win.
The images used in the blog were taken from my Barony Gameplay, purchased via Steam.
The separate images and the end of the blog were created by a graphic designer friend of mine, to give the channel more personality.

---
▶️ 3Speak