---
Personalmente los juegos de plataformas me parecen los mejores, son de jugabilidad simple a pesar de que a medida que avanzamos de dificultad pueden surgir obstáculos que te complican pero nunca se pierde la dinámica que venimos trayendo desde el principio del juego. Quizá conozcas alguno que culto que sea el precursor del género pero creo Super Mario Bros es el origen de la masificación de este tipo de juegos.
Ahora bien, mi intención no es hablarles de Mario Bros, lo que nos cita esta vez es el bien conocido Megaman X4, y si, me atreví a traer esta versión directamente ya que las anteriores quizá no varían mucho y esta es la que mas veía que jugaban mis amigos. Me parece super interesante que el juego muestre una historia bastante profunda desde el inicio y eso podemos constatarlo con los videos que nos hacen recordar a animes de los 80 y 90.
Lo que menciono anteriormente no es poca cosa ya que a medida que avanzas en el juego surgen muchos diálogos entre los personajes que se encargan de hacerte entender de que va la historia, a veces son muy extensos y en lo particular eso no me gusta pero puedes ir saltándolos si no quieres leerlos; por supuesto habrán quienes quieran seguir la trama a detalle y eso también esta chévere, sobre todo si traes la historia clara desde los juegos anteriores.
Personally, I think platform games are the best, they have a simple gameplay even though as we advance in difficulty obstacles may arise that complicate the game, but the dynamics that we have been bringing since the beginning of the game is never lost. Maybe you know some cult that is the precursor of the genre but I think Super Mario Bros is the origin of the massification of this type of games.
Now, my intention is not to talk about Mario Bros, what we are talking about this time is the well known Megaman X4, and yes, I dared to bring this version directly because the previous ones may not vary much and this is the one I saw my friends playing the most. I find it very interesting that the game shows a very deep story from the beginning and we can see that with the videos that remind us of anime from the 80s and 90s.
What I mentioned above is no small thing because as you progress through the game there are many dialogues between the characters that are responsible for making you understand what the story is about, sometimes they are very extensive and in particular I do not like that but you can skip them if you do not want to read them; of course there will be those who want to follow the plot in detail and that's also cool, especially if you bring the story clear from previous games.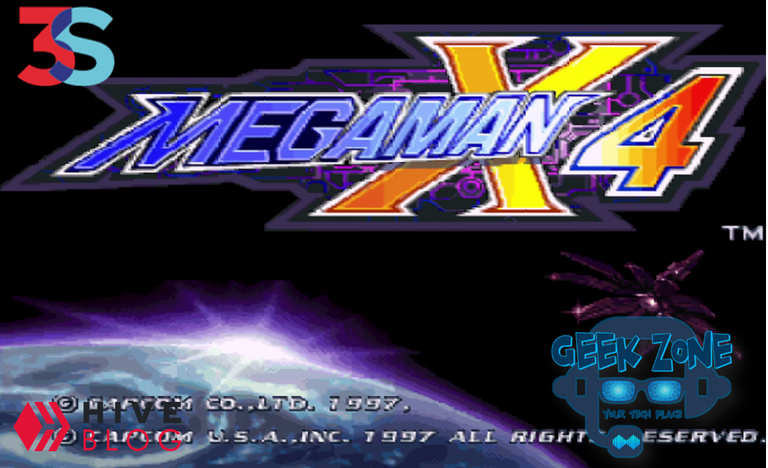 El juego cuenta con una modalidad única y ofrece solo dos personajes, Megaman y Zero, yo elegí al primero ya que me pareció conveniente jugar con el protagonista, aunque probablemente no haya ninguna diferencia entre ambos cuando a jugabilidad se refiere.
The game features a single mode and offers only two characters, Megaman and Zero, I chose the former as I found it convenient to play with the protagonist, although there is probably no difference between the two when it comes to gameplay.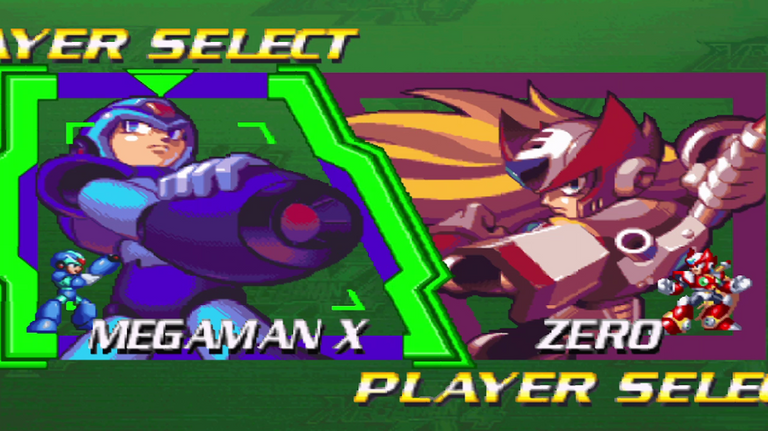 En esta imagen pueden ver lo que hablaba párrafos arriba, cada cuanto aparecen escenas de lo que parece ser un anime en el que se va contando mas a profundidad la historia, la verdad luce muy bien y es bastante dramática.
In this image you can see what I was talking about paragraphs above, each time scenes appear of what seems to be an anime in which the story is told in more depth, the truth looks very good and is quite dramatic.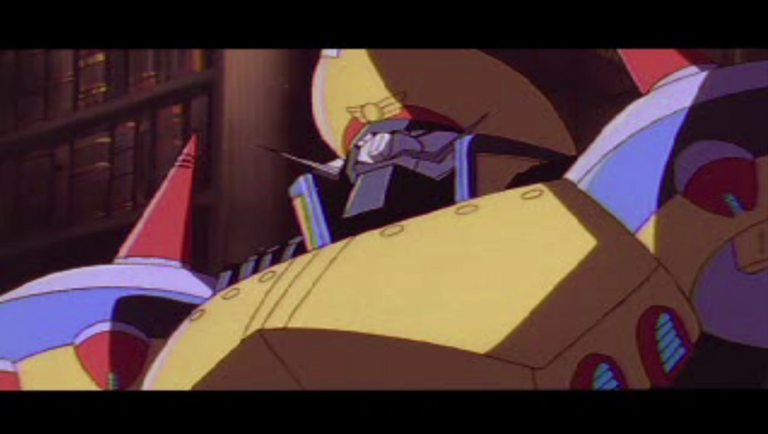 Inicié el juego probando los botones para ponerme a tono y avanzar lo mas rápido posible, la verdad en principio se hace bastante fácil ya que no hay mayores dificultades mas allá de rivales que son fácilmente destruidos con el arma de Megaman.
I started the game trying the buttons to get up to speed and advance as fast as possible, the truth in principle is quite easy because there are no major difficulties beyond rivals that are easily destroyed with Megaman's weapon.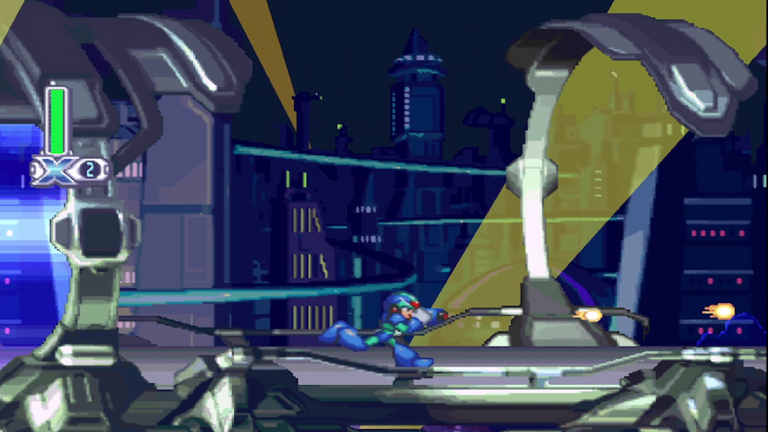 No pasó mucho tiempo hasta que pude enfrentarme al primer jefe, en primera instancia lucia imponente y por lo menos en tamaño lo era, pero logré entender rápidamente la manera o estrategia que debía usar para vencerlo y era básicamente dispararle con el arma recargada, lo cual logras presionando el botón cuadro durante unos segundos.
It wasn't long before I was able to face the first boss, at first he looked imposing and at least in size he was, but I quickly understood the way or strategy I had to use to defeat him and it was basically to shoot him with the reloaded weapon, which you do by pressing the box button for a few seconds.

Luego de vencer al primer jefe inicié el segundo Stage que por lo menos en apariencia es bastante diferente, pasamos de una ciudad muy urbana a una especia de selva con muchas cataratas, ríos y árboles pero me llamaban mucho la atención algunos elementos metálicos o tecnológicos que se encuentran incrustados en diferentes lugares de la selva.
After defeating the first boss I started the second Stage, which at least in appearance is quite different, we went from a very urban city to a kind of jungle with many waterfalls, rivers and trees but I was very struck by some metallic or technological elements that are embedded in different parts of the jungle.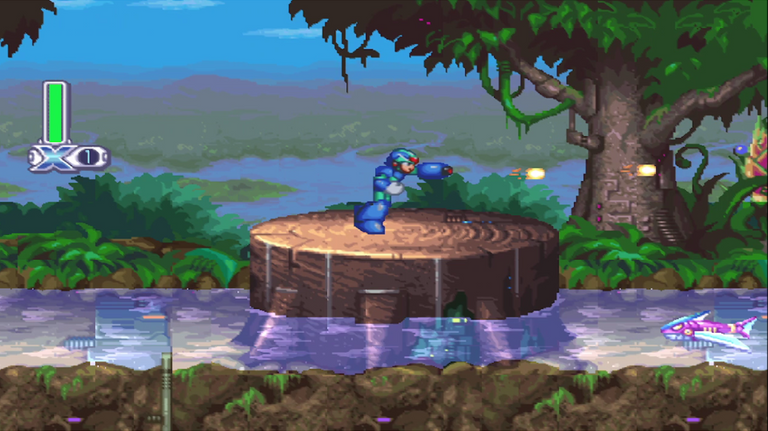 No fue mucho lo que avancé por temas de tiempo pero espero haberte mostrado parte de la dinámica y jugabilidad mas fundamentales, quizá luego con un poco mas de disponibilidad traiga los siguientes Stages. Me quedo con un juego muy divertido con el que fácilmente puedes pasar un buen rato. Te agradezco de antemano la visita y el apoyo. ¡Un abrazo fuerte!
I didn't advance much due to time issues but I hope to have shown you some of the most fundamental dynamics and gameplay, maybe later with a little more availability I will bring the following Stages. I'm left with a very fun game with which you can easily have a good time. Thank you in advance for your visit and support, a big hug!

Herramientas usadas y fuentes / Tools used and sources:
- Video grabado con: Samsung Galaxy A32
- Capturadora de video: OBS Studio
- Video editado con: VEGAS Pro 17.0
- Emulador: ePSXe
- Mando: Genérico para computadora
- Traductor: DeepL Translate
- Imagen principal editada con: PowerPoint 2016
- Imágenes del post: Screenshots realizados en mi PC
- Plantilla del Gameplay realizada con: PowerPoint 2016

---
▶️ 3Speak