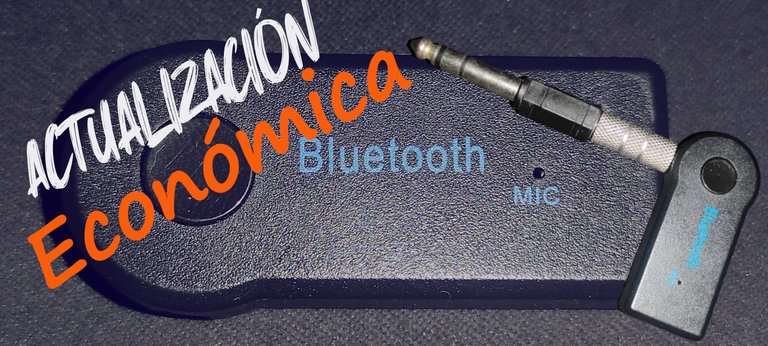 El concepto de "movilidad" ha estado bien pronunciado en el despliegue de los más recientes dispositivos tecnológicos y es que tener que depender de una fuente inamovible transmisora de datos está pasando a un segundo plano a lo que respecta el consumo de los usuarios finales. Cada vez es más común ver parlantes controlados a distancia, monitoreo remoto de cámaras entre una más variada gama de posibilidades que permiten interactuar con infinidad de terminales sin la necesidad de medios físicos.
Por supuesto, la ultima generación de equipos de punta conllevan a una importante inversión por parte del usuario por lo que muchas veces es mejor esperar los próximos lanzamientos para que de esta manera se generen bajadas de precios en los equipos anteriores pero que de igual manera conservan potentes prestaciones.
Sin embargo, el abanico de posibilidades se extiende aún más con aquellos artefactos que nos permiten realizar la actualización de nuestro "gear" sin la necesidad de destruir nuestra cuenta bancaria. Así es, como podrán ver en el titulo les contaré cómo actualicé mi sistema de sonido con apenas una inversión de 5 dólares.
The concept of "mobility" has been well pronounced in the deployment of the most recent technological devices, and having to depend on an immovable data transmitting source is taking a back seat to end-user consumption. It is increasingly common to see remote-controlled speakers, remote camera monitoring and a wide range of other possibilities that allow interaction with an infinite number of terminals without the need for physical media.

Of course, the latest generation of state-of-the-art equipment entails a significant investment on the part of the user, so it is often better to wait for the next releases in order to generate price reductions in the previous equipment, but which still retain powerful features.

However, the range of possibilities extends even further with those devices that allow us to upgrade our "gear" without the need to destroy our bank account. That's right, as you can see in the title I will tell you how I upgraded my sound system with just an investment of 5 dollars.
Hace muchos muchos años compré un parlante para escuchar música en mi casa pero además de eso tenia algunas funciones extra como la opción de conectar instrumentos musicales como guitarras, bajos, pianos, micrófonos etc. También se podía conectar un IPOD (Si ya se pueden imaginar lo viejo que es lol) pues contaba con esa interfaz especializada y por supuesto, lo más "novedoso" para aquel entonces era que podía ser utilizada sin conectarla a la corriente ya que en su circuito interno poseía una fuente de alimentación la cual sustituí por otra pero de eso hablaremos en otro articulo.
El tema está en que a pesar de contar con esa movilidad este "cajón" poco a poco se fue quedando en el pasado pues como ya sabemos en la actualidad contamos con equipos más robustos. Lo que si puedo mencionar es que la calidad del audio de esta corneta es bastante buena si tomamos en cuenta que es un equipo que tiene casi 15 años de vida. Sinceramente, veo que hay parlantes más actuales que no cuentan con esa potencia que tiene mi viejo cacharro.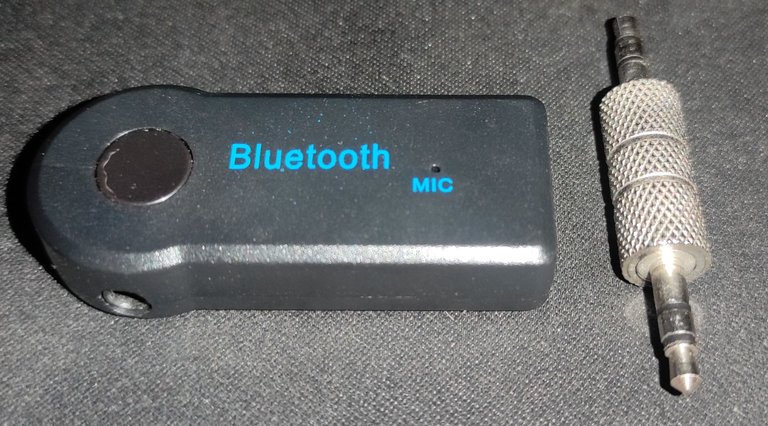 Car Music receiver hands-free BT 310
Para aquellos que siguen mis posts sabrán que junto a mi hermano practicamos calistenia y para tener un buen rendimiento es ideal practicar con música así que decidimos usar este viejo cajón para ambientar el sitio de entrenamiento pero allí vinieron los problemas. Las opciones para conectar nuestros teléfonos son limitadas a pesar de que si se puede hacer. Con un cable adaptador de ¼ de pulgada a auxiliar podemos establecer la conexión y con nuestro teléfono colocar la música que queramos pero esto es un poco incomodo sobre todo a la hora de cambiar la pista sin mencionar que hay que hacerlo en el sitio exacto donde está la corneta así que se pierde mucho tiempo en eso.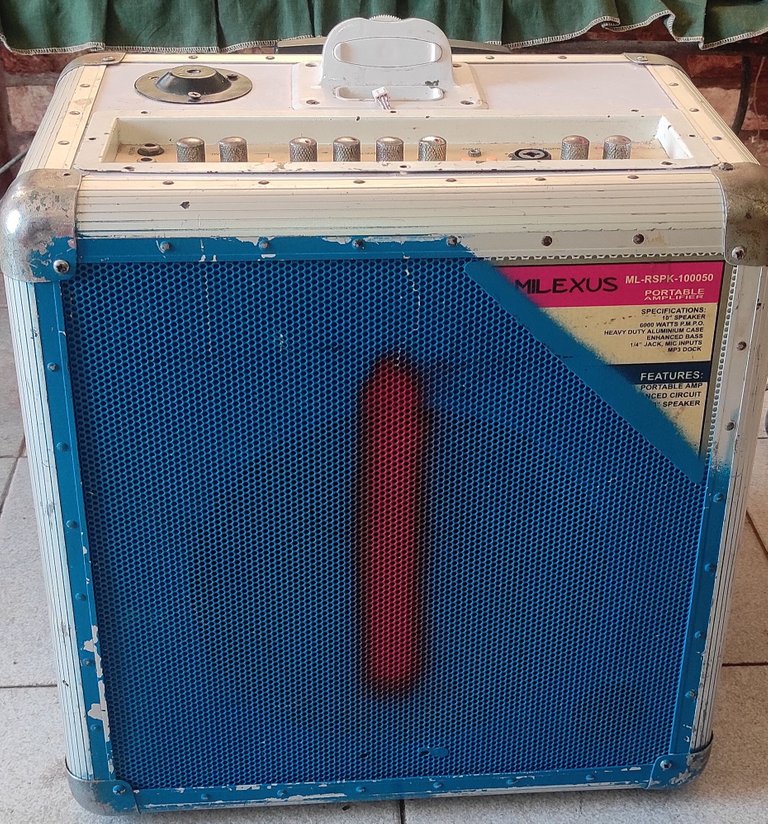 Este es mi antiguo cajón de sonido, está bastante feito pero suena genial :) - This is my old sound box, it's pretty ugly but it sounds great :)
Many many years ago I bought a speaker to listen to music in my house but besides that it had some extra functions such as the option to connect musical instruments like guitars, bass, pianos, microphones etc. You could also connect an IPOD (if you can imagine how old it is lol) because it had that specialized interface and of course, the most "novel" for that time was that it could be used without connecting it to the current because in its internal circuit it had a power supply which I replaced by another one but we will talk about that in another article.

The point is that in spite of having this mobility this "drawer" little by little was left in the past because as we already know nowadays we have more robust equipment. What I can mention is that the audio quality of this bugle is quite good if we take into account that it is an equipment that has almost 15 years of life. Honestly, I see that there are more current speakers that don't have the power that my old thing has.

For those of you who follow my posts you will know that together with my brother we practice calisthenics and to have a good performance it is ideal to practice with music so we decided to use this old box to set the training site but there came the problems. The options to connect our phones are limited although it can be done. With a ¼ inch to auxiliary adapter cable we can establish the connection and with our phone we can play the music we want but this is a bit awkward especially when changing the track not to mention that you have to do it in the exact place where the horn is so you lose a lot of time on that.

Luego de estar un buen tiempo en ese plan, decidimos ir a una tienda y consultar los precios de un sistema de sonido controlado por Bluethooth pues eso nos facilitaría muchísimo las cosas. Problema: demasiado costoso por la poca potencia de sonido. Como les decía mi antigua corneta suena bastante bien y las opciones equivalentes actuales con bluetooth son muy caras. Por lo que descartamos esa opción.
A los días y tras investigar arduamente, encontramos una solución sencilla y súper económica y fue la de comprar un adaptador bluetooht el cual posee una entrada y salida de audio lo cual resolvió todo el problema. Increíblemente con esta pequeña placa pudimos actualizar nuestro antiguo equipo conservando la calidad del sonido y ahora con la valiosa prestación del control a distancia.
Por aproximadamente 5 dólares adquirí este "Car Music receiver hands-free BT 310" y que el nombre no los confunda, no solo es para el carro sirve para prácticamente cualquier dispositivo con un entrada de audio auxiliar. Si es verdad que tenia mis dudas pues al ser tan económico pensaba que la calidad seria limitada pero cuando lo probamos todo funciona correctamente y me parece que ha sido una de las mejores actualizaciones que he hecho jajaja.
After being a long time in that plan, we decided to go to a store and check the prices of a sound system controlled by Bluethooth because that would make things much easier for us. Problem: too expensive for the low sound power. As I was saying my old bugle sounds pretty good and the current equivalent options with bluetooth are very expensive. So we discarded that option.

A few days later and after arduous research, we found a simple and super economical solution and it was to buy a bluetooht adapter which has an audio input and output which solved the whole problem. Incredibly with this small board we were able to upgrade our old equipment preserving the sound quality and now with the valuable feature of remote control.

For about 5 dollars I purchased this "Car Music receiver hands-free BT 310" and don't let the name confuse you, it is not only for the car, it works with almost any device with an auxiliary audio input. It is true that I had my doubts because being so economical I thought that the quality would be limited but when we tested it everything works correctly and I think it has been one of the best upgrades I've done hahaha.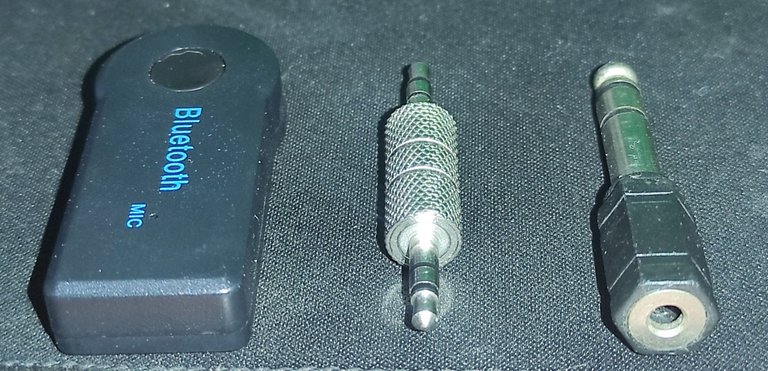 Aqui tenemos el transmisor Bluetooth con el adaptador auxiliar que viene en el empaque y un conector estereo (no incluido en la compra) - Here we have the Bluetooth transmitter with the auxiliary adapter that comes in the package and a stereo connector (not included in the purchase).
El funcionamiento es súper sencillo, solo debemos conectarlo a la entrada de audio auxiliar con el adoptador que viene en la caja en mi caso, la corneta tiene entradas de ¼ de pulgada por lo que uso otro adaptador que me hace la conversión a auxiliar. En cuanto al alcance de la señal el fabricante especifica que puede brindar una cobertura de hasta 10m. La duración de la pila es de unas 8 horas y hasta los momentos si ha demostrado tener esa autonomía.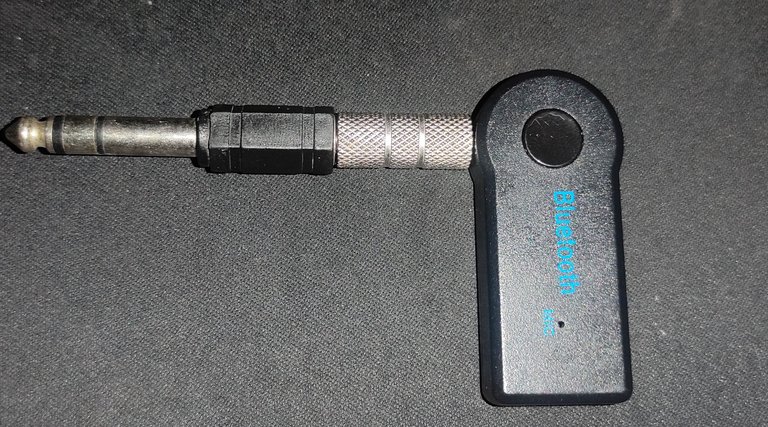 Hacemos la respectiva conexión y solo queda colocarlo en nuestro equipo - We make the respective connection and it only remains to place it in our equipment.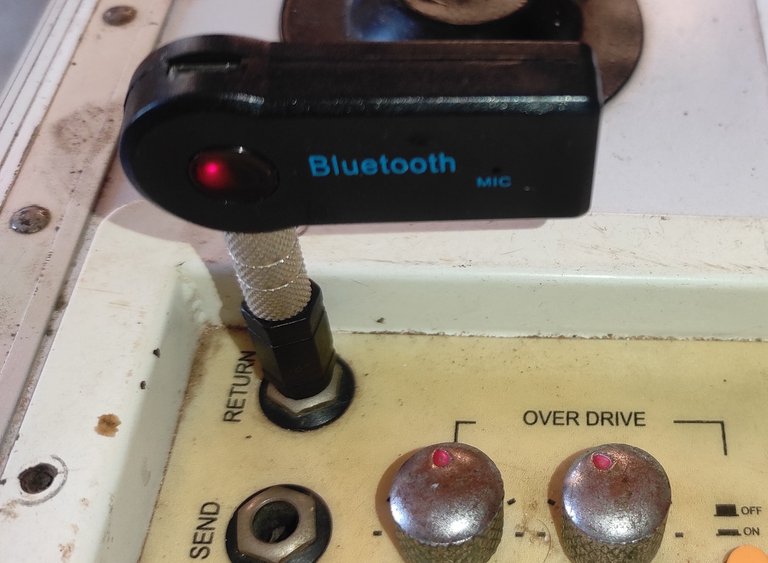 Tras este pequeño cambio las cosas han mejorado enormemente y con esto se demuestra una vez más que comprando inteligentemente podemos hacer buenas mejoras a nuestro equipo existente sin la necesidad de gastar el dinero en equipos de ultima generación.
Espero que hayan encontrado este articulo útil. Gracias por llegar al final y déjenme en los comentarios si han tenido una situación similar a esta.
The operation is super simple, we just have to connect it to the auxiliary audio input with the adopter that comes in the box in my case, the horn has ¼ inch inputs so I use another adapter that makes me the conversion to auxiliary. As for the signal range the manufacturer specifies that it can provide coverage up to 10m. The battery life is about 8 hours and so far it has proven to have that autonomy.

After this small change things have improved enormously and this proves once again that by buying wisely we can make good improvements to our existing equipment without the need to spend money on the latest generation equipment.

I hope you found this article useful. Thanks for making it to the end and let me know in the comments if you have had a similar situation to this one.
Las imágenes de este post son de mi autoría. La imagen de portada la diseñé usando el programa GIMP - The images in this post are my own. The cover image was designed by using the GIMP program