Holaa mi gente de la gran familia de Family y Friends les deseo un maravilloso día para todos, cargado de cosas buenas, pidiendo que nunca falte la unión, el cariño y la felicidad con nuestros familiares y seres queridos con los que compartimos.
Helloo my people of the great family of Family and Friends I wish you a wonderful day for all, full of good things, asking that we never lack the union, love and happiness with our families and loved ones with whom we share.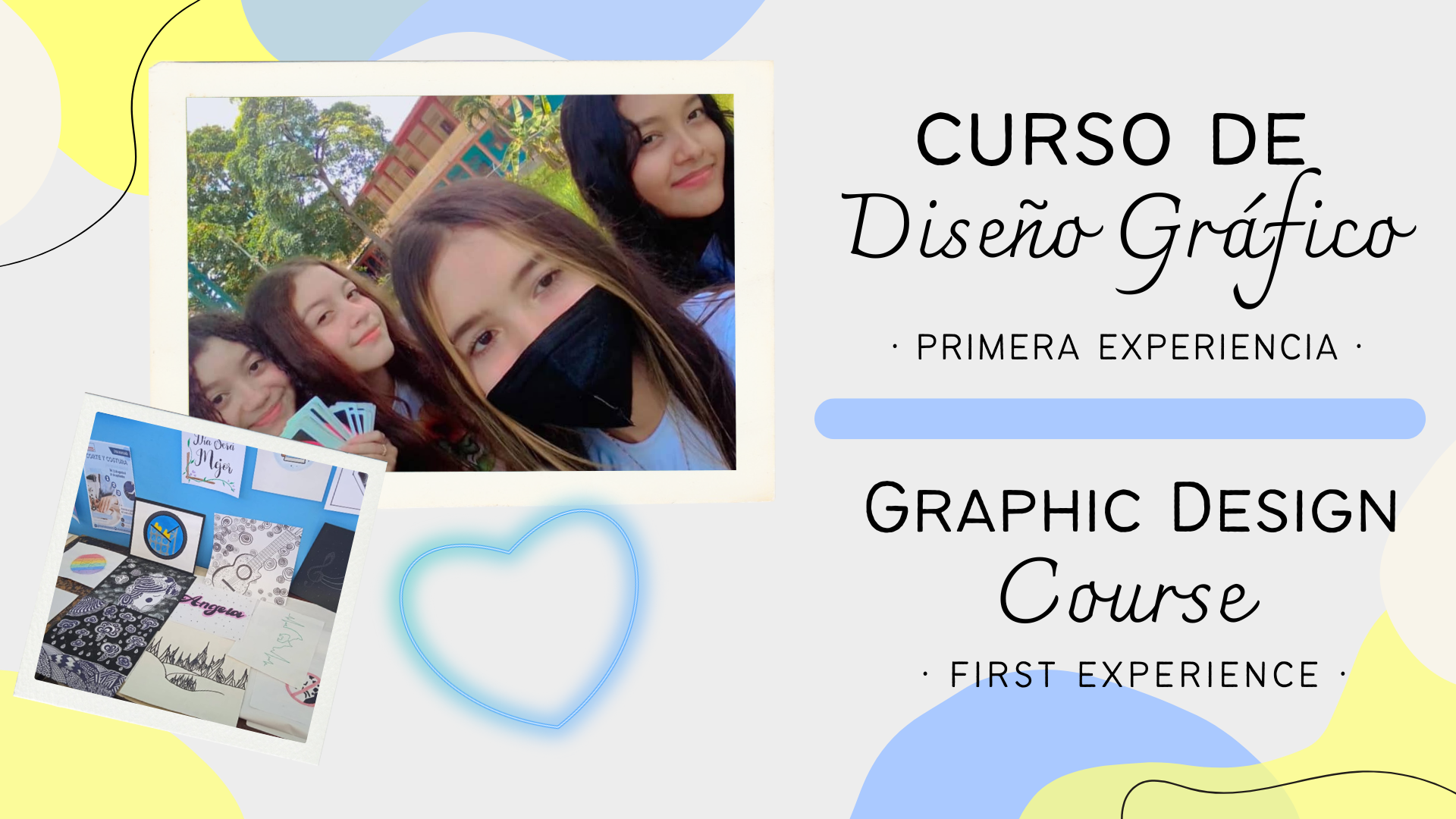 Imagen Editada en Canva
---
El día de hoy quise contarles como fue mi primera experiencia en un curso, el cuál empezé con mis mejores amigas y mi hermana, ya que en estás vacaciones queríamos aprender cosas productivas para nuestra vida, para aprovechar el tiempo de una mejor manera y que mejor que hacerlo juntas. Queríamos aprender algo nuevo, y había una gran variedad de cursos, desde repostería, panadería, peluquería, corte y costura, entre muchos otros, pero el que más logro llamar nuestra atención fue Diseño Gráfico, del cuál habían dos cursos diferentes y con dos niveles cada uno, estos se clasificaban en:
Today I wanted to tell you how was my first experience in a course, which I started with my best friends and my sister, because in these vacations we wanted to learn productive things for our lives, to take advantage of the time in a better way and what better than doing it together. We wanted to learn something new, and there was a great variety of courses, from baking, bakery, hairdressing, cutting and sewing, among many others, but the one that caught our attention was Graphic Design, of which there were two different courses and with two levels each one, these were classified in:
Diseño Gráfico Básico: el cuál escogimos ya que no teníamos tantísimo conocimiento de este y queríamos empezar por lo más básico, o
sea, para aprender desde cero, aquí nos enseñaron lo primordial para empezar en este nuevo mundo de diseñador gráfico, básicamente lo teórico más que todo.
Basic Graphic Design**: which we chose because we did not have so much knowledge of it and we wanted to start with the basics, that is, to learn from scratch, here we were taught the basics to start in this new world of graphic design, basically the theoretical more than anything else.
Here we were taught the basics to start in this new world of graphic designer, basically the theoretical more than everything.
Diseño Gráfico Computarizado: Este mucho más avanzado iba dirigido a personas con más conocimiento sobre el tema, ya que aquí enseñan lo práctico, van directo a los programas en los computadores y como usarlos, aplicando las técnicas aprendías anteriormente, un poco más práctico la verdad, directo al grano, se podría decir.
Computer Graphic Design**: This much more advanced course was aimed at people with more knowledge on the subject, since here they teach the practical, they go straight to the programs in the computers and how to use them, applying the techniques learned previously, a little more practical, straight to the point, you could say.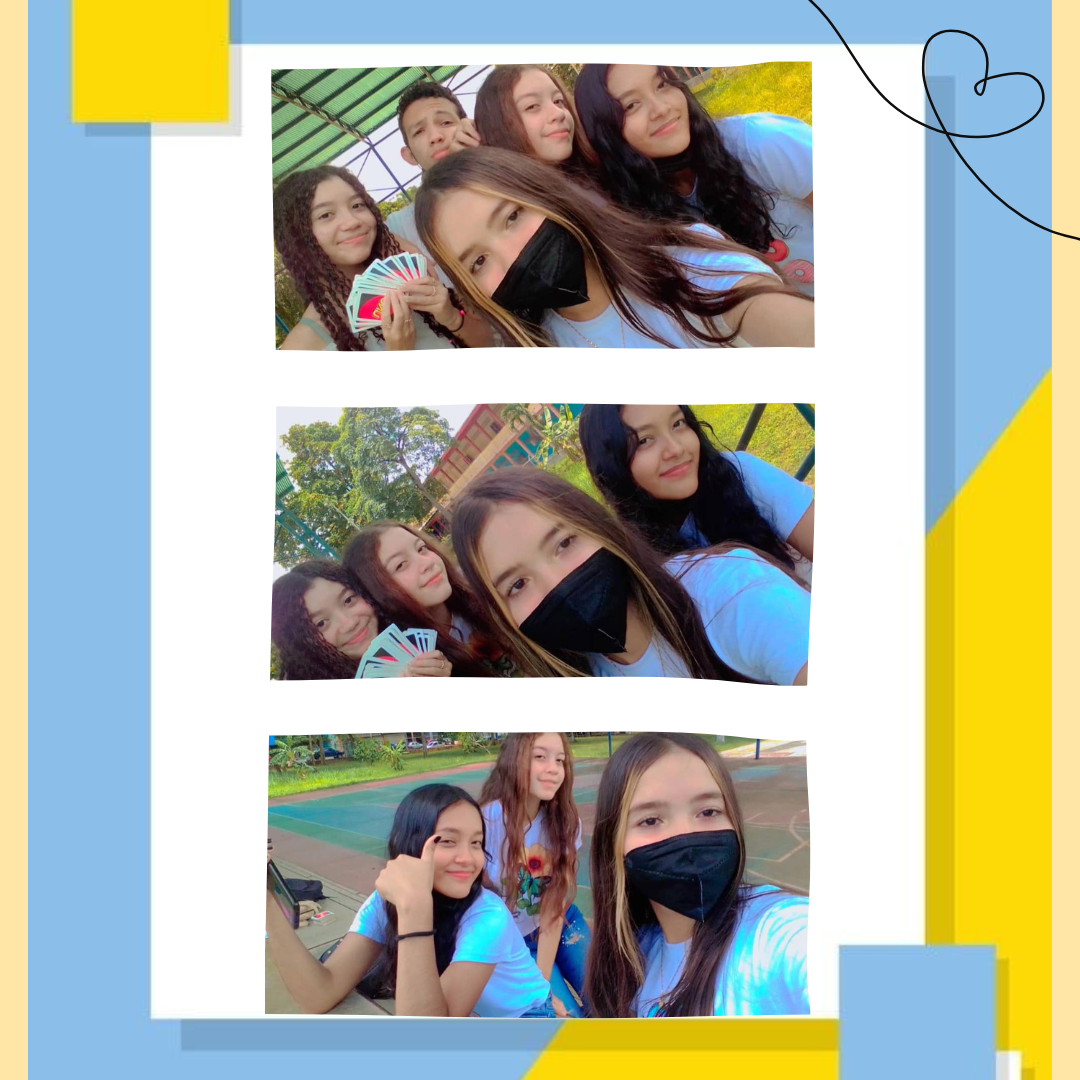 ---
Veíamos clase del curso un día a la semana, para ser más específicos los sábados, en el horario de 10 AM a 12 PM, dónde mis dos amigas, mi hermana y yo, junto a nuestro "guardaespaldas" entre comillas JSJJAJA, nuestro fiel compañero, que siempre nos acompañaba y cuidaba, porque nosotras poco salimos y no conocíamos eso por allá tanto, el fue nuestro guía, nos acompaño todos y cada uno de los días en los que asistimos, en fin, nos encontrábamos cada sábado en un punto exacto, a la misma hora, para irnos en el transporte a nuestro destino, porsupuesto para ser puntuales, como media hora antes.
We watched class one day a week, to be more specific on Saturdays, from 10 AM to 12 PM, where my two friends, my sister and I, together with our "bodyguard" in quotation marks JSJJAJA, our faithful companion, who always accompanied us and took care of us, He was our guide, he accompanied us each and every one of the days that we attended, in short, we met every Saturday at an exact point, at the same time, to go in the transport to our destination, of course to be punctual, about half an hour before.
¿Qué aprendimos?
What did we learn?
Con respecto a esto, les digo que primeramente nos dieron un resumen sobre lo que era el diseño gráfico, sus tipos y términos básicos, después empezaron con el primer objetivo, en el cuál nos explicaron los Elementos del Lenguaje Visual y nos asignaron una actividad práctica sobre esto. Luego como segundo objetivo a aprender nos hablaron sobre ** El Manejo del Color y su Psicología, al igual que la anterior nos asignaron una respectiva actividad y así el tercer tema abarcado fue **La Tipografía, y el cuarto y último objetivo de este curso fue El Cartel, dónde se habló de sus tipos, al igual que las funciones de cada uno, está actividad si fue un poco más completa, ya que abarcó todo lo antes visto, dónde la actividad era realizar un cartel con:
Regarding this, I tell you that first they gave us a summary of what graphic design was, its types and basic terms, then they started with the first objective, in which they explained the Elements of Visual Language and they assigned us a practical activity about it. Then as the second objective to learn we were told about **The Management of Color and its Psychology, like the previous one we were assigned a respective activity and so the third topic covered was **The Typography, and the fourth and last objective of this course was The Poster, where they talked about its types, as well as the functions of each one, this activity was a little more complete, since it covered everything seen before, where the activity was to make a poster with:
Elementos del Lenguaje Visual
Manejo del Color
Tipografía
Elements of Visual Language
Color Management
Typography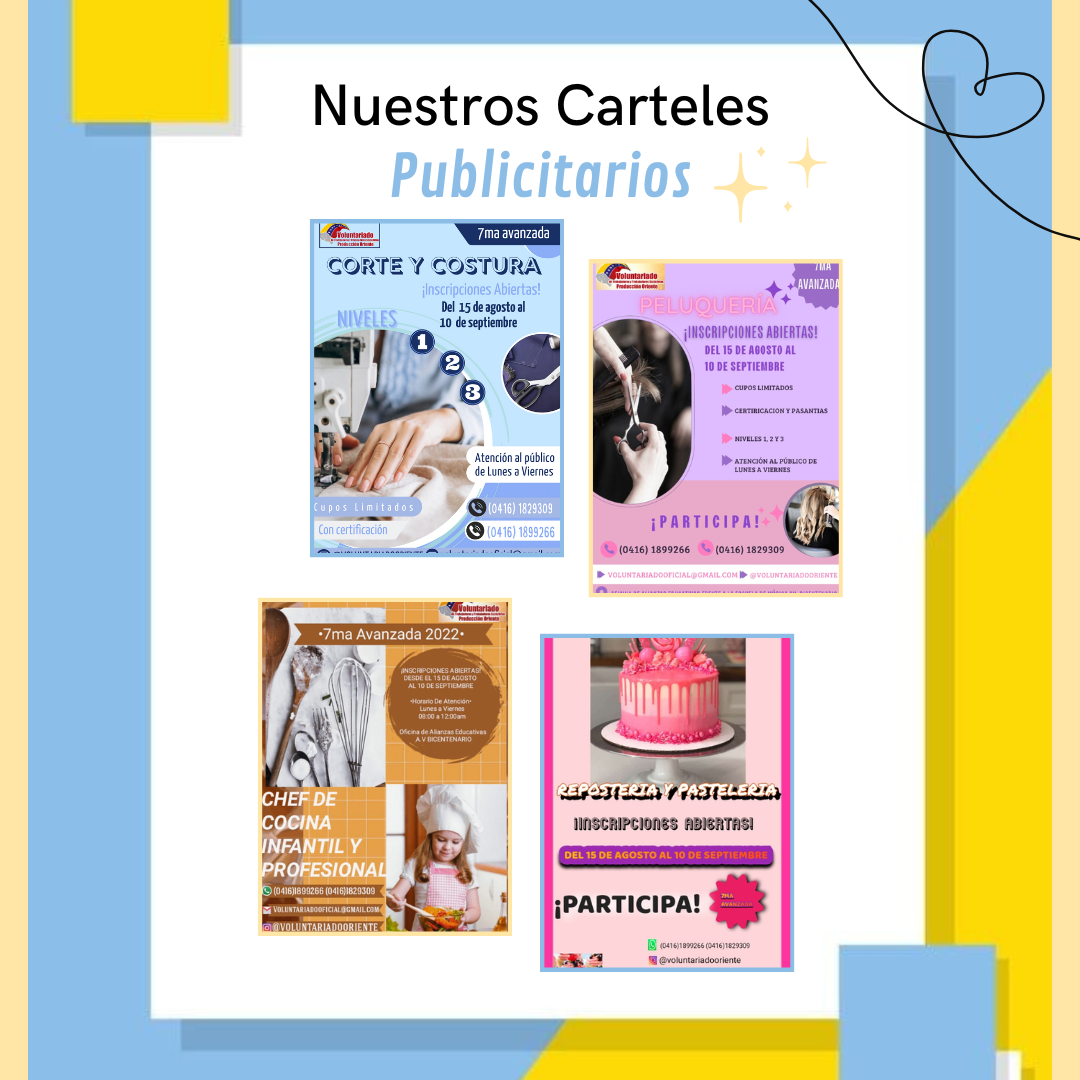 ---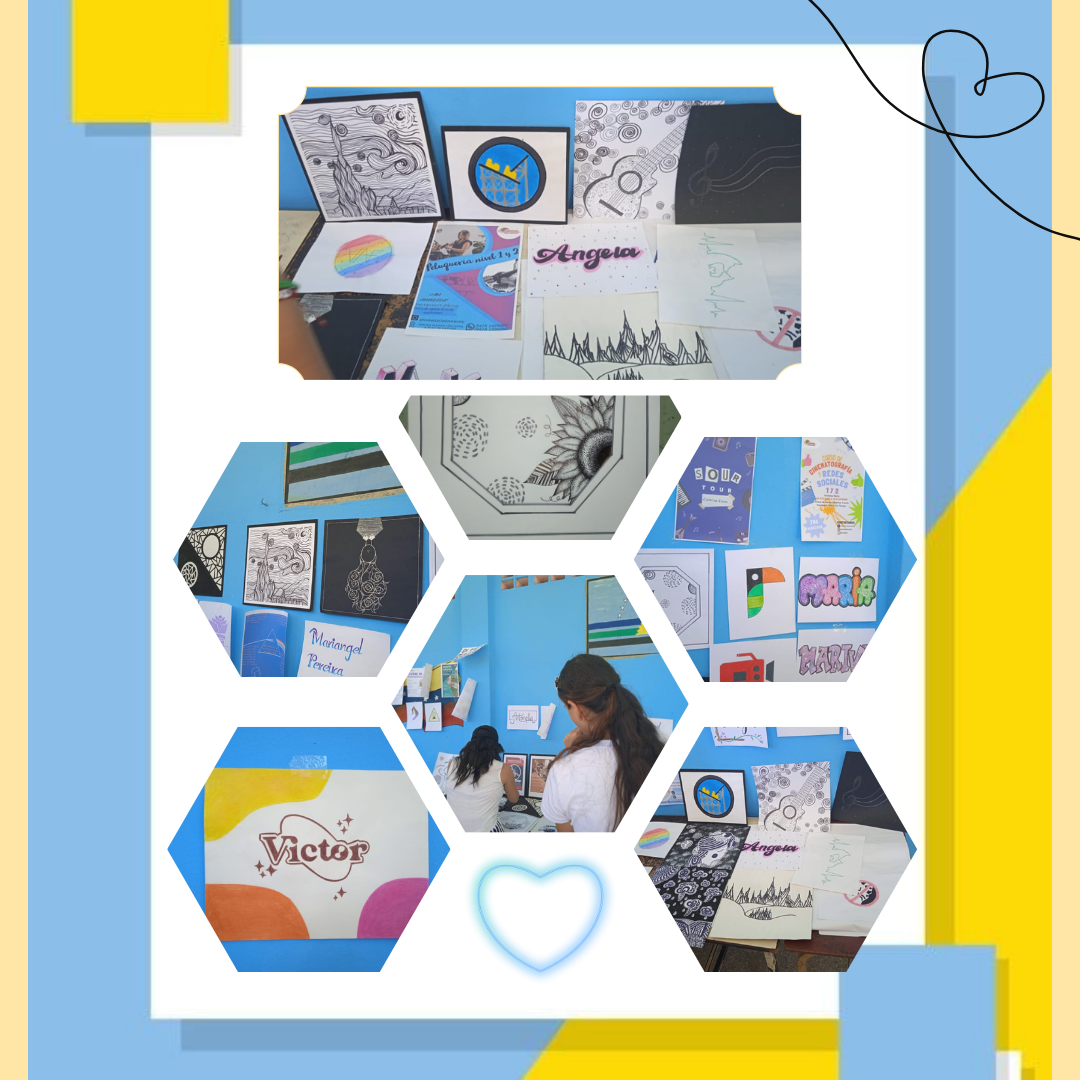 ---
Todo en uno, para hacer más práctico lo aprendido en clase, estos los realizamos de manera digital y realizamos la impresión para llevarlos en físico. Así mismo al ser nuestra última entrega, realizamos un compartir y una exposición de todos nuestros trabajos.
All in one, to make more practical what we learned in class, these are made digitally and we make the printing to take them in physical form. Also being our last delivery, we made a sharing and an exhibition of all our work.
Dicho brevemente, fue una experiencia muy agradable mucho más con mis amigas y mi hermana al lado, considero que todas disfrutamos mucho y a la vez aprendimos de todo un poco, aunque no seamos profesionales ya tenemos un conocimiento básico sobre el tema, es un paso adelante, vamos poco a poco, además de que conocimos a personas maravillosas con mucho talento y de igual manera vivimos una experiencia maravillosa, la cuál sin duda alguna, planeamos repetir de nuevo.♡
Briefly said, it was a very pleasant experience much more with my friends and my sister by my side, I consider that we all enjoyed a lot and at the same time we learned a little bit of everything, although we are not professionals we already have a basic knowledge on the subject, it is a step forward, we are going little by little, besides we met wonderful people with a lot of talent and in the same way we lived a wonderful experience, which without any doubt, we plan to repeat again.♡
Ahora sin más preámbulos, me despido deseándoles lo mejor y agradeciéndoles por leer y llegar hasta aquí.♡
Now without further ado, I bid you farewell by wishing you all the best and thanking you for reading and making it this far. ♡
¡Gracias por leer! Y hasta la próxima.♡
Thanks for reading! And until next time.♡
---
~•~•~•~•~•~•~♡~•~•~•~•~•~•~
Fotos de mi autoría tomadas desde mi teléfono Xiaomi Redmi, editadas en la versión gratuita de Canva.
Photos of my authorship taken from my Xiaomi Redmi phone, edited in the free version of Canva.
Traductor:
Deepl