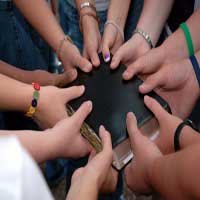 Isaiah 40: 29-31
"29 He strengthens the weary
and increases the strength of the weak.
30 Even young people get tired, they get tired,
and the boys stumble and fall;
31 but those who trust in the Lord
they will renew their strength;
they will fly like eagles:
they will run and not tire,
they will walk and they will not tire."
Today in my daily reading I managed to read this book where it gave me a lot of encouragement and strength and I want to share it with you, really we as young people are very weak and we also get tired although we look very strong, the reality is this.
The great thing is that God who is good and to all of us who trust in Him promises to give us new strength, those strength that we need daily to continue forward even with each and every one of the situations we live, in addition, we can fly like eagles in the heights always guided by the Father, Walking without getting tired and running without getting tired, truly only God can do this, it is not easy but for God nothing is impossible because He is King of Kings and Lord of Lords.
You who read me do not lose your trust in God, if you are tired and you feel weak, just trust in GOD and believe that He will give you new strength, you will fly in the heights and you will be able to walk and run without getting tired.
Let's trust God, God is good.