WELCOME TO THE STEEMCHURCH INTERNATIONAL MINISTRY BLOG
Excellent news surround us these days, now we have live the official launch of Communities on Steemit.com !. From our beginning the vision of our founder @sirknight has been the consolidation of a community with committed Christian values to bring change to society and positively impact the world. It has been working step by step in social projects, we have advanced in other technological platforms. In short, we have come a long way to be here, and to see the materialization of that community yearning has come, there are many opportunities and tools that are being presented along the way, which we are using to leave a legacy in the world .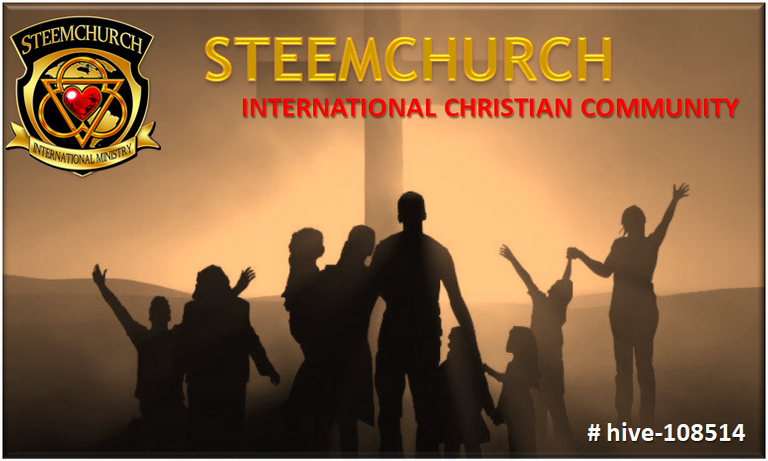 Then we have our official community #steemchurch which we can use by writing directly in the community or using the tag #hive-108514.
We will be establishing some general rules to be part of the community and how to publish and be an active member of it, with the help of our always friends @sniffnscurry who will be happy to reward the best blogs, the goldencenser challenge and issues related to The common good.
How to subscribe?
In the menu on the left side click on My communities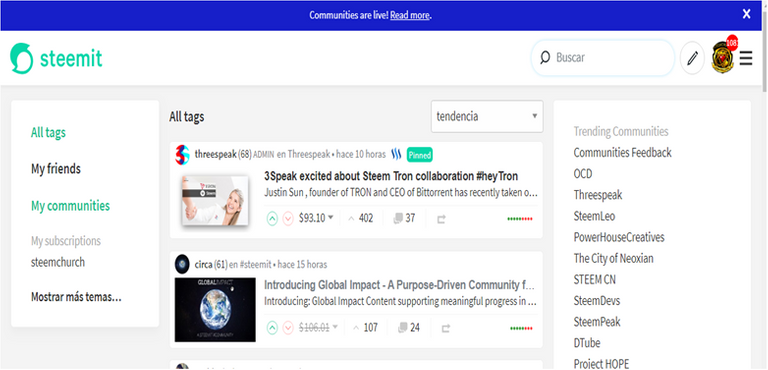 Type steemchurch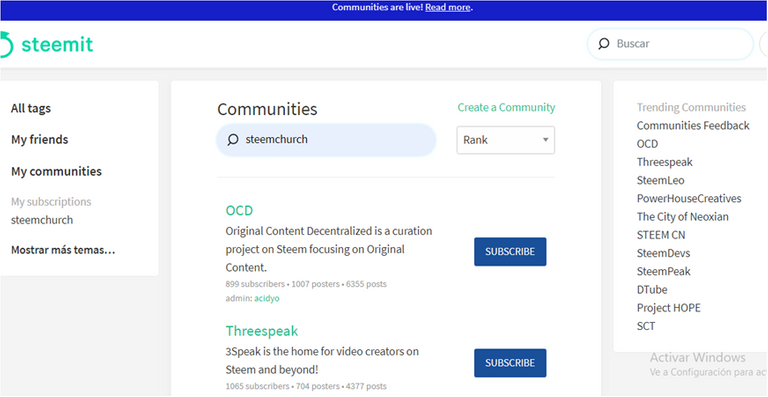 Then press the subscribe button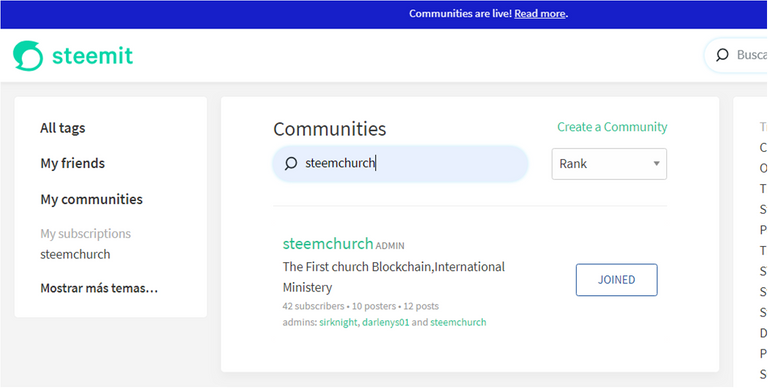 Finally you can see the activities and blog of the community, you can write from here in the new post option or just do it in the normal way and place the tag # hive-10851.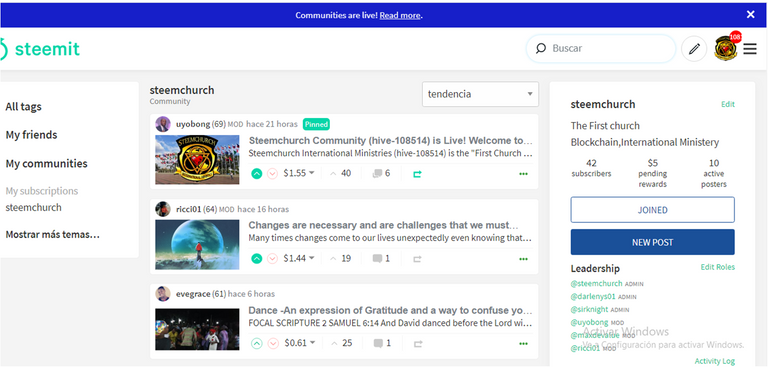 Remember that Christians were called to live in community. Life in community is essential for the human being. No one can live alone.
It is a fact that the body, being one, has many members; but the members, although many form a single body among all. For also all of us, whether we are Jews or Greeks, slaves or free, we are baptized in the one Spirit to form a single body and the only Spirit is poured out on all (1 Cor 12: 12-13).
We are the people of God, we are a special people called to announce the virtues of the one who called us to his light, and we are in charge of bringing his glory to every people and nation preaching about the love and goodness of Jesus, we are witnesses of his love.
This is an opportunity to continue to grow and make that global network to establish the kingdom of God on earth under love, liberty, mercy and justice. Jesus was an example of living in community, sending disciples of two in two, and said that where they were two or three gathered there would also be him. He also taught that the way people will know that we are his disciples when we show love for our neighbor (John 13:35). The world will believe in Jesus when he sees that his children and his people live in community in true union.
What are we waiting for?
Join the worldwide Christian movement that will change the destiny of many generations ...
We are Church ... we are Steemchurch International Ministry!
Thanks to all the people who worked to realize and direct Steemit towards the communities, everything leans towards the divine commandment of love, if we want to succeed in what we do the secret is "communion" with the environment around us.
@eonwarped
@quochuy
@inertia
@jarvie
@therealwolf
@asgarth
@good-karma
@howo
@gandalf
Love will cover all faults, union, union and more union ....
THANK YOU TO ALL WHO WRITE EVERY DAY IN OUR COMMUNITY!
We thank all those people who have contributed to our community to grow @pennsif, @luppers, @redes, @hanshotfirst, @theycallmedan, @redpalestino, @wilx,@curatorhulk,@ripperone,@penguinpablo,@newhope,@jackmiller
EXPRESS THE LOVE OF JESUS THROUGH: