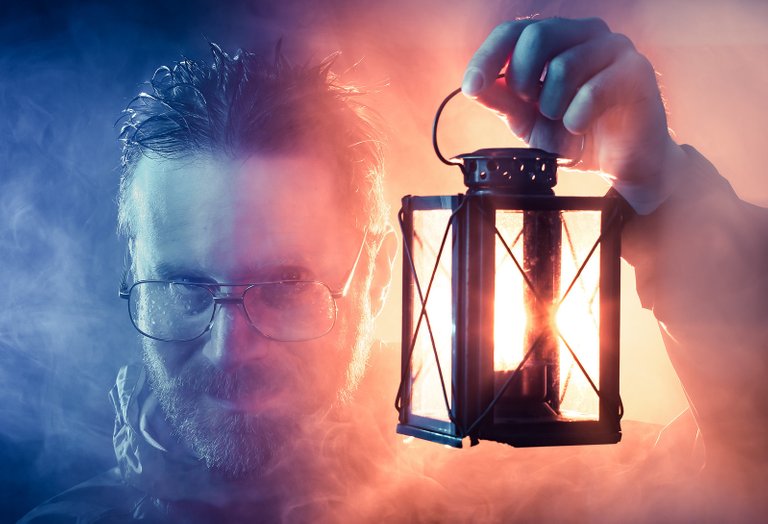 Good morning everyone and I hope all is well with the world.
During my many 365 projects I like to work on my portraiture lighting. I have 4 x Yongnuo flashguns and a few modifiers such as a beauty dish and a couple of snoots and soft boxes.
I tend to start off with 1/160th shutter speed but as the shoot progresses I tend to end up in bulb mode so I can add more lightpainting elements to the shot.
I'm by no means an expert at this and I'm always learning but here are a few shots which have evolved over the course of an evening in my kitchen.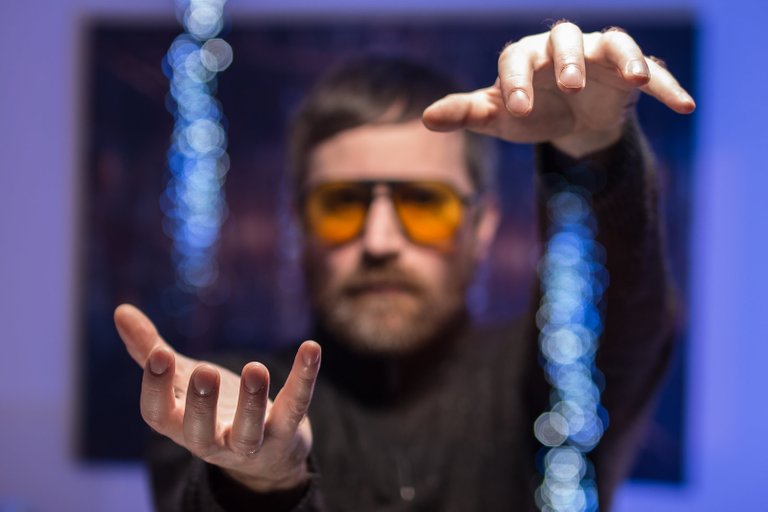 After seeing Frodo's portrait for winning the ILPA I knew at some stage I'd like to try this.
It started out with bokeh coming from just 1 hand but then I decided to add the other hand and then the daft glasses.
Beauty dish camera right high to light me and the back of one hand and the palm of the other.
Snooted and diffused flash on the floor to light the alternate back of hand and palm.
Blue gelled flash fired at back wall. Once the flashes had done their thing I replaced the lens cap. Light painting brushes black fiber optic lp brush, fanned out and moved into position. Exposed for 2 seconds before rotating the camera 180 degrees and lens cap off for a further 2 seconds.
Exposure and highlights knocked back a little in lightroom.
Shot during a single long exposure in complete darkness.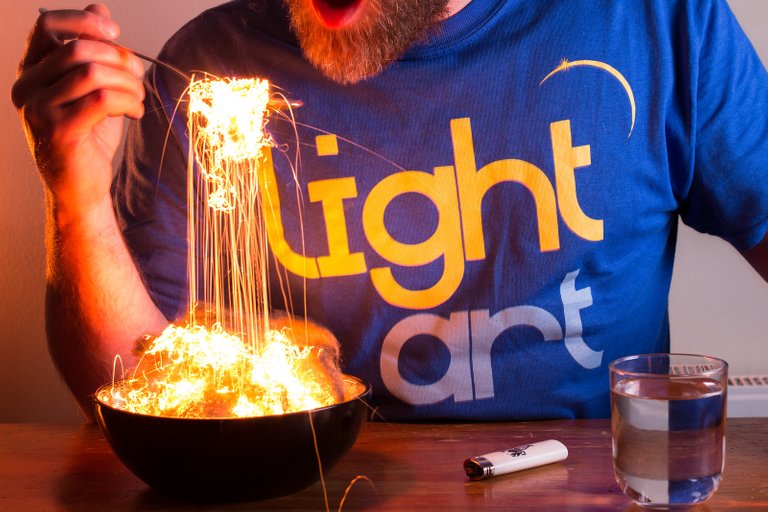 I had the honor to be asked to write an article about my light painting journey so far in the second edition of Lightart Digital Magazine recently. The magazine can be downloaded here www.lightartdm.com and is full of lots of awesome articles from around the globe.
For taking part I was sent this funky T-Shirt so decided to use it as a basis for tonight's shot.
I had recently seen someone burn steel wool contained in a glass which looked very cool. Then the idea struck as I had bought a massive pack of steel wool today that it would look cool to be eating a bowl of it.
Worked out the lighting first.
1 x Yongnuo 560iv through socked and gridded softbox camera left on 1/8th power @24mm.
1 x Yongnuo 560iv gelled orange camera right behind me shining down the wall gelled orange. 1/16th @50mm.
Lit the steel wool on the spoon which dripped onto the bowlful below, fired the shutter which in turn fired the flashes. Let the wool trails burn in for a few seconds and ended the exposure.
Very minor crop and contrast in Lightroom.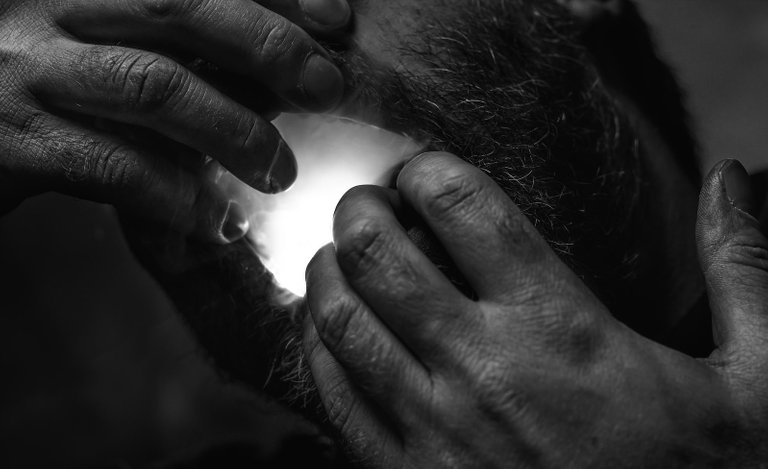 I've had this idea for a while but I never had a light small and bright enough to fit in my mouth. I came up with the idea of firing my laser into my mouth whilst holding a chuff of vape in there.
Laser on, a mouthful of vape and fired the shutter. Pocketed the remote before putting my hands in my mouth. Lit from above with the beauty dish on 1/32. Lit from behind with another flashgun to illuminate the vape in the air for separation also on on 1/32 @ 24mm.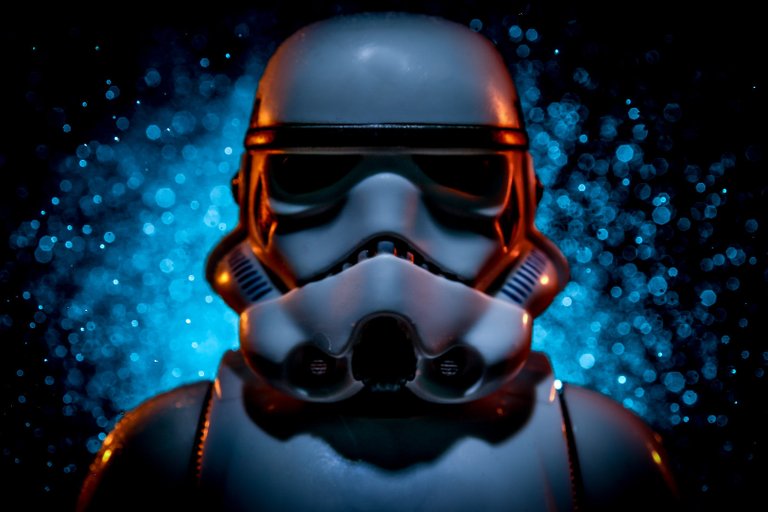 Wanting to work on my lights again tonight but with no ideas to get on the other side of the lens I reached for the toybox.
Trooper lit from left and right with 2 x Yongnuo 560iv's. 1/64 power @ 24mm gelled orange. 1 x Yongnuo 560iv behind the trooper gelled Peacock Blue to illuminate the spraygun bokeh. 1/32 power @24mm. 1 x Lauren holding the Led Lenser P7.2 above the trooper illuminating some of it's features.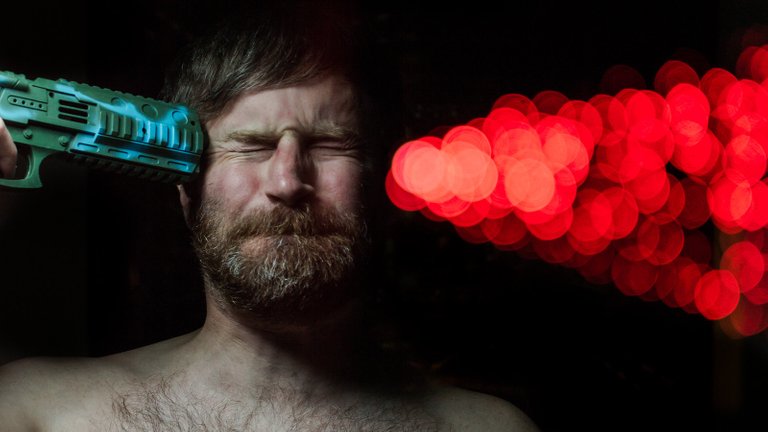 I found a stash of dried leaves from autumn. I say a stash as if Lauren laid eyes on them they'd end up in the green bin.
Light painted, lens swap from Samyang 50 on the macro extension tubes (for the leaf) to the Samyang 50 for the human form which was backlit with a single Yongnuo 560iv fired at the back wall on 1/8th.
I started with the leaf covering all of the portrait but it evolved during the course of the evening by re-positioning the leaf so my face was left bare. Took many goes to nail one where the leaf and head lined up to my satisfaction.
Leaf macro first backlit with the led lenser and lens cap on. removed the macro tubes and replaced the Sammy before removing the lens cap, taking up position and firing the flash at the back wall.
Shot in complete darkness during a long exposure.
I hope you enjoyed this set as much as I did creating them and as always if you have any questions please drop them in the comments below.
Happy days.
You would like to see more lightpainting here?
Give our Hive Community Lightpainters United a follow and you will be introduced into the world of light painting.