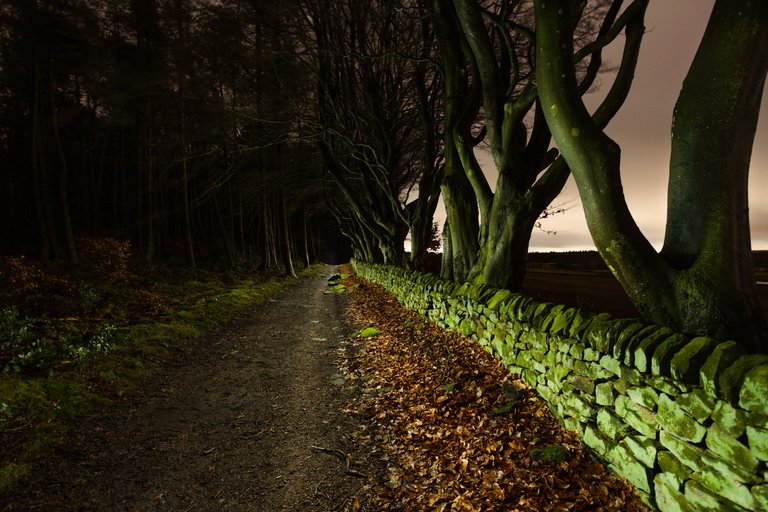 Good afternoon Hiveworld, I hope all is well and that you're all having a great weekend. My weekend has been great so far. LP session last night with Chris T and a win against top of the league for my son's footy team today.
Great stuff.

Here are a few from last night's rainy and windy mission into the Peak District with @fastchrisuk This place has been on my radar for a little while and regardless of the met office's warning of wind and rain we met in a layby close to the chosen location. For once they were spot on with their forecast and both us and our cameras got a reet good soaking. Unfortunately my camera bears a battle scar as the screen no longer works. Fingers crossed a few days next to the radiator will put life back into it again.

The shot above was created simply using the @lacelight BLS inspired by the great Pala Teth's tool. It's a device which allows you to light a scene without the light from the torch being directly picked up by the camera. A genius piece of kit which works so well in situations such as this where there is no model to hide the light source. It gives off soft and contrasty light which I adore. Cheers to Chris for firing the shutter and providing me with direction walking towards the camera.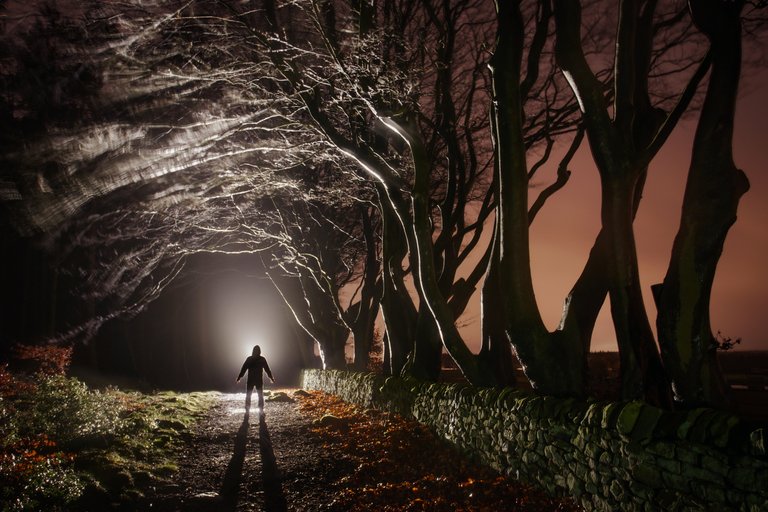 This one was another simple one. Just a back light and me as the model. BLF Q8 was the light source perfectly placed behind me to block the light source and to illuminate the beautiful corridor of trees.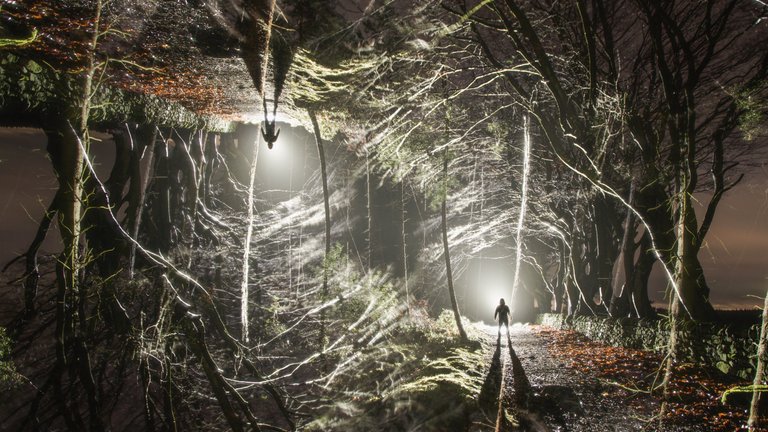 A bit a craziness for the last shot here with some camera rotation. This form of photography really brings an abstract feel to a scene. Two way flip of the camera during a single long exposure. Cheers to Chris for flipping the camera, capping the lens and popping the flash. At this stage of the night the wind was really coming in so we opted for flash to freeze the branches rather than a constant light source. The less time the camera has to. Collect light the better in such situations. The longer the light is on the more chance their is for branches and the like to move around causing a blurred image.

I hope you enjoyed this little insight into our evening out in the Peaks and if any of my work raises any questions please drop me a comment and I'll try to help.
Take it easy and catch you again soon.
Happy days.

WHAT IS LIGHTPAINTING?


Lightpainting is a photographic technique in which exposures are made by moving a hand-held light source while taking a long exposure photograph, either to illuminate a subject or to shine a point of light directly at the camera, or by moving the camera itself during exposure. Nothing is added or removed in post processing.

Single exposure Light Art Photography
/nolayer /notricks /nophotoshop

YOU WOULD LIKE TO SEE MORE LIGHTPAINTING HERE?


Give the Lightpainters United Community a follow and you will be introduced into the world of light painting.


You will find innovative and original light painting from various artists from all over the world. Have a look at the profiles of some very active Lightpainter in the group:
Mafu Fuma - Oddballgraphics - Fade to Black - DAWN - Chris Thompson - Mart Barras - Stefan Stepke - Nikolay Trebukhin - Leetodd - Stabeu Light - Maxime Pateau - Stephen Sampson - lightandlense - Neil Rushby - L.A.C.E.

WOULD YOU LIKE TO GET IN CONTACT WITH US?
Join us at Discord


Thank U for your support and keep shining!
LIGHT, LOVE & UNITY!