This was an embarrasing night a year or two ago where a lightpainting friend of mine, Darren Hopkins, (not on Hive but he should be!) kindly donated a life size mannequin arranged in a sitting position complete with no head!
What I had not anticipated was how embarrasing or questionable it might be actually transporting said mannequin from the back of my car along a road to this footbridge. When you're already loaded with a backpack, two tripods and two flash stands, it's actually quite difficult to carry the mannequin. So I figured it was best to grab the mannequin and run down the road as quick as I could before anyone drove by and asked me what the hell I was doing!
Anyway, long story short, more cars than I could have imagined drove past with one slowing down to check me out to make sure I wasn't a serial killer! I think the driver possibly saw how big and mean I looked so drove on by!
Mannequin of OCD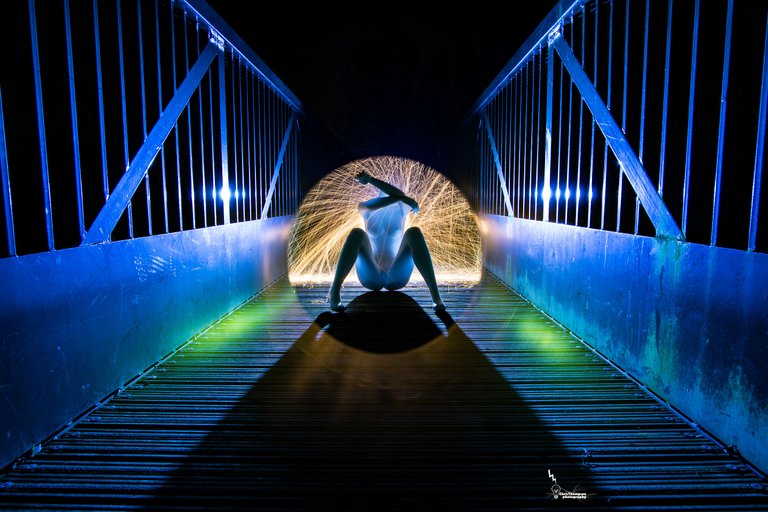 The Test Shot
To make this shot, once I'd got over the embarrassment, I positioned the mannequin in front of a gelled Godox strobe on the footbridge: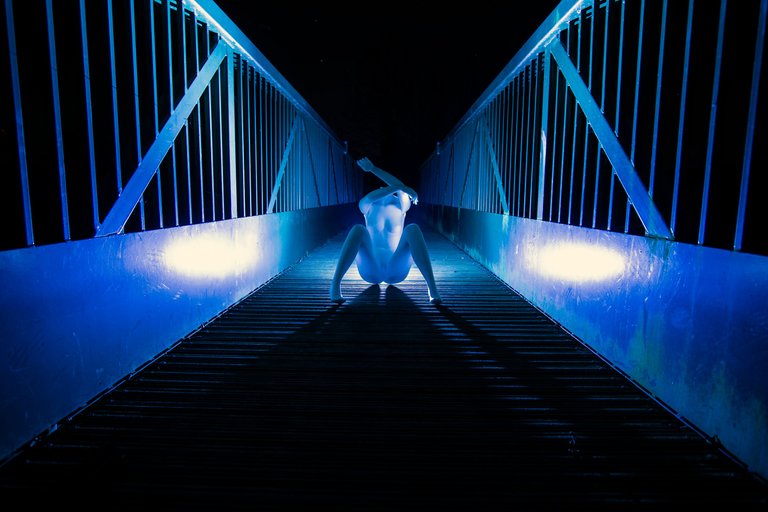 For the second part of the shot, I placed a cardboard tube over the lens to make a funnel or hole over the lens. This would then prevent light from hitting the sensor so no matter what lightpainting I did, only the circular part would appear on the image sensor.
Once happy I set about shooting both elements in one photographic exposure. I started with the cardboard tube and spun some fine grade steel wool on a drill knowing the sparks wouldn't spill over the outside of the circle. I then removed the tube and fired the flash. Ended the exposure, job done.
To be honest after this, I didn't keep the mannequin for very long and vowed always to shoot with real people! If anyone wants to volunteer to model for me that would be great, thank you!!
This shot was created in one photographic exposure using a Sony A7 and a Sony Zeiss 16-35mm lens
Dismembered
I don't know what I thinking at the time but dismembering the mannequin took on a whole different mood or tone. This shot involved careful placement of lights and the red maybe resembles blood.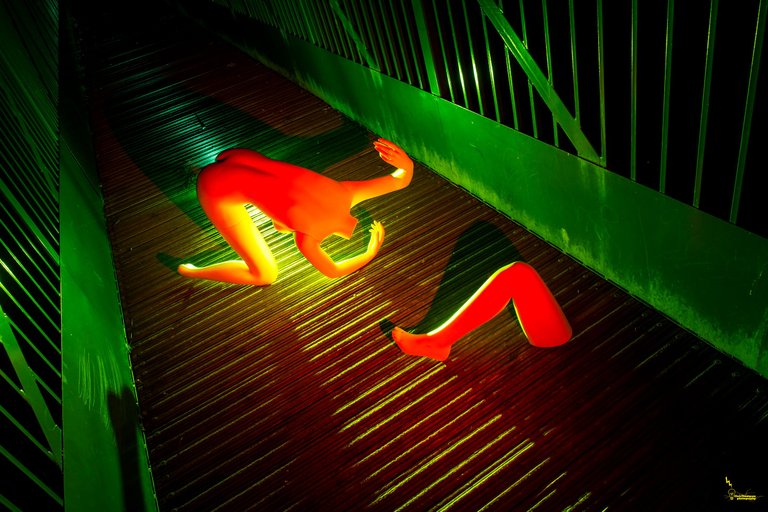 Once I'd finished this lightpainting session I almost ran back to the car for fear of someone seeing me smuggle a corpse and report me to the police! I should also mention I found the best way to carry the mannequin was by holding on to one of the unsurprisingly firm breasts! One of these days I'm gonna get arrested!
About me:
I usually specialise in shooting lightpainting images but occasionally dabble in urbex and artistic model photography. I'm always on the lookout for someone to collaborate with; please don't hesitate to get in touch if you'd like to create art.
Social Media
https://www.facebook.com/fastchrisuk
https://www.flickr.com/photos/fastchris/

WHAT IS LIGHTPAINTING?
Lightpainting is a photographic technique in which exposures are made by moving a hand-held light source while taking a long exposure photograph, either to illuminate a subject or to shine a point of light directly at the camera, or by moving the camera itself during exposure. Nothing is added or removed in post processing.
Single exposure Light Art Photography - no layers - no tricks - no photoshop


If you would like to see more lightpainting please give the Lightpainters United Community a follow and you will be introduced into the illuminating world of light painting!

If you want to see more examples of lightpainting, feel free to check out these guys:
Mafu Fuma | Oddballgraphics | FadetoBlack | DAWN | Mart Barras | Stefan Stepke | Nikolay Trebukhin | Lee Todd | Stabeu Light | Maxime Pateau | Stephen Sampson | lightandlense | Neil Rushby | L.A.C.E.
WOULD YOU LIKE TO GET IN CONTACT WITH US?
Join us at Discord