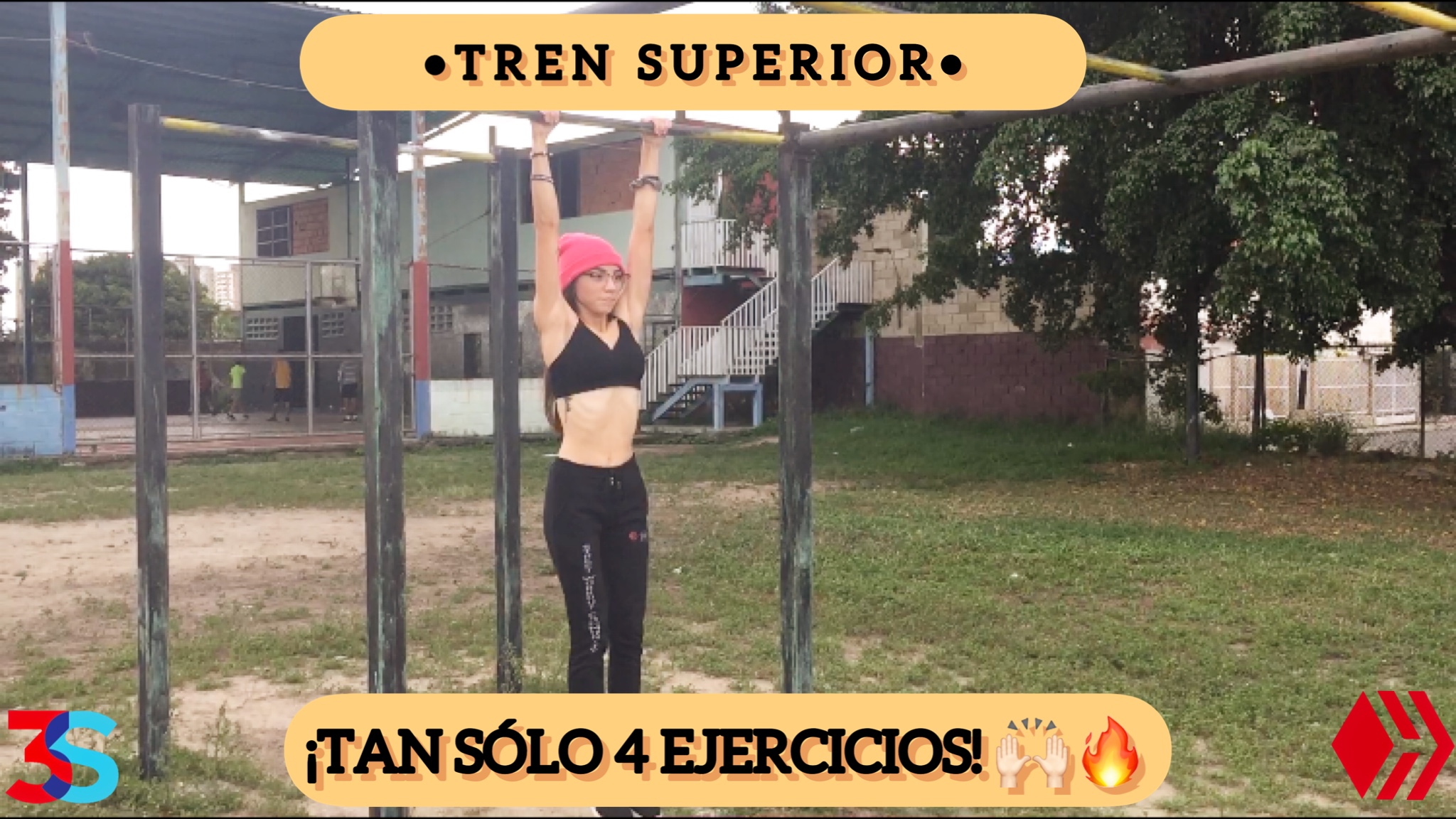 ¡TRABAJEMOS EL TREN SUPERIOR SIN EXCUSAS! 🔥
LET'S WORK THE UPPER BODY WITHOUT EXCUSES! 🔥
---

Saludos a todos los Hivers y a mis queridos amigos/compañeros de la comunidad
SWC
Soy
@milagroscdlrr
y el día de hoy les traigo esta rutina de tan solo 4 ejercicios para trabajar el tren superior en el parque.
Greetings to all Hivers and to my dear friends/colleagues in the Community
SWC
community I'm
@milagroscdlrr
and today I bring you this routine of only 4 exercises to work the upper body in the park.
---
🎥Video🎥
▶️ Watch on 3Speak
---
| EJERCICIO #1: PULL UPS INTERCALADAS | EXERCISE #1: PULL UPS INTERSPERSED |
| --- | --- |
Realizar 1 sola repetición en cada barra, tal cual como hice en el vídeo. Fueron 6 Reps en total, realizarlo en las 4 series. (Ese día había llovido y las barras estaban mojadas aún cuando llegamos al parque, es por ello también que al tratar de llegar a la otra barra no pude hacerlo sin un balanceo porque se me resbalaba la mano).
Perform 1 single rep on each bar, just as I did in the video. There were 6 Reps in total, perform it in all 4 sets. (It had rained that day and the bars were wet even when we got to the park, that's also why when I tried to reach the other bar I couldn't do it without a swing because my hand slipped).
| EJERCICIO #2: FONDOS EN BARRA RECTA (15 reps x 4 series) | EXERCISE #2: BAR DIPS (15 reps x 4 sets) |
| --- | --- |
---
| EJERCICIO #3: DOMINADAS AUSTRALIANAS (10 reps x 4 series) | EXERCISE #3: AUSTRALIAN PULL UPS (10 reps x 4 sets) |
| --- | --- |
---
| EJERCICIO #4: EXTENSIÓN DE TRÍCEPS EN BARRA (15 Reps x 4 series) | EXERCISE #4: TRICEPS BAR EXTENSION (15 reps x 4 sets) |
| --- | --- |
Bueno amigos, esos son los 4 ejercicios para el tren superior que les comparto por el día de hoy. Con lluvia y todo pudimos ejercitarnos sin excusas. Espero les haya gustado y puedan realizarla, muchísimas gracias por su apoyo, nos vemos en el siguiente post 🙌🏻💪🏻❤️
Well friends, those are the 4 upper body exercises that I am sharing with you today. Rain and all we were able to exercise with no excuses. I hope you liked it and you can do it, thank you very much for your support, see you in the next post 🙌🏻💪🏻❤️

---
*****
✨SÉ TÚ MISMO✨
✨BE YOURSELF✨
✨SEJA VOCÊ MESMO✨
| Milagro De la Rosa - ✨ Creando Contenido de Calidad ✨ | Milagro De la Rosa - ✨ Creating Quality Content ✨ |
| --- | --- |
| Gracias por leer mi publicación 🙏🏻❤️ | Thanks for reading my post 🙏🏻❤️ |
| --- | --- |
| ¿Quieres saber más de mí? Acá les dejo mi Instagram. 👇🏻 | Want to know more about me? Here I leave you my Instagram. 👇🏻 |
| --- | --- |
---
▶️ 3Speak