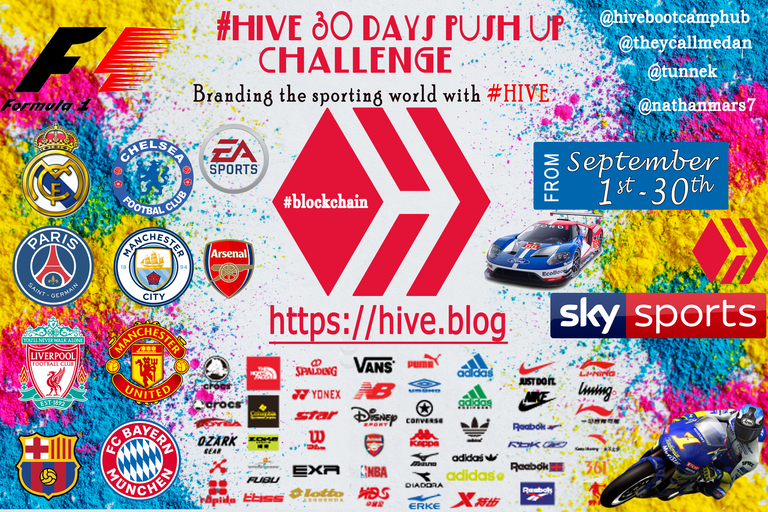 Hi hiverians.
For quite a while have been trying all I could to onboard different users to the hive community platform, although it is has not been an easy ride for me.
Onboarding using twitter is one of the easiest ways to get people on @hive, so i figured out a way to do that by simply bringing back the Pushup challenge.
A 30 days $hive push up challenge will kick start all through the month of September, this challenge basically is to take hive to the sporting community globally. Numbers of sports clubs like Bayern Munich, Chelsea, Manchester City, Real Madrid, Barcelona, Arsenal, Liverpool, PSG, Tottenham, Borussia Dortmund, Manchester United, FIFA, Formula1, WWE, Hockey, Tennis, Rugby, Skating, Baseball, Basket Ball, Swimming, and possibly all major Sports brand across the world.
This Challenge will help reach out to all sporting communities, in order to integrate #hive into Sport also bring on more Investors to the platform.
This is not a sponsored program but is opened to any who is willing to sponsor this initiative, however, the challenge will last for the whole of September, from 1st to 30th, and it will be posted on twitter to help connect hive to the Sporting World and hopefully beyond Sport.
Drop your Challenge on twitter with the #tag #hive-30days-pushup-challenge and $hive-sports, for visibility.
Image Designer by @emekasegun all icon was gotten from pixabay, Unsplash, freepik.com